12 Luxury Bedroom Trends to Inspire Your Next Project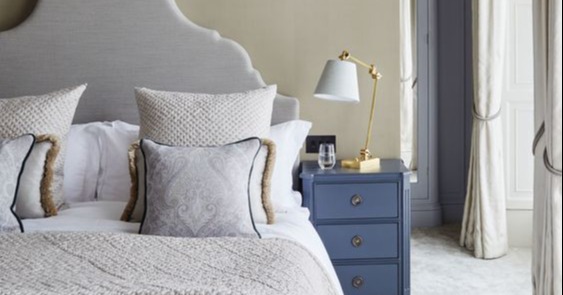 Luxury bedrooms ooze elegance, scream sophistication and best of all, feel fancy. Yet, there's no one right way to devise a designer space. This is all down to your distinct tastes. But if you need some trends to help inspire your next big interior project, this is the blog for you.
These are 12 of our favourite luxury bedroom trends with enough longevity to make them worth the investment and enough pizzazz to create an interior impact.
1. Country Style
Country style bedrooms are trending for their laidback, luxurious style. These bedrooms always look like they're welcoming the first day of Spring, with light, airy interiors and warm wood throughout. Furniture in country style homes can afford to feel more rustic and worn than in more modern, minimalist abodes. For this reason, solid wooden furniture feels right at home here, giving an otherwise feminine landscape a slightly more laboured look.
2. Loft Style
Loft style bedrooms are more commonly associated with the utilitarian, industrial styles of Brooklyn-inspired bachelor pads. Masculine and moody, we've come to know lofts as vast expanses of space, dominated by brick and dark linens. Yet, loft-style bedrooms aren't chained to this androgynous aesthetic. As in the above example, lofts can also feel soft and serene, making use of organic features like natural light and bright, white Egyptian cotton. In this way, the loft-style is still very much in this season.
3. Cottage Style
Cottage style bedrooms are enjoying a new wave of adoration with the latest evolution being cottagecore — a celebration of the nostalgic countryside aesthetic. This trend is taking over everything from fashion garments to pastimes and of course, interiors. In bedrooms, cottagecore means whimsical prints, flowing fabrics and greenery picked from the garden, all done in a pretty, self-serving type of way.
4. Hotel Inspired
Everyone wants to live in a hotel-inspired bedroom and now, doing so is becoming more accessible than ever. With bespoke furniture, colour-matched paints and handcrafted accessories all readily available on the internet and in showrooms, there's no reason why you can't create a cohesive, classy oasis at home. Simply snuggle into a fuzzy robe and slippers to give the illusion that room service is just around the corner.
5. Farmhouse Style
Similar to cottagecore but on a much grander scale, farmhouse style bedrooms rely on wide-open spaces, exposed beams and a near-naked neutral colour palette to create a calm sleep sanctuary. Everything about a farmhouse bedroom looks effortless. Most of all, the big, cosy bed that's often left looking a little undone due to the fluid lines of luxury drapes and end of bed throws that softly caress its strong, structured frame.
6. Exposed Brick
A trend that's been floating around the interior world for a while now is exposed brick, helping to bring toughness and texture into a room as well as create a feature wall without the need for fussy wallpaper. This look can be elevated from what could be deemed an elementary style by pairing it with chic black accents and floor to ceiling windows. Suddenly, exposed brick looks less like a man cave mainstay and more like a must-have for a modern sleep space.
7. Parisian Style
A look we can never get enough of is French-inspired bedrooms, taking vision from the capital itself — Paris. With soft curves and elaborate carvings, Parisian style furniture is feminine and flirty, yet always elegant. We've designed our Parisienne Sleigh Bed in homage to it, allowing anyone to bask in the city of light, in the comfort of their very own boudoir.
8. Royal Luxury
Palatial style furniture never really goes out of style, thanks to its affluent, high-society status. Four-poster beds are key for this style, instantly adding height and authority to a room. Yet, ornate mirrors, end of bed ottomans and brocade carpets also add a carefully cultivated veneer of refinement. Royal luxury bedrooms, in particular, suit large, sprawling spaces, helping you reach a room's full potential with big, bold furniture and even bolder motifs, ornaments and prints.
9. New England Style
Calming, coastal spaces never look out of place in luxury homes but while nautical living was once all about The Hamptons, it's New England that has recently stolen the seaside spotlight. New England style bedrooms present a more pared-back approach with no-frills furnishings and beautiful yet basic colour palettes. A shaker style bed and a sweep of baby blue will do, giving you an instant holiday at home, without the need to pack or endure a plane ride.
10. Vintage Aesthetic
The secret to a stylish, vintage aesthetic is to manage clutter and print clashing in a way that looks considered and ageless, yet undeniably expensive and antique. Sound like a hard balance to strike? It's true, the vintage aesthetic is a style only serious interior enthusiasts tend to take on. Yet, starting with an era-inspired bed frame — such as the County Kerry Bed or a sleigh style — is a great way to get the ball rolling, allowing you to spend more time looking for tiny, antique additions and soft furnishings in just the right shades and prints.


11. Georgian Style
Georgian architecture is notoriously rigid with a focus on proportion and symmetry, nodding to the classical architecture of Greek and Rome that it takes from. Yet, rightly so, Georgian homes remain some of the most popular period properties on the market. As such, Georgian style bedrooms have the tricky task of finding fluidity and curvature where there formerly is none, usually in the form of free-flowing furniture and materials. A curved headboard, seen in styles such as the Quebec Pencil Bed, is an obvious choice to introduce bends and arches in place of strict, straight silhouettes — restoring an impassive space and transforming it to showcase more inviting interiors.
12. Colonial Style
British colonial style bedrooms transport visitors to another age, one without technology, yet still filled with the wonders of travel and foreign culture. These bedrooms feel exotic, infused with materials, treasures and trinkets from places all over the world. Most notably, they always include tropical plants and canopy beds to help rooms feel blistering and balmy, no matter where they're located.
Create Trending, Beautiful Boudoirs With Ease
To create any of the luxury bedrooms on this list, browse our Collections Brochure.
This collection of matching solid wood beds and bedroom furniture, handcrafted in the UK, is available for complete customisation, so you can achieve any interior look on your wishlist controlling the size, shape and shade of any of the pieces.
So, whether you want to emulate the elegance of The Ritz in a cultivated and classic hotel-inspired bedroom or keep it simple and sophisticated with a farmhouse-style space, you can. Click on the link below to power your next premium interior project.