7 Examples of Traditional English Country Manor Decor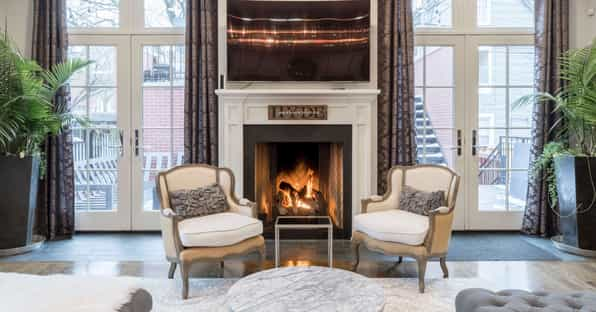 There's something magical about traditional English country manor decor. From the staircases that transport you to another century to the cosy fireplaces that keep us warm over winter - country homes truly exude a certain ambience you can't find in modern home designs.
With the right furniture and accessories, this country aesthetic can be recreated in your own home. Here are seven examples you can use to inspire you.
1. Twisting Staircase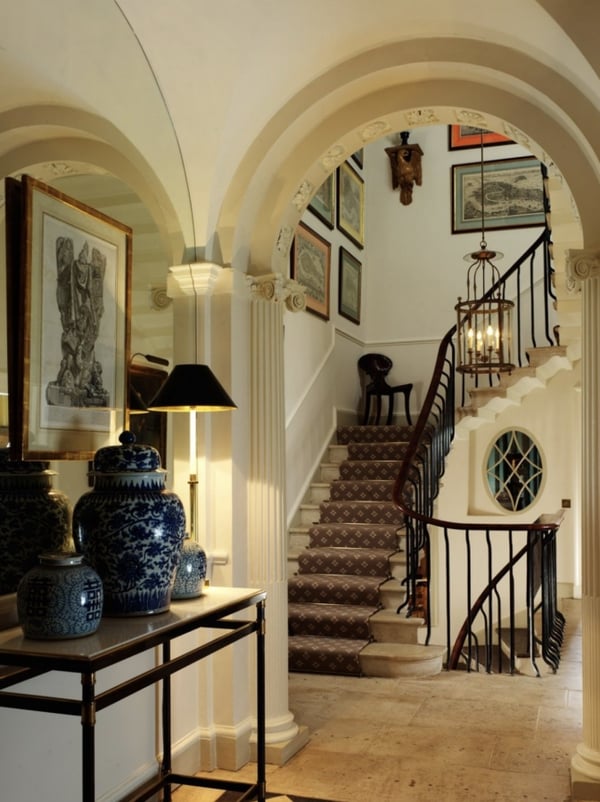 Image credit
What makes this hallway so inviting is its ability to transport the owners back in time while still embracing contemporary design. Traditional, sleek yet modern, this hallway is eclectic and perfectly combines the old with the new.
Take a look at the hanging candle chandelier - an ode to its Georgian past perfectly juxtaposed with the modern lamp on the table to the left. Its beautiful, twisting, turning staircase creates a whimsical atmosphere you only find in houses with architectural quirks such as these.
The white walls open up this space while the artwork hung on the walls makes sure it doesn't look plain.
2. Country Patterned Textiles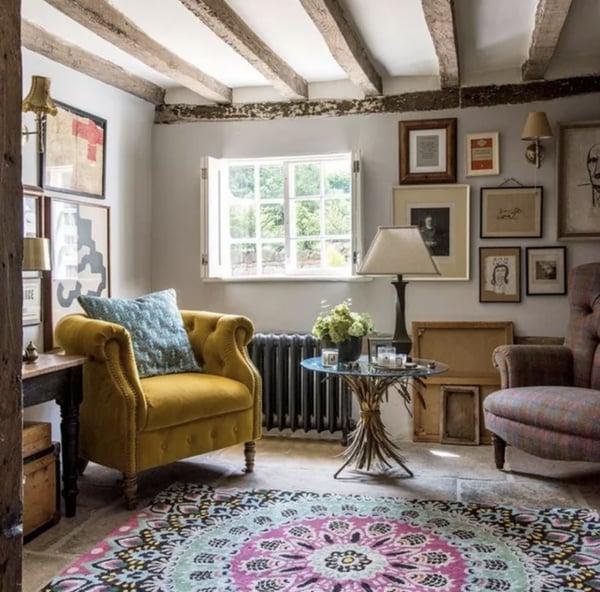 Image credit
It's hard to create a country style without patterned textiles. It can be daunting to mix patterns, but as the home above shows, it only enhances the room when done correctly. Nearly every material in this quintessentially British living room features a print, like flowers, stripes or checks.
It can be tempting to buy matching patterns, but by mixing them instead, you'll create a bolder statement as long as you stick to a cohesive colour scheme.
3. Country Charm Kitchen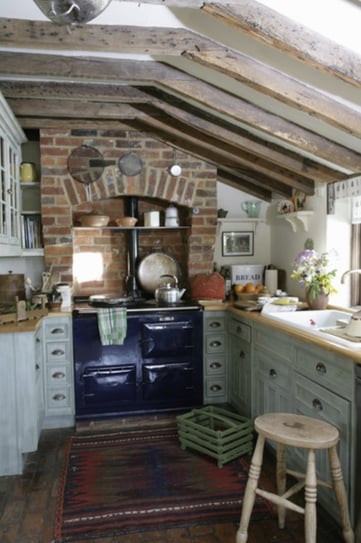 Image credit
Nothing truly says a traditional country English kitchen quite like this home. From the exposed brick above the stove to the beautiful beams on the ceiling, this kitchen exaggerates its country charm by keeping it simple.
Painted cabinets are a country favourite as they're practical, versatile and can easily be updated. Its earthy shades of blue and green take inspiration from nature and create a warm, inviting atmosphere.
Its wooden stool and basket perfectly match the rest of the kitchen's ambience, adding to the room's uniqueness.

4. Feeling-Kind-Of-Blue Bedroom
Image credit
Whimsical and quaint, a floral pattern exudes traditional English country manor. This wallpaper frames a country aesthetic with its dark blue and light pink design creating an eye-catching pattern.
See how they've paired a busy wallpaper design with a softer-patterned bed linen. It creates a warm and inviting atmosphere that's also charming and feminine. Although the room features modern accessories like the photograph on the wall, it still sends you back to simpler times with its wooden bedside table and matching plant pot.
5. Pop-Of-Colour Bedroom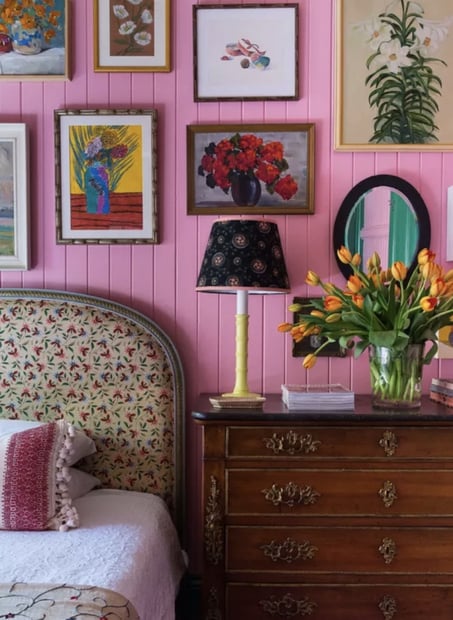 Image credit
To create a country feel in a home, often people feel they must use muted colours, but it doesn't have to be that way. By adding a pop of colour, you can perfectly combine an English country aesthetic with a modern twist while maintaining all the charm of the traditional decorating.
By simply choosing to paint only the wood wall panelling, the room isn't overwhelmed with colour. Like any country home, it keeps its traditional roots with the beautiful, wooden set of drawers, nature-inspired decorations and floral patterns.
6. Grand Four Poster Bed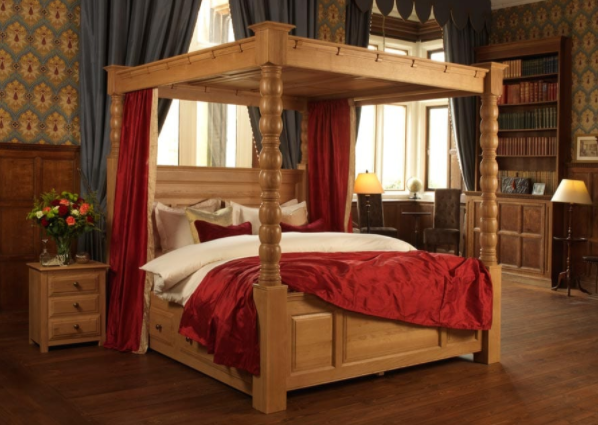 From the striking red sheets fit for royalty to the warm wooden bed and matching drawers, this bedroom creates a royal, historical feel.
Its wooden bookcase transports you back to an older era and the warm lighting from the lampshades create a cosy ambience - one that makes it oh-so-easy to climb into bed and relax.
Its sturdy Four Poster bed makes a presence from its sheer size and the mixed wooden tones in the room create levels throughout the chamber. It's something that demands attention as soon as you walk into the room, making it tempting to climb in yet difficult to leave.
7. Vintage Bathroom With A Modern Twist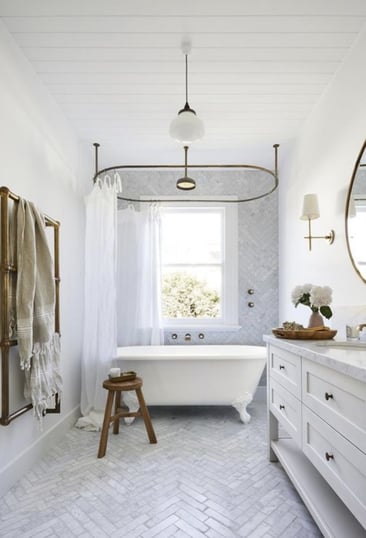 Image credit
Open, bright and inviting. This bathroom exudes serenity. See how the aged brass towel rails are perfectly paired with the herringbone pattern tiles that give this bathroom a more contemporary edge.
The white, light decor opens up the room and creates a clean, sleek space.
Its freestanding bath simply invites you to climb in after a long, hard day. These kinds of bathtubs make a completely different space to modern bathtubs, creating a vintage feel and a striking focal point in every bathroom they're placed in.
Whether you want to add a touch of English country manor decor to your home or want to strip it all back and start your renovation project from scratch, it can take time to carefully plan all the details for every room. Maybe you're looking to add a narrative to your dining experience, your bathroom needs updating or you want to make your bedroom the perfect place to slumber?
We've made the process easier for you. Continue your journey through timeless country decor by taking a look at our inspirations guide.
Take Home Design To The Next Level
Whatever you're hoping to achieve, you can find design inspiration in our visual guide. From modern design to traditional aesthetics, unique features to functional ideas, you can explore room by room - even the often overlooked aspects such as hallways and flooring - to get a little inspiration for your own home.
Let the inspiration continue - just click the banner below.