Bed Of The Month: Parisienne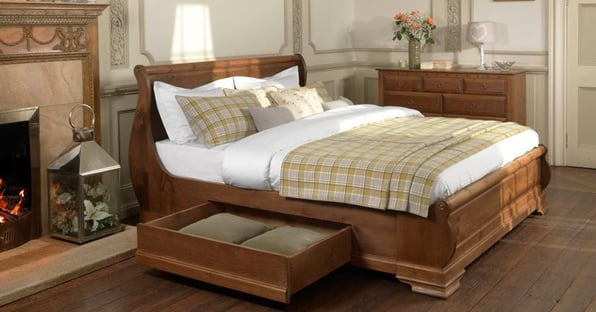 Strong as an ox but beautiful and resplendent. Our Parisienne Sleigh bed is one of our most popular choices among our loyal customers. Our sleigh beds were designed to be true to the original French design. With robust lines and flowing curves, the Parisienne is the perfect example of the style - one purportedly made popular by Napoleon himself.
So what sets the Parisienne apart from the rest? Find out its history and why it's Revival Bed's bed of the month below.
The History and Design of the Parisienne
We designed the Parisienne to hold true to its esteemed history. A heritage that dates back even further than Napoleon, all the way to the Roman era. Our team handcrafts our beds at our Nottinghamshire workshop, made carefully and with love using either European Oak of a combination of Quebec Yellow and Scandinavian Redwood.
Their popularity over the years has been driven by their mixture of sleek design with incredible hardiness. From the curved headboard down to the footboard, the Parisienne flows in a very natural way.
The Parisienne is also replete with carved scrolling, heavily moulded 'ogee' feet and exquisite brass detailing. These are created exclusively for us by a British company with a sublime heritage, much like kingly beds of the past, yet presented in a thoroughly modern manner.
Features of the Parisienne
Mirroring the original French proportions, the Parisienne has a size and stature that reflects our modern needs and tastes. It contains a 40mm gap between each slat, a measurement we've found to deliver optimum mattress support. The Parisienne is available in five different natural wood options. Each Oak bed is hand polished with natural wax to bring out the beauty of the timber, while our Oregon beds are polished in a choice of four natural wood finishes.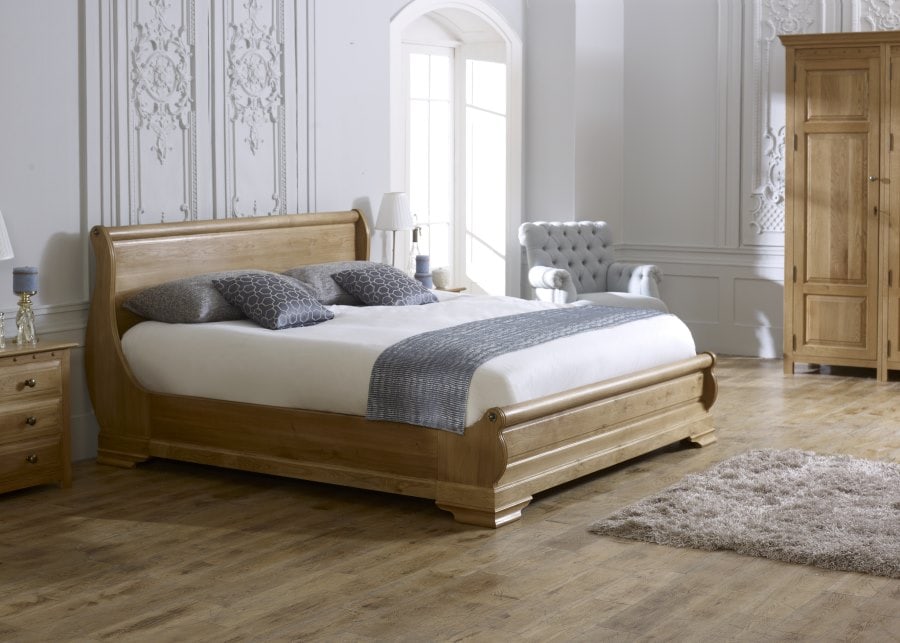 In every bed, we can incorporate two under bed storage drawers upon request, which will be discreetly built into the base, so nothing detracts from the fluid lines of the Parisienne design. These are roomy, providing up to 10 cubic feet of ample storage space and feature dovetailed joints for added strength.
Each bed can be handmade to suit your size requirements, including the following sizes:
Single 3'0"
Double 4'6"
Kingsize 5'0"
Super Kingsize 6'0"
Eastern King 6'6"
Emperor 7'0"
However, all of our beds can be made to any custom measurements. All you have to do is ask. We can even create custom mattresses to match your requirements.
What To Pair With Your Parisienne
The Parisienne pairs well with so many of our pieces of handcrafted furniture, but below we've picked some of our favourite pairings.
The 9 Drawer Chest
This chest, featuring nine spacious drawers, is the perfect accompaniment to the regal Parisienne. From clothing to knick-knacks, the 9 Drawer Chest stores your belongings easily and is a useful surface for TVs or sound systems. Plus, at the right height, it satisfies your need for storage space without looking intrusive.
Revival's Bedside Table
Our classic Bedside Table, the perfect companion for late nights, early mornings and everything in between, is the right mix of useful drawer and simple shelf - something you can use to store things in and on. The shelf can display books or decorative elements that help make your room that much more homely. Its design is simple, pairing well with our Parisienne and any other design choices you may make.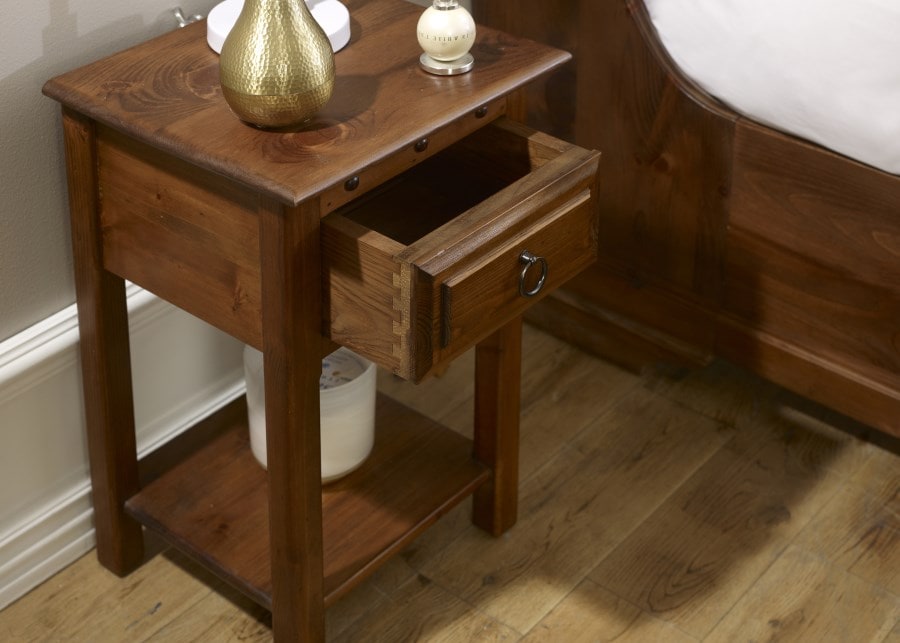 2 Door Wardrobe
Handmade, versatile and customisable, our 2 Door Wardrobe is the perfect choice for any bedroom. As some people prefer shorter hanging rails for suits and shirts while others opt for full-length rails for coats and dresses, we can cater for this, offering a range of six different internal configurations.
This means you can utilise your wardrobe exactly as you want to, with no unnecessary issues caused by poorly designed internal shelving that doesn't suit your needs.
Discover The Parisienne Sleigh Bed in More Detail
If this piece has piqued your interest, head to our Parisienne product page. Over there, you can learn more about this popular bed style and see images of how it looks in situ.
Click the button below to get started.