The History of Handcrafted Bedroom Furniture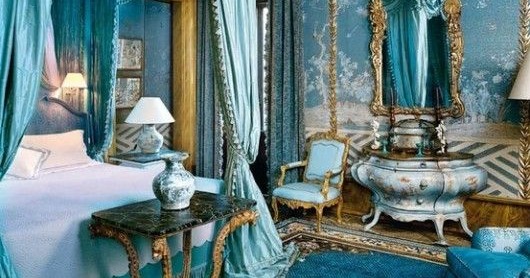 Handcrafted bedroom furniture dates as far back as the Archaic period (3100-2686 BC) with the hand-carved bed frames of Ancient Egypt being some of the earliest interiors ever discovered.
Surprisingly, Ancient Egypt's primitive bed frames are somewhat similar to today's minimalist models.
However, handmade furniture has come a long way since then, incorporating more elaborate and intricate styles along the way and progressing to a much more comfortable way to spend the night than our ancient ancestors ever did.
The First Handcrafted Bedroom Furniture
Made of wood, stone and ceramics, ancient Egyptian beds consisted of a lower than average bed base, high headboard and legs—a sleek silhouette not too dissimilar to those in contemporary Japanese-inspired sleep spaces.
Ancient Egyptians improvised to cover their rectangular bed bases with woven mats made from thick, winding cords.
Although we now sleep on much firmer foundations and use more sophisticated methods of assembly, trending Bohemian beds also have something in common with ancient interiors, sharing a love of natural materials and organic-feeling furniture.
Handcrafted furniture in these later styles use dependable wooden slats topped by luxury mattresses, yet their headboards still sport a similarly woven surface.
Despite ancient Egyptian chambers' similarities with modern masters, it would be wrong to say that little has changed since the pharaoh's style of sleep.
Unlike today, ancient Egyptians rested only on hard surfaces, forgoing pillows. The lucky few who were privileged enough to sleep in such beds relied on the curvature of wood, stone or glass to find support during their slumber.
However, it is, in part, thanks to this region that we find such softness and support under our own necks at night. Today, every luxury bedroom sports pillows, whether goose down or feather, wrapped in the world's most coveted fabric—Egyptian cotton.
So, just how diverse is the history of handcrafted bedroom furniture? Have we been creating bedrooms in the same way for centuries? And is comfort the only true indication of interior evolution?
Introducing Elaborate, Intricate Bed Styles
After Ancient Egypt and before the birth of modern minimalism, bed frames transformed from simplistic silhouettes to more elaborate and intricate styles as we passed through the Medieval, Renaissance, Rococo, Victorian, Traditional and Art Nouveau periods, introducing a whole new wave of handcrafted furniture.
Interiors evolved to create a new benchmark for bespoke luxury, not just in terms of comfort but also in terms of style.
During this time, four-posters became commonplace as did characterful carvings and striking leg styles. Beds boasted higher headboards and higher foundations, lifting us further from the ground, simultaneously helping to mirror our standing in society.
In Medieval times, sleeping conditions became evermore disparate with some individuals sleeping on little more than a straw mattress and others on the opulent beds we still associate with luxury lairs today, complete with canopies and elegant embroidered sheets.
Today, we remember and recreate the luxury styles of these eras, modernising them by tweaking their finish or putting a new twist on their design.
The daring details of these different periods seeped into other bedroom furniture pieces with dressing tables, bedside cabinets and other items also enjoying the style's signature, decorative detailing.
There are many distinct leg shapes from fluted and reeded to spiralled and scrolled that were developed by different furniture makers. Some are undoubtedly British, such as the Cabriole associated with Queen Anne. All are iconic, often allowing us to pinpoint the exact age of antique furniture, sometimes even attributing it to its original maker.
Returning to More Modest Bedroom Furniture
It was only when we entered the Bauhaus design movement in 1919 that beds began to retreat to a more modest style, reflecting that of Ancient Egypt.
Pared-back design movements such as Art Deco, Bohemian and Organic were to follow, making way for uniform, understated bedrooms to emerge and replace rich, lavish interior landscapes.
Keeping some of the fun and fancy of the more elaborate interiors, these styles simply made their sophistication more accessible by scaling down their size, shape and style.
Prints, colours and textures remain in many of these movements, but the shape of this furniture is altogether more withdrawn, and therefore, more appealing to the everyday audience.
Eventually, this gave way to the easygoing styles we see so much of today including mid-century modern, minimalist and contemporary interiors.
As a result, we now have more handcrafted bedroom furniture options than ever to choose from, whether you're drawn to French-inspired sleigh styles or modern, metropolitan beds.
What's more, handcrafted bedroom furniture seems to have come full circle with the most modern beds looking strikingly similar to those made around 5,000 years prior.
Handcrafted bedroom furniture specialists offer furniture inspired by every period and of course, if your budget allows, you can add authenticity to your room by obtaining an antique piece original to the time.
Revival's Handcrafted History
Our own history begins in 1983 when we started handcrafting luxury wooden beds in our Nottinghamshire workshop.
Throughout our work, we've always paid homage to many of the movements mentioned throughout this blog, all while making them modern and maintaining our promise to deliver a premium night's sleep.
From traditional beds and four-poster frames to leather upholstered beds and New England-inspired styles, there aren't many historical design movements we haven't tried our hand at.
As such, we make it easy for our customers to adopt any interior style, from any point in history.
To get interior inspiration from the past to the present and discover high-quality, handcrafted bedroom furniture, download our Collections Brochure by clicking on the link below. This resource shows every collection available to order as well as the ways you can customise each piece for a truly bespoke bedroom.