8 Ways to Create the Ultimate Gentleman's Study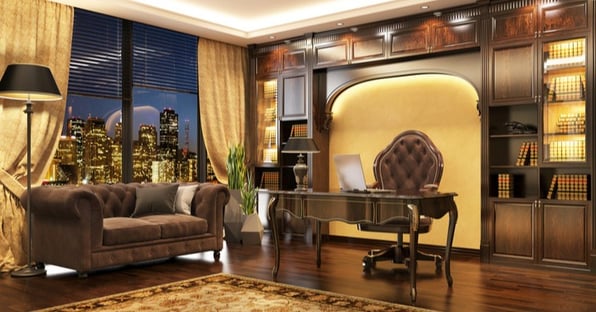 The study, reading room, library, office - whatever you choose to call it - is one of the most distinguished and enjoyable rooms one can have. Existing long before the 'man cave', a study exudes decadence and tastefully acknowledges a simpler, more sophisticated era.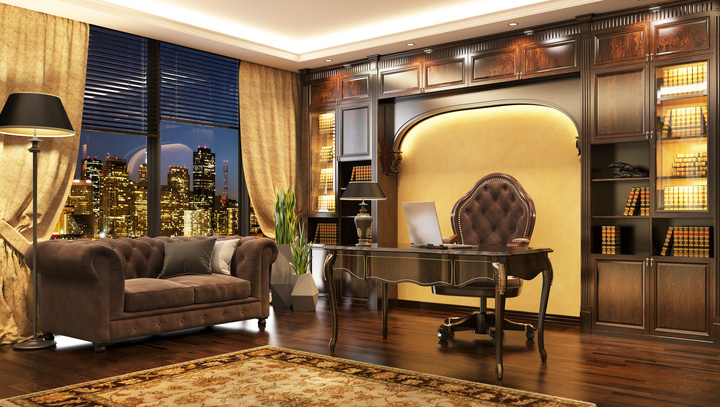 For many, the idea of rich mahogany-clad walls, crackling fire, plush leather chair, stately desk and towering bookcases is a true dream. We're here to help you go about creating the perfect gentleman's study where your individual desires can reign supreme.
1. Powerful Colour Palette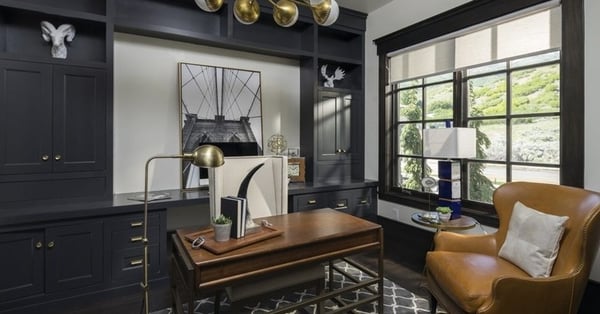 Image credit
A gentleman's study can tastefully illustrate the unique individuality of a man's true character. Doing so in a highly stylised way, no other room throughout time has been able to hold the same power.
So, it's only right your colour palette displays this strength. Do you go for the warm, rich vibrant styling of the classic gentleman's study? Or does a minimalist, streamlined and monochrome aesthetic speak more of your character?
Either way, incorporating timelessly masculine design is as simple as leveraging jewel tones such as burgundy, navy, ochre and emerald greens in your interior. Whether through accessories or intricate wallpaper, these hues convey serenity, value and mystery.
2. A Stately Desk & Chair
Image credit
The centrepiece of the gentleman's study, the desk, should be classic in design while remaining functional. From a sleek and minimal choice to a bold, vintage one, your room design should marry with and complement the desk.
An executive desk with signs of ageing - character - adds a sophisticated old-world charm to an integral part of a study. Wood of this calibre is a sound investment, lasting you a lifetime and becoming a wonderful addition to your heritage.
Paired with a high-quality leather chair, it's a place for work and play. A gorgeously-tactile material, leather is the distinctive gentleman's study scent we all know and love.
There's no template to follow that will suit every man, nor is there truly a wrong or right way to decorate a sanctuary. It's just one part of your abode, but there are many other rooms to consider. If you're looking for decoration and inspiration ideas for each room in your home, we have just the thing for you.
Be Inspired & Put Your Personal Stamp on Your Home
A handsomely-decorated study is guarantee by the right furniture and design choice, but it's not the only room in the house. Maybe now is the perfect opportunity to make those changes you always wanted to your living room? Or even revamp your hallway to make it more practical and add a breath of fresh air?
To help inspire you to make the changes you've always dreamed of, take a look at our visual guide. You'll find plenty of beautiful, elegant inspiration to create the home you've always dreamed of. We've even broken the guide down by room, so you can find inspiration for the next room on your list you want to renovate.
Start the journey of creating your stunning interior by clicking the link below.
3. Crystal Whisky Decanter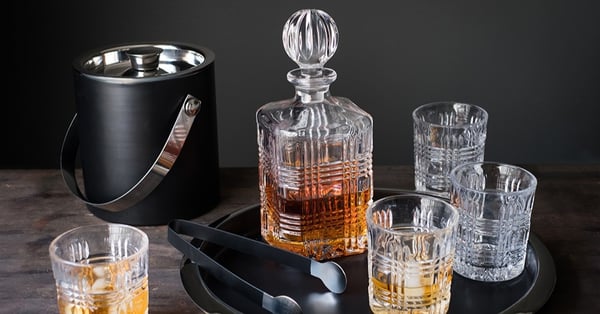 For times when you need to relax, a glass of the brown stuff never disappoints. If you don't have room for a drinks cart, a sparkling whisky decanter on a tray can be just as impressive. Stock your tray with an array of liquor to suit all taste buds and make sure ice is accessible too.
Keep your decanter company with coordinated tumblers to achieve that polished look.
4. Ambient Lighting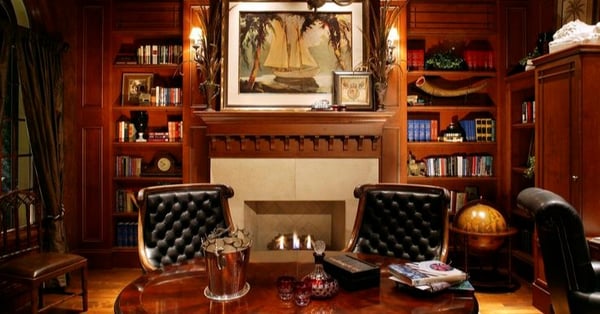 Image credit
Part of what makes a study so inviting is its 'just right' lighting. Instead of glaring overhead lighting, brass sconces, floor lamps and an open fire, if you're lucky, assist in the mission of tranquillity. They'll leave your study with an aura of comfort rather than that of a cold, corporate emptiness.
The soft glow of a candle perched at the end of your executive desk is a way to bring a touch of elegance to the space. With fragrances such as rich sandalwood, tobacco and spicy cinnamon available, they serve as decoration and a delicious addition alongside the scent of aged books and leather.
5. Charming Chesterfield Sofa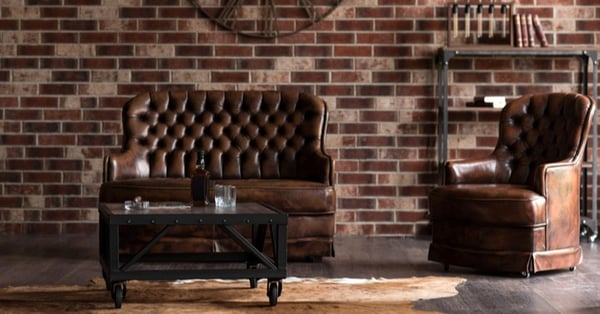 Comfort and classic style work in tandem to create the warm allure of a gentleman's study.
It's time to create the atmosphere you want through a series of furnishings and this is where you can begin to fully express yourself.
The most important feature of the study must always be the desk and chair, but a worn leather couch can elevate the interior. Undisputed necessities for whiling the afternoons away while reading, these pieces come with stories of their own.
6. Literature at Your Fingertips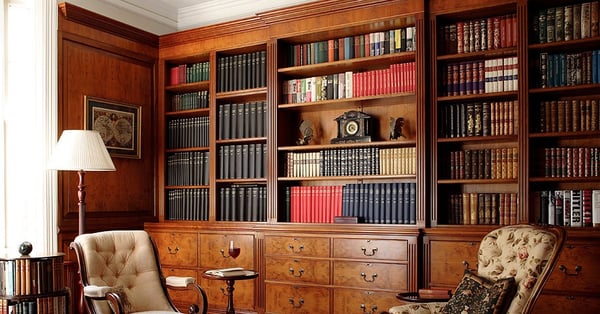 Image credit
An elegant bookcase is one of the basic classic core elements of the gentleman's study, something the room would otherwise feel incomplete without. If you have an interesting alcove, maximise your space by having a piece of furniture designed bespoke.
It'll look seamless and provide extra storage - just make sure to work with craftsmen who have the experience to fulfil your project.
Ensure you have a wide and varied collection of literature to peruse through the years. Not only is it a magnificent display of your interests but it's also a wonderful talking point.
For downtime, only a good book will suffice. So don your smoking jacket and enjoy this solitary retreat you've created with your favourite facts and fiction of the world.
7. Desk Accessories and Essentials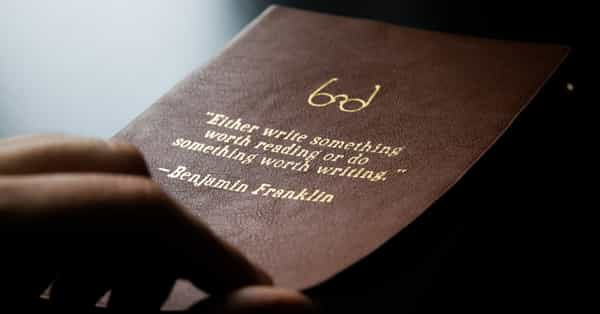 These finishing touches on your desk can make or break the aesthetic of the study. Here are some classic accessories that feel at home in your space regardless of your interior design.
Embossed leather-bound notepad: Jotting down your ideas, inspirations and goals is made so much easier with a beautiful notepad to do it in. Each page turn is a crisp new start.
Engraved platinum pen: What's a fancy notebook without a special pen to write with? These pens are worth the investment for the lifetime of spectacularly sprawled signatures they promise.
Wireless phone charger: Jarring white wires can distribute the harmony of your space. Opt for a wooden wireless phone charger that blends seamlessly.
If you'd like to see design tips you can use throughout the whole house, discover our favourite styles in our inspirations guide.
8. Worldly Treasures and Trinkets

The personal accessories you choose for your study should serve as a visual mood board for you, your hobbies and your interests. The only way to fully complete your study is to add those personal belongings and trinkets that speak to your very soul.
From a stag's head on the wall to an ornate globe or a portrait above a mantelpiece - this is where the room finally becomes yours. It creates the idyllic atmosphere every gentleman's study should have.
If you'd like to see just what furniture we can offer to help create the ultimate gentleman's study, such as our Gentleman's Cupboard or our Ottoman, open our brochure.