When we think about oak furniture, ideas of timelessness, durability and beauty are conjured. It's a material brimming in heritage. By choosing the finest handcrafted oak furniture, you've already started to sow the seeds of a colour scheme - even if you haven't considered colours yet. Oak lends itself to certain shades and hues over others. Because of the unique grain and gradient of each piece of furniture, you'll need in-depth considerations for your colour scheme.

We've compiled a number of colours that go with oak furniture, as well as a few useful tips.
What Colours go with oak furniture?
Oak epitomises luxury. It's also a versatile material, fitting seamlessly into many differently-styled homes, from something more traditional, say a country house, to something contemporary, such as a modern apartment. It's always a popular choice.
How you tie your furniture into your colour scheme or how you build your colour scheme around your furniture is the foundation of creating a truly wondrous space. Regardless of whether the furniture is new or has been owned by you for a while, the colour palette of the room should always complement it.
Without a complementary palette, furniture of any kind can feel out of place. Some people rely on neutral tones and whites as they're safer options, but oak furniture deserves a little more care and consideration when pairing with a colour scheme. What you'll discover is you shouldn't be afraid of the darker hues.
deep ocean blues
Blues that are rich and moody pair effortlessly with the light, creamy tones of oak. These moodier colours, such as Farrow & Ball's Inchyra Blue or Dulux's Sapphire Salute, act as a classic backdrop for framing oak. Blues like this invoke feelings of calm environments and, depending on the light, can almost seem grey or even green at times.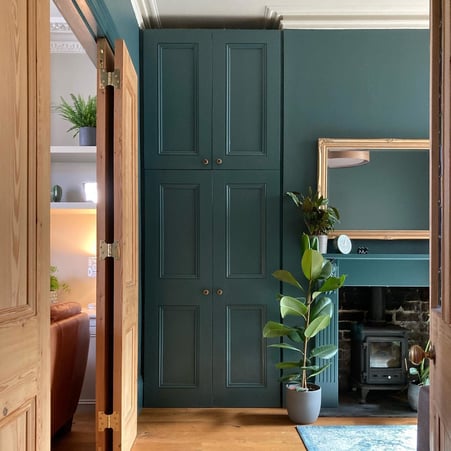 Inchyra Blue. Image credit: Farrow & Ball
Pair these colours with lighter, greenish-blue hues (such as Farrow & Balls' Vardo) or even creamy off-whites to create a contrast full of depth.
Choose to highlight with lighter greens with plants and greys or golds in the form of picture frames and accessories to provide depth and a character to the room. You could also choose lighter, muted grey-blues for a contemporary feel.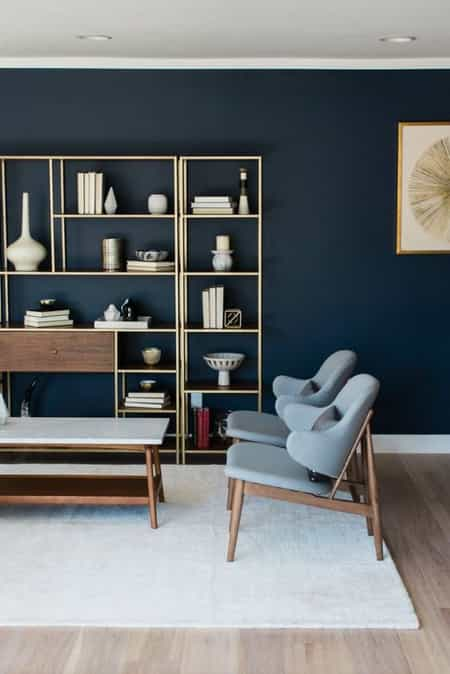 Sapphire Salute. Image credit: Dekko Bird
softer neutrals
Choosing colours with similar undertones to your oak furniture creates a softer neutral look, with a less dramatic feel than bolder blues or greens. Beiges, taupe shades and creamy off-whites help furniture to blend in with the colour scheme, allowing for a smooth visual narrative and helping to make your room appear larger.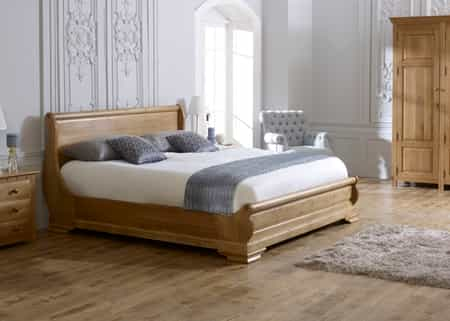 Softer neutral tones can also help your oak furniture to stand out. As you can see in the image above, the lighter natural oak of the French Sleigh Bed pairs beautifully with the off-white walls. While the colour theme is light and airy, there's still a subtle contrast between the lighter walls and the oak furniture and flooring.
Subtle greens
Like the leaves on their original trees, oak pairs beautifully with subtle greens. You can contrast a dark oak grain with lighter green or mirror the deeper colour with more of a forest green. For example, Dulux has a range of green options in their offering, such as the almost dark teal Emerald Glade or the Scotland-inspired Highland Green.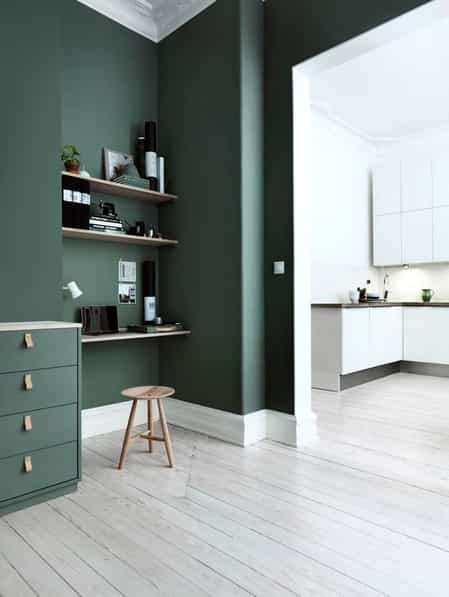 Image credit: Door Eleven
You can pair darker oak with earth greens such as olive, creating an elegant and relaxed feel. According to a study by Dulux, green is the best colour for achieving a peaceful night's sleep, as it helps us relax and even ease stress. So for your bedroom, pair a deep green hue with a beautiful hardwood oak bed and sleep soundly.
dramatic contrasts
Depending on the hue of your oak, you could find a potential colour scheme in something dramatic - in this case, white, black and grey. With a saturated dark colour, like a dark grey, you can work to make your oak furniture stand out. Choose an oak with a lighter hue and pair with a two-tone (or dipped) wall colour, like in the example below.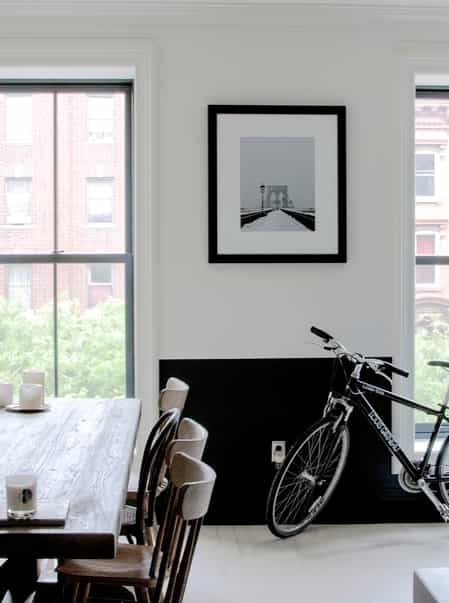 Image credit: Hey Djangles
This two-tone look is dramatic but not overly aggressive. The white provides a lighter, airier feeling while the black borders the floor, giving depth and maturity. The colour of the hardwood table, a beautiful piece of practical and timeless furniture, provides a complementary colour - a cool, subtle wood finish.
Pastel shades
For a more modern appeal, pastel shades work incredibly well. While pastels are bright, their smoothness allows them to be paired with almost any material. In this case, oak furniture works to add warmth to a pastel bedroom or living space.

Image credit: Coco Lapine Design
how to match your oak furniture to colours
Oak is a unique product. Every piece is different due to its grain. That means some may find it hard to discover the perfect complementary colour scheme. However, some key practices make it easier.
identify the undertones
Oak often has warmer undertones. Sometimes these are warm reds or autumnal yellows. Stains and varnishes also work to highlight these undertones in different ways. Some varnishes emphasise the reddish quality of some oak, while others bring out those autumnal yellows and even oranges.
You can choose to work in harmony with those undertones, choosing colours that match or amplify through contrast - choosing opposite colours (such as lighter hues for deep reds) that work to provide focus on those undertones.
Whatever highlight or lowlight colour you choose, it will always affect the way you perceive the main colour as the refraction of light and how we analyse colours changes according to the colours around them. A red surrounded by white will appear lighter. The same colour surrounded by black will look darker.
Are there any colours to avoid?
In truth, there aren't many colours that don't match well with oak furniture - apart from incredibly bright, neon-like colours that suit other materials. While oak pairs the best with natural tones; deeper blues, greens, reds and also neutrals, you can also use brighter colours as highlights, in the form of furnishings and accessories.
Cherries, lime greens and autumnal oranges do well to highlight the natural lustre of oak. A good rule of thumb is to view darker shades as creating either mood, drama or cosiness and lighter or more saturated colours as providing energy and zest.
painting your oak furniture
Painting your oak wardrobes and drawers to match or accentuate your colour scheme is also a possibility. Taking the finest oak furniture and imbuing it with a high quality painted finish is a simple way of adapting your furniture to the style you want. It's a material that proudly showcases your design choices.
Painting is also a good opportunity to restyle your oak furniture, giving it a completely different feel with just a few coats. While the finish of natural oak is a timeless choice, painting your oak furniture can dramatically alter the atmosphere of your room. You can also choose furniture to be painted, but leave the top as the natural oak colour to create a lovely contrast and still present the natural grain.
To find out more information on painting hardwood furniture, read our blog.
Colours schemes are just a small part to the puzzle of what creates a stunningly designed household. To find more colour inspiration for your home, explore our detailed inspirations guide, full of gorgeous design examples and guidance for creating your luxury home.
finding inspiration to create the perfect home
We've written this guide to help you stumble across new ideas and luxury inspiration for redesigning your home. Whether you're looking into the durability of oak and what themes to pair it with or you're trying to create the perfect contemporary home, this is the inspiration guide for you.
Click the link below to begin your download.