The Ideal Bed Types for Boutique Hotels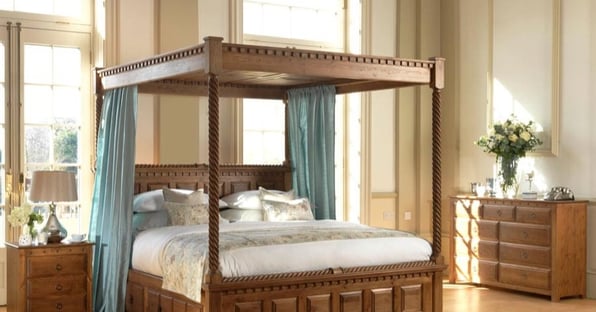 The furniture you choose for your boutique hotel will speak volumes about the style and experience you're trying to achieve. The focal point of any hotel room is undoubtedly the bed. On the face of it, it may seem like a relatively simple decision, right? However, choosing the right type of bed for your boutique hotel can be a minefield of choices in itself.
In this post, we explore some of our favourite types of beds and explain why they're well suited to life in a boutique hotel for delighting your guests and, of course, ensuring a good night's sleep.
Four Poster Beds
Nothing oozes style and sophistication like a four poster bed. A four poster bed dominates a room for all of the right reasons and instantly draws the eye of anyone who enters it. There's just something about their grandiose nature that makes them memorable for guests. After all, for the vast majority of people, it could be the first time they've had the pleasure of sleeping in one, making them a novelty that's sure to draw positive reviews (and an untold number of Instagram stories) from guests.
Ideal for: Boutique hotels looking for a touch of glamour that airs on the side of tradition and class.
Suited to: Country Style, Georgian Style, Royal Style
Sleigh Beds
Sleigh beds are among the most versatile there is. An effortless, understated style that offers equal measures of opulence and simplicity. Much like a four poster bed, a sleigh bed still makes that all-important statement but does so in a way that appreciates the value instead of an immediate impact. Whether you're looking to achieve a contemporary look for modern travellers or an antiquated traditional feel, the sleigh bed is the chameleon of the bed world.
Ideal for: Boutique hoteliers who want a bed that can flex to their every design whim and look great in any setting.
Suited to: French Style, Loft Style, Contemporary Style
Leather Beds
Wood is well known to be the perfect material for the bedroom as it evokes feelings of warmth and comfort. There's only one material that can enhance this aesthetic, and that's leather. Durable, reliable and effortlessly stylish, a leather bed can last a lifetime and look the part no matter the era or the trend. The combination of wood and leather leaves a lasting impression and adds a touch of class to proceedings that your guests won't forget in a hurry.
Ideal for: Boutique hotels that want to harness the earthly qualities of solid wood and combine it with the luxury of leather.
Suited to: Modern Style, Luxury Style, Colonial Style
Metropolitan Beds
If your boutique hotel beholds everything post-industrial, something akin to a trendy New York loft, then a metropolitan bed is exactly the ticket. Perfectly paired with other natural materials, such as brick and raw metal fixtures, a metropolitan style bed proves that comfort and style can be one and the same. The ideal choice for boutique hotels that want to attract clientele with a discerning eye for all things modern and full of character.
Ideal for: Boutique hotel owners or interior designers with an eye for everything modern or industrial, perfect for those weekend city breaks.
Suited to: Loft Style, Exposed Brick Style, Contemporary Style
Need More Guidance? Download Our Boutique Stay Style Guide and Master Interior Design
Choosing the right bed for your boutique hotel is only part of the journey. You need to think about everything to pull together the perfect style and set an unforgettable experience for your guests. Our Boutique Hotel Stays Style Guide is here to help you through the process step by step.
Click the link below to download your free copy today.