10 Luxury Bedroom Design Tips for Effortless Opulence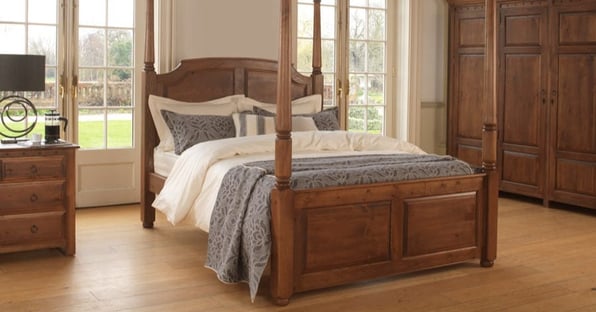 For a long time, less was more when minimalism, Scandinavian design and Japanese principles held the interior reins. Now, elaborate designs, ornate accessories and fussier furnishings are stealing back some of the spotlight. Today, we look to the romance of 17th century France, the excitement of the roaring '20s and the eccentricity of art deco as sights to behold.
More is more when it comes to effortless opulence. Bedrooms are filled with an abundance of elegance, as the finest furniture, the rarest trinkets and the richest fabrics overflow from them. But how can you make excess look effortless? It's a tall order.
Follow our 10 luxury bedroom design tips that allow you to indulge in the extravagance of it, all without going overboard so you can enjoy a refined slumber night after night.
Tip #1:
Carefully Manage Your Colour Palette
Whether you go bold and bright or nearly all-neutral, make sure you clearly understand your intentions with colour before you begin adding them. Stick to two or three primary colours and a few accents at the most. Less is more here, especially if you'll play around with prints in the process.
Tip #2:
Highlight Room Height
If you have high ceilings, shout about them with statement headboards, four poster bed frames and elaborate ceiling art. Ceiling height is a symbol of privilege in the property world and so perhaps nothing else can make interiors feel more opulent than this.
Tip #3:
Look at Your Lines
Whether crisp and clean or flowing and feminine, lines are just as important as room layout. This is the visual melody of your sleep space, marking how an individual will journey your project with their eyes. So, pay attention to the way your luxury drapes fall, the angle of your bedside cabinets and the curvature of your bed frame.
Tip #4:
Focus on Fixtures and Fittings
While furniture surely matters in opulent interiors, so do fixtures and fittings. Don't jump ahead of yourself in the design process. First, play with the flooring, walls and windows of your sleep space to see if its shell is up to standard. Could you include bespoke tiling? Should you commission a mural? Will exposed brickwork accentuate the final outcome?
Tip #5:
Don't Forget the Finishing Touches
A steamed bedsheet. A plumped bolster cushion. A tidily tucked away curtain. A splash of sleep spray. A carefully folded towel. A neat stack of stationery. This is what elevates one master suite from another, distinguishing between magnificence and mediocrity.
Tip #6:
Include Exquisite Accessories
Getting the bare bones of your bedroom right takes time, but so does accessorising it with exquisite, unique pieces so it feels entirely bespoke. Custom-made upholstery and considered bouquets ooze elegance, making an immediate impression. However, smaller additions like luxury clothes hangers, extra soft facial tissues and first edition novels creep in over time, ensuring you'll be just as enamoured with the space long after entering.
Tip #7:
Magnify with Mirrors
In opulent chambers, the space can never feel too vast, too open, too expansive. Despite the square footage of your suite, use mirrors in excess to give the illusion of a neverending interior landscape. Freestanding mirrors and mirrored wall panels will allow you to magnify your interior excellence.
Tip #8:
Don't Scrimp on Sheets
A simple but scribe-worthy tip is to splurge on premium bedsheets, ensuring their Egyptian cotton staples sit at the top of your wish list. Everyone knows the first thing anyone assesses in a hotel room is the bed, discerning whether the thread count is worth the price they paid. So, at home, live up to your expectations and only settle for the finest luxury linens.
Tip #9:
Take Inspiration from Around the World
Much of opulence and the 'more is more' philosophy comes from colonialist style, an interior trend born from fusions of ideas, riches and tradition. As such, if you have a soft spot for a certain continent or region, take inspiration from their lifestyle and the innards of their homes. Bring to life the colours, shapes and textures you so often see abroad.
Tip #10:
Find the Right Furniture
While finishing touches, accessories and a certain je ne sais quoi makes some interior projects stand out from all others, you can't ignore the basics when it comes to creating an effortlessly opulent bedroom. Furniture needs to fit in line with all the other specifications, being of the same quality, the same standard, the same superior status.
Think handmade, locally crafted furniture made from responsibly sourced wood and only the finest materials. Think age-old silhouettes with modern, memorable twists. Think bespoke pieces that fit snugly into your sleep space, communicating with all other elements of the room. Think five-star service and furniture artisans who can advise and collaborate with you on palatial projects of any size.
Get the basics right and effortless opulence will follow. Browse our Collections Brochure for all of our latest bedroom furniture ranges, all with the option to customise to your requirements.
Download your copy now by clicking the link below.