12 Inspiring Contemporary Bedroom Ideas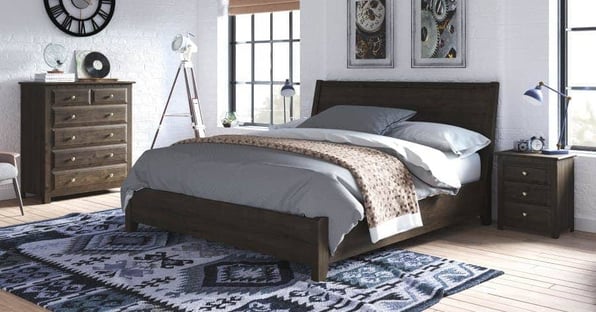 Contemporary bedroom ideas. They're modern, stylish and sometimes experimental. There's something intimate about them, whether they're ideas for bed styles or furnishing choices. The trend's biggest challenge is the very definition of 'contemporary', an incredibly open, all-inclusive word.
Countless things are contemporary. You can even argue retro or vintage items can be easily incorporated into contemporary bedrooms if styled right. We've created a list of the top 12 inspiring contemporary bedroom ideas you can use to inform your future interior design ideas.
1. Statement Beds for Statements Bedrooms
Beds are the focal point of a room. They have to be functional, durable and, above all else, endlessly comfortable. Take the Metro bed, the perfect sleek and modern bed for a post-industrial loft vibe. Paired with exposed brick painted bright white with chic furnishings, this bedroom effortlessly marries cosiness and contemporary style.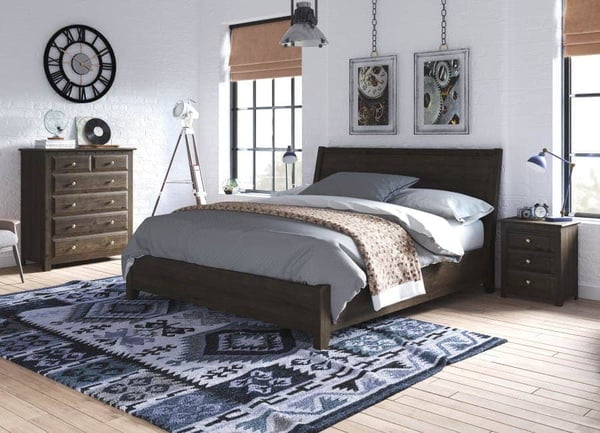 2. Wooden Beams, Contemporary Dreams
While usually thought of as traditional architectural additions in places like farmhouses and cottages, exposed beams are fantastic for the contemporary bedroom. The savvy designer will choose a lighter, cleaner wood for an airier feel and use the beams practically, embedding them with light fixtures or wrapping them in plant life.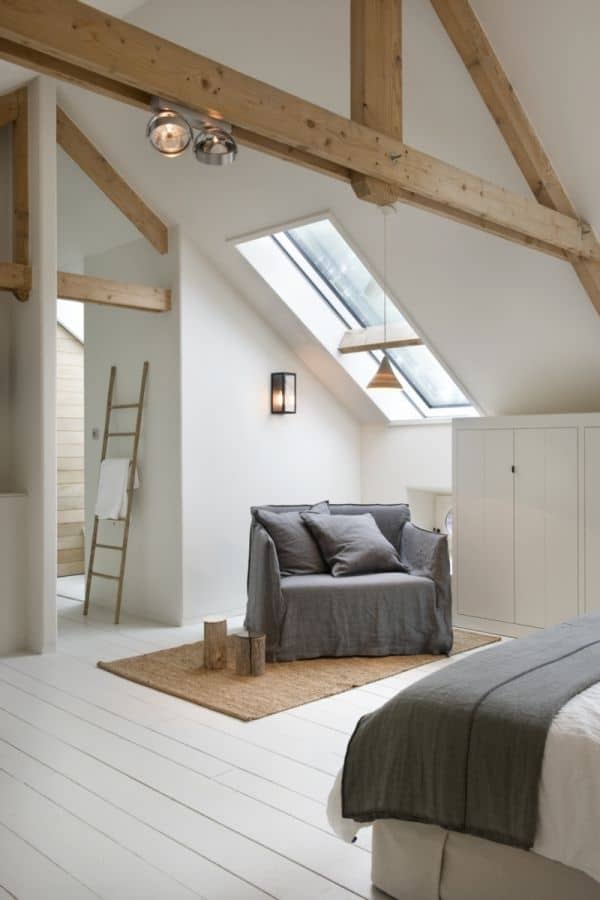 Credit: Pinterest
3. A Dash of Abstract Colour
A room isn't finished without art and nothing suits the contemporary room better than abstract expressionism. It's a modern art form that focuses on fluid, almost chaotic movement and complementary colour schemes for natural and unnatural paintings.
For example, some well-loved proponents of this style are…
Ava Artwork
Christina Boyle
Joy Kinna
These dashes of expressive colour liven up a living space. You can even design your room around your painting of choice.
4. Modern Minimalism
White walls, crisp lines, the occasional drop of colour — minimalism will never not be popular. Minimalism is a reaction to the consumption and speed present in everyday life. After a busy day at work, returning to your meditative bedroom is an absolute blessing.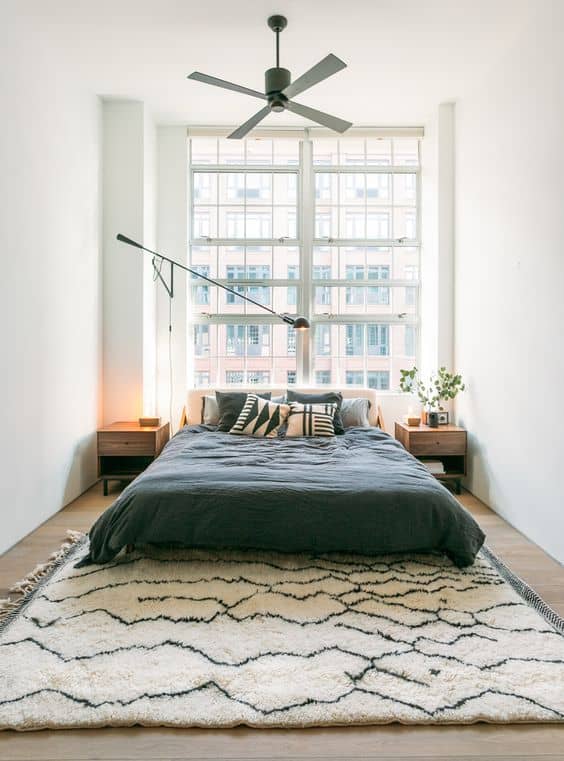 Image credit: Ouive
Take this minimalist loft bedroom. Lit calmly by bedside lamps and containing sparse yet well-chosen furniture, it's the perfect example of when minimalism doesn't feel empty.
5. Tuscan Tones
Many assume a contemporary bedroom needs white walls. That isn't the case. Today, savvy designers are turning to warm, earthier tones — the sort you'd find in a charming Tuscan villa.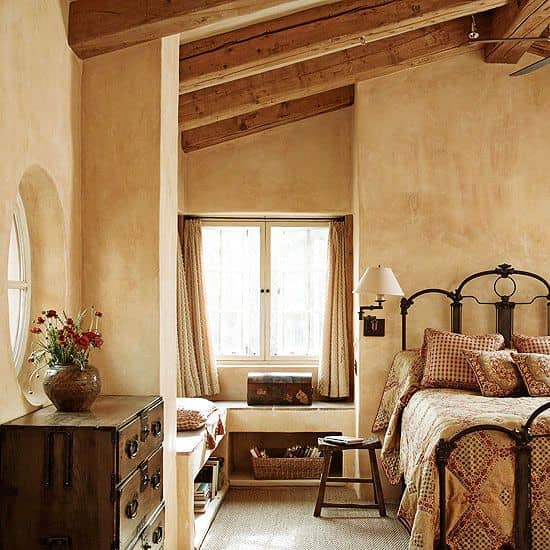 Image credit: Pinterest
It's the kind of colour choice that provides that rose-tinted glasses effect of happy nostalgia. The Cinema Paradiso of bedroom style choices, so to speak. Warm and comfortable, like freshly baked bread.
6. Black is Back
Black is typically the last colour people would choose for a bedroom. However, it's becoming the 'it colour' of the season. However, you need to use it properly.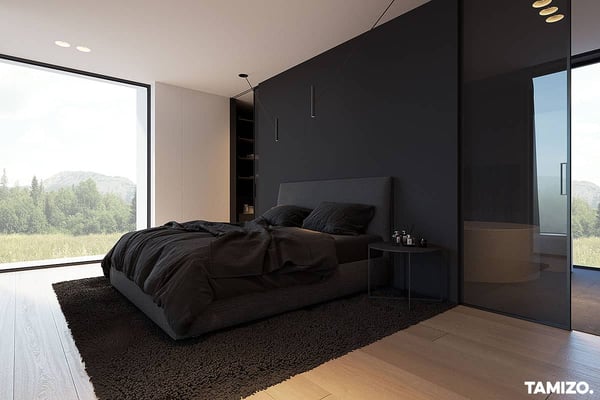 Image credit: Tamizo
Too much black leaves a room feeling small and cramped. However, with the right use, it ends up cool and commanding. In the room above, black has been used to designate the sleeping space and provides a calming space in contrast with the bright wood and window.
7. Japanese Living
Interior design has always been connected to Japanese spirituality, philosophy and culture. The style is minimalist, utilising natural materials and very deliberate choices to create spaces that are as functional as they are flawless.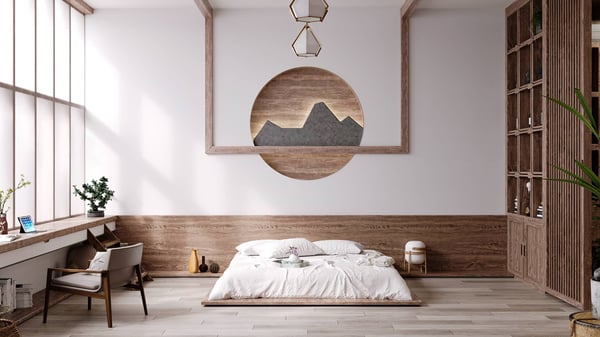 Image credit: Behance
Low beds, tatami mats, clever storage, modernist accents and, of course, the well-trimmed bonsai. Combine these for a serene slice of Japanese living.
8. Primary Colours
A fantastic contemporary bedroom idea is to focus on using a primary colour and then complementary colours to build the rest of the design. Take the room below, using a bright red hue as an anchor, then pairing cooler blues, greys and whites to finish the space.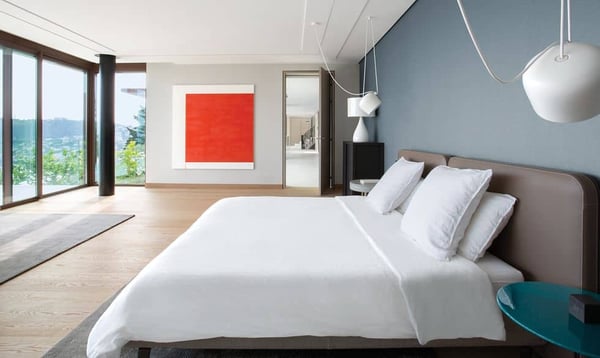 Image credit: Elle Decor
9. Post-Industrial Cool
Exposed concrete, cool grey fabrics, brickwork and metal are the kinds of materials that make up post-industrial bedrooms. These bedrooms have a rough feel to them, but it's a deliberate roughness that you can own and enjoy.
Image credit: Pinterest
They tend to be moody and masculine, but that doesn't mean they aren't universally popular. Try pairing different fabrics on the bed and varying types of metal light fitting to create a visually eclectic take on the style.
10. Modern Middle Eastern
Middle eastern inspirations descend from a centuries-old development of varied decor styles, influenced by countless cultural and religious developments.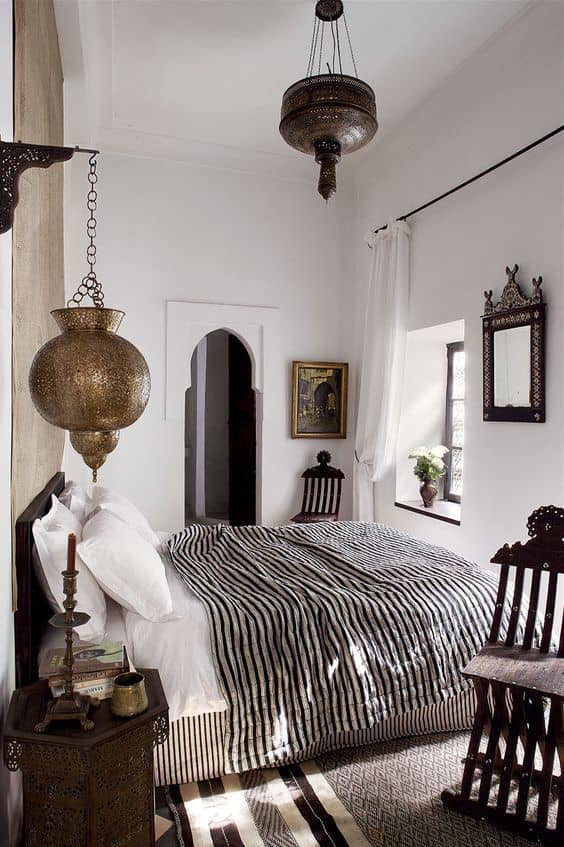 Image credit: Bungalow Classic
This contemporary bedroom draws from these inspirations in both architectural and design choices. Everything is bristling in historical influence, from the door frame to the bedside table, lamp to mirror.
11. Enthralling Accent Walls
One of the most impressive choices in contemporary bedroom ideas is the use of an accent wall. There's no limit to your imagination when it comes to these design features. For example, a popular version is the dimensional accent wall.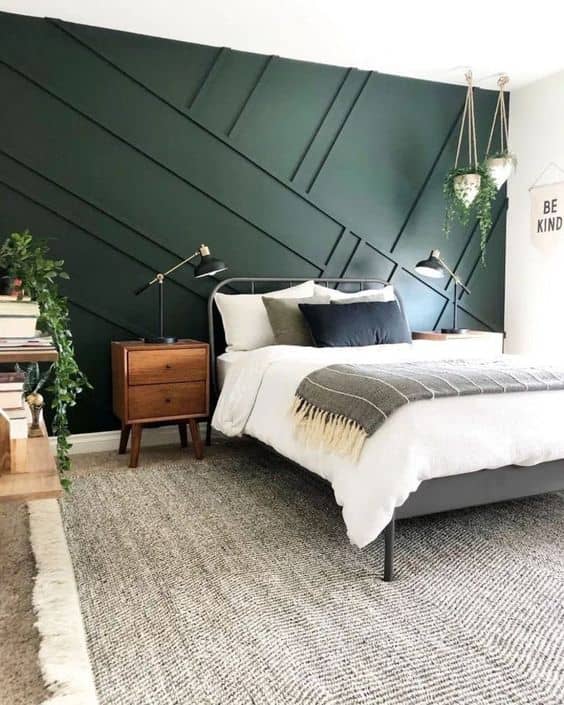 Image credit: Etsy
This bedroom has been given a dimensional accent wall, painted in a deep, deep green. It complements that lighter rug choice, modernist bedside table and the use of brighter green in the form of plant life.
12. Let There Be Light
No contemporary bedroom is finished without clever lighting choices. Contemporary lighting should be well-designed and robust, without jarring with the other bedroom design choices. For example, look at these connecting, reconfigurable LED lighting tiles that can be positioned in any area or design that you see fit. Perfect for that contemporary reading nook.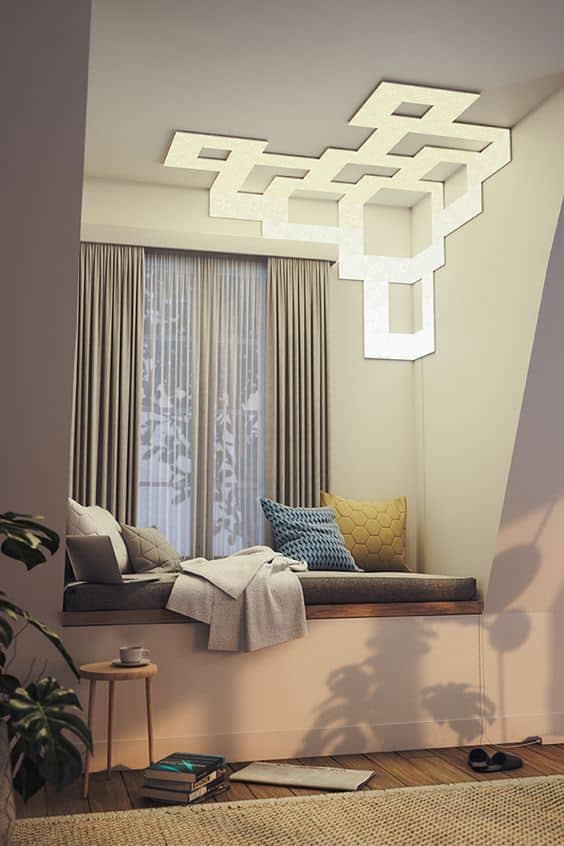 Image credit: Nanoleaf
These pendant lamps by Decorstly are also wonderful accessories for any contemporary bedroom. They're simple and modern, functional and visually appealing.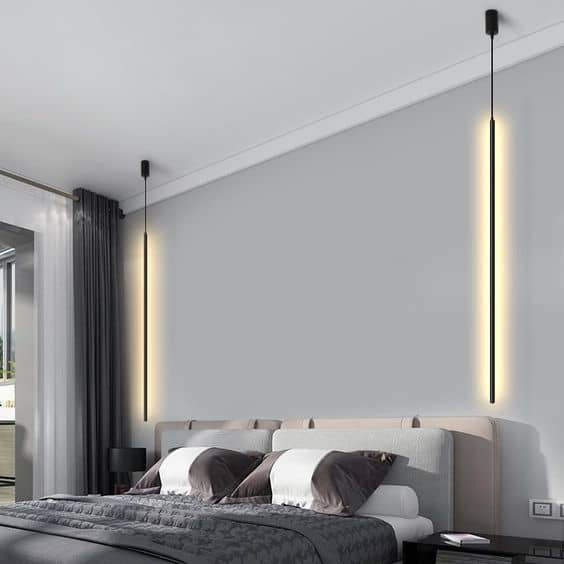 Image credit: Decorstly
These 12 inspiring contemporary bedroom ideas are true modern classics. When designing your bedroom, we'd recommend choosing furniture first to base the rest of the design around. To discover the best solid wood bedroom furniture available today, explore our Collections Brochure.
The Revival Beds Collections Brochure
Inside there are numerous styles of bedroom furniture, from dressing tables to ottomans and everything in between. Choose the right kind of furniture to suit your modern bedroom and obtain the full benefits of durable, gorgeous solid wood.
Click the button below to download your own copy.