Create The Ultimate Bedroom Sanctuary With A Sleigh Bed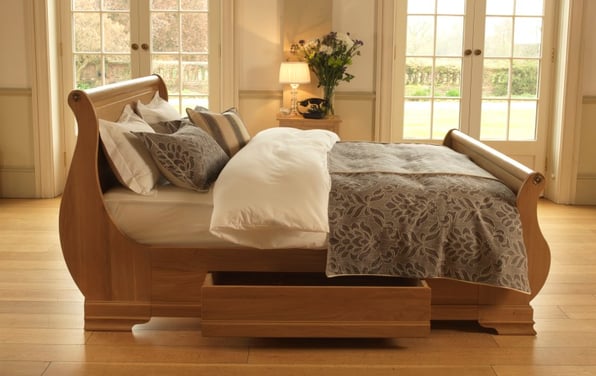 How To Design Your Perfect Bedroom With A Sleigh Bed
We may have long outgrown those childhood fantasies, but who doesn't yearn for a bedroom they can walk into and escape? A sanctuary where they can forget the stresses of the day – the deadlines, the parking tickets, the school run.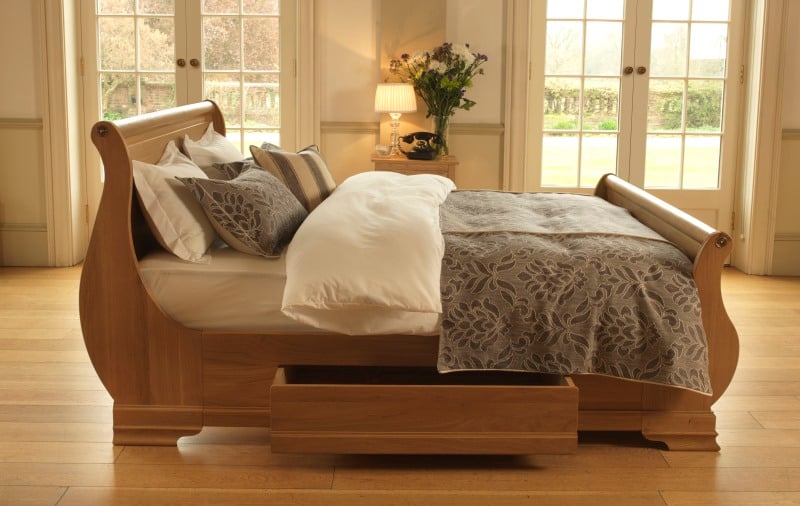 Sleigh Bed History
There's no better bed for recapturing the feeling of escapism than a sleigh bed. Even the name conjures evocative notions of the kingdoms of Narnia or Lapland. And with its scrolled headboard and footboard, a solid wooden sleigh bed adds distinctive character, luxury and an elegant focal point to any bedroom.
Originally known as French beds, sleigh beds became fashionable in the USA at the start of the 19th century, in tune with the growing popularity of the French empire. While today's sleigh beds can be upholstered, or made from iron or other metals, the solid wooden sleigh bed is the ideal choice for anyone wanting a traditional, handcrafted, high-quality look and feel to complement your décor.
A crafted wooden sleigh bed is a bed for the dreamers and the style conscious, looking to create the ultimate escapism. The distinctive silhouette created by the curved headboard and footboard makes the sleigh bed a natural front runner for any sumptuous bedroom.
Sleigh Bed Design Ideas
There's no doubt about it: a hand crafted sleigh bed is a bold choice – a statement piece of furniture that will last for generations. Traditional. Elegant. Desirable. Not to mention a great night's sleep, with optimum comfort and support. Before investing, think about the look and feel you're aiming to create. The day-to-day choices we make in life reflect our personal style, and nowhere is this truer than in our homes.
Any statement piece should complement the look you're aiming to create – whether that's graceful, romantic curves and fluid lines, classically elegant French chic, or dreamy, creamy, New England-style tongue and groove panelling.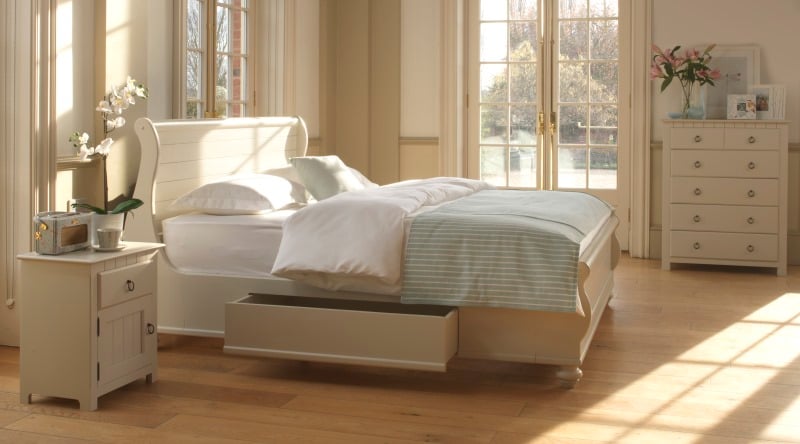 Your sleigh bed buying guide:
A handmade wooden sleigh bed is an investment buy – and potentially a piece of furniture that will stay in your family for generations – so it's important to make the right choice. Here are a few things to consider before you order.
Because of their design, sleigh beds tend to require more space than other types of bed. Be sure to measure carefully before you order – paying particular attention to the height of the headboard and footboard, which are naturally higher than those in other styles of bed.
What size do you need? Wooden sleigh beds come in a range of sizes, from single (3'0") for twin guest rooms or children's bedrooms, through adult double (4'6") and king size (5'0"), right up to the ultimate covetable sleigh bed – the emperor, at a dream-inducing seven-foot. Certainly one for those with the luxury of space!
Wooden sleigh beds are available in a range of woods and a choice of painted finishes. Don't limit your imagination or your decor to traditional oak – think mahogany, cherry, walnut and dreamy New England-style creams and the palest pastel shades. Whatever best suits your chosen look and décor.
Is storage an issue? An established manufacturer of handcrafted sleigh beds will offer to incorporate roomy storage drawers beneath the bed's frame for you, without compromising on the fluid lines and gentle curves of the bed.
Are you covered? A reputable bed specialist will offer a no-quibble money-back guarantee if you're not completely satisfied with your purchase, and a 10-year guarantee.
Due to their size and weight, sleigh beds aren't the easiest things to manoeuvre, so leave the positioning of your new bed to the experts! Your sleigh bed supplier should offer free delivery and installation.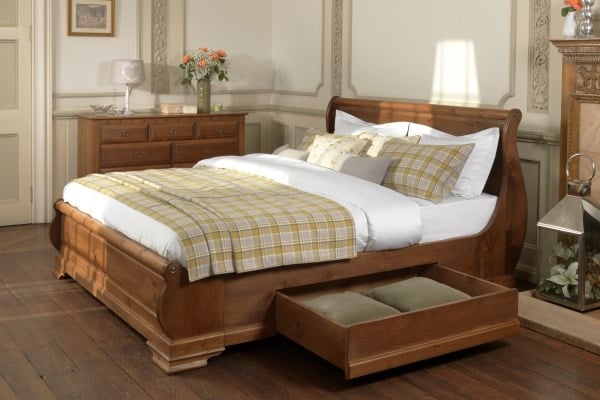 Whatever bedroom look you're aiming to create, a solid wooden french sleigh bed could make the perfect focal point, offering style, support and comfort. Choose the right bed, and escape to your dream bedroom.
Request Your Free Brochure
At Revival Beds, every sleigh bed is handmade to order in the UK and there are a number of different finishes and size options available.
Can't see your perfect bed... then ask about a bespoke sleigh bed?
All wooden beds and bedroom furniture in the collection come complete with free delivery and installation - to find out more, click on the link below to download your free brochure.