8 Modern Bedroom Ideas That Are Trendy and Tasteful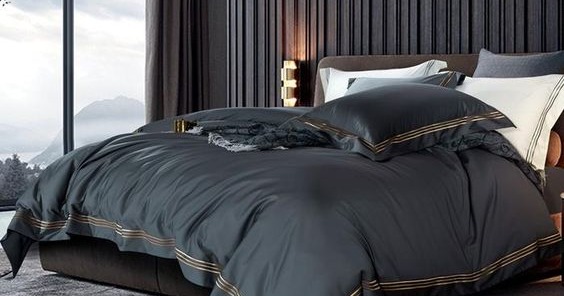 What makes a bedroom modern? More so, how can we make sure that the latest look will be tasteful as well as trendy? And how can we protect our investment even when we turn to a different design in the future?
Explore these beautiful modern bedroom ideas and read on to the end to find out how you can adopt any of these interiors while making smart investments and experiencing minimal interruption.
1. Mid Century Modern
Despite the name of this trend quite literally belonging to another time period, mid-century and all of its wooden retro quirks have picked up its pace again, sneaking into many modern homes and hotels. Dark wood bedside cabinets and freshly painted panelled walls make this 20th-century style a viable choice for any brand new bedroom.
2. Shades of Grey
Grey is the new neutral, appearing in every facet of the bedroom from furniture to soft furnishings and accessories. When decorating with grey, make sure to take two or three tones as well as texture to keep your lair looking lively. Plus, grey can be made less cold and more captivating by pairing it with high-quality solid wood, such as oak or pine.
3. Dark Dens
The more masculine you go, the more modern it looks. When creating a dark den, the aim is to make an atmosphere that's both gloomy and subdued, perfect for snuggling in when it's cold and rainy outside. Here, matte black is offset by bright, white luxury pillows to remind the owner that their bed is mature yet modern.
4. Glitz and Glamour
Old Hollywood meets a new beginning with this elegant and glamorous bedroom. From its striking chandelier to its end of bed ottoman, this space is packed with premium features that make it feel like a party. Much more than a space to sleep, this room is perfect for pampering, sipping champagne and indulging in breakfast in bed. Simply add a little sparkle to achieve this interior look.
5. White Wonderland
Fantastically festive yet suited to every season, the white wonderland trend takes icy interiors to the next level. Think fresh white Egyptian cotton sheets and fluffy soft furnishings. To avoid creating a completely blinding bedroom, tone it down with soft stripes and neutrals.
6. Big Beds
Statement beds are the single most important thing in most modern bedrooms. Taking traditional four-posters and placing them upon a muted, modern backdrop is the easiest way to create a modern masterpiece. Yet, this look also pays tribute to traditional styles meaning it has the allure of longevity.
7. Rattan Retreat
A relative of the palm, rattan is a plant native to Asia and Australia used in undone, laidback interior landscapes. Although this trend is considered to be modern, its look is anything but. With dark wood and rich colours, rattan retreats manage to lie somewhere between modern and traditional, giving you the perfect segway from old to new.
8. Luxury Loft
You don't need to be in Brooklyn to enjoy a luxury loft. High ceilings and heaps of natural light help—but they are by no means essential. With the right decor, you can imitate the loft look by using natural materials like brick and warm wood. A spacious chest of drawers, an accent chair and a generous bed frames the space and showcases a loft's best asset, its sprawling square footage.
Do Modern Bedroom Ideas Always Require a Renovation?
Chasing the latest interior trends seems like an expensive and invasive endeavour. In theory, every time you decide to adopt a new design, you'll need to renovate and repurchase furniture.
However, switching from one modern bedroom idea to another doesn't have to be that hard.
The secret is investing in quality bedroom furniture.
Luxury bedroom furniture is often timeless, tasteful and long-lasting, meaning you can focus on only adjusting the finer design details like accessories and wallpaper to show off a new style.
Explore the entire range of Revival Beds furniture, including handcrafted wooden beds, bedside cabinets, dressing tables, mirrors and more in our Collections Brochure. Our matching bedroom sets, lovingly created in the UK, will help you to have fun with your interiors while keeping the journey to stylish sleep simple.
Download the Collections Brochure by clicking on the link below.