What Complements French Style Oak Bedroom Furniture?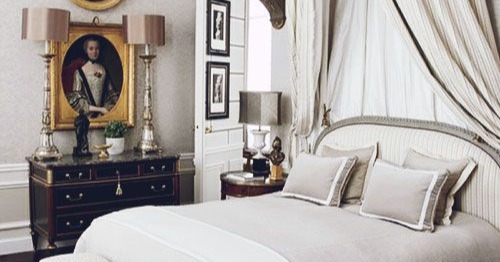 French style chic is easy to attain with French style oak bedroom furniture. But what about the rest of your bedroom?
There's no denying that the careful craftsmanship of French style furniture makes these pieces look beautiful, even on their own. However, their regal appearance can be elevated through diligent decoration and a deep understanding of French style. Here's how.
Set the Tone With Parisian Wall Panelling
Traditional French homes, specifically the grand apartments of Paris, contain style even in their bare structure in the form of Louis wall panelling.
Panelling in your home allows the rest of your furniture to blend seamlessly into an already ornate landscape. From intricate mouldings to logical separation, panelling can instantly transform the appearance of a room.
Imagine a typically French sleigh bed placed against a bare backdrop. Now, imagine it in the company of curated walls. Which scenario says boudoir? Where does your French style oak bedroom furniture feel most at home?
Panelling sets the tone for a refined, considered sleep space. It shows that the project's finer details have been mulled over to create an authentic experience that anyone would adore.
Refine with Cool-Toned Colour Palettes
French style oak bedroom furniture is popular because it's versatile, suiting any colour palette or accompanying shade. Yet, the most chic way to style oak furniture is with a similarly cool colour palette, taking inspiration from the ashy tones of the oak to embody a refreshing and sophisticated style.
This doesn't restrict you to the use of neutrals or a particular decorative style. (Although, champagne-coloured rooms are always delightful). Neither does it dictate how you decorate your home. French homes can display ambitious wallpapers as well as understated paint shades.
The only rule in French interiors is to keep it cool; turn to Prussian, cerulean and Windsor blues and rose, rouge and magenta pinks. Remember never to waver from this approach, even when selecting staging accessories such as fresh flowers and throw cushions. Everything should sit in the same cool, colour story.
Finish with Gold Accents and Accessories
French furniture styles, regal bed frames and elegant dressing tables originated in the 18th century in the alleged 'Golden Age'. As such, many replicas of French furniture sport golden legs, embroidery and detailing.
Yet, even if this isn't the case and you've opted for a more traditional, subdued furniture style such as oak bedroom furniture, you can easily incorporate the opulence of provincial France with golden gilded mirrors, lighting fixtures and framed art.
Aureate features heighten the room and take it to another level of luxury.
Dress with Unique Upholstery
Authentic French furniture never shies away from flamboyant features, ornate details and intricacy. Its upholstery should also be impressive, possessing the same boldness and finding bravery in its pattern, colour scheme and draping.
From majestic bed crowns to dramatic four poster drapes, there are many ways you can experiment with the silhouette of your sleep space and guarantee a grand entrance. The same attention to detail can be achieved in something as small as fabric ottoman covers and throw cushions with bespoke services.
Better yet, you can coordinate the fabric of your drapes with curtains, cushions and other soft furnishings to give the illusion of a five-star hotel bedroom.
Still Sourcing French Style Oak Bedroom Furniture? Find Handcrafted, Long-Lasting Pieces With Ease
You might be considering the final design of your to-be boudoir but still be missing some of the vital elements to bring your vision to life. If the perfect bed, bedside cabinet, dressing table, chest, ottoman or even mirror is escaping you — the perfect piece could be just one click away.
Handcrafted by our artisans and made in the UK, all Revival furniture is built to last a lifetime and is available for bespoke alterations, depending on your requirements. Discover our Collections and imagine them in your space by scrolling through our brochure.