9 Stunning Examples of Loft Style Bedrooms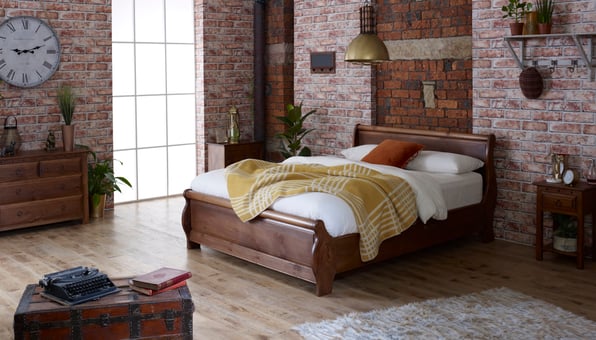 Loft spaces are unique, as they make a sleep space feel secluded and entirely separate from the rest of the world. Yet, not all loft bedrooms are the same. Some subscribe to the exposed brick walls of sought after Brooklyn lofts. Others are much more contemporary, taking elements of Scandinavian design to create simple, almost spiritual sleep spaces.
If you want to make better use of your existing loft space but don't know where to begin, here are nine of our favourite loft style bedrooms to inspire you.
1. Writer's Retreat
Image shows: Loft Sleigh Bed
This loft-style bedroom is akin to a cosy cabin. It's warm and inviting yet completely secluded and hidden from sight.
Even better than a cosy cabin, this loft's light, bright space is a much more contemporary version of a private writer's retreat, offering all of the comforts of an exclusive, home workspace (typewriter and wall clock included). Plus, everybody's bedroom favourite — an enormous bright, white bed to take a well-deserved break in.
From the exposed brick to the antique brass lighting, this loft plays with modern and traditional interior elements to create a timeless hideaway that will stand the test of time in your home. It's suitable for any occupant, offering a neutral canvas for any interior taste, making it great for those with guest bedrooms or second bedrooms to house an office space in.
To finish it off, a sleigh bed creates the right type of comfort, hugging you into a soundless sleep with its sloping shape, so despite the loft's sprawling square footage, you never feel exposed to the elements.
2. Levelled Loft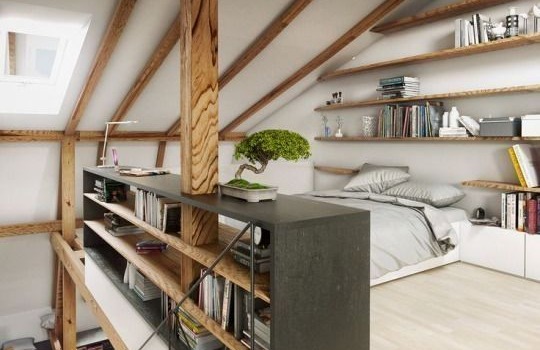 Image credit: Pinterest
Loft style bedrooms are often open plan, leading up a staircase from a lower-level living space. This can be an excellent thing for quirky, considered spaces. Yet, it can pose a problem for other homes, making master bedrooms look cramped and not cared for.
Here, this levelled loft makes the best use of its small space using bespoke furniture. Its integrated bookcase and shelving unit draw visitors into the space without overbearing them with personal items and clutter. Instead, the bedroom looks like it's lived-in and organised all at the same time, giving off an approachable air rather than the impression of a clinical showroom we often see in so many modern homes.
What's more, this loft embraces Japanese minimalist elements — a style now known as Japandi — featuring a Bonsai plant and a low height bed frame. Despite its sloping ceilings, this clever interior choice tricks the eye into seeing a bedroom perfectly in proportion.
3. Post Industrial Loft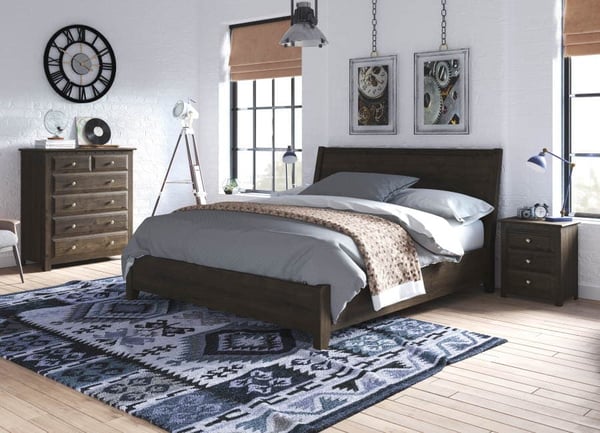 Image shows: Metro Bed
In this loft, dark wooden bedroom furniture adds authority to stark white walls, making this feel like an undoubtedly modern bedroom. In turn, this loft-style bedroom example showcases a look that can be achieved without making any major decorative changes.
If, like many others, you have a loft bedroom with large, almost industrial windows, this marks a simple switch to make your sleep space feel completely different, namely to a look that's more stylish and chic than the average attic space. By swapping old furniture for a more modern yet masculine style, you can avoid painting, reflooring and restructuring your room, keeping the costs and scale of your renovation low.
A Midwestern rug, post-industrial accessories and soft Egyptian cotton bed sheets complete this fresh furniture update to create a perfectly balanced post-industrial bedroom fit for any style of home.



4. Reading Rest Stop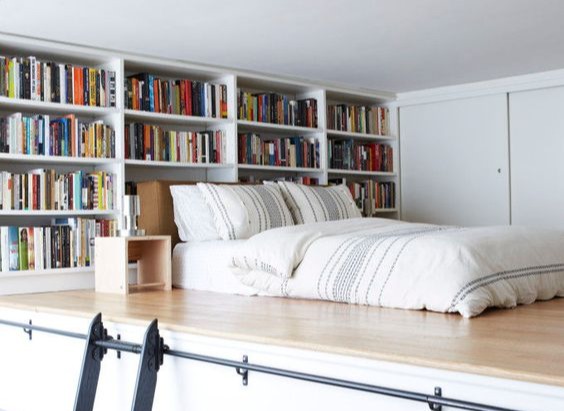 Image credit: Pinterest
This loft-style bedroom example is every book lover's dream, allowing you to imagine what reading in the clouds could feel like.
Using their imagination, this homeowner has maximised a tiny roof loft to create a multifunctional sleep and reading nook. Although the space comprises of little less than a bookshelf and bed, the room feels anything but ordinary. The intimacy of this loft adds to its charm, making it a perfect spot for indulging in some alone time.
Again, in this loft, custom furniture proves it's worth the investment. In this case, it allows an interior vision to come to life in a small space that would otherwise be wasted. Indeed, this makeshift room is so small it would be difficult to stand straight in, yet, handcrafted storage makes it feel surprisingly substantial.
5. Stylish Studio
Image shows: Studio Bed
Looking like an advertisement for an in-demand New York apartment, this studio loft space is sleek, stylish and sophisticated.
On the surface, it looks like every other loft sporting typical exposed brick walls and wooden floors you would imagine from such a space. Yet, its interiors give this bedroom true Manhattan merit, with a leather upholstered bed at its forefront. Finished in walnut and rice milk leather, the Studio Bed makes the loft space feel even more luxurious, cementing its superior status.
Aside from its beautiful bed frame, its high-pile rug and throw also add a sense of splendour, pulling together what can only be deemed a post-industrial penthouse with a very high price tag.
Sure, the lucky resident of this room can easily tell the time using their larger than life wall clock, but we imagine they'd be so privileged they wouldn't have to.
6. Urban Oasis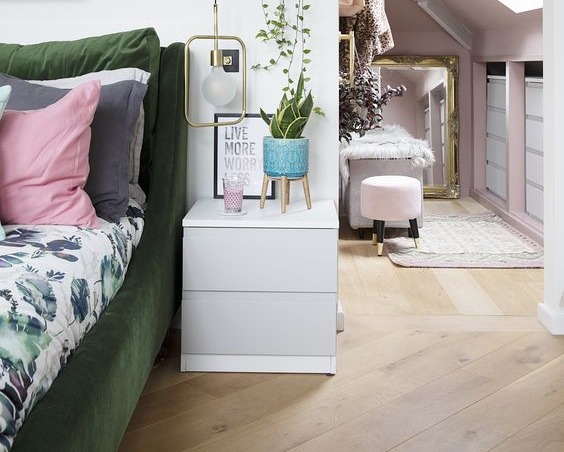 Image credit: Pinterest
A playful and lesser-seen take on a loft-style bedroom, this urban oasis manages to scream city chic while nimbly nodding to nature.
Its tropical tendencies — succulents on the bedside and brightly coloured soft furnishings — take its owner out of the concrete jungle and into the wild. However, this doesn't require the owner to sacrifice their luxury lifestyle by being fully equipped with rich gold accessories and a fully functional walk-in wardrobe.
Ultimately, this fun and animated abode provides a sense of escape for anyone living amidst the hustle and bustle. It gives an energetic wake-up call with its colours as well as a perfect opportunity to get lost in its winding, free-flowing floor plan.
7. Light-Filled Loft
Image credit: Pinterest
When we think of lofts, we think of light, and this loft-style bedroom is a perfect example. With blinding skylights, this room is soaked in natural light, needing not much more than an organic interior theme to make the space feel accomplished, not to mention illuminated.
Flowing fabrics in oatmeal and ecru and variations of potted and hanging plants help the room achieve an effortless, organic appearance. This room is less about fussy furniture and more about its finishing touches, providing texture and slight colour through soft and subtle shades. As a result, this room feels serene, if not spiritual in nature.
To mirror this meditative master in your own home, turn your attention to bespoke, luxury bedding, making this purchase the priority. It's more important to mimic the feel of the room — the weight of its blanket, the depth of its cushions, the grain of its wooden furniture — than its physical look or layout.
8. Cloudy Cove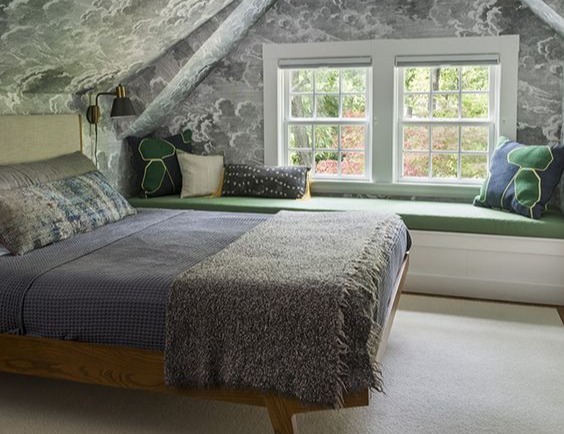 Image credit: Pinterest
This distinctive, dark loft is best described in one word: dreamy. With its obvious appeal being its unique, cloud wallpaper, this room is dramatic without feeling disconcerting. Instead, its statement is subtle, allowing you to feel safe, sheltered and ultimately encapsulated in its four walls.
As with other lofts on this list, the owner has made use of bespoke detailing. Here, the space called for a custom window seat wide enough to span the width of the room. In commissioning this, the room allows for careful contemplation, among other calming activities like light laptop work or reading, giving this master more uses other than snoozing.
This is the sort of bedroom every country style house should have, creating an oasis from the outside world while still paying homage to the view.
9. Nordic Nest
Image credit: Pinterest
If you're a fan of a minimalist loft, this next example will excite you. Nordic in nature, this space is delightfully simple, reflecting all the popular interior elements of stylish, Scandinavian design.
Relying on nothing more than a floor cushion, an armchair and a bed to complete the bedroom's composition, this space is designed to provide clarity, promote peace and encourage sleep. Music to any insomniac's ears.
Needless to say, this loft design's beauty is in its simplicity, being nothing more than a beautiful bedroom. Despite its potential to house other assets, this room has a laser focus on restoration, reserving its entire space to quality slumber.
As many of these examples show, the right furniture can be transformative for your loft. Whether you're designing a space from scratch or attempting to update your interiors with minimal interruptions and expense.
For purpose-built lofts with ample amounts of space, you'll likely need more furniture than you think to fill it out and make the space look lived in. Alternatively, for makeshift lofts, bespoke furniture is often your best bet to maximise and highlight the uses of your newfound sleep space. Our Collections Brochure can help with transforming your loft.
Finding the Right Furniture for Your Loft
Whichever type of loft space you're looking to redecorate, we can help you to find high-quality furniture to make your loft look as picture-perfect as those above. Our Collections Brochure shows entire bedroom ranges able to fill large lofts, all of which are available for complete customisation, should your space require it.
From wooden beds to bespoke bookshelves and smaller accessories like mirrors, our Collections Brochure has everything you'll ever need to create a contemporary loft. Get access using the banner below.