Bring Bridgerton to Life With These Regencycore Beds (& Accessories)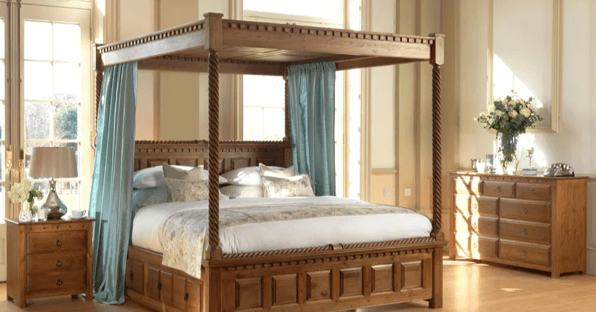 After the first season of Bridgerton just about blew up, Regency-era decor, Georgian homes, soft pastels, sleigh beds and four posters are all having a moment — and we're here for it.
This blog is a little different from our other interior design content, but we couldn't resist talking about the latest period piece to slip onto our screens and how it's influencing the amount of drama we desire in our bedroom.
From statement beds to free-flowing drapes, we're opening up to the idea of more traditional interiors versus the minimalist modern furniture we've been stuck on for some time.
With the second season of Bridgerton about to drop, there's no better time to invest in a classic four poster bed or a sleigh set up complete with all the quintessential accessories — especially if you want to fall into bed every night feeling like the main character of your own period drama.
First, Let's Talk Four Posters
Four posters are a classic furniture piece that can be made contemporary to fit in with today's trends. We're so glad many individuals are now finding inspiration in them again as we have been in our Nottinghamshire workshop for years.
With clever craftsmanship, four posters don't have to feel dated, overwhelming or uncharacteristically opulent. Manipulating the silhouette, material and dimensions, four posters can retain their regality while offering something new for our interiors.
There's no denying that four posters create a statement in our boudoir, but with a more modern take, they can do so for all the right reasons, giving off complete Lady Danbury energy.
Depending on the type of home you have, four posters can be just the thing you need to create the right feng shui, framing a large, boxy room such as those found in Georgian architecture.
Also read: How to Design Your Georgian Style Bedroom (With Examples)
Second, Submit To a Sleigh Bed
Four posters still feeling too over the top? Stick with a sleigh bed style that's slightly sweeter and easier to stomach, like the impeccably-paired Duke and Duchess of Hastings, Daphne and Simon.
Sleigh beds sport hard to resist curves, tucking you into bed from top to bottom. They're French — really French, not like Madame Delacroix's accent — and feel timelessly chic, no matter their setting. Ergo, sleigh beds aren't just for stately homes.
When perfectly positioned, a sleigh bed can help romanticise your bedroom, adding softness to sleek, straight lines. This addition can completely change the feel of your sleep space, giving you more serenity.
And as aesthetically appealing as sleigh beds are, they can offer some much-needed substance too. With plenty of space for under bed storage options, sleigh beds can facilitate space for additional bedding, out-of-season clothing and Baroque wigs, if you just happen to have them lying around.
Also read: Create the Ultimate Bedroom Sanctuary With A Sleigh Bed
Third, Get a Thirst for Accessories
The breathtaking interiors of Bridgerton aren't all thanks to the standout beds we've been dreaming of ever since. Shocking, right? Almost as shocking as when — spoiler alert — Penelope Featherington is revealed as Lady Whistledown. The styling, accessories and colour palette play a key role in tying the look together.
Bespoke drapes command attention and accentuate a four poster's best assets and luxury bedding adds authenticity. Then there are experiential items like having a premium mattress that moulds to your body and gives you a superior sleep.
We're the first to get excited about a swoon-worthy bed — but we can't be blind to think that a bed frame is going to single-handedly give us that Bridgerton feel. After all, nothing is quite as powerful as Queen Charlotte.
Instead, we need to make our brand new bed feel inclusive of its interiors, creating a landscape for all things luxury related to the Regency era. You can even get clever with it and fuse old and new styles, creating a modern-day Bridgerton bedroom.
Fourth, Figure Out A Post-Bridgerton Plan
None of us think we'll ever get over seeing the intricately designed costumes week on week or indulging in the romantic ballroom scenes. But there will come a time when our bedroom needs to outlive the oracle of Chris Van Dusen's Bridgerton. When that happens, we'll likely want to keep our transformation as cost-efficient as possible, forcing us to think about what's going to stand the test of time.
Luckily, realising that four posters, sleigh beds and the like aren't just a temporary craze, but bonafide bedroom styles means we can be confident in buying good quality, tastefully imagined furniture pieces — like those created by the team at Revival Beds.
We might not be quite as mesmerising as Simon Basset, The Duke of Hastings (who is?), but in our humble opinion, we're close. Looking through our library of handcrafted, artisan bedroom furniture will give you the same exciting sensation as when the string quartet starts to play 'Thank U Next' at the first ball of the season.
Explore a world of period drama. Download our Collections Catalogue to find four posters, sleigh beds, drapes, bedding and so much more to bring Bridgerton to life.
*Prices are subject to change without prior notice.