The A to Z of Royal Luxury Bedroom Design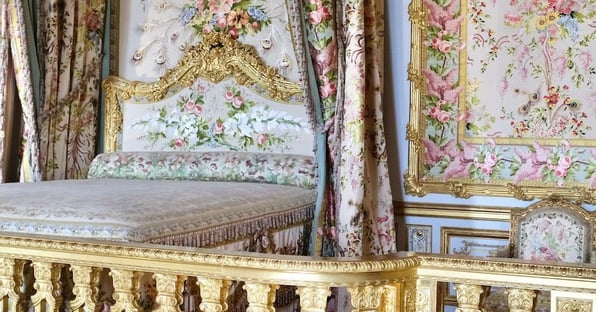 Royal luxury bedrooms are a tier above any luxury bedroom trend. To create a royal residence takes more than a careful choice of paint colours and a keen eye for interiors. Using the Queen's English and the 26 letters of the alphabet, we've dissected the difficult design of royal residences to lift the veil on palatial projects.
A is for Area Rugs
Hand-knotted area rugs that are almost as large as the room itself ooze regality and allow the space to feel ornately decorated before even adding furniture.
B is for Bolster Cushions
Decorative bolster cushions filled with down elevate a bed and are thought to have been birthed by Dutch colonialists, given as gifts to travelling husbands.
C is for Chandeliers
An interior element fashioned from fairytales, chandeliers add elegance and grace to a high-ceilinged chamber as they hang from a masterful medallion.
D is for Drapes
No royal luxury bedroom is complete without a set of luxury drapes to dramatise the space and show off its tall stature.
E is for Egyptian Cotton
The finest bed linens known to man are Egyptian cotton sheets, with long staples and plentiful fibres guaranteeing a soft, uninterrupted slumber.
F is for Four Posters
No other bed will do. Four-poster beds are expansive, elegant and undoubtedly royal. Styles like The Windsor and The Balmoral are built with royal residences in mind.
G is for Glass Accessories
Glass makes for grand styling whether it appears on lampshade bases, paperweights or tabletops and whether it's coloured, clouded or clear.
H is for Hand Painted Murals
Commissioning an artist to adorn your walls with a one-off scene akin to the ceilings of the Sistine Chapel sets your abode apart from all others.
I is for Intricate Design
Intricacy is synonymous with royal design. Patterns such as Brocade, Chinoiserie, Damask, Fleur-de-Lis, Jacquard and Toile are plentiful in palatial projects.
J is for Jewelled Trinkets
Jewels are associated with wealth being a key commodity collected and traded amongst rich merchants. Think Diamond, Sapphire, Ruby and Emerald encrusted keepsakes.
K is for Kinglike Amenities
A royal luxury bedroom must be fit for a king, housing all of the expected amenities of a luxury hotel. Hotel-inspired bedrooms have an air of affluence, nodding to royal roots.
L is for Lounge Areas
In addition to a breathtaking bed, royal bedrooms must offer areas for relaxation and palatial pastimes. An armchair, chaise lounge and writing bureau won't go amiss.
M is for Mirrors
Truly lavish interiors call for the illusion of never-ending space, made possible by mirrors. Hanging mirrors, dressing tables and freestanding varieties all do the trick.
N is for Natural Materials
Royal bedrooms rarely reference modern-day and instead pick a period of the past to pay homage to. This means opting for more natural materials like wood, marble and leather.
O is for Ottomans
Ottomans are an opulent bed accessory that extend the landscape of your bed and provide occupants with additional comfort.
P is for Parisian Inspired Furniture
Although not a monarchic must, Parisian and French-inspired furniture never fail a palatial project with 18th century France being one of the most influential interior periods.
Q is for Quilting
Quilting of any kind is welcomed in royal residences. As a colonial trend, quilts were made to display the needlework of the maker before moving to more intricate, imported styles.
R is for Responsibly Sourced Wood
A firm focus on the finest natural materials means only responsibly sourced wood, either solid pine or aged European oak will do.
S is for Silk
Silk is soft, lustrous in appearance and known for its importance in international trade. Since silk's discovery, kings, queens and other noblemen have coveted its soft surface.
T is for Traditional Paintings
Traditional paintings displaying a person's heritage, family and estate indicate aristocracy while making walls look less vacant, adding genuine interest to interiors.
U is Under Bed Storage
Beds with under-bed storage aren't immediately seen as glamorous or luxurious. Yet, the absence of overly obvious storage makes a space feel more streamlined and sophisticated.
V is for Vestibule
As a hallway in an apartment is a privilege, so too is a vestibule in a bedroom, providing a small passageway before you march into the master.
W is for Wall Moulding
Crowning, casing, bead and pearl, egg-and-dart, batten, wainscoting, there are countless ways to finish off walls and make joins, doors and skirting boards feel fancier.
Find XYZ in Our Collections Brochure, Full to the Brim with Luxury Hand Crafted Furniture
No matter how we approach a royal renovation, we all have 'XYZ' on our list. Whatever your XYZ is, whether it's a bed, wardrobe or another item, these staples are just as important as any of the extravagant touches mentioned on the above list.
Your bedroom staples deserve to be as elegant and considered as a decorative chandelier or a luxury sleep spray — if not more so.
Furniture has a permanent place in your home and its design should reflect this. Luckily, handcrafted artisan bedroom furniture made in Britain is just one click away. Download our Collections Brochure by clicking on the link below and discover our library of bedroom furniture fit for any royal residence.