How To Design Your Georgian Style Bedroom (With Examples)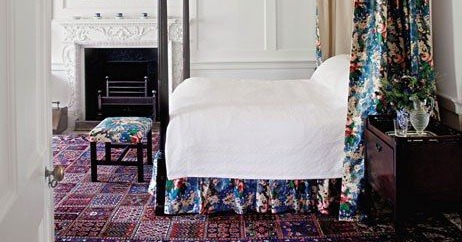 Georgian bedrooms are high-ceilinged, square spaces with sash windows. Their spaciousness and simplicity make them perfect for hosting grand four posters and intricately designed sleigh beds.
Designing a Georgian bedroom is a joy as you get to work with a symmetrical space that's light, airy and full of opportunities to introduce ornate features and daring artwork. Perhaps the only challenge in imagining Georgian spaces is finding bedroom furniture grand enough to fill the space.
However, Georgian style bedrooms can feasibly fit in any style of home, even if your space isn't symmetrical or typically Georgian. Including some of the classic elements of Georgian design can easily make a room feel reminiscent of the Regency era in all its period charm.
The Classic Elements of Georgian Style
The Georgian period spanned over 100 years, developing into several eras within this timeframe. There were subtle nuances between the earlier and later Georgian interior styles, but each was known for its elegance and lightness of touch, at least that's according to the National Trust.
The graceful architecture of Georgian buildings, with regal Roman temples and grand Greek villas included, made for grand, demanding spaces full of dark, rich furniture, usually made from natural materials such as mahogany.
The symmetrical architecture of Georgian spaces, sometimes fit with adjacent columns, meant bedrooms were apt for show-stopping bed frames. A Georgian bedroom is really all about the bed and its awe-inspiring structure.
The height and sheer scale of a Georgian structure also made space for ornate patterns to adorn walls and classic art to be hung.
Georgian bedrooms remained soft and inviting with pastel colour schemes despite the drama and interest of these projects through their furniture and decorative features. At first, pea green was the preference before regency blue took the front seat where it has stayed ever since, now being reimagined by the best in industry from Farrow & Ball to Graham & Brown.
1. Dramatic Design
This Georgian bedroom has a slightly more dramatic colour palette than most, steering away from the popular pea green of the time towards a deeper, richer emerald.
Even so, the room nods to the Georgian period through its dark, rich mahogany furniture and impressive scale, put into proportion with its larger-than-life area rug. The symmetry in its wall art and the remarkable ceiling height all make this bedroom unmistakably Georgian, but it's the four poster bed that takes centre stage, even when it's not the centre of the frame.
2. Authentic Opulence
With a symmetrically placed fireplace and a dado rail running along the perimeter, this suite's structure is instantly geared towards Georgian style.
Although many Georgian bedrooms didn't have wallpaper, with it only becoming popular in later years, the striped lemon yellow paper pictured above works as a way to compliment the luxurious golden trim of the four poster. This opulence is commonly found in many Georgian homes, especially in the palaces of the successive kings that the period was named after. Luxury drapes, classical art and ornate frames make this a perfect example of Georgian interior grace.
3. Superior Slumber
As you open the door to this stunning space, you're immediately mesmerised by the superior slumber that awaits. Like any authentic Georgian style bedroom, the bed commands the room.
Though the four poster bed gives this Georgian chamber a majestic silhouette, the way the four poster is so delicately dressed really allows this space to stand out. Custom drapes and skirting in an arresting floral design encapsulate the viewer and allow them to imagine the experience of sleeping in such a noble room.
4. Georgian Harmony
When everything in a Georgian style bedroom can appear quite stiff, it's nice to create harmony and balance through flowing fabrics and ornate trinkets. This helps give the flawless canvas of a Georgian property some well-deserved personality.
What's more, the mural wallpaper in this room takes the staple classical art of the period to another level, using a genuinely contemporary idea to do this historical trend justice. Coordinating the fabric of the end of bed ottoman with this design, the room feels considered and calming in the way that a pastel period property should.
A Georgian style bedroom would be lost without a statement bed. In such a large space, it should be the first thing you see as you draw back the doors of your master suite.
Although ornate wallpaper, classical art and gilded furniture can detract attention from your sleep space, four poster styles ensure that the bedroom's focal point remains, indicating a superior slumber from the first glance.
Source a Show-Stopping Bed Fit for Your Georgian Style Bedroom
For an impeccable range of handcrafted four posters and other bed styles fit for period homes, explore our Collections Brochure.
Revival furniture already adorns many manor houses and stately homes from the Georgian era. So, as the perfect addition to Georgian rooms, why not introduce it in your own abode? Start enhancing every aspect of your home with handmade solid wood furniture by clicking the button below today.