7 Inspiring Bedroom Furniture Ideas for Large Rooms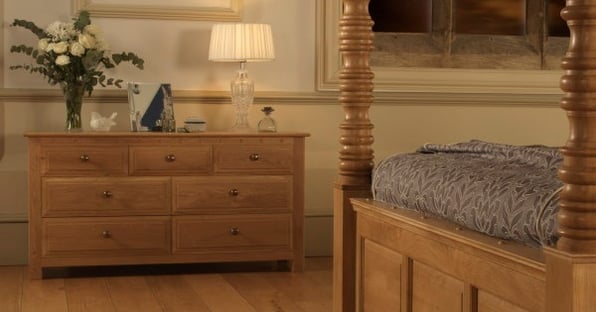 People usually spend a lot of time thinking about how to make the most of small spaces in their home. But what if you have the opposite problem? A spacious, empty bedroom can still feel as gloomy and restricted as a cramped one. Sometimes, fluffy comforters, hanging art and thick rugs don't do your room justice. Instead, take a look at some of the most inspiring bedroom furniture ideas for large rooms to revamp your existing space.
1. Useful Bedside Cabinets
Traditionally, bedside cabinets serve two main functions. They provide you with a surface to place your necessities, such as a lamp, a glass of water and a book before you fall asleep. But bedside cabinets also have storage options, giving you options to store away any valuables, accessories or day-to-day items.
With a large bedroom, it's best to add a bedside cabinet that doesn't look out of place if it's too small. While a standard bedside table or one with a door is perfect for larger items with their roomy cupboards and spacious shelves, our secret drawer bedside cabinets are more suited to larger rooms as they have a bigger footprint.
Similarly, our 2-over-2 Chest can double up as a bedside cabinet for those grand bedrooms that have included an Emperor or Caesar size bed.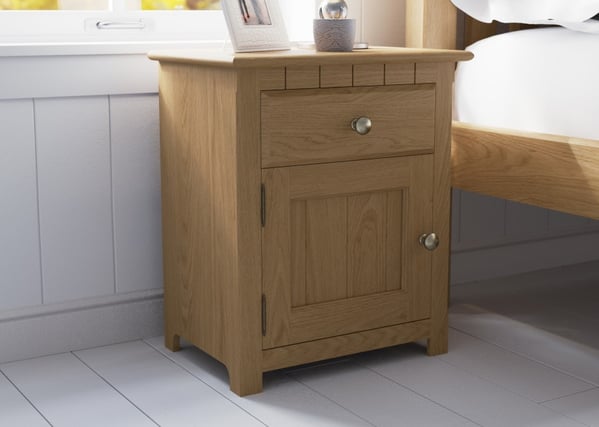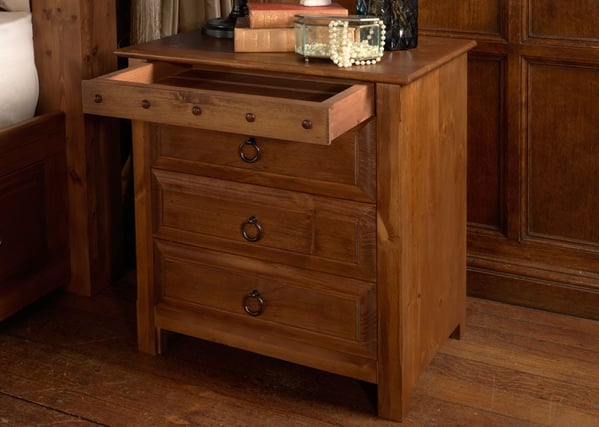 2. Majestic Bedroom Drawers
Only rivalled by an eye-catching bed, nothing grabs more attention in a large bedroom than a stunning chest of drawers. Your bedroom is a place to retreat, so the last thing you want to see is your clothes oozing out the corners as you try to cram them into an oppressive cabinet.
Oak chest of drawers are unique. You get the combination of personality added to your room, you stay organised and they make better use of your bedroom - without dominating your space. Although 2 over 2 and 2 over 3 chests are stunning in their own right, 7 drawer, 9 drawer and 11 drawer chests are also elegant options and perfect for much larger spaces.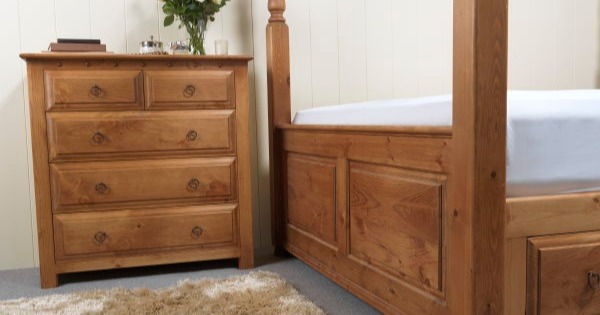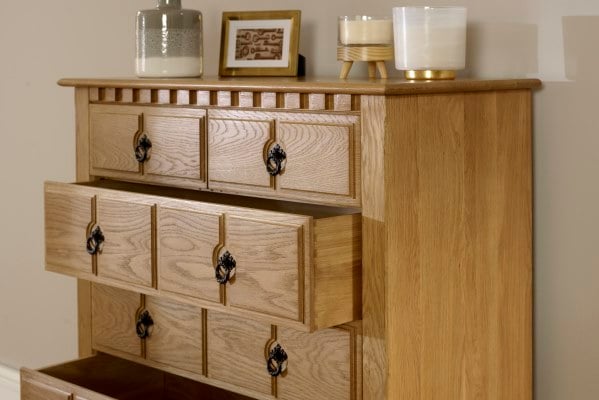 3. Stunning Wardrobes
When adding furniture to your bedroom, don't compromise by choosing flat-packed options. Whether it's for storage needs or the need to fill a lot of space in your bedroom, timeless, solid wood wardrobes offer plenty of hanging space and never look out of place.
When you opt for a handmade oak wardrobe, you instantly add luxury to your bedroom. They're durable and last a lifetime, something mass-produced, MDF options can never offer. By purchasing from a reliable workshop, you'll benefit from the highest quality materials - some can even craft them exactly how you want them.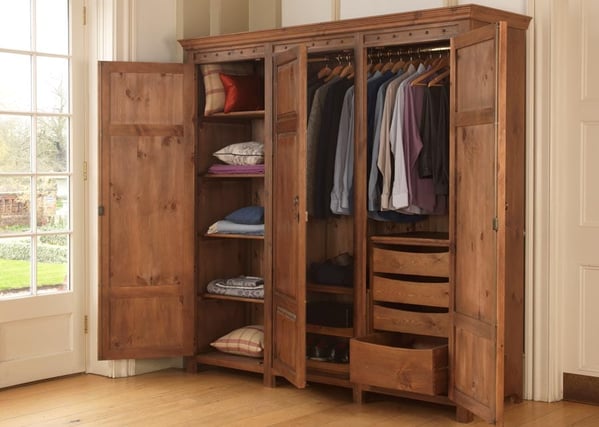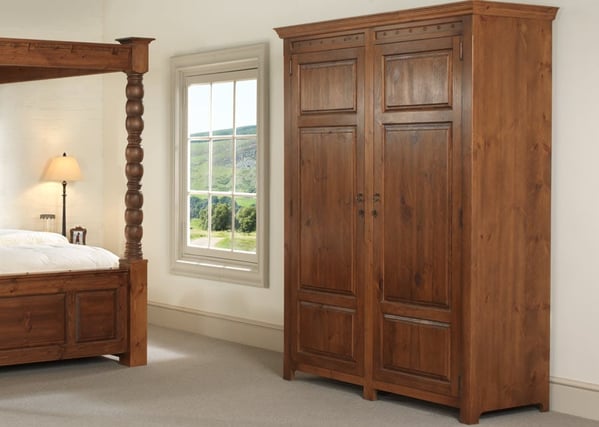 For example, at Revival Beds, nothing is off the shelf. We cater to each order differently, so anything you purchase will be designed and built just for you. With six internal configuration options, you'll have a custom made oak wardrobe customised to your specific requirements.
4. Classy Dressing Tables
The perfect solid oak dressing table can be the final piece of your luxury bedroom puzzle. This utilitarian piece of bedroom furniture might look smaller than others, but they know how to make a statement when used in the right space. With the combination of seating, storage and a mirror to bring light into your bedroom, you have the perfect spot to pamper and primp before heading out.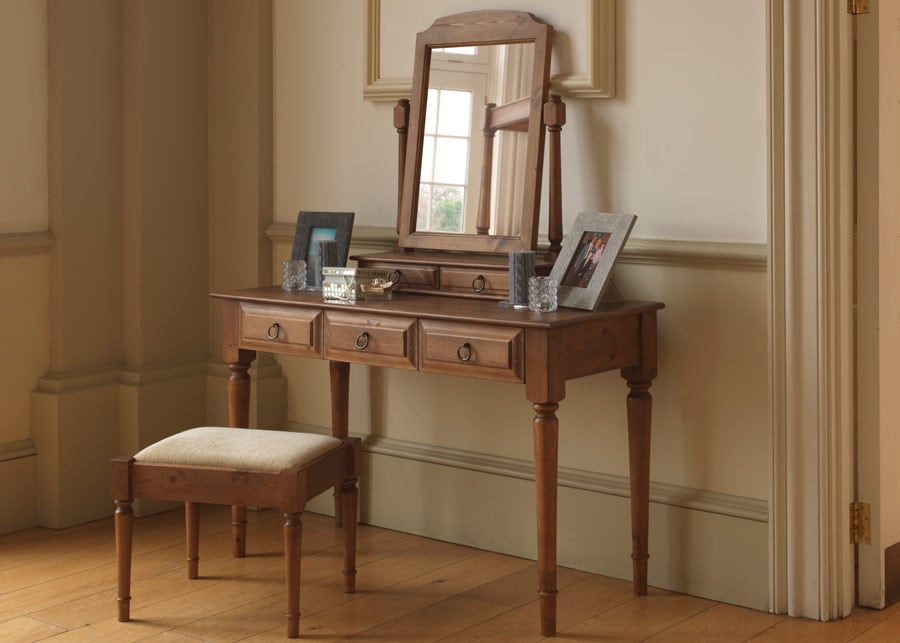 You also aren't limited to one style either. With colour matching and made to measure options, you'll have something created just for you. You might find a single pedestal dressing table is exactly what you need or even a double pedestal option with additional desk space and useful storage - perfect for larger rooms.
5. Functional Blanket Boxes
Functional, versatile and creative - blanket boxes are a genius bit of furniture that can complete a bedroom. There's the comfort, storage space and the fact that a blanket box can double as a footrest and an accent piece. They're casual and flexible, a style that's still very much a staple in any home as it helps create a cohesive interior, offers impromptu seating and is an ideal surface area for spontaneous moments.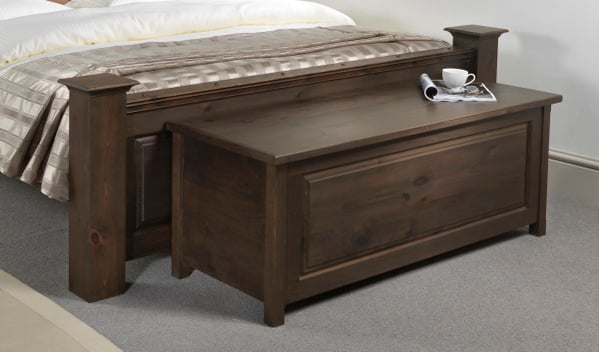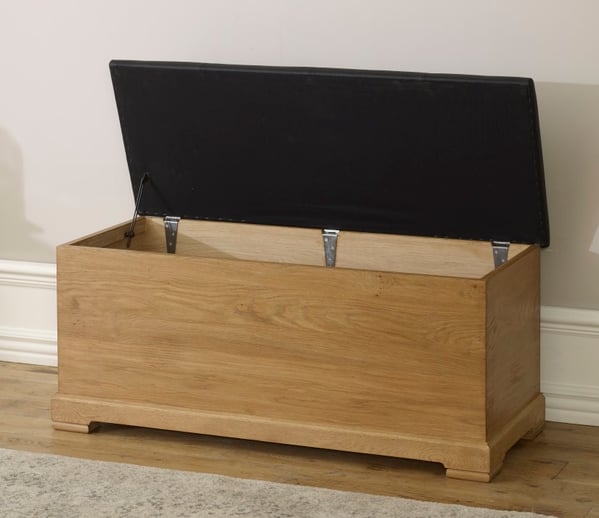 You aren't limited in your options either. Standard blanket boxes provide handy storage. A larger blanket box offers extra space to keep your bedroom clutter-free; you can opt for one with drawers or even select one with a distinct heritage - such as an Ottoman.
6. Attention-Grabbing Mirrors
In a large room, a regular mirror that doesn't add much character only wastes valuable space. A well-placed oak free-standing mirror can open up any area, amplifying light and making large bedrooms appear even more spacious. A high-quality, durable mirror can:
Look perfect wherever you decide to place it as they're portable
Doesn't interrupt your interior design
Complements your existing furniture
Withstands the test of time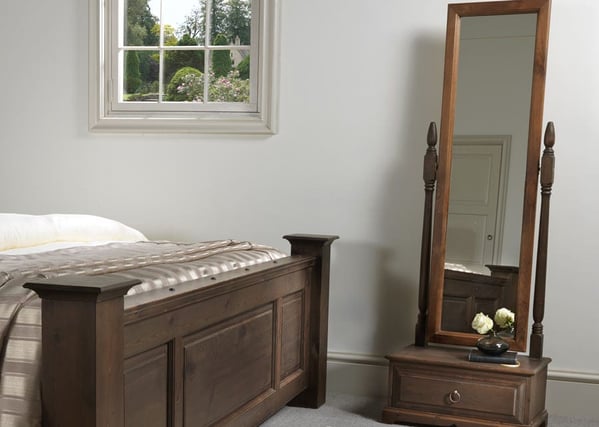 They can also be customised to your needs. So if you need a tall wall mirror or one with a drawer, the right supplier can customise it to your needs.
7. Wooden Beds Made to Last
Of course, no bedroom is complete without a solid oak bed to bring it all together. It can be the most challenging part of finalising your large bedroom design. But when you choose furniture, make sure to start with your bed.
Not only are they durable, but they're also the centrepieces of any bedroom. You can request samples to make planning easier; they complement your bedroom furniture and allow you to change your bedroom ambience regularly.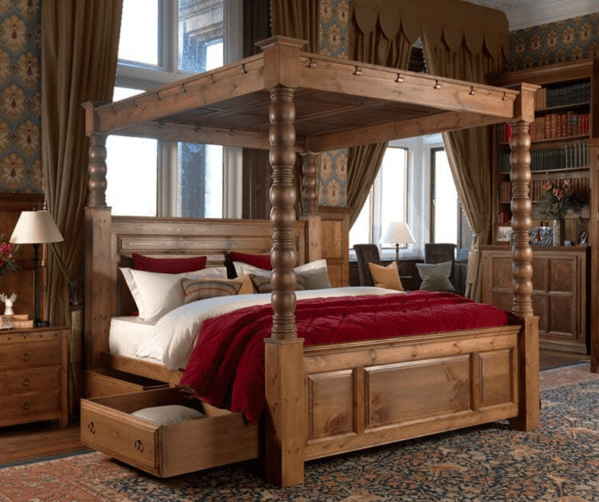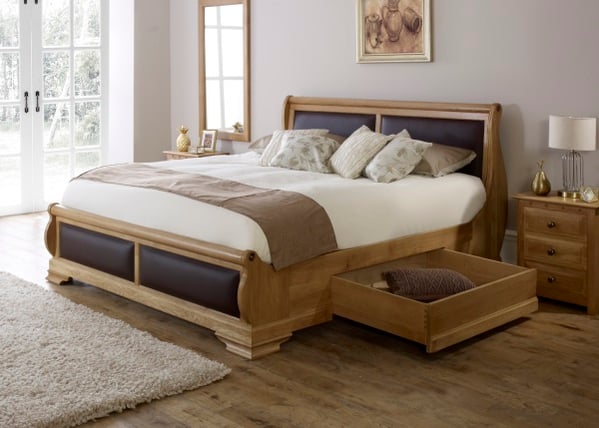 Quality bedroom furniture should always start with a premium wooden bed. The type of bed depends on your requirements and what you aim for, such as a romantic setting, mysterious or something cosier. But with premium options for different bed styles such as sleigh, four-poster, leather, traditional, New England and metropolitan.
Your bedroom furniture can only feel inspiring if you buy everything from the same supplier so you can create unity. If you need insights and inspiration on collections you can choose from to transform your bedroom, make sure to check out our latest collections brochure.
Unite Your Bedroom Furniture With Our Collections Guide
Choosing your bedroom furniture shouldn't come down to guesswork or rushing your decision. If you're unsure of where to start with inspiring bedroom furniture ideas, our free and comprehensive brochure will help you find the perfect pieces to complement each other.
Click below to get your free copy now.