9 Inspirational Interior Design Ideas for Boutique Hotels
A hotel getaway is no longer an ordinary night to catch up on sleep in between busy days. It's an experience. A simple bed, small television and an outdated kettle in the corner deserve to stay in the past. Now, guests want to return from their weekend in a boutique hotel admitting it was an unforgettable experience. If you want them to choose your boutique hotel as their go-to escape, then take a look at these nine inspirational interior design ideas for boutique hotels to inspire you.
1. Stick With Tradition
The most luxurious boutique hotels that leave guests longing to return tend to stick with tradition. A classic yet inspirational interior design for boutique hotels combines the usual touches of the traditional favourites. Take a look at the example below from Phase Interiors — you can see fabric shades on the lamps, candlesticks on the fireplace and plaid cushions on full display.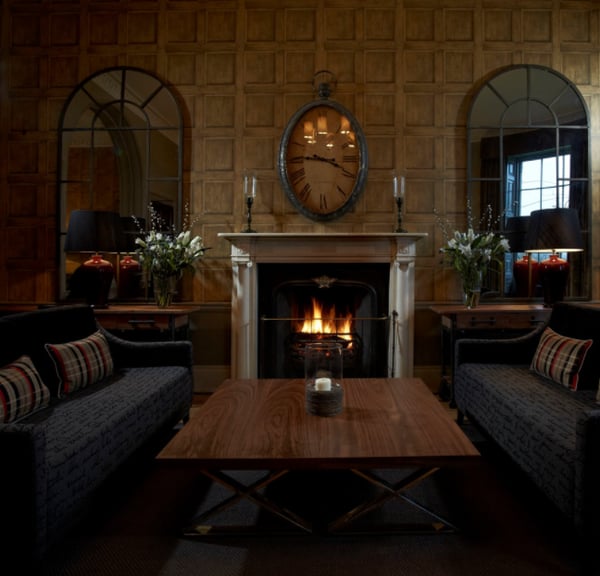 Image Credit: Phase Interiors
Combine the oak panelling, the attention-grabbing clock, comfortable sofas and a roaring fire; you can imagine relaxed guests cosying up with a glass of scotch, not wanting to leave. Whether it's the sofas, the wooden table or elegant wood panelling, your boutique hotel can adopt similar touches to offer the same classy, relaxing ambience.
2. Bathe in the Bedroom
Bathtubs in the bathroom aren't just for personal homes and manor retreats. Your boutique hotel can take your guests' sleep sanctuary to a new level by offering a soak in complete isolation with a freestanding tub in the bedroom. However, simply adding the bathtub in the bedroom isn't enough, as the example below shows.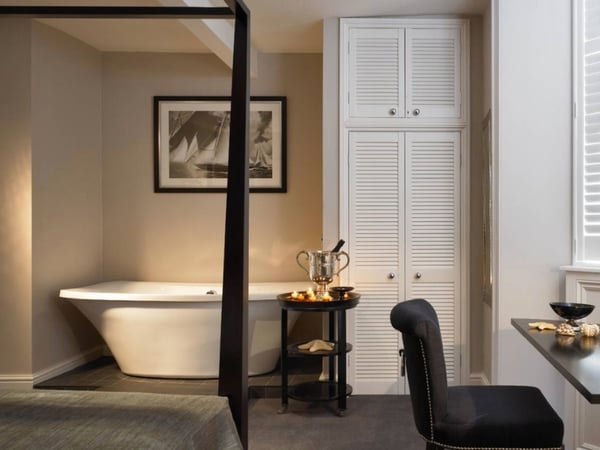 Image Credit: David Churchill
Above, you can see the strategically-placed freestanding tub in the corner fitting snugly between the wall and storage space. It oozes glamour and sophistication, allowing your guests to soak in privacy and immediately roll into the comfortable bed with a well-ventilated area that has enough room to accommodate all furnishings without overwhelming the guests.
Even if you don't have the space in your boutique hotel rooms to add a freestanding bathtub, you can still take inspiration from chic touches. These include extra-wide basins in the bathroom, gilt-framed mirrors and double mixer taps to turn an ordinary room into a boudoir that's always fully booked.
3. It's All About the Bed
Every boutique hotel must have one thing in common: the way guests gravitate towards the sleep space. Your guests expect to meet a breathtaking bed, graced by a cloud of pillows and a comfortable mattress to sink into after a tiring day of exploring. Nothing demands more attention than a four poster bed — an instant wow moment that draws guests in and creates a lasting impression.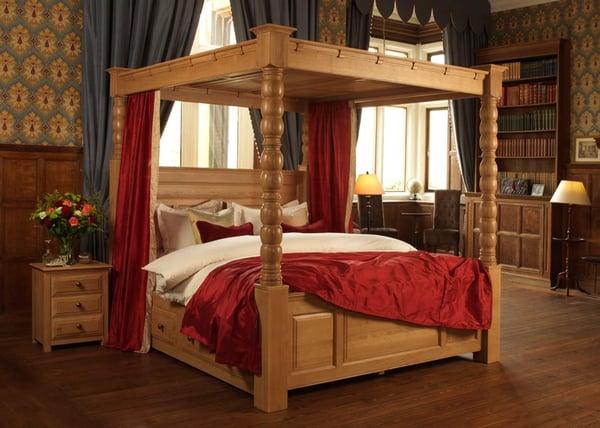 Whether you're trying to find affection for boutique's French origin with Parisian charm or you opt for a more dramatic approach, like in the example above, you can effortlessly mould furniture selection around the bed choice to channel what having a boutique hotel is really about.
4. Don't Hide the Imperfections
Your boutique hotel doesn't need to be the most pristine, faultless establishment that has ever existed. If your boutique hotel is in an older building with a rich history, you can show off the imperfections and reveal its hidden characteristics and charm that will make guests instantly fall in love with its true beauty.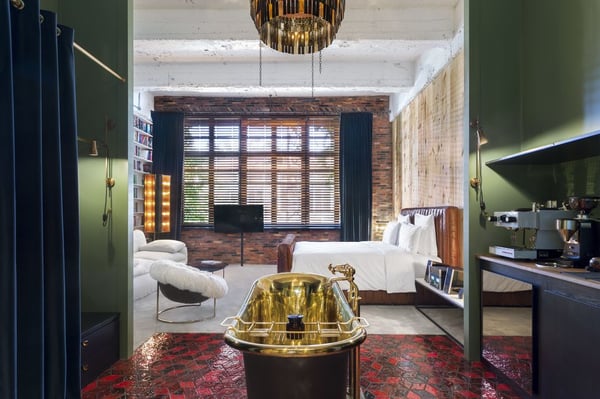 Image Credit: Elle Decoration
The Stamba Hotel in Tbilisi, Georgia, is a perfect example of not shying away from imperfections. It combines the exposed bricks on the far walls, the wooden panelling above the bed and where the bricks aren't exposed, the walls are painted in moss green. You'll also notice the paintwork on the ceiling, where it looks aged yet still offers a homely feel, suggesting the boutique hotel has stood the test of time.
5. Make Mirrors the Focal Point
Typical hotels often house one mirror in the corner of the room. It's usually lost. It doesn't elevate the space in any way. It doesn't leave any lasting impact or tie the entire room together. In your boutique hotel, you can flip this and ditch the single, large mirror for a collection of mirrors instead.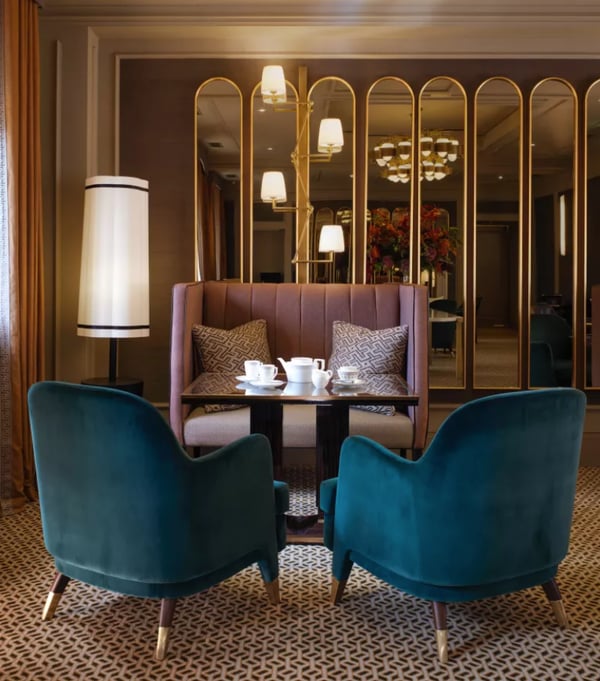 Image Credit: Champalimaud Design
Champalimaud Design has showcased in this design how your boutique hotel can make ingenious use of mirrors. Looking like a room straight from The Great Gatsby, the mirrors are the room's focal point. Even with the eccentric carpet and teal armchairs, it's the mirrors the eyes are naturally drawn to. Combined with a warm glow of the lights, your boutique hotel can create an elegant, stylish atmosphere. Perfect when the sun begins to set.
6. Take the Feature Wall to the Next Level
You can't deny the power of a dramatic mural. Murals date back to the ancient era yet don't look out of place in today's boutique hotel rooms, especially when trying to do something a little different with the feature wall. Even leading boutique hotel interior designers like Kit Kemp are fans of a stylish mural with the bespoke wall dressing offering an expressive way to bring romance and epic scale to your room design.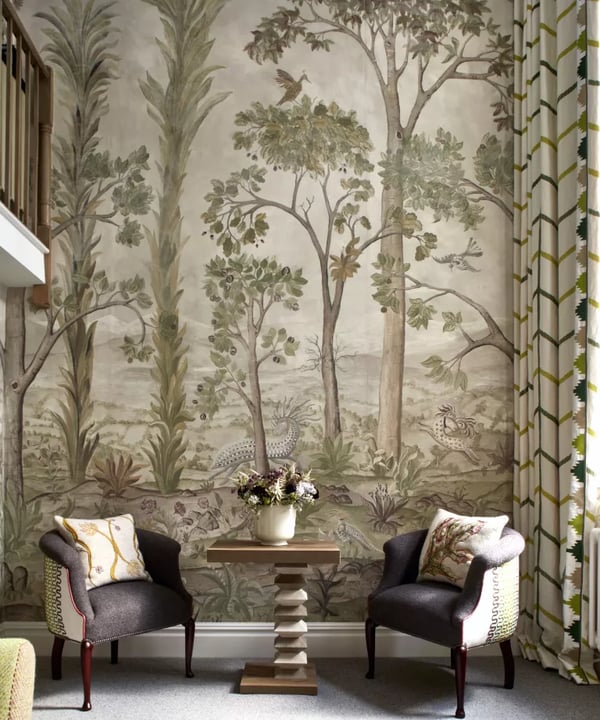 Image Credit: Firmdale Hotels
Boutique hotels are all about offering something out of the ordinary. When opting for a mural as a feature wall, use calm colours to evoke the tranquillity and pace of simpler times.
7. Combine Multiple Components
Just because you have a boutique hotel, it doesn't mean you have to compromise and choose strictly one interior design style over another. Each boutique hotel is different. While one might be classy, minimal and sleek, others are more eccentric and loud. If your boutique hotel's style falls in the second bracket, why not combine multiple components and style features?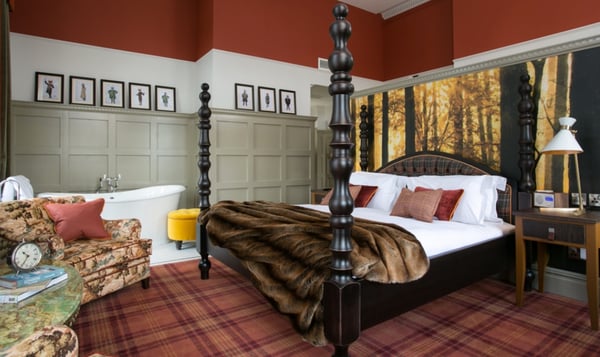 Image Credit: Fusion by Design
If you're feeling bold and the style fits the aesthetic of your boutique hotel, you can use the above example as inspiration by combining multiple features. The pencil-style four poster instantly demands attention with the fur throw draped over the duvet. The feature wall boasts a landscape mural with a subtle golden colour that will look enviable during sunset or sunrise. Then there's the wood panelling on the far side, surrounded by trinkets such as the frames, a mustard footstool and printed fabric armchairs.
If that wasn't enough, this boutique hotel room utilises its space to the maximum by slotting in a freestanding bathtub in the corner, making use of every square inch.
8. Less Is More
On the other end of the spectrum, you can strip your boutique hotel rooms to their bare bones by creating a calm, independent oasis you find in five-star resorts — but with your own boutique twist.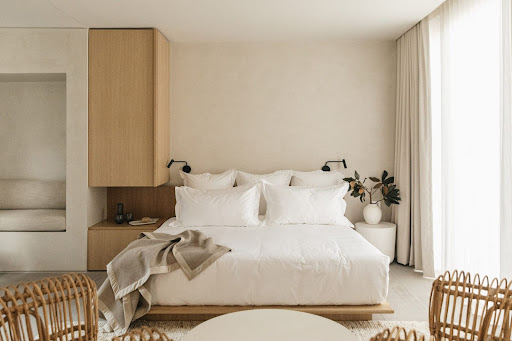 Image Credit: Dezeen
Contemporary spaces don't have to be entirely minimalistic. You can still adopt a sense of warmth with wooden furniture and careful composition, inviting guests to enter a new state of mind. You can also add a splash of rich, indulgent colours with soft taupe accents and caramel hues to create harmony and balance with purposefully placed furniture.
9. Juxtapose With Futuristic Interior Trends
Having a boutique hotel doesn't mean you need to create a style that rivals a style you'd find in The Grand Budapest Hotel era. Instead, you can predict future interior trends to transport your guest to tomorrow's world — even if your boutique hotel is housed in a historical site.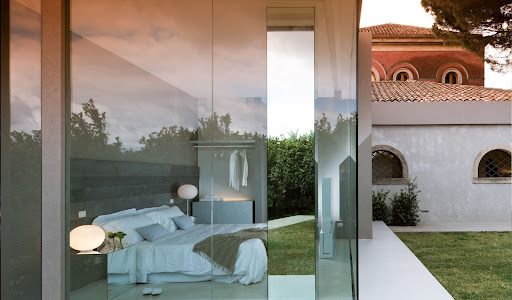 Image Credit: Design Hotels
An innovative interior design idea for your boutique hotel can be to play around with the proportions by incorporating floor to ceiling windows and oddly shaped accessories. To really stand out, adopt a futuristic sleep space in a historical build in traditional settings, like the example above, to offer a greater juxtaposition that leaves an extraordinary impact.
Interior design is everything for boutique hotel and Airbnb owners. You need to think about the bedroom, bathrooms, hallways and hideaways to bring the entire concept together. If you're looking to improve your boutique hotel offering and differentiate yourself from the often cold, commercialised chain hotels, make sure to download the copy of our newest style guide.
The Boutique Hotel & Luxury Airbnb Style Guide
Our ultimate style guide is a must-read resource if you're an Airbnb or boutique hotel owner. We've packed the guide full of inspiration for would-be interior designers that want to achieve similar styles in their establishment. To get started and transform your boutique hotel today, get your free copy below.