How to Create an Elegant Living Room You'll Never Want to Leave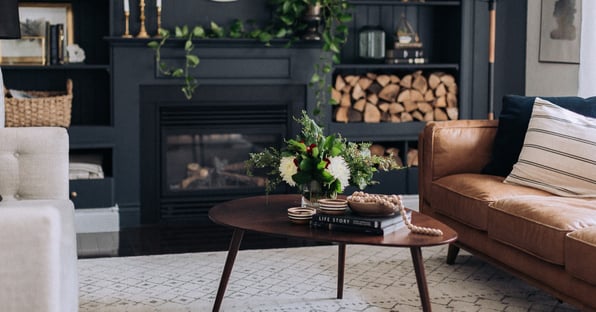 The living room of any home needs to be functional, easily maintained and a place you can relax during those lazy Sunday afternoons. A place you enjoy coming home to and proud to call your own. It should be beautiful for hosting guests and also reflect your personality - while maintaining the theme with the rest of the home to create cohesion.
If already you know you want an inviting living room but don't know where to start, here are some fantastic ideas on creating an elegant living room you'll never want to leave.
Atmosphere and Concept
Atmosphere is everything in a living space. You want to create an environment that reflects your personality, achieves your aesthetic and invokes specific feelings. Atmosphere is king. Lighting, colour palette and furnishings all contribute to the tone and atmosphere of a room.
A concept is the driving idea of any room design, similar to a theme. There are many popular concepts when it comes to making an elegant home, the main two being a modern, bright approach and a moody, classic approach.
White walls and calming beige throw pillows, natural light flooding from curtain-framed windows, pale wood furniture with just enough eye-catching trinkets atop to start a conversation without making the room feel cluttered. Timeless staples such as a small chandelier or marble fireplace make a clear statement.
The sleek, modern living room exudes simple elegance and by looking at inspiration pictures for this style, you can almost smell the woodwick scented candles or hear the laughter and warm chatter that would fill a living room like this.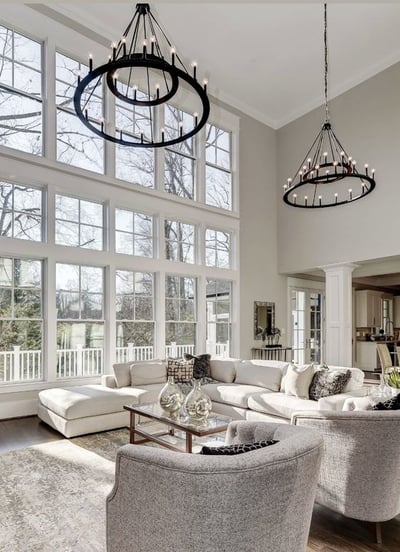 Image by Your Space Furniture
Sturdy and ornate dark wood furniture, possibly paired with similarly painted or stained wooden wall panels. A choice of rich and deep reds, teals, purples or greens covers the rest of the walls which are a backdrop to paintings, pictures, portraits and perhaps an antique mirror.
Ornate patterns, gilded-effect frames and a flair for balancing darker colours epitomises this more classic and traditionally elegant concept which wouldn't look out of place as the setting to a high society social event in a period drama.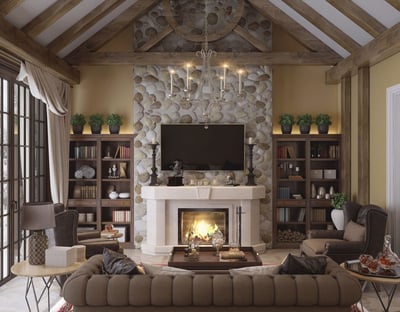 Image by Memmedov Minnur
Colour is a huge part of executing your concept. Some of the world's most renowned designers start their projects by compiling wallpaper tear-offs, paint colour samples, fabrics, tiles and texture examples in a 'vibe tray'. Popularised by designer Kelly Wearstler, a vibe tray is the perfect place to start pulling together your colour scheme and concept.
Fine Furniture
The living room is a functional, community space within your household where family and friends can gather to unwind and spend time together. Because of this, functionality is key, especially when it comes to furniture. You need pieces that are hard wearing, easily maintained, durable and offer plenty of storage options.
If you're opting for wooden furniture, match the finish of the furniture to each other and your theme as best as you can. If you're struggling to find a colour for furniture to compliment your walls, then match the colours directly to another aspect of the room, such as curtains or fireplace. This is especially true for the sofa.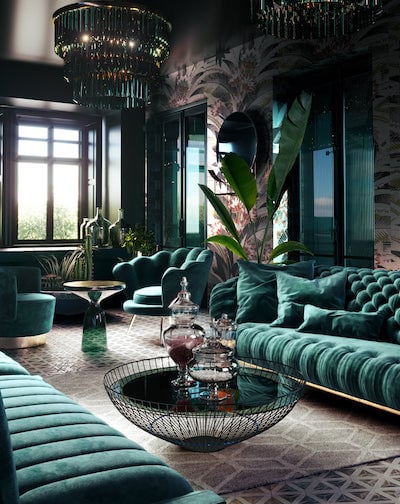 Image by Li Zhengwei via VW Art Club
A key piece of furniture that's often an afterthought is the coffee table. For smaller spaces, a clear glass table is the best option as it doesn't visually take up any floor space. For storage, we recommend utilising a beautiful wooden or leather blanket box or ottoman to store throw blankets, children's toys, magazines and anything else you'd want out of sight.
These pieces of furniture last a lifetime, are timeless and also classic, all while providing vital storage space.
Nothing is more elegant than comfort and luxury. While we could tell you to only buy a reclining couch in the highest quality material with the finest hand-carved baroque wood legs, that's not always possible, nor is it needed to create an elegant living room. Simply find a couch as large as your room and budget allows in a key colour from your palette that has enough space for you and the members of your household. Pair with two or three chairs, chaise or love seats of the same style of colour and dress with throw cushions and a blanket.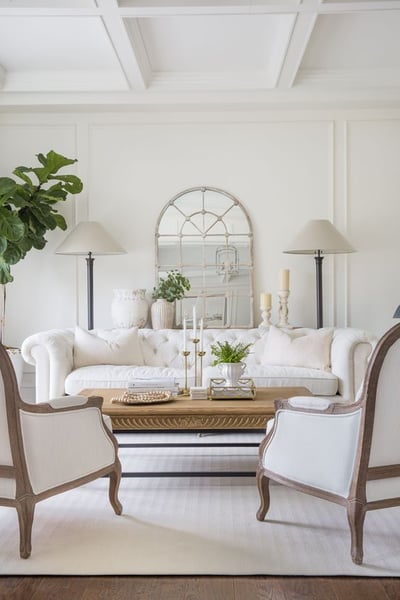 Image from Pinterest
Natural World
Incorporating natural textures into your home design helps enhance the atmosphere you're trying to create and can add a new layer of dimension. Diversity of textures - especially when leaning into natural textures - can also create a point of needed contrast to your chosen colour scheme. There are many tried-and-tested ways to incorporate natural textures into an elegant living room easily.
Incorporate wood into the room through solid wood furniture, exposed ceiling beams or wood wall panelling. If you choose multiple modes of including wood, ensure complementary finishes are used so the elements don't look mismatched.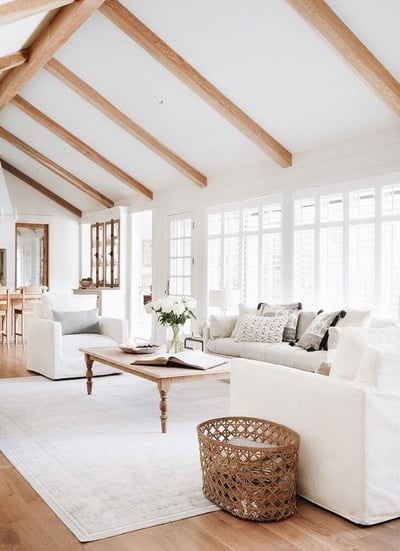 Image by Sasha and Christy
An exposed stone fireplace can give a rustic but traditional feel. A marble (or simply faux marble effect) fireplace is a good way to create a sense of elegance. If you already have a marble fireplace, try to incorporate the colours from this into other areas of your room as part of your colour palette. If you're adding a fireplace, think carefully about the colour of stone, marble or wood of your fireplace.
Curtains or cushions in natural fabrics such as cotton, linen or woven natural fibres, potted plant life and flowers and natural pottery in the form of vases, urns or plant pots are additional ways to bring the natural world from outside your home to inside elegantly and easily.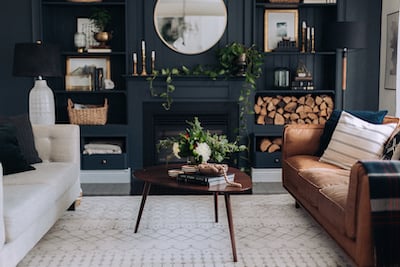 Image by Craftberry Bush
Beautiful Art
Whether you're aiming for a more airy and modern form of elegance or classical and grand, art is a staple feature of any elegant living room and is a great way to showcase your tastes and interests.
You could create a gallery wall of modern art prints each in matching, simplistic frames or blend family photographs and traditional paintings and drawings in golden brass ornate frames, unique in size, shape and decoration - depending on the concept and style you want to achieve.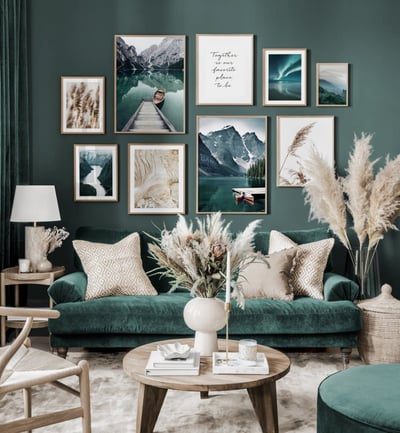 Image by Poster Store
Art doesn't just have to mean photographs or two-dimensional work. Sculptures, pottery, busts, tapestries, patterned areas rugs and even interesting decor pieces can all have their place in your elegant room if they're utilised in the right way.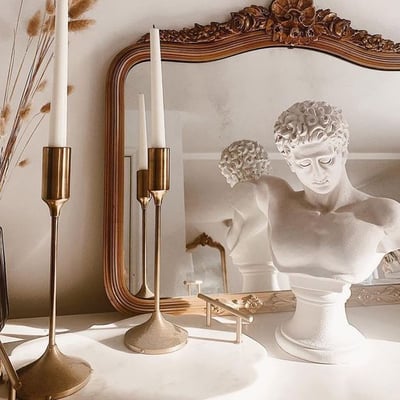 Image from Pinterest
Find Your Flooring
The idea of an elegant living room might conjure images or a dark, highly polished hardwood floor. While all aspects of your living room should still be functional as well as beautiful, this is especially true for flooring, as it's one of the more difficult attributes of a room to change once in place.
Choose a secondary colour in your colour scheme and find a carpet that best matches that. It shouldn't be the same colour exactly as your walls or key pieces of furniture, such as the sofa, but should be present in other aspects of the room, such as soft furnishing, curtains or even among art and decor.
For wood floorings, find either a good stain for your existing hardwood floors or buy laminate wood flooring that matches the wood present in the room - or the wood wall panelling, should you have any.
Use rugs sparingly and only to better define certain areas of the room, such as the sitting area where you would relax, spend time with members of your household or entertain guests. While many people know the perils of a small rug and how it can leave a space looking underwhelming and disjointed, a rug too large can also throw off the visual balance of a space, dwarfing the furniture on and directly around it. So, be sure to get the right rug for your space in a contrasting colour from your chosen palette.
Let There Be Lighting
The right lighting changes everything. In the wrong lighting, a room can look dull, dark, small and distort the colours you've carefully pieced together. To light your room properly, you need the right combination of soft lighting, task lighting and area lighting, while also making the best use of your natural light.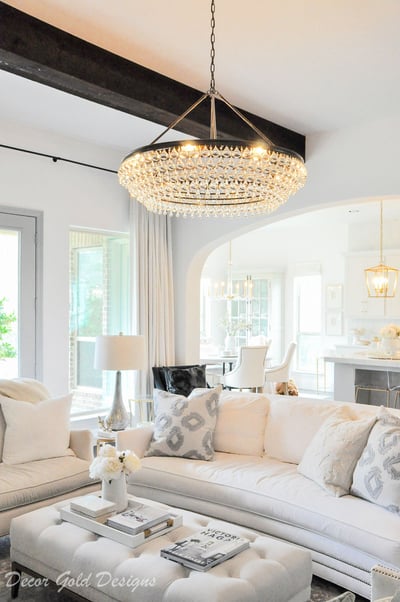 Image by Decor Gold Designs
In a living room, a primary ceiling light to illuminate the living area as a whole is a must with additional wall lighting placed symmetrically on as many walls as the size of the room dictates. For the majority of your time spent in the room, however, lamps for atmosphere or area lighting will be your primary sources of lighting along with natural light.
Atmospheric lighting is best suited in the corners of rooms or on side tables to give a homely and relaxed feeling for when you're unwinding or entertaining small groups in the space.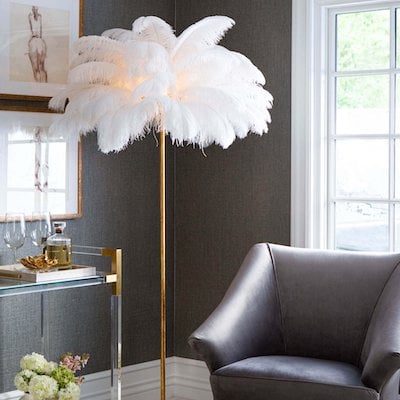 Image by Style Me GHD
Task lighting, sometimes known as purpose lighting, is lighting required to do an activity or task. The most common type of task lighting in a living room might be in a reading nook or area where you want to sit, relax and indulge in your hobby of choice. The strength of lighting and exact positioning will depend on what it will be used to light.
If your living room doubles up as a dining room, home library, casual home office or study space, area lighting is the ideal way to help you distinguish between the different areas and functions of the room. The main way of using lighting to separate individual functional 'zones' in your space is through ceiling lights, with a ceiling light over each key area.
For example, you could place a chandelier-style light over your living room's seating area (make sure the size of the fitting is proportionate to the size of the room) and a diner ceiling light above your dining table.
Enhance Existing Features
Make use of the existing features in your home such as mouldings, windows or other architectural components. Instead of trying to cover up or hide these features that capture your home's character, consider highlighting them in a way that suits your style.
The primary way of doing this is by painting them. Most people will leave or paint their window sills, skirting and ceiling mouldings white. Break away from the ordinary and consider choosing another colour from your chosen palette instead. This will make a subtle feature out of what you already have in the room when the furniture and wallpaper are stripped back.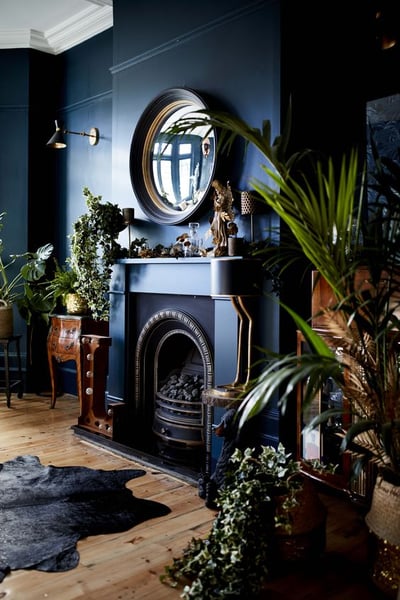 Image by Doris Leslie Blau
The Dining Area
If your living room is also your dining room, separating your spaces is key. As mentioned before, area lighting is important in achieving this but there are also other ways of creating a harmonious yet stylish living and dining room space.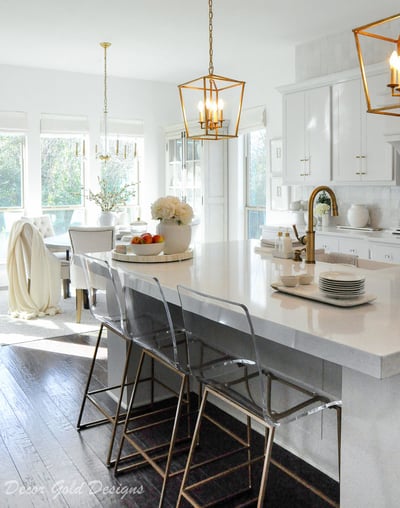 Image by Decor Gold Designs
Give each area a sense of separation and individuality by choosing colours that complement and contrast but don't directly match them. Keep cohesion by using the same colours stains and types of wood throughout both areas, but for other furnishings, walls or decor, coordinate but differentiate.
You could also create a slightly raised floor in one side of your space and place your dining area there, making a platform that gives the room separation. This also gives your living room space a cosy, sunken feel like a 70s conversation pit which are rapidly coming back into fashion in interior design.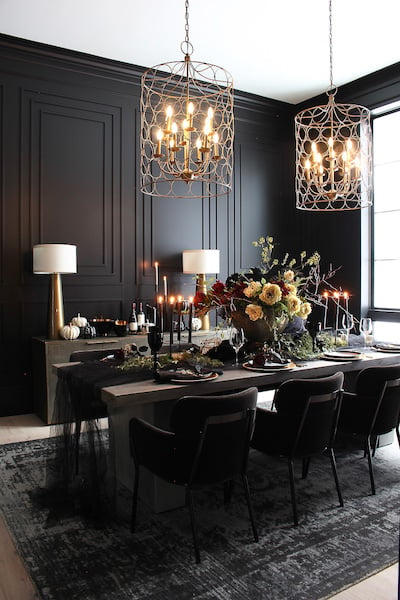 Image by House of Silver Lining
Separate the two spaces further by giving the dining area its own feature wall. For this, you can use wood panelling, wallpaper, simple paint or even tiles that resemble natural stone.
For functionality, make sure there's enough storage furniture near the table and in the living room so your dining tabletop doesn't become a magnet for clutter. Make your dining table a focal point by taking steps to keep clutter at bay and by getting creative with a nice tablecloth and centrepiece that suits the room's style.
Although the living room is where you'll spend the most time in your home, it might not be the only area you want to renovate. The kitchen, home office and even the bedroom are also places in your home you want to enjoy spending time in. Then there's the hallway and also your bathroom to think about. It can seem like a big task, but it doesn't need to be.
Rather than spending valuable time flicking through stacks of magazines and online design boards, why not check out our free downloadable design inspiration guide? It will help you fall back in love with every corner of your home.
Don't Stop With The Living Room: Create Your Perfect Home
Whether your dining room needs redecorating or you want to spruce up your bedroom space, finding home inspiration that suits your style doesn't need to be a never-ending process. Our free guide inspires, so you can create a beautiful and modern home that reflects who you are and is welcoming to your friends and family.
Click below to explore the endless possibilities presented in our free guide.