Bathroom Inspiration for Those Wanting to Make a Splash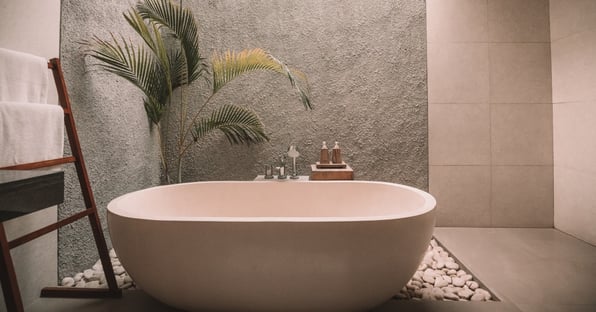 A beautiful tub you can sink into to relax your muscles after a long day, a rainfall showerhead to cool off during those summer months and a marble floor fit for royalty. We all dream of the perfect bathroom.
It's always an exciting time when planning home renovations. Here's a range of bathroom inspiration for anybody looking to make a splash.
Ignite Your Senses With Inspiration From Japan
Functional. Practical. Stylish. The Japanese believe the bathroom space is an area for tranquillity, peace and relaxation to help you rejuvenate. That's why Japanese bathrooms are built for pure enjoyment, not just efficiency.
Think Japanese style gardens where nature, simplicity and functionality take centre stage. To incorporate a taste of Japan in your bathroom, here's what you need to focus on:
Avoid harsh lighting. Use soft, warm lighting to bring calmness into your bathroom and to keep your mind, body and soul at ease.
Try bringing greenery like bamboo plants and

mossy planted pots and mats

to keep your bathroom peaceful and soothing.
Incorporate neutral and natural colours to help create a Zen atmosphere with little distractions.
The centrepiece: the soaking tub, perfect for full-body relaxation. Japanese baths are much deeper, so you'll feel like you're immersed in a lush, soothing space. It's perfect to recollect your thoughts.
Indulge in comfort with bath salts, oils and accessories that suit your decor. The Japanese are quite fond of skin-nourishing organic coconut oils and shiso seed products.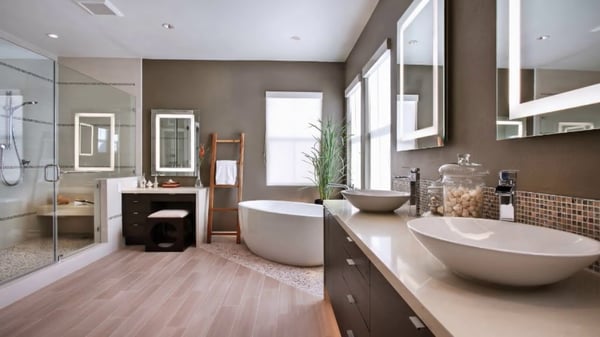 Image Credit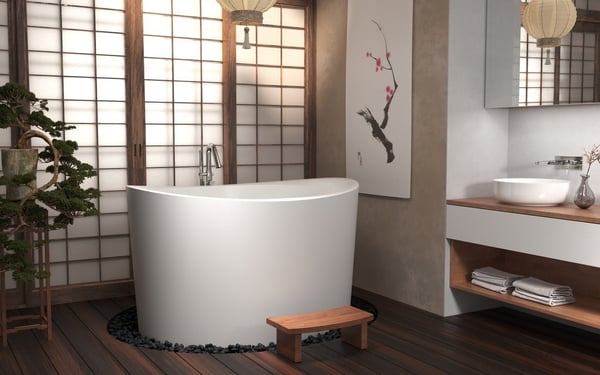 Image Credit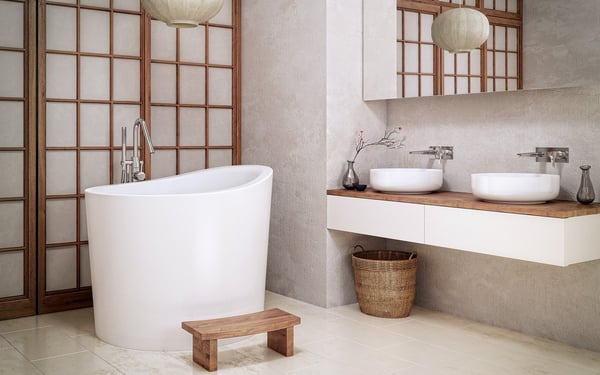 Image Credit
A Wet Room to Suit Any Interior
No matter your style, walk-in showers look beautiful in any bathroom. They're the renovation rage right now thanks to being spacious, accessible and elegant. Plus, they're easy to clean and maintain. You aren't just limited to a rainfall showerhead either - take it one step further and add in a steam bath to complete the experience.
The beauty of a walk-in shower is they fit any bathroom size, so you don't need to compromise or settle for anything less. Not only do walk-in showers work in harmony with the rest of your bathroom, but you also don't need to sacrifice style for practicality. Here's how you can adapt your walk-in shower to suit your bathroom decor.
Modern: The lack of ledges make walk-in showers minimal and perfect for a modern bathroom. Use geometrical shape choices like square showerheads and add neutral background tiles to emphasise the openness and size of your shower.
Industrial: Show off the bare bones of your home and reveal the metals and woods used as support for architectural design. Don't be afraid to show the plumbing and use industrial hardware and decor for a bit of roughness around the edges.
Traditional: Most likely to use glass and perfect for small spaces, keep the aspects that give your bathroom some character. Show the water pipes, add some retro decor and porcelain floor instead of the usual tile.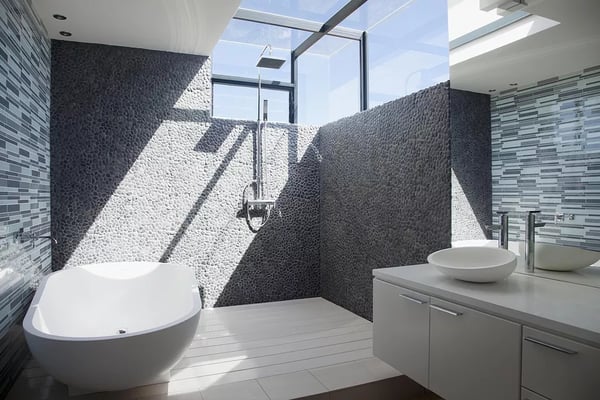 Image Credit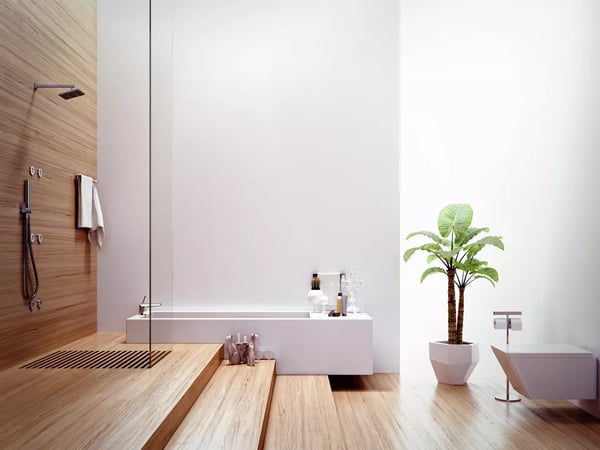 Image Credit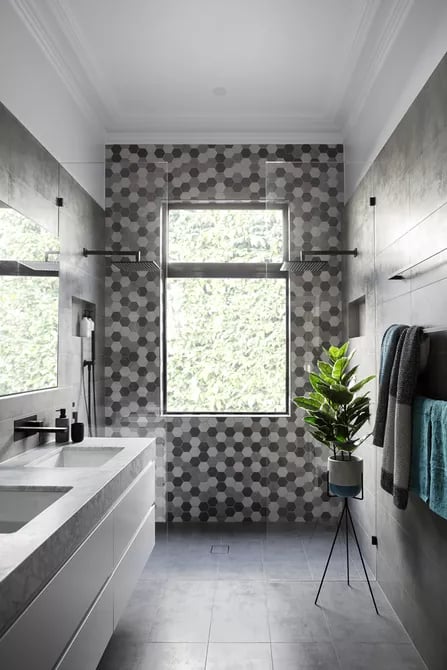 Image Credit
Make Your Roll Top Bath the Star of the Show
Just like your bed demands attention as soon as you walk into the bedroom, your elegant roll top bath deserves the same in the bathroom. Its curved edges at the top are aesthetically pleasing in any interior. It's the star of the show. It's what you'll sink into with a glass of wine and leave your worries at the door.
Restored vintage baths, a copper finish or even a pop of colour to match your room, there are plenty of styles perfectly suited to your needs. However, you need to think beyond simply the type of roll top bath - but rather the placement in your bathroom.
Admire the view: If you have a spectacular view outside of your bathroom window, take full advantage and position your roll top bath there for it to be the star. Why not add a romantic sheer curtain for a touch of privacy?
The centrepiece: If your bathroom is vast with plenty of space to navigate, put your roll top bath in the spotlight. By placing it in the centre of the room, facing out at a nice view, it demands attention.
A touch of decadence: For those with a more obscure bathroom, such as a fireplace, avoid placing your bath against the wall and place it directly beneath some large-scale lighting.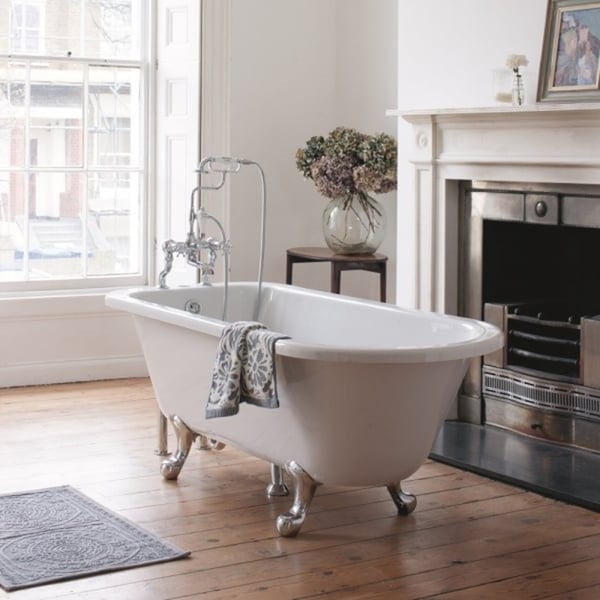 Image Credit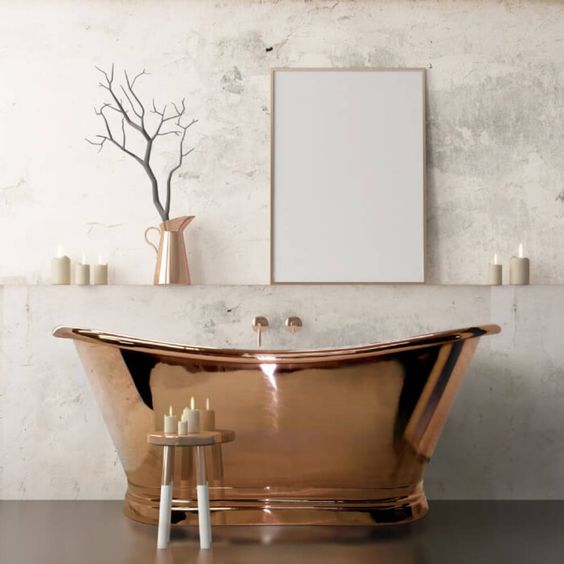 Image Credit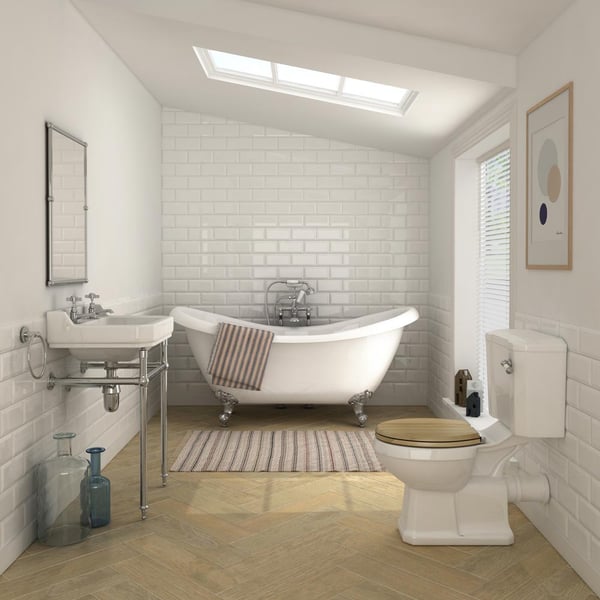 Image Credit
Give the Illusion of Added Space With Floating Vanities
Offering a chic style that's distinctly contemporary, floating vanities can do wonders to any bathroom's design and usability. It allows you to maximise your floor space to make your bathroom look bigger (and you can stash the usual bathroom clutter out of plain sight).
There's no reason not to mount your vanity on the wall. It's ideal for every family member, it allows your tilework to shine, streamlines the sink and perfect for even the most uber-organised individual. Just make sure the style matches the rest of your bathroom.
The essentials: You don't need to go overboard if your bathroom's decor doesn't call for it. Add a simplistic touch to your bathroom which offers just the basic with a few high-quality materials to add the aura of luxury.
Upscale details: Complete your floating vanity with neutral colours and a hammered metal vessel sink to make it the standout detail in your bathroom.
Rustic overtones: If you want your bathroom to make you feel like you're in a Swiss chalet, add a trough sink and a floating vanity with a wood-finish to complement your bathroom decor for the complete high-end, rustic experience.
Image Credit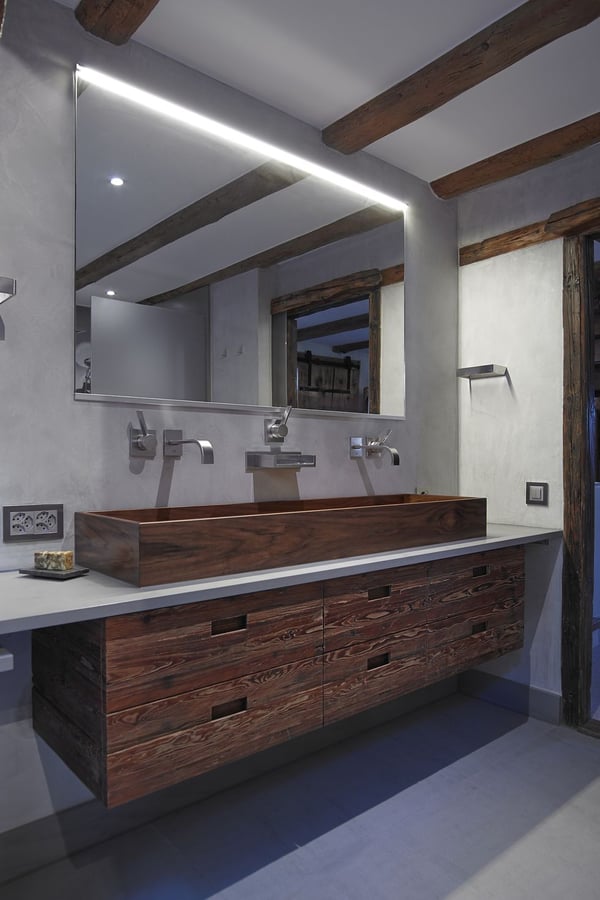 Image Credit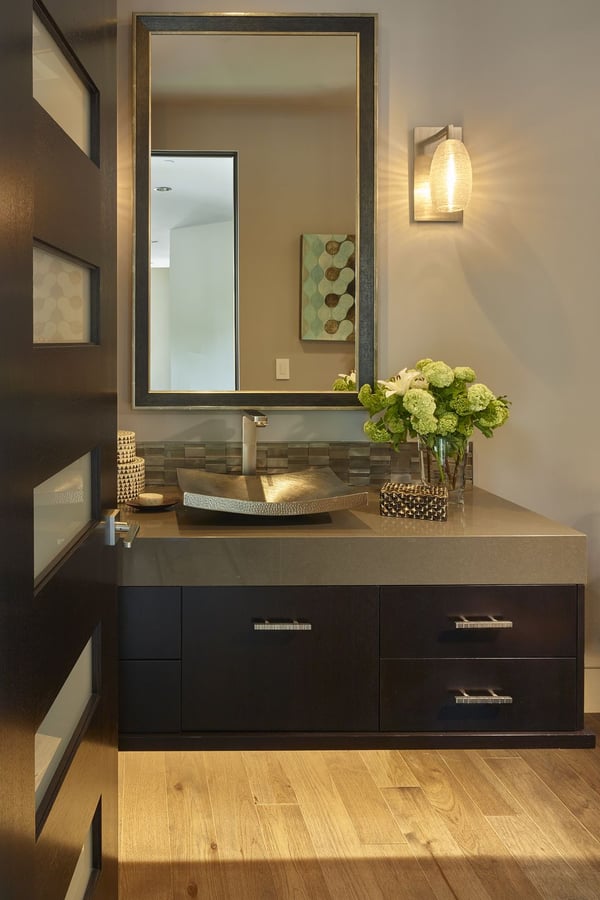 Image Credit
The Finishing Touches
Even the smallest of details can go a long way. A mirror that looks out of place? Cheap bulbs that ruin the aura of your relaxing Sunday soak? Wallpaper that looks like it should have stayed in the 80s? If you want your bathroom to make a real statement, don't neglect the finishing touches that can complete your bathroom transformation.
A Space for Your Towels
When hooks behind the door don't cut it any more, think about floor-to-ceiling cubbies. They provide ample storage room for your towels, cleaning supplies and any other bulk items. Source a wood-finished unit so you can really notice the grains and buy tonal towels to finish off the design.
Pick Your Lighting
Your morning or evening bath and shower is the perfect chance to unwind, reflect and re-energise. With different moods come different lighting, so choose carefully to create the most relaxing atmosphere when you need it. LED mood lighting can achieve your desired ambience and to go one step further, use a seperate circuit to blend two light spectrums to achieve your ideal taste.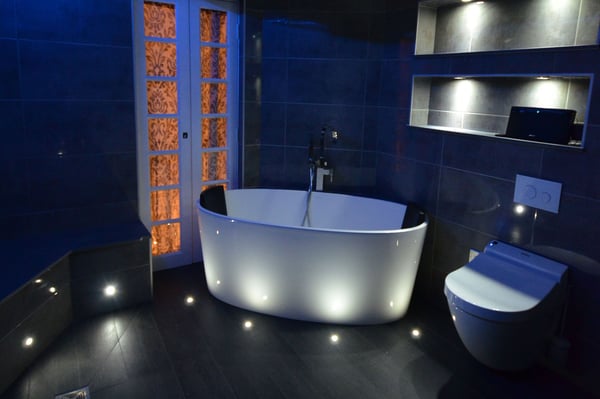 Image Credit
Soft Textures
Tiled flooring and white bathrooms can sometimes look and feel cold. Add some soft furnishings where necessary to instantly make it feel more like home and make it a welcoming space. Whether it's a large, vibrant centrepiece rug or a chair with a chenille throw or soft cushion on it, do whatever makes you feel most comfortable.
Bold Colours
For the brave among us, add statement blinds or shower curtains to give your room some extra character if neutral tones aren't to your taste. The great thing about using bold colours in accessories such as bath mats, towels and curtains rather than appliances is you can switch up your style whenever you please, rather than creating an entirely new look and feel.
Mirrors That Add Character
Whether it's a mirror cabinet, his and her stationsor peculiar shapes, make sure to pick one that not only complements the decor of your room but adds some character. A unique bathroom mirror is the perfect way to add an extra punch of personal style, especially when combined with an intense vanity base, surface material and wall colour.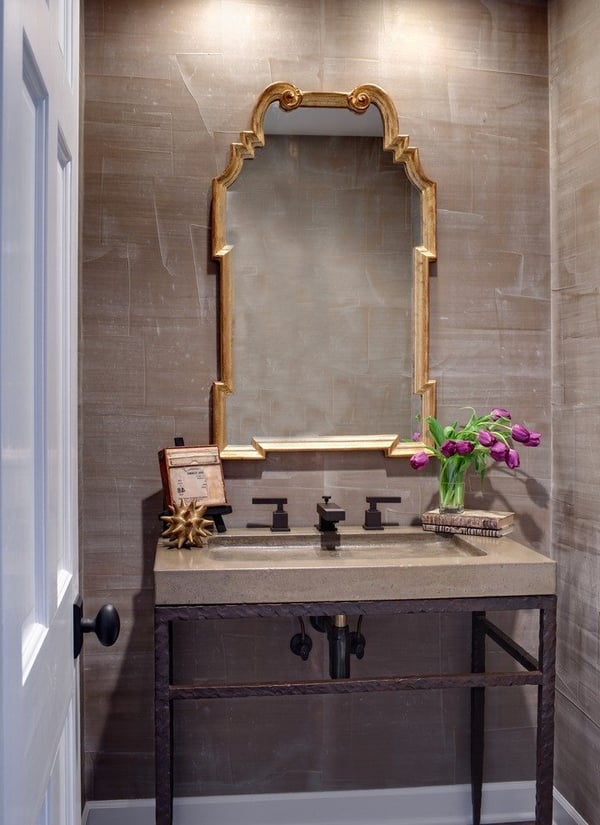 Image Credit
Now that your children have left or you've got more time on your hands, it's the perfect time to renovate your home. Sometimes, the biggest challenge can be deciding where to begin, but the end results are worth it - especially when it's completed to the highest standard, just like you deserve.
Get Inspiration for the Rest of Your Beautiful Home
The bathroom is one key element when renovating your home. Now that you've had some time to think, maybe it's the perfect opportunity to make those changes you always wanted to your living room? Or even revamp your hallway to make it more practical and a breath of fresh air?
To help inspire you to make the changes you've always dreamed of, take a look at our visual guide. You'll find plenty of beautiful, elegant inspiration to create the home you've always dreamed of. We've even broken the guide down by room, so you can find inspiration for the next room on your list you want to renovate.
Start the process of creating your stunning interior by clicking the link below.