20 Bed Styles for Creating the Most Elegant Bedroom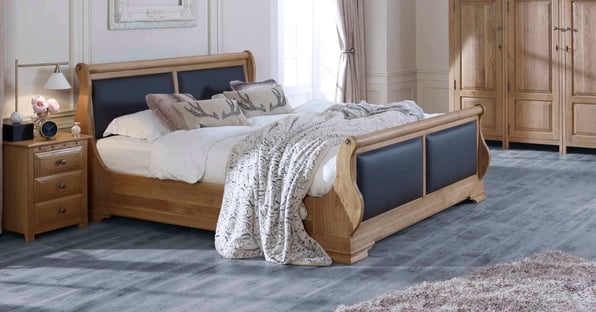 Your bedroom should be a place to relax in after a long, hard day. If yours needs redecorating but you're struggling to envisage what you want, we have 20 beautiful, elegant bedroom ideas to inspire you; helping you transform your humble abode into something truly magnificent.
In this blog, we're outlining 20 of the most stunning handcrafted bed styles that you can use to complete your bedroom redesign. Use the list below to jump to any that take your fancy. You can also explore a brochure with all these beds in by clicking here.
1. Rustic Country Bedroom

There's a classic, understated elegance to rustic decor. By choosing paint colours that create a cabin-like warmth, natural wooden materials and comfortable bedding and rugs, you can create an inviting, cosy and relaxing space.
Decoration in this room is minimal, bringing full attention to the beautiful detailing on the bed frame which is tied together with a matching bedside set of drawers.
County Kerry beds exude rustic Irish charm. Using traditional square panelling, split barley twist turning and carved dog-tooth detailing, it's a truly majestic bed.
2. Refined Parisienne Bedroom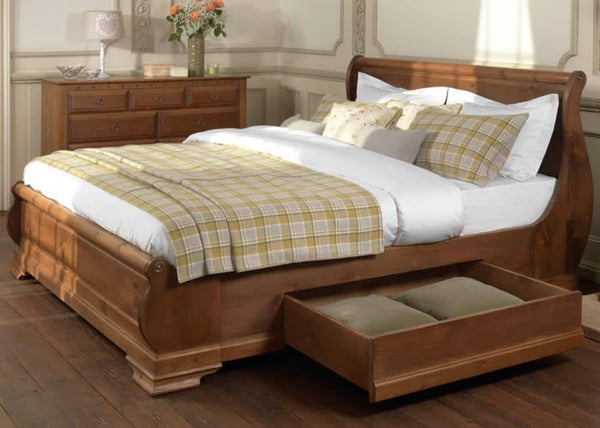 Classic, effortless and chic with a certain je ne sais quoi - that's a Parisienne-inspired bedroom.
The French are known for their flea markets, which is key to creating a truly Parisienne bedroom. In this image, the antique lantern by the fireplace creates a rustic look that's full of character and elegance. The feminine touches, like the flowers in the lantern and in the vase on the set of drawers, complements the rustic aesthetic.
This Parisienne bed is a nod to traditional French proportions that combines modern size and stature. Its low slung base has the gentlest curves that have been refined by craftsmen to ensure absolute perfection.
The under-bed drawers offer a discreet storage option that doesn't detract from the fluid lines of the design - ideal for storing linen, cushions and anything else you want to keep out of sight.
3. Grand Ambassador Bedroom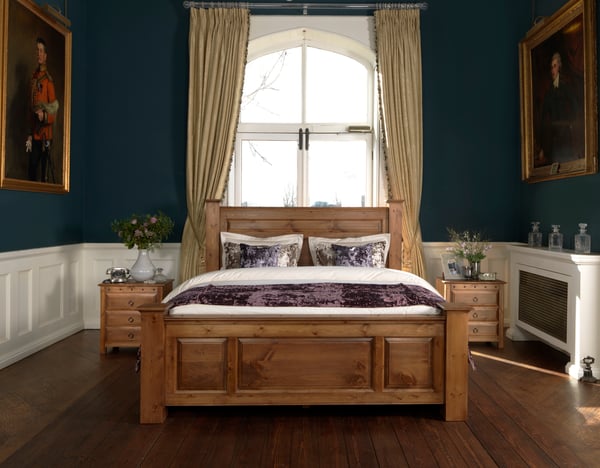 The striking blue walls in this bedroom are perfectly juxtaposed with the warm, inviting old wood finish on the bed frame and bedside tables. The hints of gold and vintage framed paintings create an air of history, transporting you back to older times.
From the generous proportions to the triple panelled head and footboard detailing, this bedroom oozes elegance. Its six-inch square posts hide a secret drawer to store your valuables and there are two bedside tables to match.
The quintessential 3-drawer bedside cabinets are just the right height, width and depth - with exactly the right number of sturdy drawers - to place a trinket, lamp, radio or family photo on.
4. Elegant Tuscany Bedroom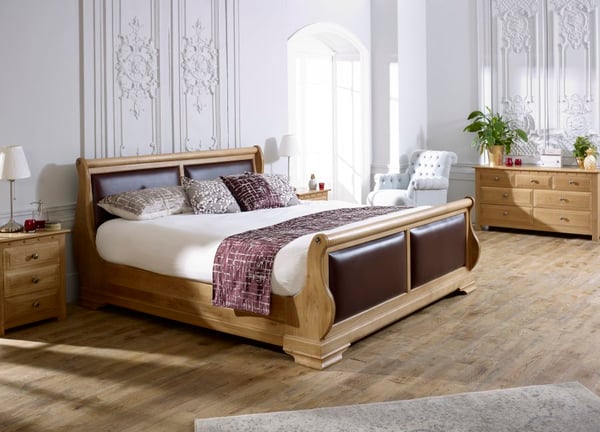 With large rooms such as this, it can often feel cold. But by pairing the furniture's natural oak finish with white walls and accessories, such as the bedding, lampshades and furniture, the room is opened up with light and warmth.
Some may be tempted to cover up architectural quirks like the embellishments seen on the wall in this image, but there's no need for this. By using a clean, white colour on the walls, paired with modern touches such as gold vases for plants, the old meets the new and creates a uniquely elegant bedroom.
To achieve ultimate elegance, bed frames must have a perfectly proportioned design like this Tuscany Sleigh Bed. Incorporating Scotland's finest leather, this bed uses high-quality materials to ensure it lasts for generations.
5. Romance-inspired Bedroom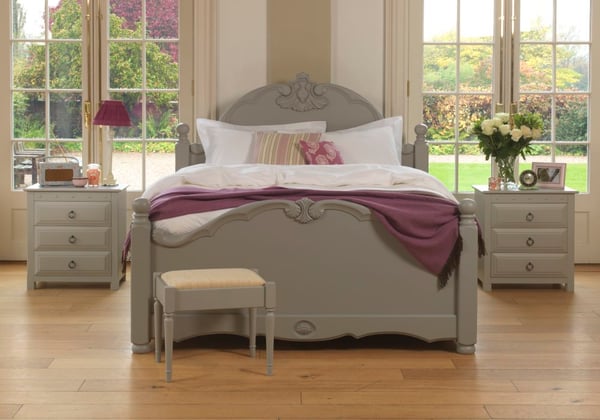 Romance, allure, intrigue… this bedroom has it all.
When creating a romance-inspired bedroom, it can be tempting to use lots of pink and red. Instead, a more elegant approach is to add hints of romantic colours here and there. In this example, you can see hints of purple and pink on the bed sheets and cushions, as well as on the bedside tables. With little hints of colour, the bedroom isn't overpowered by just one and remains elegant and inviting.
With a hand-painted finish, this beautiful Orleans Bed oozes effortless French chic - it's a bed for true romantics. But the bed frame can't create this romantic aesthetic on its own. As with many things, the real results come from attention to the small details.
6. Royal Bedroom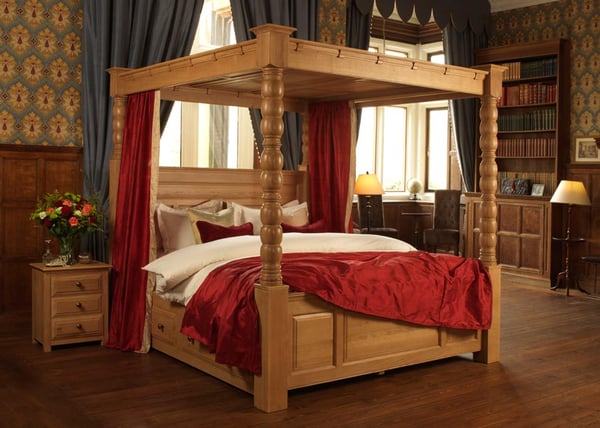 From the striking red bed sheets to warm wooden bed and matching drawers, this bedroom creates a royal, historical feel.
Mixing wood tones is perfectly acceptable, but it always helps to pick a dominant wood tone as a starting point to help you decorate the rest of the room. See how the darker wooden floor is the dominant wood colour while the bed frame and bedside drawers create a dynamic atmosphere.
The wooden bookcase transports you back to an older era and the warm lighting provided by lampshades creates a cosy ambience - one that makes it oh so easy to climb into bed and relax.
From the sturdy, turned wood to the sheer size and presence, the Ambassador Four Poster bed is fit for royalty.
7. Sleek Monaco Bedroom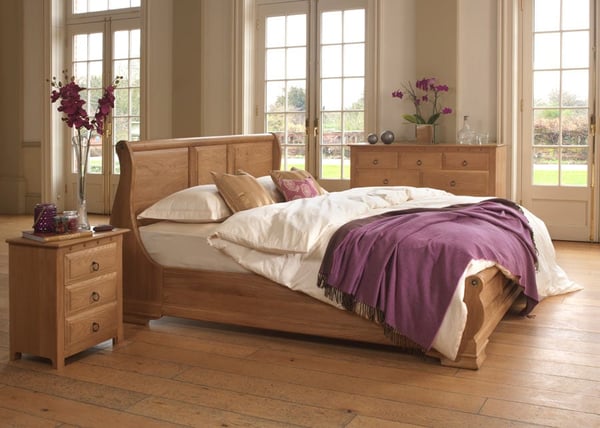 In the heat of a Mediterranean summer, nothing is rushed. Exactly like the precise craftsmanship that goes into the Monaco Sleigh Bed.
With a beautiful fine brass detailing, it encompasses precision, accuracy and attention to detail. The natural finish on the drawers, bed frame and flooring is smooth and sleek, drawing the eye to the fine details like the purple flowers and accessories.
8. Holiday Shaker Bedroom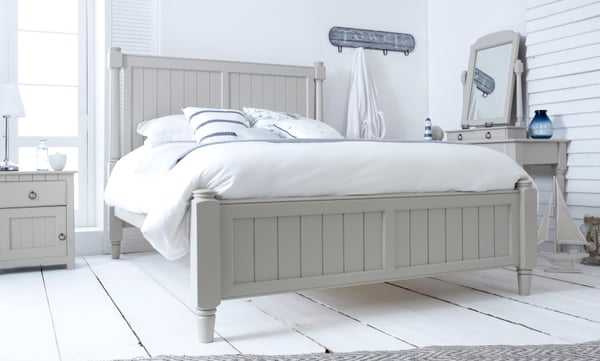 It's amazing what a difference the finish can make to a bed. A deep wooden finish can transport you to another era, whereas a lighter natural wood gives a modern country feel. Here, the off-white paint is paired with hints and blue to give a seaside ambience.
This kind of design is perfect for holiday homes and the Shaker style itself dates back to a 19th-century religious sect in the States who lived by the principles of simplicity, utility and honesty. Their beliefs were reflected in solid, beautifully made minimalist furniture with function and proportion at the heart of the design.
You'll notice that the bedside table has a door. This is perfect for storing larger items and with a dressing table and stool to match, none of the furniture looks out of place.
9. Feminine Bedroom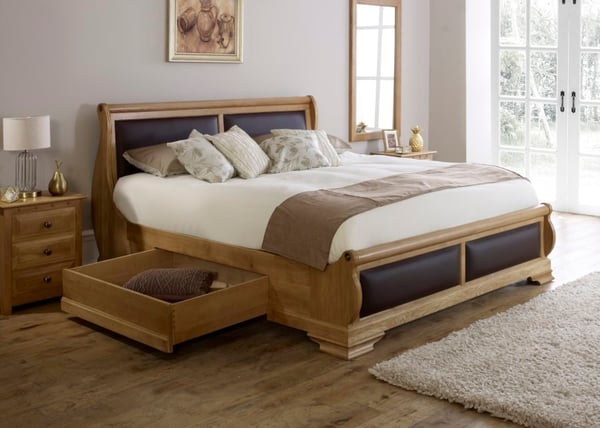 There's an easy way to make a feminine bedroom without overpowering the room with flowers and pink. Simply add touches of flowers here and there, like on the bed throw and cushions. Pair this with lighter colours to open up the room and add simple details such as framed artwork on the wall to tie it all together.
This Amalfi Sleigh Bed combines two of the most up-to-the-minute design elements: the elegance of a sleigh bed and the indulgence of fine Scottish leather.
The beautiful floral bedding and cushions create a feminine look without overpowering the room. And the quintessential 3-drawer bedside table is ideal for keeping a lamp on, ready for late nights or early mornings.
10. Majestic Bedroom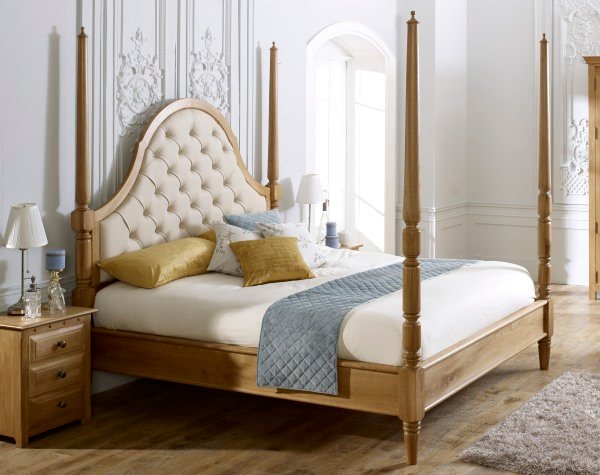 The beauty of furniture is that it can transport you back to times past. Take this Quebec bed. It offers the look and feel of an elegant four-poster bed but without the canopy, while also encompassing the classic pencil bed and a Gallic twist.
Through incorporating these different inspirations, a majestic, elegant bed that you might find in a historic colonial mansion or castle is created.
For ultimate comfort, opt for crisp white Egyptian cotton bedding that's soft to touch. It may make getting out of bed even harder in the morning, but at least you've slept in ultimate comfort.
We're halfway through this list, the perfect place to state that you can see more information (and more gorgeous handcrafted furniture) in our brochure. You can quickly download it by clicking this banner.
11. Modern Loft Bedroom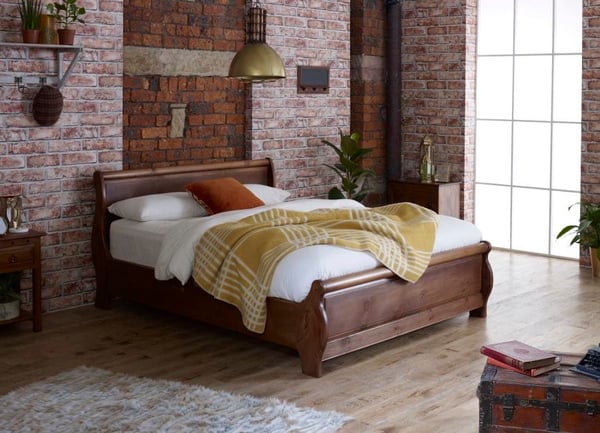 Everyone's taste is entirely unique, so why shouldn't your bedroom reflect this?
From unique collectables and industrial light fittings to architectural quirks, create the bedroom you've always dreamed of with an eclectic mix. Combining old trinkets like the case you see in the bottom right corner with the exposed brick and modern Loft Sleigh Bed creates the perfect mix of modern comfort with yesterday's style.
It's a clever blend of the old and the new which is what makes this design such a stand out.
12. Camargue Bedroom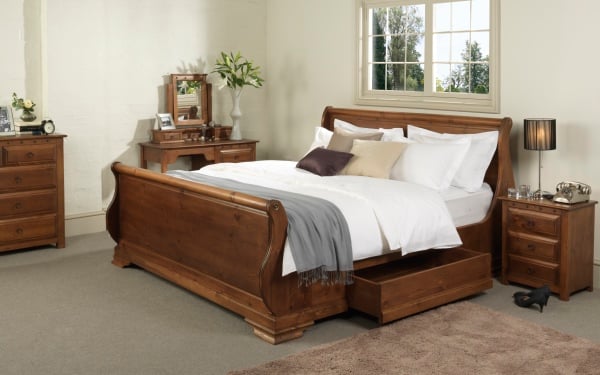 The fear with white walls is often that the bedroom may look too plain, but by choosing darker natural wood for your furniture, you can create features in the room that really draw the eye.
Taking inspiration from the beautiful Camargue region of France, this bed exudes natural, effortless beauty. The darker wooden finish complements the white walls and window frame. And every inch of the room is taken into consideration, with a single pedestal dressing table adding convenience to the room without taking up too much space.
13. Beautiful Maine New England Bedroom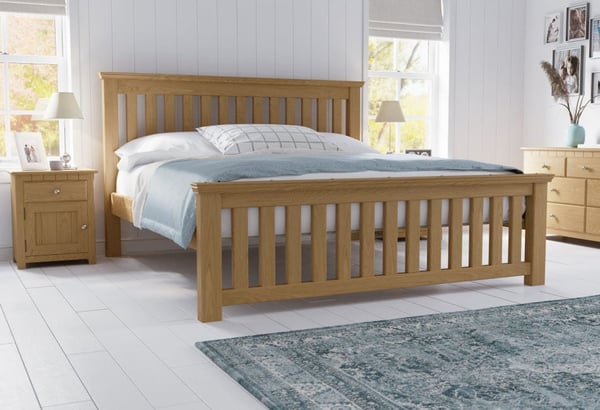 Impeccable craftsmanship really makes the difference between your average bedroom and a bedroom that oozes an effortless charm. Boasting beautiful, perfect proportions, the Maine bed brings calmness, serenity and simplicity to bedrooms.
Once paired with matching handcrafted drawers and a bedside table, it conjures up images of the coastal communities of New England, transporting you away.
14. Contemporary Studio Bedroom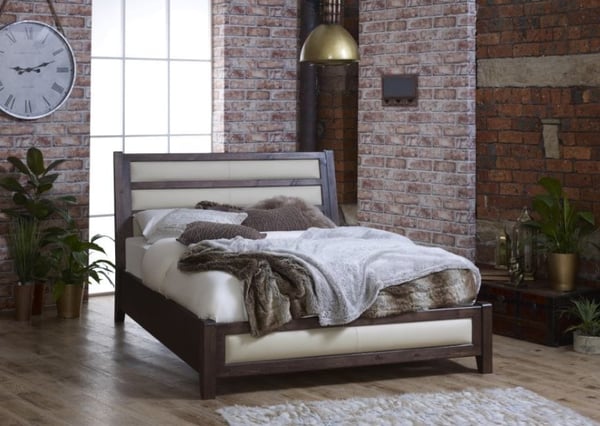 The average studio apartment is usually a tiny, urban oasis brimming with style. Take this Contemporary Studio Bedroom. It perfectly combines new and old. From the rustic exposed brick to the industrial, gold hanging light, it's vintage and modernity combined.
Even the simplest of bed frames can make the most sophisticated of looks and the Studio bed is proof of that. Its design is the definition of simplicity and is perfect for those who seek minimalism. Our environment reflects how we feel inside and with this in your bedroom - alongside beautiful greenery and minimal decor - your mind will be as decluttered as your bedroom space.
Whether you live in a post-industrial penthouse or contemporary country cottage, a Studio bed can be placed in any setting and look right at home.
15. Country Minimalist Bedroom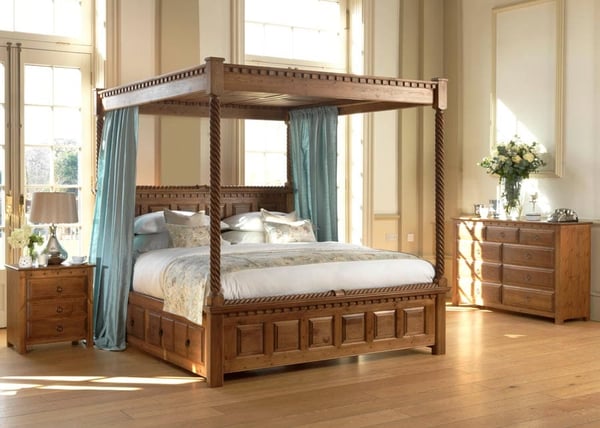 Decorated with simple hues of white, the light blue poster drapes draw the eye and add the hint of colour needed against the plain walls. The wooden bed frame and furniture encompass its rural Ireland inspiration, which is only enforced by the County Kerry Four Poster bed featuring exquisite embellishments.
You really can't have too much storage and this bedroom is a perfect example of how to keep your bedroom organised without the ugly storage. The under-bed drawers are a subtle way to hide bedding, duvets, jumpers… anything. Set beside a 9-drawer chest-of-drawers, sufficient storage is provided without looking obtrusive or distracting from the elegant splendour of the room.
16. Vintage Bedroom
Raw, vintage and unique, exposed bricks and pipes create a different kind of timeless elegance. Paired with hand-stitched duvets and pillows, there's no finer definition of comfort and tranquillity.
Whether you're after a post-industrial or minimal look, the pebble-coloured Metro bed fits into settings that are new and old. Its versatile design takes the best of traditional construction while working modern shapes and sizes to suit today's design tastes.
17. Amour Bedroom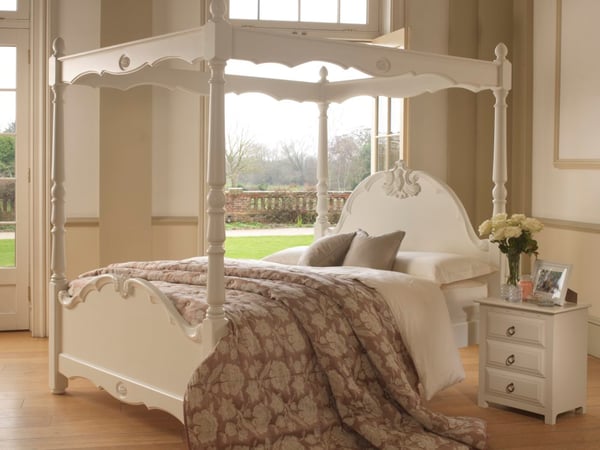 Creating an air of romance doesn't mean you have to choose pinks, purples and reds to decorate your bedroom. Instead, add hints of colour here and there - from the beautiful bed throw to the flowers in the vase.
And opt for a traditional four-poster Orleans bed. There's something about this design. The hand-painted finish, scalloped open canopy and hand-carved details give an heirloom impression; one that's been in the family for generations.
The intricate carvings are lovingly handcrafted. This, paired with beautiful, whimsical voile drapes will transport you abroad to your favourite French Chateau.
18. Traditional Windsor Bedroom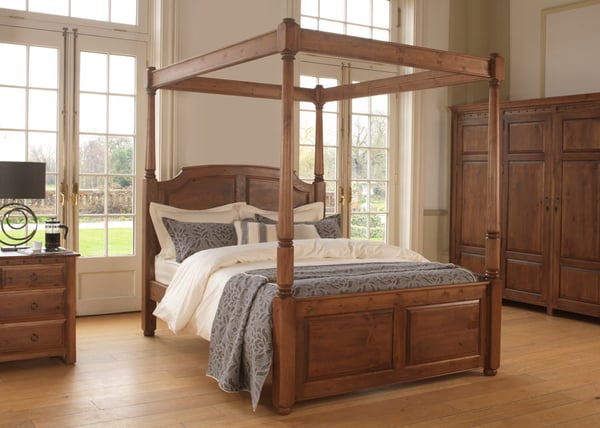 Not too big, not too small, the Windsor is a traditional bed that looks perfect in any bedroom.
Delicately handcrafted, this bedroom makes a graceful statement. Note the elegantly curved headboard with feature-dropped shoulders and trim, the natural oak finish and perfectly proportioned slats. This kind of luxurious bed frame deserves an equally luxurious mattress - and so do you for a blissful night's sleep.
19. Simplistic Bedroom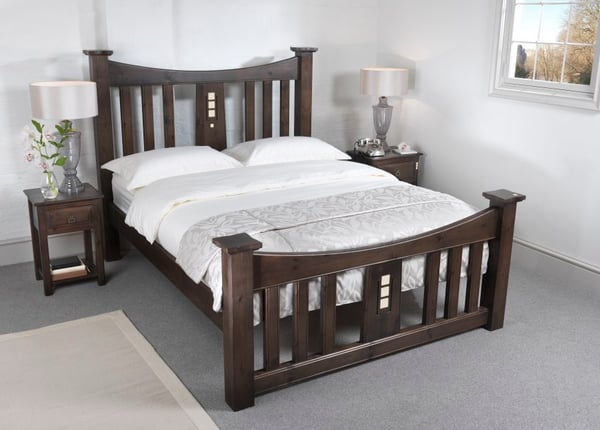 Simplicity doesn't mean bare. All it really means is to pay attention to the finer details. Take note of the handmade tiles inlaid into the head and footboard of the bed frame, the silver bedding that matches the lampshades and the bedside tables. They're perfect for late nights and early mornings and feature a useful single drawer.
This elegant bed frame takes a design classic and creates something entirely unique. With a lower headboard than the Tall Mackintosh, this bed has perfect proportions for the modern bedroom.
20. Audacious Bedroom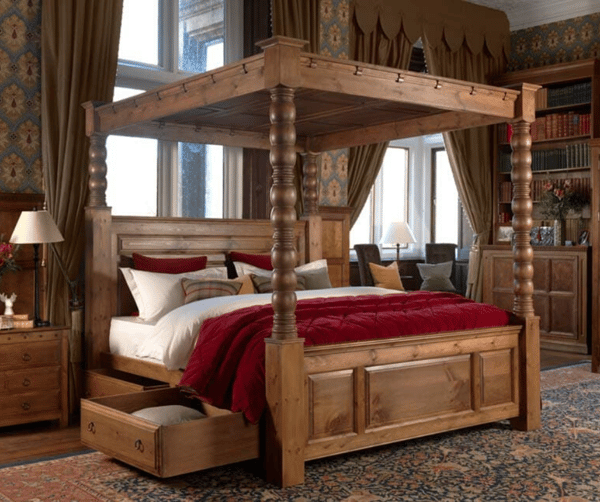 If you want something bold, choosing larger furniture is ideal and the Tall Ambassador bed is exactly what you need to make a statement. Reaching 6 foot high, it creates a real physical presence that draws the eye. The old wood finish provides a natural look while also giving a historical aesthetic. This, paired with the red and gold bedding, creates a royal ambience.
This is all just for your bedroom. But why stop at redecorating your bedroom? You need your entire home to be a place you enjoy spending time in. To help, we've carefully curated a guide full of beautiful, elegant inspirations for the whole home.
Make your dream home a reality
Whether you're looking for a romantic design or a sleek and modern one, we have just the download for you.
For more inspiration and to create the home you've always dreamed of, take a look at our guide. You'll find an abundance of exceptional designs with lots of helpful information to make sure you can recreate the look yourself. We've even broken the guide down by room, so you won't be stuck for inspiration.
Just click 'Explore Here'.