5 Elegant Bedroom Ideas for Effortless Style and Sophistication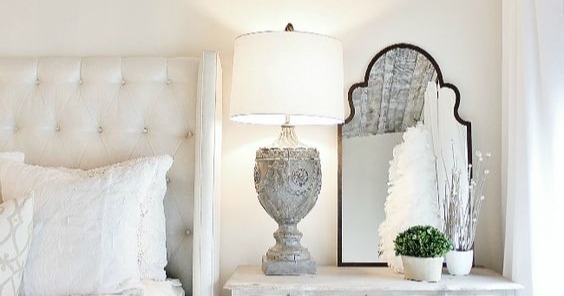 Elegant bedrooms are graceful, stylish and sophisticated. Everything in an elegant bedroom is just so, appearing to have taken no effort at all, despite there never being a bed thread out of place. However, their creation is anything but easy. It takes an experienced and discerning design eye to orchestrate elegant interiors and make them look effortless, especially in the most intimate region of the home: the bedroom.
Although there's no template for creating a truly elegant sleep space — it's just a matter of tastefully and thoughtfully curating your room — we've pulled together a range of ideas to stimulate your senses. Elegance awaits.
1. Find Flow With Drapes
Surveying an elegant bedroom feels like a dance as your eyes sway and pivot from one feature to the next. Hanging luxurious fabrics — think silk bed drapes and voile curtains — can help create a continuous flow and soften any jagged edges around the room.
We personally prefer a muted tone for elegant bedrooms and, in most cases, recommend steering away from the patterned, more powerful prints seen in modern bedrooms to achieve still, tranquil energy.
2. Focus on Femininity
Channelling femininity in your interiors is a key way to exude elegance. This doesn't mean everything has to be pretty in pink — although this is a verifiably elegant look. Instead, choose soft textures and vivacious shapes, opting for rounded edges over sharp corners.
For example, beds featuring upholstery instead of a wooden frame help to create a cloud-like illusion, as do bedspreads, throw pillows and footstools. The Quebec Pencil Bed, for example, with its fabric headboard and minimal posts, makes for a lighter, airier look.
3. Introducing Chic Antiques
Elegance goes hand in hand with experience, so making everything uber-contemporary isn't always the right route to take when creating an elegant bedroom. Mixing both modernity with antiquity creates a happy balance between old and new.
It could be a case of purchasing an antique dresser and restoring it while keeping all of the accessories pristine. Think shiny mirrors, crisp planters and bone white bedding.
4. Lean Into Lounging
If you have the space to play with, a chaise lounge, occasional armchair or an end-of-bed ottoman can transform an elegant bedroom, giving it an old Hollywood glamour feel. Think leisurely reclining like a Grecian god or goddess.
Upholstered lounge areas are also a place to show off your personality by selecting subtle patterns and flouncy shapes that speak to you.
5. Breathe Life Into Your Bedroom With Bespoke Pieces
Personalisation is the height of elegance with monogramming, materials and dimensions all up for debate. You can make bespoke bedrooms your own, going all out with personalised bedding or smaller ways, like having a say over your bed specification.
In creating a more bespoke bedroom, your space will feel more in proportion and unique to you. What's more elegant than that?
Get a Final Dose of Inspiration With Our 'Inspirations for the Home' Guide
While personal taste and interior intuition come into play when creating elegant bedrooms, it doesn't hurt to have a helping hand and a healthy dose of inspiration to see how others have achieved a sophisticated sleep style.
Unearth how to create a perfect home ― bedroom included, of course — and indulge in breathtaking images of interiors to die for. Download your copy by clicking the banner below.