The Home Colour Trends for 2020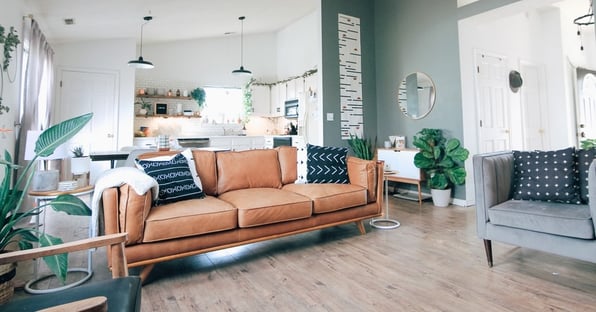 A fresh coat of paint, new soft furnishings and contemporary accessories. These can all change the mood of your home with minimal effort - there's nothing quite like colour to shake up your interior design.
Trends evolve and change. This year, you should expect versatile shades of green, bold blues and natural hues. The most influential 2020 home colour trends promise to bring something unique to our homes.
Dulux Colour of the Year: Tranquil Dawn
Let's start with the Dulux Colour of the Year. Eagerly anticipated by interior enthusiasts, this year didn't disappoint and is sure to look right at home wherever you use it.
'Tranquil Dawn', a grey-based, misty green reminiscent of the morning sky. An alternative to white, it's a calming, muted hue that's surprisingly easy to style.
Style tip: Elegant and timeless, yet also modern. This hue looks at home with light oak furniture. Paired with crisp white bedding and canopies, it's a breath of fresh air in any bedroom.
For a brighter hue of the same colour family, 'Neo Mint' is set to be equally inspiring and is versatile for every season.
---
If you need help with your colour scheme, 60-30-10 is a timeless decorating rule that can help you create a cohesive interior. Your 60% is the main colour for your room, like featured walls. Your 30% is the secondary colour, such as bed linens and painted furniture. Finally, your 10% is your accent colour - plush pillows and fabrics can achieve this.
---
Pantone's Colour of the Year: Classic Blue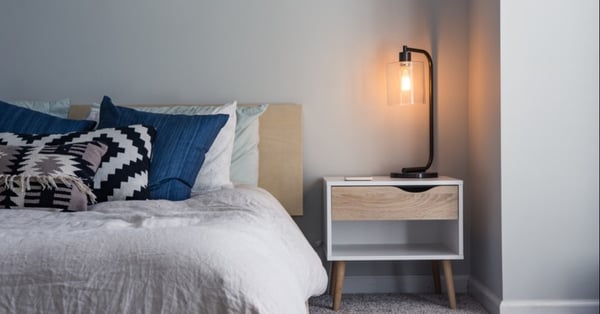 Each year, Pantone selects a Color of the Year inspired by trends in society, culture, travel and more.
Classic Blue. An endearing and rich colour favoured by many interior designers for its versatility. Neither cool nor warm-toned, it's worlds away from its vivid predecessor Living Coral.
Style tip: Classic Blue is so bold and demanding, but that shouldn't mean you should shy away from using it in your interior. Admittedly, this hue works better in bedrooms or living spaces as an accent colour. This jewel-tone compliments dark wood and when paired with blue accessories and wall art, it can tell a convincing colour story.
---
If you have an idea for your colour palette, try out tester pots on walls. If you're thinking of making a serious investment, perhaps a premium wood four poster bed, a great trick is to drape a coloured throw in place to see how your new design will work with the wood tones.
---
Colours Taking Inspiration from Nature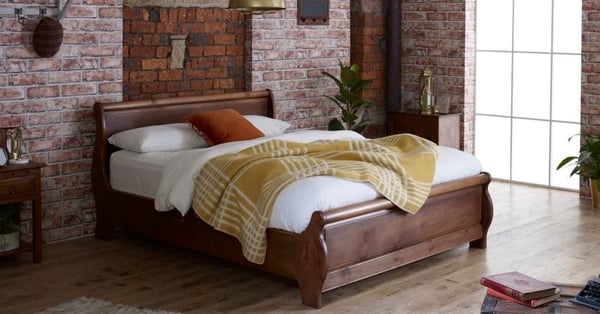 Expect a shift to more natural and earthy tones in 2020. Soft shades of brown, taupe and blush can harmonise your interior if composed right.
When paired with naturalistic home decor like pressed resin flower coasters and driftwood accessories, it's organically gorgeous.
Style tip: Pair with premium wood furniture and foliage to carry on the natural theme, creating a more eco-friendly bedroom. Complete your cosy retreat by tying your colour palette together with textures like twine, marble, faux fur and leather.
The natural world has inspired designers for decades. Why stop at paint and accessories? If you want to integrate more sustainable pieces into your decor, it's easier than you think to get started.
Sustainable Furniture Isn't Just a Trend for 2020
Being eco-friendly isn't a fleeting fad. When it comes to making more environmentally conscious decisions, we're all responsible. Whether it's in how we decorate our home or who we purchase from.
Go green with your home decor and take a look at our sustainable wooden beds and bedroom furniture. Our showcase features videos of the production process, from the wood being sourced all the way to the final piece. Take a look below.