Food for Thought: Dining Room Inspirations for Your Home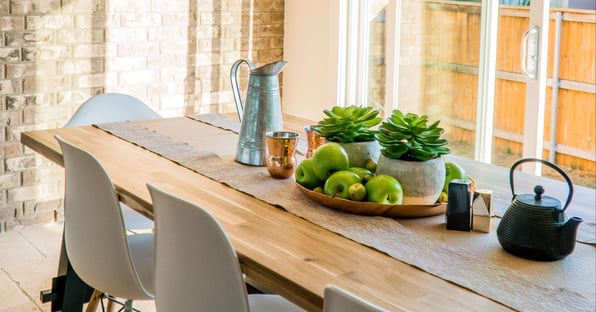 Dining rooms are so much more than just a place to eat food. It's a space to entertain guests and spend time with family, host Christmas dinner and celebrate birthdays with friends over cake. By creating a dining room that reflects your unique needs and personal taste, you'll create a space you love coming home to.
Here are eight sleek, functional and classy dining room inspirations to help with your next renovation.
Marble Dining Room Table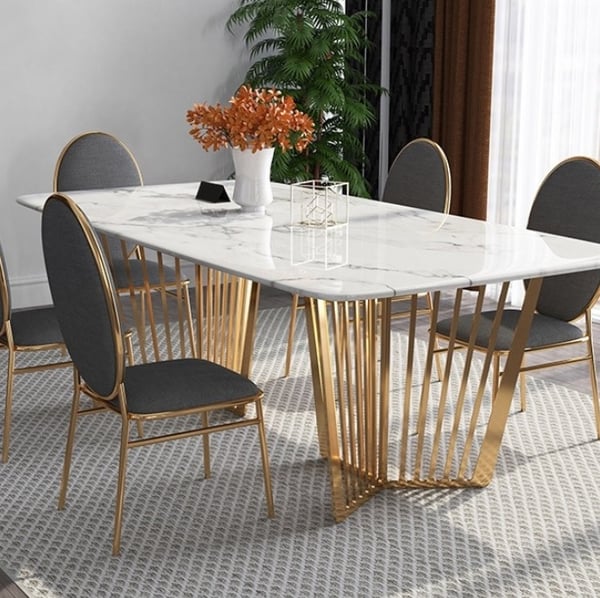 Credit: Pinterest
Alluring, luxurious and stylish, a marble dining room table will create a focal point for your hosting space. This example's sleek curves and golden table legs boast a contemporary style with matching chairs that exude elegance. These kinds of dining rooms take minimal effort to create, needing only a simple white vase with flowers to tie the room together.
Minimalism at its finest.
Creating a Dining Room That Tells a Story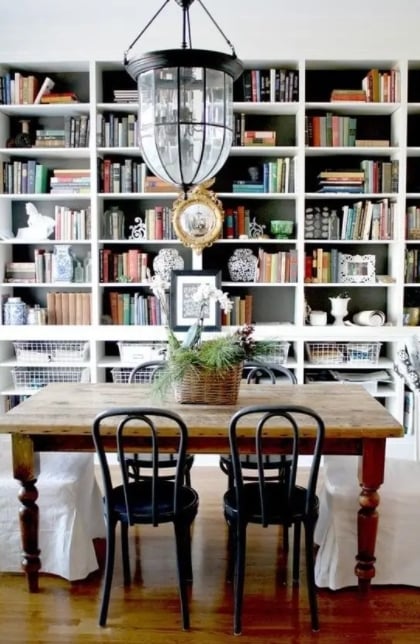 Credit: Pinterest
Timeless, rustic and light, you can fill this library-meets-dining-room with stories, both on paper and in real life. If you're already an avid reader, this dining space is incredibly easy to achieve.
After filling your bookcase with the likes of George Orwell, Jane Austen and Charles Dickens, choose earthy tones for your table and chairs. A vintage, hanging lampshade will tie the whole room together, brightening the area for when you next get lost in a book.
A Dining Experience for Families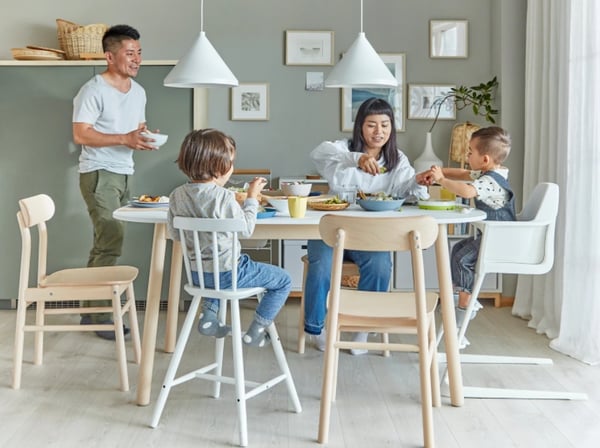 Credit: Ikea
Although adorable, children tend to be very messy - and feeding a family at the dining room table can be a little chaotic. The last thing you want to worry about is a scratched tabletop or food dropping on your new rug. That's why it's important to have a functional dining room that's both stylish and easy to clean.
By designing a dining room around your family and for when the grandkids come to visit, you'll have more space for quality dinner time as well as for fun and play too. For the table, you want something durable with round edges so it's safe for the young ones to be around. The tabletop should be smooth and stain-resistant to make it easy to wipe and clean.
If a sleek, white table like the one above doesn't suit the rest of your home's decor, a rustic dining table is a great substitute. Natural wood with a rustic finish looks better with nicks and imperfections, so it can survive a little rough and tumble from the little ones.
Dining With Sustainability in Mind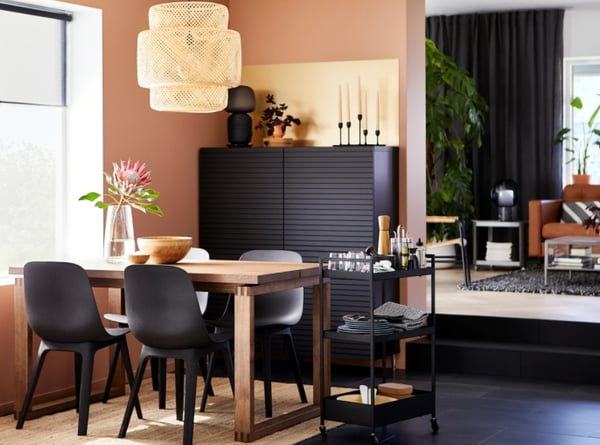 Credit: Ikea
As the world continues to work towards a more sustainable future, it's now easier than ever to ensure your dining room space reflects this too. Look for bespoke furniture manufacturers that have sustainability in mind. Not only will you sit at the table knowing it was made just for you, but you'll also know expert craftsmen utilised their time-honoured techniques while doing their part for the planet.
A Dining Space Designed for Cosiness
Combine comfort with sustainability easily by choosing chairs and tables that are made out of renewable wood and recycled plastic. Opting for earthy tones such as brown and black really sets the mood for a sustainable, nature-inspired dining room. Pair this with a 100% sustainably-sourced cotton placemat to protect your table and a flower centrepiece to complete the look.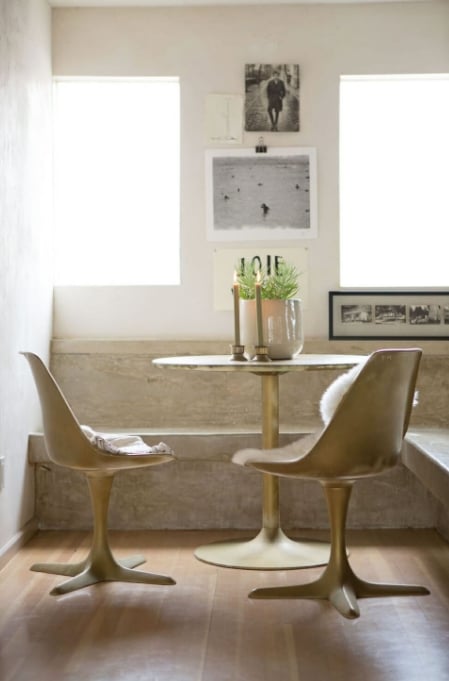 Credit: Douglas Lyle Thompson
Maybe you don't have the space to make your dining room separate to your kitchen, but you can still create an idyllic, charming and inviting dining space.
When struggling with space, opt for a round dining table. Compared to rectangular tables, round tables are much simpler to work with and it's easy to fit an extra chair when guests are over. These kinds of dining rooms are sleek, cosy and comfortable and incredibly easy to replicate.
Emphasising Architectural Quirks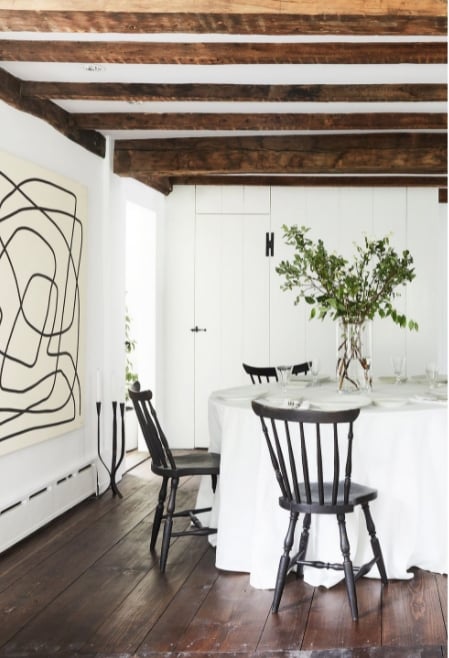 Credit: Nicole Franzen
If you live in a unique building, playing up to the house's architectural quirks can really make a distinctive dining room. These kinds of spaces are ideal for hosting guests and are simple to achieve, as the aesthetics of the home already do the hard work.
Small touches add to the ambience of a dining room. The white table dressing and glass vase centrepiece give a simple, clean look, while the dark, wooden chairs effortlessly tie the wooden beams and flooring together. This ultimately creates a truly charming space.
Choose an anchor piece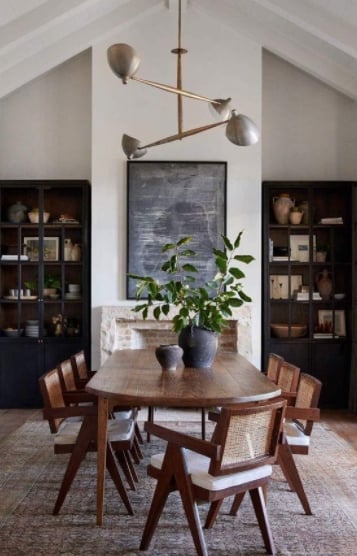 Credit: Shoppe Amber Interiors
Pulling all the different design elements together for your dining room and making sure they match can be difficult. You want the furniture and decor to work together; not as pieces competing for attention.
By choosing an anchor piece, you'll have the keystone in your visual aesthetic, leading the colour scheme and material choices harmoniously. This could be a fireplace, piece of artwork or even the dining table itself.
Embrace the little things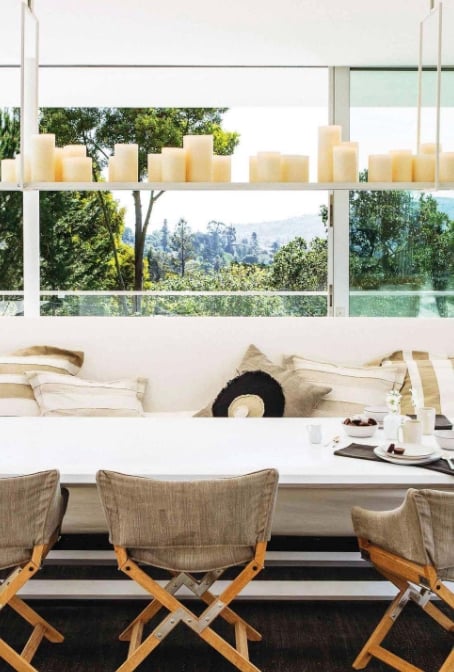 Credit: Nichole Hollis
It's the little touches that create the atmosphere of a dining room. Explore Danish minimalism by paying attention to the furniture, trinkets and small tokens to really add to the ambience of the room. Take note of the textures of the furniture and play with patterns to create a visually appealing space, add greenery in long vases to bring the outdoors in - the possibilities are endless.
It's always an exciting time when planning your next renovation project in your home. But it's simple to get started with so much inspiration available. The only difficult task is deciding which room to begin with. To help you envisage what your home could look like, make sure to take a look at our guide which is packed full of inspiration to get you started.
Make Your Vision a Reality
Your dining room is one of the most visited spaces in your home, so it's the ideal place to start when renovating your home.
For more inspiration and to create the home you've always dreamed of, take a look at our guide. You'll find an abundance of beautiful, elegant designs to bring your vision to life. We've even broken the guide down by room, so you won't be stuck for inspiration for the rest of your home.