7 Classy But Durable Hallway Flooring Ideas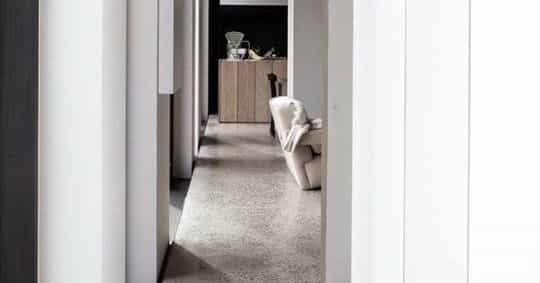 Flooring. An essential, practical surface that's usually last on your mind when designing a room, but the first thing you touch when you enter one. Flooring should be both durable and luxurious, reflecting the rest of your magnificent home. So, with all the high traffic your flooring goes through, it needs to be long-lasting - but how do you capture both luxury and durability? Here are our top classy but durable hallway flooring ideas.
1. Terrazzo
Terrazzo is coming back in. With infinite styles you can easily match to your hallway design, terrazzo is a great choice for the hallway, alongside other practical areas such as bathrooms and kitchens.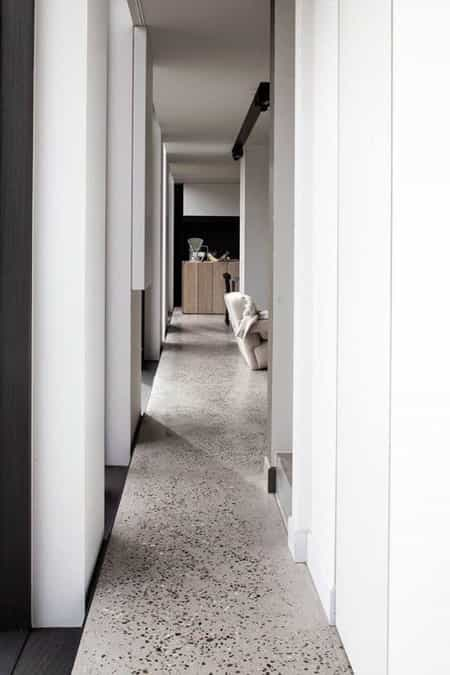 Image credit: The Savvy Heart
It's a composite material, poured in place and filled with colour chips of marble, quartz, granite, glass or other materials and can be designed to order. It's no longer considered kitsch and can actually create a fun visual theme for both rooms and hallways.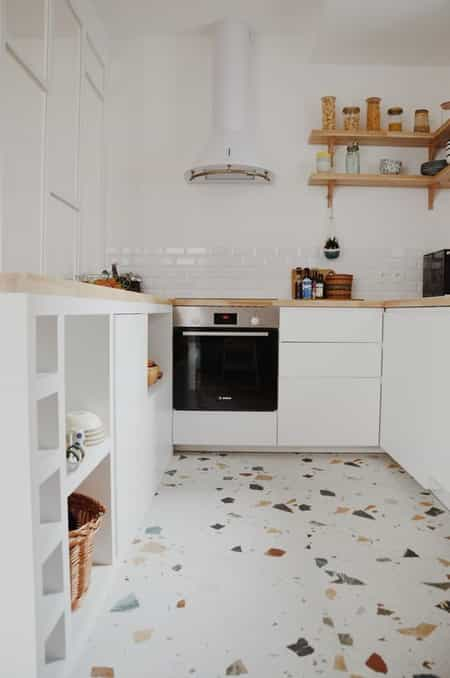 Image credit: Pinterest
2. Hardwood
Hardwood will always be a popular flooring choice. It's durable, suits both modern and rustic-styled houses, is luxurious, warm and ages with grace. It comes in a variety of species, such as oak, cherry, pine and maple.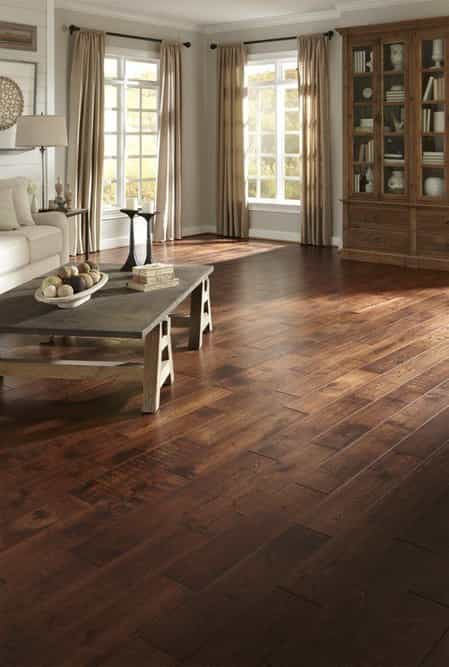 Image credit: Wayfair
It's also versatile, suited to being finished or non-finished, alongside taking on paint incredibly well. On top of the versatility, it's one of the best flooring materials for sustainability. When looking for hardwood floors, choose a Forest Stewardship Council (FSC) certified provider.
Similarly, for that dash of vintage log cabin aesthetic, reclaimed wood can be used to create a darling, cosy and relaxing atmosphere in almost any room of your house. Wood types can be mixed and matched for different colours and styles to present themselves and different patterns can be used to capture something unique.
Hardwood is the perfect pairing if you have hardwood furniture, such as blanket boxes, cabinets and mirrors in your hallways. A marriage made in heaven.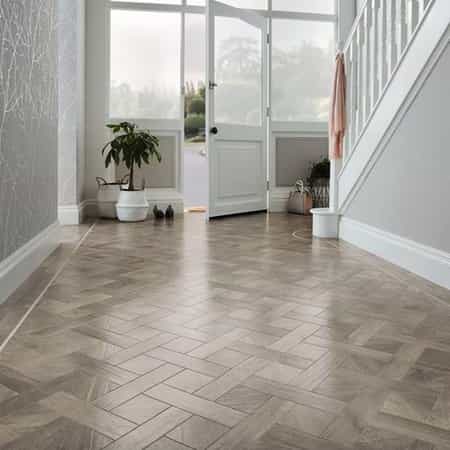 Image credit: Karndean
It's not just a material suited for the hallway, but also for finding a home in kitchens, living rooms and bedrooms.
3. Bamboo
For a similar look to hardwood but with a lighter feel and a cheaper price tag, bamboo is the potential choice. It has limited styles due to its small availability, coming in the form of flat, end and vertical grain, but it's also an eco-friendly option and easy to install.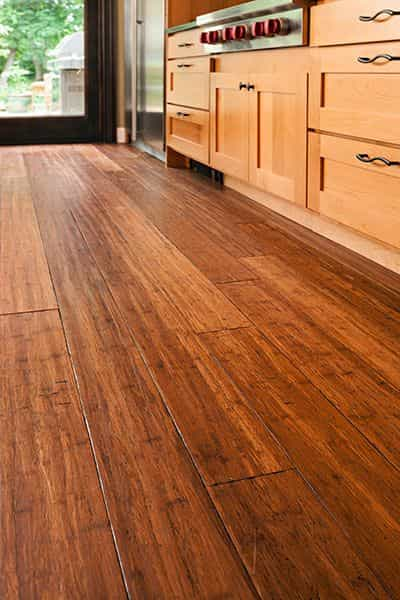 Image credit: This Old House
4. Laminate
Laminate flooring is made by applying thin layers of veneer over plywood or compressed fibre. The top layer is a photograph under a clear plastic coating, meaning laminate can be made to look like wood or a large variety of other materials, from stone to tile to brick, amongst others.
This makes it the perfect choice for a heavily-used hallway, especially for families with children, who might walk in with muddy shoes after playing outside. As the top layer is plastic, it's very easy to clean. You can pick a luxurious style and rest easy with the assurance that laminate will stand the test of time.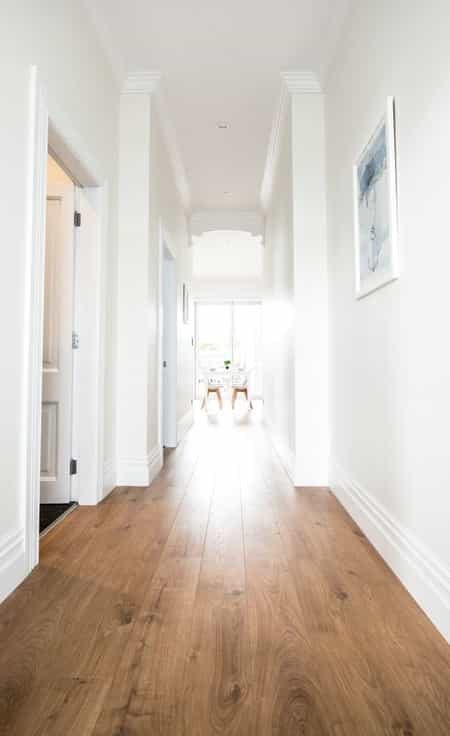 Image credit: Godfrey Hirst
One big advantage is the price. If you're looking for the feel of wood or ceramic tile, these options can be expensive. Laminate allows you to recreate those design choices for a smaller price tag.
5. Cork
For a truly sustainable option, cork is the ultimate choice. The bark of the cork tree is harvested without having to kill the tree, which then regrows its bark over time. This bark is then boiled, ground, compressed into sheets and then baked.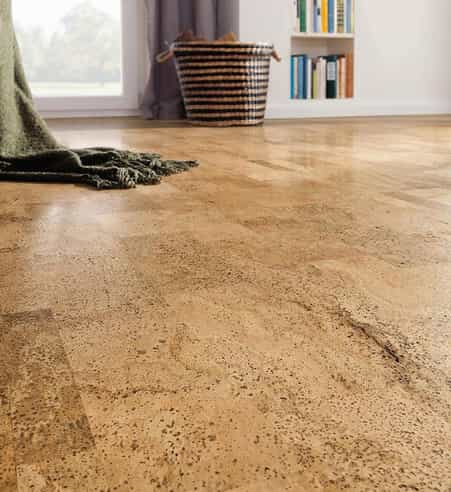 Image credit: Wood2U
For high-traffic hallways, it could be the perfect choice, as it's warm, quiet and extremely comfortable underfoot. It's also slip-resistant; perfect for when the little ones with wet shoes come to visit.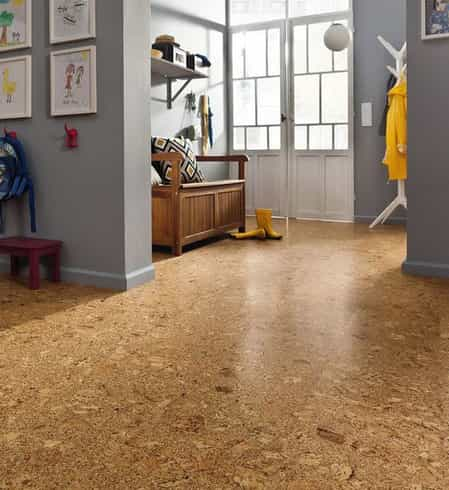 Image credit: Wood2U
6. Stone
Stone is potentially the most durable flooring material on our list. It's the oldest style of flooring, having been used for thousands of years across the globe. Even though it's historically widely-used, it's still a much-coveted material and immediately adds value to any home.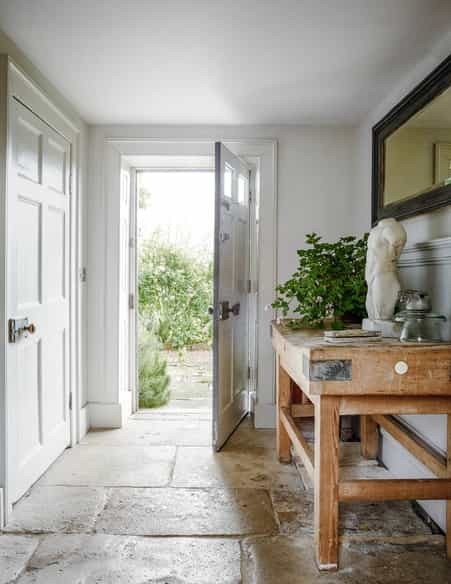 Image credit: House & Garden
For high-traffic hallways, stone is invaluable as it resists scuffs, moisture, stains and scratches. It's a big investment but it definitely translates into a very long-lasting one. In warmer climates, stone helps to cool rooms. In colder climates, stone takes in heat from central heating sources and retains it, meaning a warmer atmosphere is guaranteed for a longer time.
7. Ceramic tile
Ceramic tile - warm, homely, understated. It's a durable and impressive material, able to withstand many years of use while still retaining its original quality. It's also versatile and comes in four different types:
Terracotta: Unglazed tiles that come in earthy tones.
Porcelain: Extra hard due to being fired at extremely high temperatures. Porcelain is stain resistant, so perfect for areas with high footfall.
Quarry tile: Slip-resistant because of its slightly rough texture, quarry tile is a great choice for hallways

and boot rooms

.
Glazed ceramic: A durable and rather fetching choice, glazed ceramic has a glass-like coating and comes in any colour or texture. It's also very reflective, helping a darker space to be brighter.
With modern printing technology, you can create ceramic tiles with a wide variety of patterns, meaning they can be designed bespoke to suit your choices. It's low maintenance, easy to clean and durable - another top-quality choice of flooring for your hallway.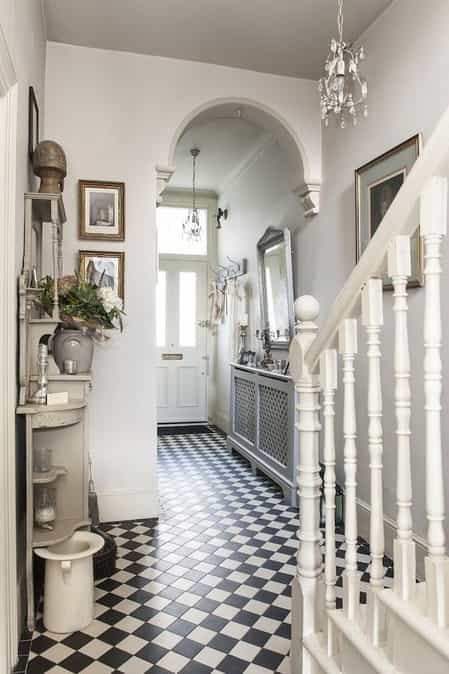 Image credit: Wealden Times
For those who want to imbue a little Mediterranean style into their homes, choose a light terracotta tile and pair it with bright walls, plantlife and themed furnishings.
If you're looking for more inspiration when it comes to hallways and want to make the most of this well-used but little-considered space, read our blog on 10 practical (but beautiful) hallway design ideas.
Did you know how much thought goes into the hallway? Now imagine doing the same for every room to make your home perfect. To make this exciting renovation journey much smoother, you can gain insight on amazing design tips for your ever-developing home by downloading our inspirations guide.
inspirations throughout the home
From miraculous kitchens to transcendental dining rooms, meditative bathrooms to the most luxurious bedrooms, our guide has a wide variety of inspirations and guidance for you to use as a stepping stone for creating the home of your dreams.
With colour suggestions, theme ideas and current trends, this is the guide for you. Simply click the link below to get your copy.