How to Accessorise a Solid Oak Kitchen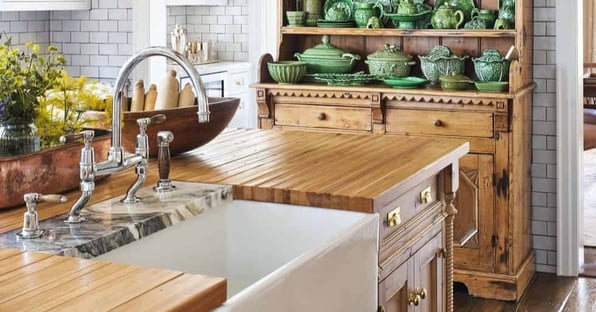 Kitchens have an important and colourful heritage within the history of the household. Worldwide, they're spaces in which we cook, eat, talk, bond, relax and create. A good kitchen deserves a good design and one of the only materials fitting of such a legacy is solid oak.
Solid oak is renowned for its elegance, its beauty and its durability. Solid oak kitchens are known for the same. They don't deteriorate like chipboard imitations. Rather, they stand the test of time and, like each dish you make, get more and more flavourful with each creation.
But how do you accessorise a solid oak kitchen? Look no further. We've compiled some of the best design inspirations for solid oak kitchen accessories.
Matching Tiles
To contrast the intricacy of solid oak patterning and textures, choose simple plain tiles. However, these can be any colour and also any shape, but block colours work best with the rich hues of solid oak.
In this example from deVOL Kitchens, we can see a painted solid oak cabinet fitting skirted with a simple and practical white tile backsplash. The mixture of darker grey grouting, natural wood shelves and forest green wall creates a modern looking kitchen with the right amount of nods back to a simpler time.
This clever use of tiling works as it's been used as part of a well-defined colour scheme, acting as a light barrier between two stronger colours.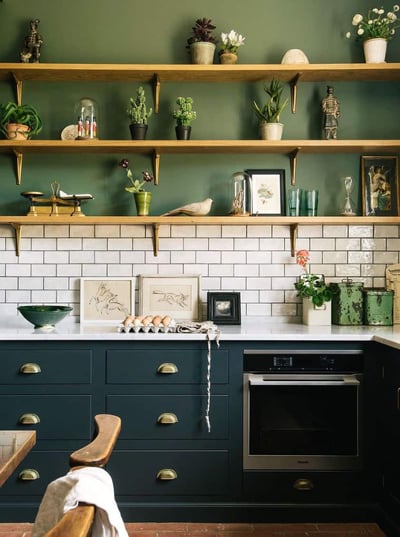 Image credit: Laurel Bern Interiors
Oak Plate racks
Stacking plates inside cupboards can be a chore. With larger plates at the bottom, a floor or wall-mounted kitchen cabinet makes for a difficult task when adding or removing plates - especially when you're catering for a dinner party.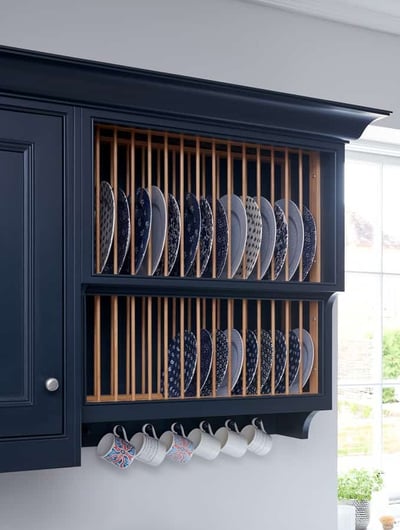 Image credit: Cheverell
A simple, elegant and efficient way around this issue is to install oak or hardwood plate racks. They offer the ideal storage space for plates with individual slots that reduce plate wear and tear. Hardwood is the perfect material for these types of racks, offering a durable storage solution for all of your finest plates.
Wine racks
No kitchen is complete without a good collection of reds, roses and whites. Whether it's for enjoying a small glass or cooking with, wine is the perfect accompaniment to any kitchen. To store that wine, a modern hardwood wine rack is the right choice.
Wine racks built into your cabinets are all well and good, but for a truly eye-catching design feature, try something a little more modern.

Look at this wall-mounted wine rack by Wayfair. With a modernist, minimal style, pairing blackened metal with solid wood, this wine rack stands out amongst others for its non-conventional design.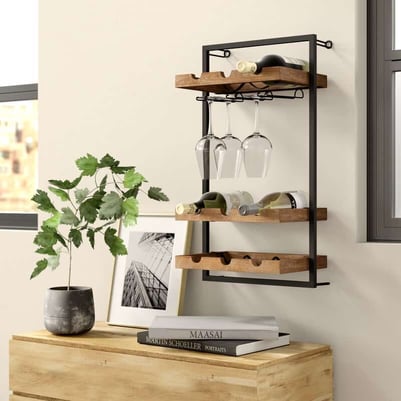 Image credit: Wayfair
Traditional Appliances and appliance colours
Oak is a material steeped in tradition and so your appliances should try and represent that too. Think of including the famous AGA style of cooker and copper pans. Create a cosy, cabin-style kitchen with pewter mugs (perfect for hot chocolate).
See in this example how copper pans hang from the ceiling above hardwood cabinets, acting as both practical storage feature, eye-catching accessory and colour highlight.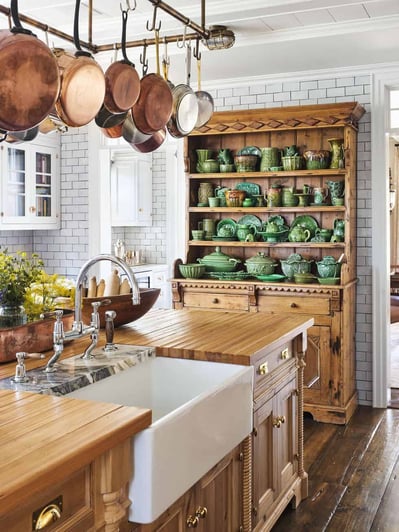 Image credit: Simply Elegant
Another traditional design choice here is the old-fashioned farmhouse basin, positioned cleverly in the island top. These make for large and very practical choices for sinks.
The colour of your appliances will depend on the colour of your oak or whether you choose to have your oak painted with an alternative finish. With oak's natural rich chocolate sheens, it goes well with a range of different colours, from deep reds to ocean blues and creamy whites.
Why not consider full black appliances to create a dynamic contrast between the organic colours of oak furnishings and another colour - possibly an off-white to develop a flowing gradient of shading?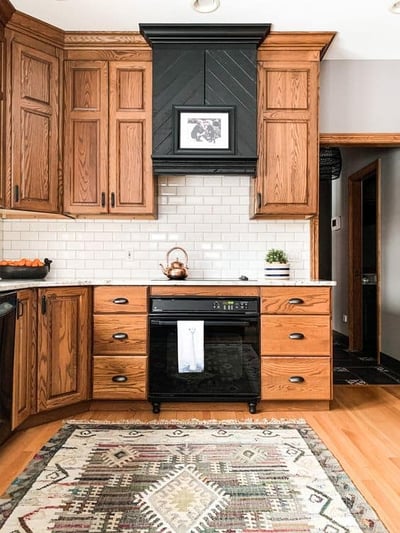 Image credit: Pinterest
kitchen greenhouse
Solid oak is an innately organic material. To better represent that natural feel, choose some key plant accessories to give your cooking space the feel of an indoor forest. You don't need to completely fill every free space with greenery - just key species in light spaces will work.
For those daunted by the upkeep of plants, choose hardier, simple-care species such as:
Golden Pothos
Mother-in-law's Tongue
Spider plant
Cacti
Orchids
For practical plant life, you can add in herb planters or chilli plants for homegrown flavours.
In this kitchen, you'll see how plant life has been paired with solid oak shelving, pairing beautifully with deep-green tiling and much brighter kitchen cabinets. You'll also notice the large leaves of the Golden Pothos on the lower right, the tendrils of the spider plant on the lower left and a Zanzibar Gem on the top shelf.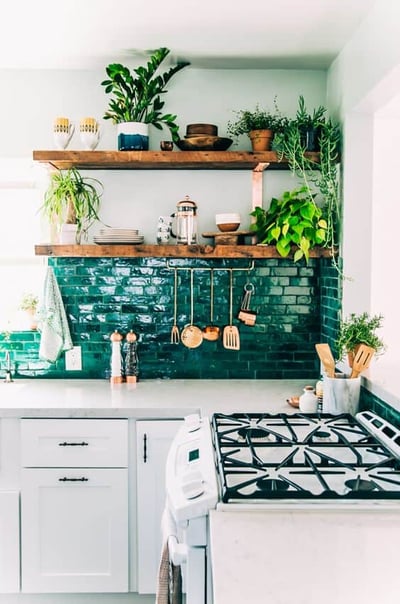 Image credit: Red Online
hardwood knife blocks
Knife blocks are inherently practical items, but because of their relative simplicity, you can get incredibly creative with the style you choose. From modernist to experimental, knife blocks can even act as a centrepiece for your solid oak kitchen.
For example, to contrast the perfectly cut oak panelling of your kitchen, why not opt for a knife block that's reminiscent of the actual trees your kitchen came from? Choose a knife block simply carved from log; the more rustic-looking, the better.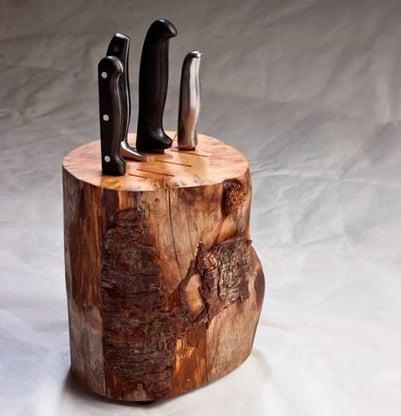 Image credit: Your Dining Center
You could even carry this theme on with a hardwood chopping board, complete with the rough, natural bark left on the sides. Mix and match your wood styles to bring a range of beautiful brown colouring into the kitchen. For example, this natural chopping/serving board by Crate and Barrel is made from Teak.
oak cutlery draw inserts
The organisation in your kitchen is an absolute imperative. Not only does it help keep your kitchen looking light, clean and open, but it also helps you be more efficient when cooking. This doesn't just apply to the areas we can immediately see when walking into the kitchen, but also the places we can't - like the cutlery draw.
Investing in a solid oak cutler draw insert helps to keep your silverware organised, clean and easy to access. Rather than rooting around searching for the right size spoon for baking, you'll be able to see it easily. Plus, utilising an insert made of solid oak creates continuity to your oak aesthetic. The theme of the outside is the same as the theme on the inside.
Look at this one, with emblems carved into the wood for each cutlery type. Clever designed, handy and in-keeping with your kitchen's style.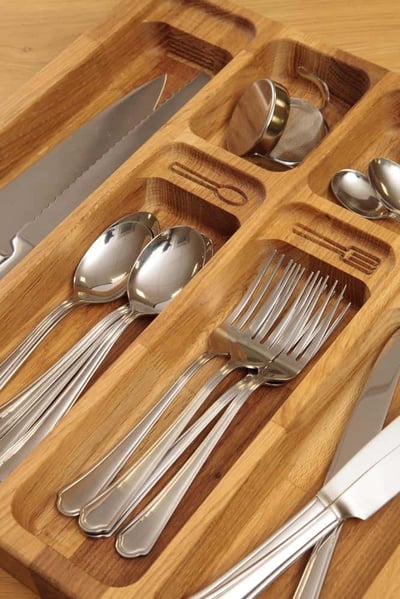 Image credit: Worktop Express
simple to-do roller
As we've said, the kitchen is a practical space. What better idea than to include a simple paper roller to act as a to-do list? This Daily Roller by George & Willy is the perfect size and colour to make the most out of intimate spaces in a solid oak kitchen.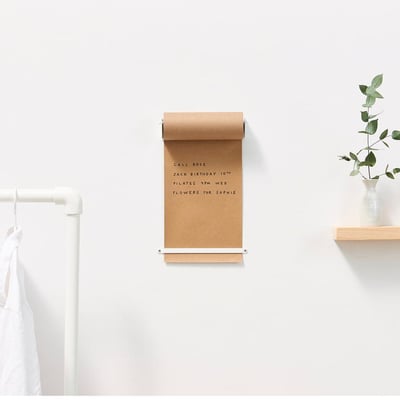 Image credit: George & Willy
Kitchen design is a true myriad of possibilities, enabling multiple narratives to be explored in one of the most important rooms of the house. But alongside your kitchen, the other rooms in your home also deserve the same love, care and attention; especially if you're planning a renovation. Explore more ideas for your kitchen in our inspirational guide.
inspiration for the home
From the kitchen to the bathroom, the hallway to the dining room, all homes need the right design inspiration to become truly beautiful. Our helpful guide is replete with innovative, modern and luxurious design ideas that you can use as inspiration for your next home decor project.
Click below to download your free copy.