10 Airbnb Design Ideas to Make a Statement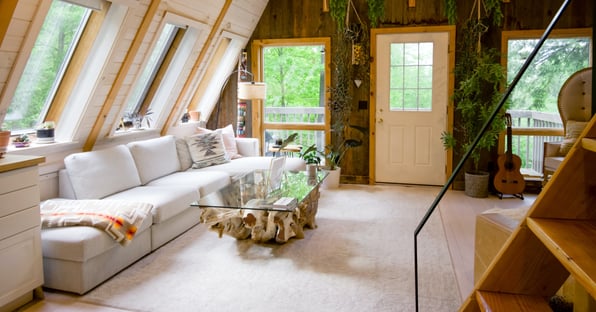 With over 2.9 million hosts, 7 million listings and 14,000 more joining every month, standing out on Airbnb has never been more important. If you're the owner of a property or a host, you're likely looking for ways to make your property stand out in the sea of options.
Making a statement with your design can mean many things. Whether it's a feature your property boasts that no others in the area can or a style you want to achieve, we're exploring 10 ideas to make your property an eye-catching option.
Explore a Farmhouse Style
Whether you're in the countryside or a more urban area, a farmhouse style isn't confined to rural areas. Farmhouse styles are all about functionality, comfort and being an inviting space ideal for gathering with family and friends. Utilise a wide variety of textures and materials alongside complementary shades and patterns to achieve this look.
Choose a New York Loft Aesthetic
No longer confined to inner-city dwellings, the loft aesthetic combines contemporary and industrial styles. The structural elements of a loft property become part of the design and although function is key, it's certainly one of the most sought after looks. Perfect for Airbnb apartments aimed at city break enthusiasts.
Put a Bathtub in the Bedroom
Offer guests the opportunity to take a long hot soak in the comfort of the bedroom. While a bathtub in the bedroom might seem a little left field to some, it's a striking trend that's gaining traction and looks undeniably stylish. A feature your guests certainly won't be able to resist adding to their Instagram stories.
Embrace the Cottagecore Trend
Cottagecore is a relatively new trend that takes root in some of the most traditional styles. A design ethos that's all about simplicity, comfort and personal freedom, cottagecore draws inspiration from nature. Think cosy reading nooks and rustic touches throughout, designed for the idyllic among us who crave the simpler pleasures in life.
Think Industrial
Industrial style means incorporating materials and components such as weathered wood, exposed brick and unfinished metals into the design. Having become popular in the late 2000s, the industrial style continues to grow in popularity and leaves the property laid bare, no hiding behind picture-perfect finishes or facades.
Aim for Luxury
Luxurious Airbnbs will always be in demand. Not only that, but an Airbnb packed with opulence and splendour can also demand much higher rental fees. Luxury style is about comfort and refined choices that extend throughout the entire design, from flooring choices right through to the fabrics you choose to adorn your property.
You Can't Beat a Classic
Classic style Airbnb lettings can do extremely well. It's called a classic for a reason, after all. The key to classic styling is symmetry and order; choose a focal point and pair it with soft, muted colours. Finish off the look with some ornate accessories and artwork, alongside formally arranged cushions. Don't forget to choose furniture that matches the style you're aiming for.
Go Bold With Colour
Going bold with colour doesn't mean throwing as many bright colours together as you can and hoping for the best. Think bold, not loud. It might mean choosing something a bit more unusual for the doors and trim instead of the standard white. Alternatively, mix colours from the opposite sides of the spectrum. For example, dark greys and oranges can look fantastic in the right setting.
Make a Statement With the Beds
Think of the beds in your Airbnb as more than just a place for guests to sleep. Statement beds provide a bliss-induced, comfortable slumber and are also the centrepiece of any room they're in. Include beds with a sense of grandeur and a declaration of your decor choices, turning a simple bed into something that will be a unique experience for your guests.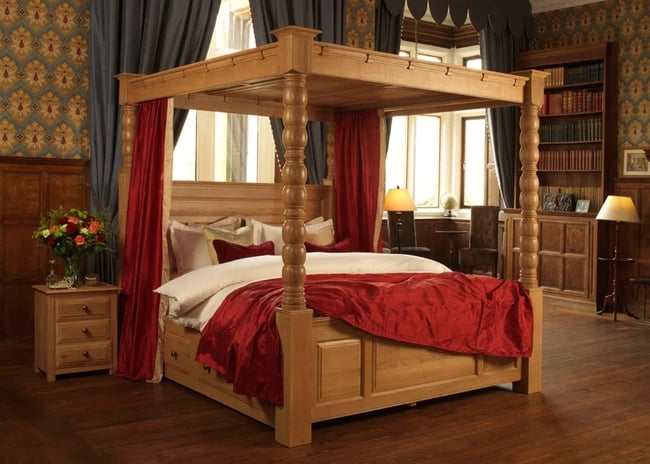 Channel the Parisian Style
Paris is undoubtedly the fashion capital of the world, which makes it an excellent choice for an Airbnb design, no matter where your property is located. Think parquet floors with elegant four poster beds and beautiful coving and artwork. A touch of subtle sophistication your guests will surely appreciate. Mastering the Parisian style is well worth the effort.
Need More Ideas? Download Our Boutique Stay Style Guide and They're All Yours
Searching for inspiration is all part of the interior design process. Our Boutique Stay Style Guide has an abundance of ideas, tips and inspiration to help you along your journey and help you to master the guest experience.
Click the link below to download your free copy.