Creating a Cottagecore Bedroom in Any Type of Home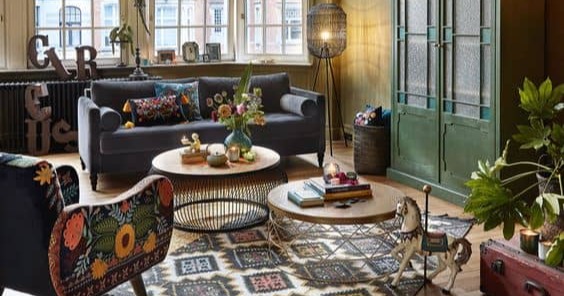 There are countless bedroom style trends, each vying to be used as inspiration for your next decorating project. But the one on the tips of many tongues is cottagecore. This delightful and darling decorative style is inspired by traditional, rural design but has been thoroughly updated for modern use. So, how can you create a cottagecore bedroom?
From furniture to reading nooks, indoor gardens to earthy tones, let us show you how to turn your bedroom into the cottagecore chamber of your dreams.
Cottagecore Explained
Instagram and Pinterest are currently rife with the hashtag 'cottagecore'. Vases filled with lavender, floral prints, rich wooden furniture, carefully chosen clutter — these are all mainstays of the cottagecore movement.
Cottagecore is inspired by the slow, rural lifestyle. It's nostalgia; memories of countryside scenes we each have, tinted by the rosy passage of time. There's an emphasis on craftiness in cottagecore, on sharing a pot of tea in the early morning, on sustainability. Cottagecore itself is almost a reaction to modern design trends of minimalism and clean, white lines.
It's a nod to traditional English countryside homes, the kind you might see in Pride and Prejudice or another Jane Austen classic.
Image credit: Maison du Monde
In truth, cottagecore is a lifestyle as well as a design trend. Baking, weaving, gardening — all could be considered quintessentially cottagecore activities. The New York Times identified cottagecore as a "budding aesthetic movement". Cottagecore is rugs, its old lamps, its focaccia bread art. It's almost like the English answer to 'hygge' — the Danish approach to cosiness and hot drinks shared by the fire and contentment.
Modern cottagecore is a mixture of English traditionalism, rural aesthetics, boho stylings and farmhouse chic. So how do you embody the style within a bedroom?
Cottagecore's Literary Leanings
For the cottagecore devotee, no room is complete without a dedicated space for reading. Creating a reading corner or reading nook is always a popular consideration.
For example, have a look at this cosy reading nook created by Warehouse 67 Design. It's a charming use of unconventional space, with a mass of pillows for relaxing, shelving for storage and framing provided by thick wooden timbers.
For spaces like this, you can source custom-sized mattresses which are completely made to measure, ensuring you have a comfortable place to lose yourself in a book.
Colour Choices: Earth Tones and Pastels
Colour scheme ties everything together. Many may mistake cottagecore to mean gaudy colours that don't go together, emblazoned in busy patterns that make everything seem cluttered. Cottages certainly looked this way in the past. Today, that's not the case.
The savvy interior designers among us can choose more modern colours, such as earth tones and pastels as highlights, lowlights or secondary colours to accent a room. Walls themselves can be adorned in brighter, more modern choices — such as duck egg blue or cream. White can be paired with the rich hues of solid wood or exposed brick.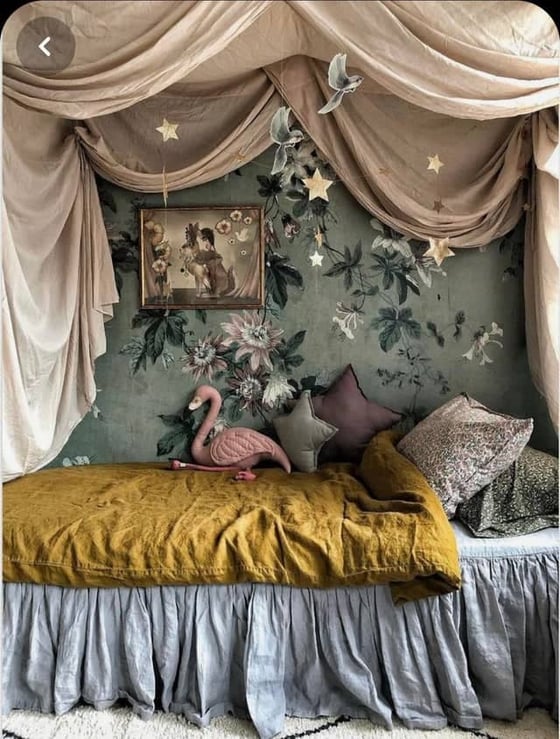 Image credit: Reddit
Also, remember that cottagecore is heavily invested in natural and organic additions, such as plant life. No cottagecore home is complete without bursts of colours offered by flowers and plants.
Vintage Wallpaper
Cottegecore rooms make good use of vintage wallpaper styles, with bold colours that draw attention. For example, look at this gorgeous, intricately styled floral wallpaper. Yes, it's busy, but it works perfectly with the blue door and solid wood bedside table.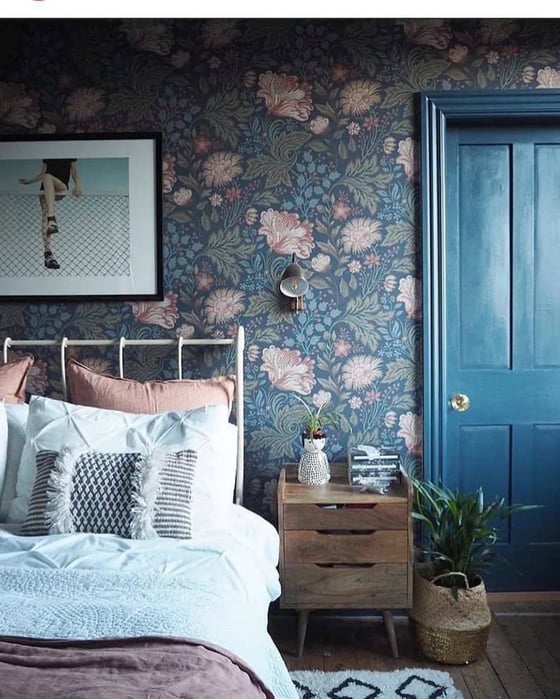 Image credit: Fabricum
Remember to choose the wallpaper that fits the room and consider how the colours match. As shown above, the wallpaper uses a medium blue as its base colour, with highlights of pink. This has been masterfully matched by the coverings on the bed. It's all about creating cohesion.
Cosy Sleeping Arrangements
A cottagecore room demands a traditional wooden bed that not only draws the eye but also draws you down into a deep and restful slumber. Metal beds just don't fit into the cottagecore aesthetic and only certain types of wooden style suit, which means finding the perfect wooden bed is vital.
One perfect example would be the Vermont Bed. While taking inspiration from New England design, it has that farmhouse feel to it with its simple stature and balanced proportions.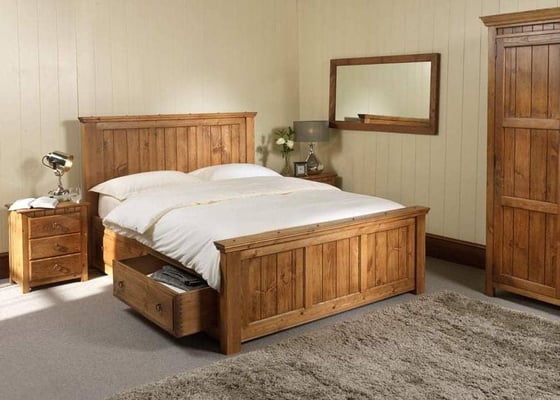 Choosing the right style of bed can completely inform how the rest of the room can look, as it arguably always ends up being the focal point of a bedroom.
No cottagecore bedroom is complete without good quality furniture choices that have been designed with traditional style considerations and handcrafted by artisans. To explore these kinds of furniture choices, download our collections brochure.
Handcrafted Furniture for Cottagecore Dreaming
Inside, you'll find every range of furniture we provide Revival Beds, from wardrobes to mirrors, from ottomans to dressing tables. These are unique, perfectly built pieces that we've developed to stand the test of time, using some of the most gorgeous wood and traditional crafting techniques to create pieces we're proud of.
Looking to recreate our cottagecore design tips? These furniture pieces are the perfect accompaniment. Click the button below to download the brochure.