10 Steps to Create a Farmhouse Style Bedroom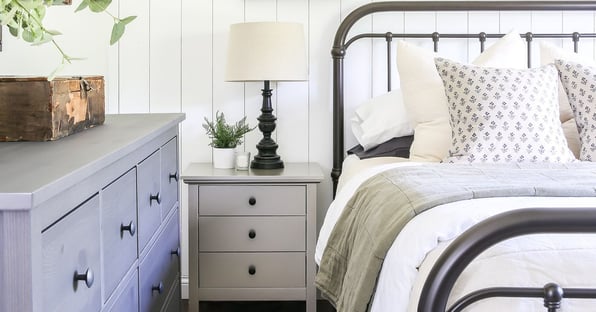 Farmhouse style bedrooms are finding their way back into the mainstream, being loved for their simplicity, kitsch style and simple upkeep. To live and sleep in a farmhouse style bedroom is idyllic and far more realistic than some other bedroom trends. Farmhouse style bedrooms are meant to look lived in, include some clutter and use distressed elements as a key element of their design.
So, whether you're remodelling a converted farm building or you're attempting to perfect the look in another property, farmhouse style bedrooms can work for anyone, anywhere, so long as you follow a few simple steps.
1. Foliage
Whether fresh or faux, adding foliage brings farmhouse decor to life, encompassing the great outdoors in your interiors. Include straw-tied flowers by your bedside nestled in a retired milk jug, distressed wooden planters in empty corners and seasonal wreaths or garlands above and around the headboard.
2. Organic Offerings
Natural materials like wicker, jute and wood complement a farmhouse style bedroom by giving sleep spaces that worn-in look, as though all of the elements have been handpicked straight from a nearby barn. Style these textures together and add more polished elements like Egyptian cotton sheets and soft furnishings to make farmhouse decor look elegant and earthy, all at the same time.
3. Whitewashed Walls
Walls with shiplap wood panelling — a style of panelling with horizontal slats — are popular in farmhouse style homes. Most of all, in master bedrooms. Add wood panelling to make the room feel cosier and add interest to the walls, without the dated feeling of wallpaper or the imposition of a feature wall. Whitewash the wood to make sure your farmhouse style bedroom remains modern.
4. Petite Pictures
Small picture frames that depict the local landscape are the type of thing a small country inn would display proudly. Include these in your farmhouse bedroom to give your decor an air of authenticity. Don't be afraid to hang them haphazardly and at different levels. Unlike in most spaces, art doesn't have to feel like one unit or adhere to a perfect centre point.
5. Symmetry
Farmhouses have high, sloping ceilings and plenty of space to explore. To make your bedroom feel like a farmhouse environment, create the illusion of open spaces using symmetry and angling all furniture towards the windows. Start by making bedsides and lamps the mirror image of each other.
6. Semi-Exposed Storage
Farmhouse style bedrooms work for so many lifestyles because they aren't formed to look flawless or made in the name of minimalism. Instead, farmhouse style bedrooms look best when they look lived in, sitting between being somewhat tidy and somewhat cluttered. So, go ahead, stuff knick-knacks under ottomans and trinkets on high shelves. It will only serve to make your bedroom look more homely.
7. Forgo Furniture
Sometimes farmhouse style bedrooms look better with only one or two pieces of quality furniture, while the rest of the master can be played by ear. Choose a good quality bed and a substantial chest of drawers but don't be afraid to repurpose hampers, picnic baskets and other memorabilia to act as a stand for side lamps or a space to rest books.
8. Palatable Prints
Most of your farmhouse style bedroom's impact will come from its textures and the way different furniture and furnishings feel. However, prints do come into play. Introduce gingham, checks, stripes and paisley into small areas like small cushions and comforters. Where possible, always try to tie two or more prints together using a cohesive colour palette.
9. Coordinating Covers
For farmhouse style bedrooms with more than one bed, always opt for coordinating covers to create a cutesy, small cottage feel. This means making both multiple occupant guest bedrooms and children's hideouts match by donning twin beds with the same bedding set. While accessories can make each side of the bedroom feel individual, bedding will marry the two together.
10. Four Posters
If you're lucky enough to live in a converted barn or farmhouse with sky-high ceilings, embrace their height by investing in a grand four poster bed. Four posters aren't instantly associated with rustic sleep spaces. However, a sleek wooden four poster fits in with the farmhouse style, adding a statement to an otherwise modest master.
Creating a Farmhouse Style Bedroom: A Quick Summary
For those who got carried away looking at the inspirational imagery (we know we did), here's a summary of what to do when creating a farmhouse style sleep space:
Start by choosing natural materials to use in almost every element of the room. This includes panelled walls which should always be lifted by a wood whitewash.


Next, begin furnishing the room, opting for a four poster if you have the space. Don't worry, you can get creative with the layout, looking at hampers and other objects to use as stand-in surfaces. There's only one real rule when it comes to furniture: keep it symmetrical if you can.


Finish off by storing items in semi-exposed storage and dotting knick-knacks around the room. Accessorise with foliage—faux or fresh. Hang pictures around the room. Dress the bed in coordinating covers. Introduce prints into the mix.
There you have it. A farmhouse style is simple to create and even simpler to upkeep. So much so, you'll have plenty of time to peruse our Collections Brochure before you get started. In it, you'll find a wide variety of wooden furniture, all handmade in the UK. Plus, known for our intricately designed, durable bed frames, we have a whole family of four posters to suit every style.
Browse our Collections Brochure now and find instant inspiration for your farmhouse style bedroom.