Bathtubs in the Bedroom: 6 Beautiful Examples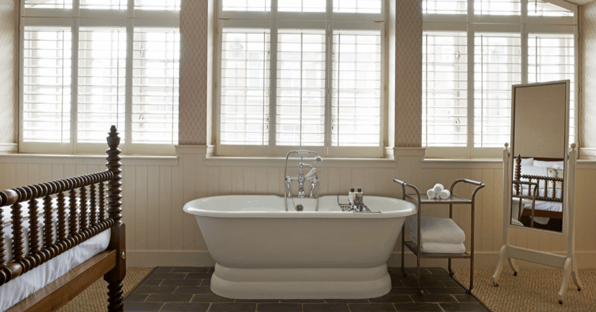 The bathtub in bedroom trend has exploded on social media, with countless hotels, manor house retreats and personal homes using the trend to add another element to a sophisticated sleep sanctuary. After all, what's more indulgent than diving into bed after having a well-deserved dip in your master bath?
For ultimate bathtub in bedroom inspiration, explore the six examples in this post — all taken from luxury hotels in and around the UK.
1. Coach House at Babington House, Somerset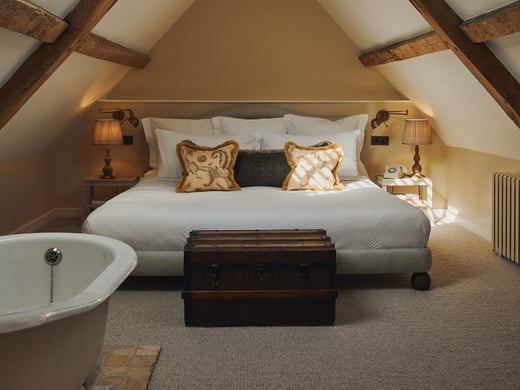 Image credit: Babington House
Baths, beams and bedroom chests make this coach house the definition of cottage cosy.
For those wanting to still feel homely when away from home, this is the place to be. Taking the bathtub in the bedroom trend and making it appear more low-key, Babington House cleverly takes what could be seen as a flashy addition to a hotel suite to make it feel comfortably familiar.
2. Suite at King Street Townhouse, Manchester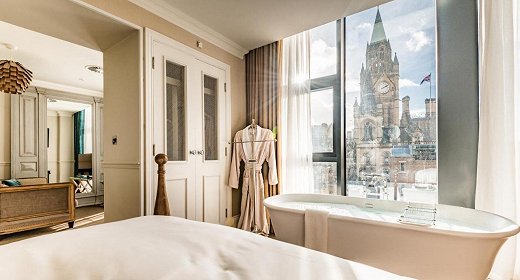 Image credit: King Street Townhouse
We've all dreamed of having a soak while admiring a city skyline and that's what King Street Townhouse has brought to life with their floor to ceiling window and perfectly placed tub.
Complete with a dressing gown, this bathtub in bedroom configuration doesn't feel forced, awkward or incomplete. Looking at it, we can easily imagine crawling out of our bed of bubbles into super soft hotel sheets.
3. Feature Room at Drakes of Brighton, Brighton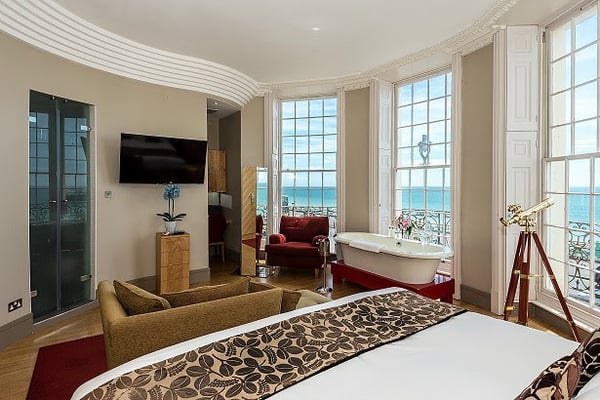 Image credit: Drakes of Brighton
The bathtub in bedroom trend initially created an impact in feature suites like this. Positioned in the heart of Brighton, this hotel room allows you to lay in water while staring out at an endless blue sea — a novelty worth paying a top price per night for, or else investing some money into setting up the same situation in your own home.
Positioned in front of a breathtaking view, there's no reason to ever leave. But should you ever tire from relaxing in your bathtub, there's always plenty of high-quality furniture such as a plush armchair to snuggle in, as well as a telescope to retreat to.
4. Medium Bedroom at Dean Street Townhouse, London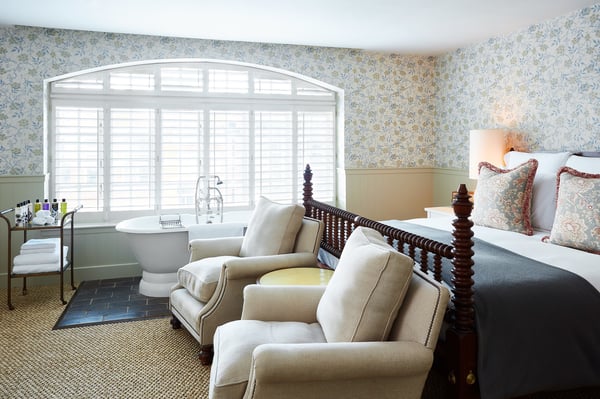 Image credit: Dean Street Townhouse
Although located in the capital, a guest of this room would never guess the outside world is always awake. Framed by a character window, this bathtub is quaint, whimsical and otherworldly, its vintage style matching the ditsy wallpaper and soft fringed furnishings.
Dean Street Townhouse's escapist take on bathtubs in bedrooms is a great model for anyone residing in a busy city or outside of a residential area. Its spacing even feels social with armchairs an arm's reach away, meaning you can enjoy a uniquely intimate moment with your sleep partner.
5. Signature Suite at Malmaison, Oxford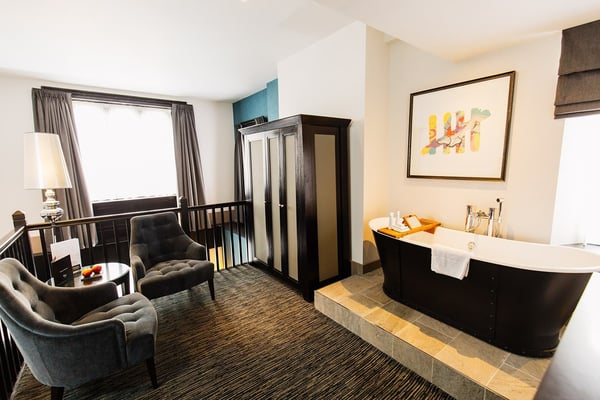 Image credit: Malmaison
If you want your bathtub in your bedroom moment to feel as flashy as it sounds, try slotting it into a master suite such as Malmaison's signature suite in Oxford.
When designed this way, the bathtub in bedroom trend doesn't have to feel like a gimmick or a squeeze in terms of space. Instead, the tub itself is raised in another area away from the master bed. This is equivalent to the ever-popular open plan lounge and kitchen concept where the two work in tandem but feel like independent environments.
6. Château Room at Château Rhianfa, Wales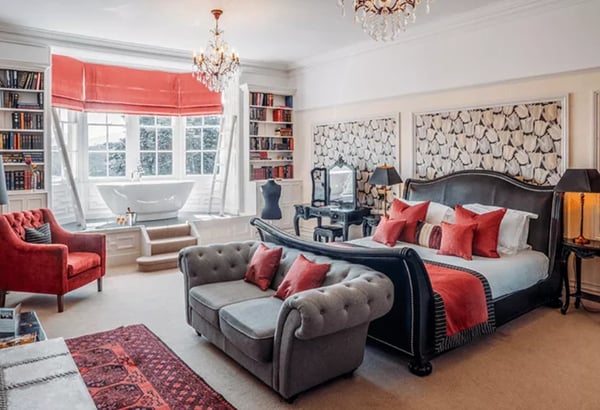 Image credit: Château Rhianfa
No bathtub in a bedroom is more palatial than the likes of Château Rhianfa's freestanding bath nestled between two bookcases. Surrounded by a beautiful bay window, this bedroom bathing concept feels refreshing as you draw open the curtains for a new day and watch the world go by, all while immersed in water.
A perfectly Parisian bedroom, this suite is complete with a dressing table and characterful bedside cabinets. The entire thing feels chic and undeniably indulgent, making it the perfect formula for a sleep sanctuary.
So, is the bathtub in bedroom trend one that's here to stay?
These hotels prove that this luxurious addition to your abode has longevity. Whether you want to create something more low-key and cottage-y or you want to create a hotel-inspired suite, there are multiple ways to bring bathing to your bedroom.
Find Furniture to Create the Ultimate Bathroom-Bathing Fantasy
No matter which example you're trying to emulate in your home, the success of these suites lies in their superior design, whether it's an armchair, a specific style of bedside cabinet or indeed a telescope.
For handcrafted furniture, your journey starts here.
From luxurious four poster beds to bespoke luxury drapes, find the right fit for your bathtub in the bedroom project. You can even request tailored changes to any of the pieces you see so that you can create a suite that no one's ever seen before. Get access to the brochure using the button below.