A Short Guide to Boutique Hotel Room Interior Design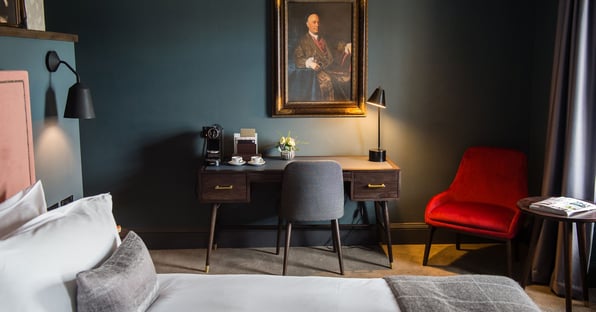 As a boutique hotelier or Airbnb owner, design is everything. It's your number one priority. Guests look to boutique hotels because they want an experience, yet expensive furniture and sleek lines don't always cut it. An impeccable boutique hotel room design can leave a lasting imprint on your guests, even if they don't leave the bedroom during their stay.
By focusing on the design, your boutique hotel can avoid becoming the latest in a long line of hotels that end up looking the same — cold, lonely and commercialised. With the right boutique hotel room interior design, you can offer something different from the typical stay by creating an ambience for your guests where it feels like they're staying in a private home.
Why Interior Design Matters for Boutique Hoteliers
When boutique hotels first burst onto the scene in New York nearly 40 years ago, the interior design and ambience offered something much different than what you find in megalithic mega-chains. Some of which you still see to this day. When it comes to providing a life-long experience and encouraging repeat visits, the interior design goes a long way.
Competition is fierce even for boutique hotels. Bland and boring hotels don't connect with guests and are quickly forgotten about. Guests might not know it, but they subconsciously choose a boutique hotel that matches their aspirations, aesthetics and views on what hotels should feel like.
Connect with them and they'll not only continue to return, but they'll also tell others of their wonderful experience while calling your boutique hotel a second home. The design can make or break the atmosphere you're trying to achieve with your boutique hotel. It influences the guest experience from the moment they step in, to the moment they leave.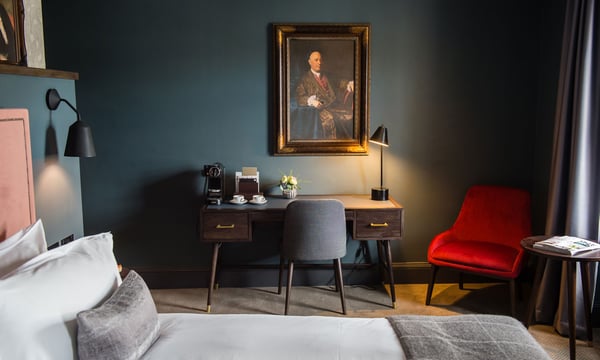 Image Credit: Design Insider
That's why you can't overlook boutique hotel room interior design. The design has to match the ambience or vibe you're aiming for so you can create a cohesive image, pairing styles and furniture to create a space full of intrigue.
Creating Experiences
To create memorable experiences for your guests, you need to select a particular style you know your target audience will love. Most boutique hoteliers fall short because they believe extraordinary design is when you try to be everything for everyone. That isn't the case.
What's your focus?
What do you believe your guests want from your boutique hotel and brand? What do they value the most? Work these out to understand how you can deliver an experience in a visually-appealing way. This means everything from the artwork and furnishings to the colours and general aesthetic.
Don't Overlook the Lighting
Lighting has enormous implications on the guests and, ultimately, their experience. Depending on how you want your guests to feel in your boutique hotel room, you need to consider whether you want the lighting to help your guests relax or make them feel energised. The wrong lighting in a room style that doesn't match will only confuse, stress and irritate your guests.
Work With the Community
There's something charming about entering a boutique hotel and seeing beautiful artwork from local artists. Guests don't find this in big-chain hotels as there isn't often a community spirit. With plenty of wall space to utilise in your boutique hotel rooms, let your guests immerse in the culture by creating strong bonds with local artists to house their magnificent creations.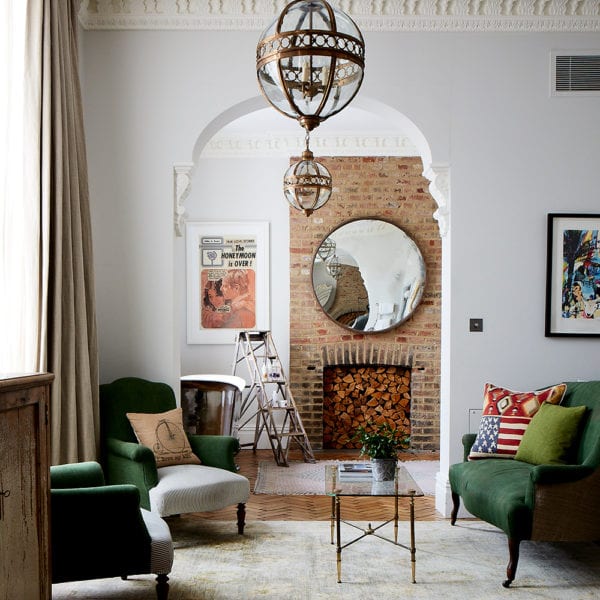 Image Credit: Artist Residence
Strategic Colour Selections
In a boutique hotel, you need to be even more strategic with colour choices than chain hotels. The colours you select all play a different role and evoke different emotions. Again, it all ties to how you want guests to feel upon entering the room. You can't underestimate the power of psychology when it comes to colour.

You can choose light colours to promote relaxation or dark colours to channel intimacy and sophistication. When planning the interior design of your boutique hotel rooms, always think from your guests' perspective and how they'd feel seeing the colours that surround them.
Take Advantage of Your Location
If guests continue to return to your boutique hotel, a big reason is your establishment's location. Whether for business or pleasure, you can utilise your surroundings by making guests feel like they're a part of the community, even if they're only there for a weekend.

This goes hand-in-hand with what a boutique hotel is all about, creating a small yet sophisticated environment for guests to enjoy and immerse themselves in. Period styles, architecture, colours, materials, artwork, sculptures — these local touches effortlessly reference the location while making guests feel like they belong.
Futureproof Each Room
Boutique hotel interior design doesn't sound cheap — and it isn't if you keep falling into the trap of regularly gutting out each room for a new style every season. Rather than refurbishing each room time and time again, why not select themes and furniture that age well? Doing this means you can make easier tweaks without the extensive work required.
Keep the main aspects simple. Walls, floors and fixtures don't always need changing. You can apply the same thought to a reliable wooden bed and matching wooden furniture. Not everything needs to look brand new as there's a certain charm and character specific furniture can bring as it ages over time.
Take a statement bed, for example. It's a considerable expense to replace them regularly. But what's the harm in having a luxurious wooden bed that stands the test of time and ages just like the room? It adds to the overall personality and aesthetic, precisely what you want to create the desired experience.
Choose a Unique Style
Boutique means independence. It means the aesthetic needs to be unique. It means the style you choose carves the room's identity and keeps it unquestionably on brand. Here are some style examples to influence the rooms in your boutique hotel.
Contemporary
Contemporary doesn't need to be uber-minimalistic. You can achieve a modern style in your boutique hotel by adding rich, indulgent colours with soft taupe accents and warm caramel hues. You can even elevate the warmth with wooden furniture in abundance.

But to make it a genuinely contemporary boutique hotel room style, place the wooden furniture around the room strategically while maintaining a less is more approach.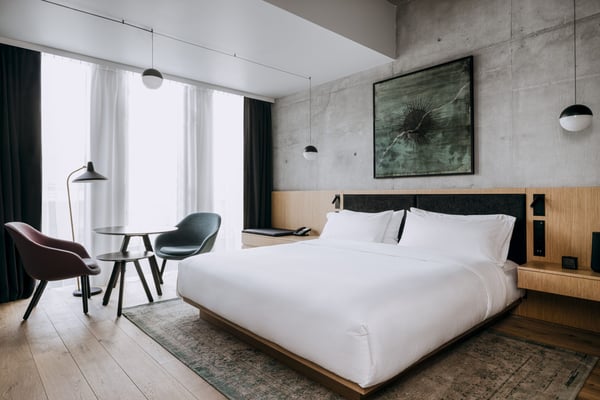 Image Credit: Nobu Hotels
Futuristic
To stay ahead of the curve, why not predict trends and be the first to transport guests into tomorrow's world? Treat your boutique hotel room as an empty canvas. Play around with the proportions and offer floor to ceiling windows, oddly shaped accessories and illusions that play with the mind.

Why not opt for a juxtaposed style? Futuristic rooms leave the biggest impact when housed in a historical building, instantly surprising guests with what appears to be something ordinary, but in reality, it's anything but.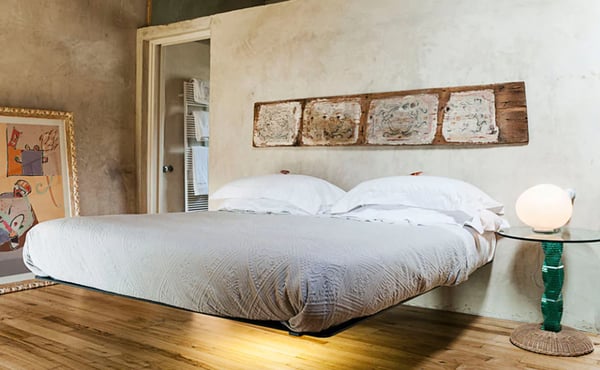 Industrial
Perfect for those with quirky shaped rooms, an industrial-style boutique hotel room gives you permission to be daring with interior choices to shock guests and encourage stimulating sensory experiences.

Plush velvet, touches of aluminium and exposed brickwork all combine to elevate the industrial experience. To truly complete the style, jungle greens, warm chestnut hues and combinations of red, yellow and blue build a stable palette to build a statement room.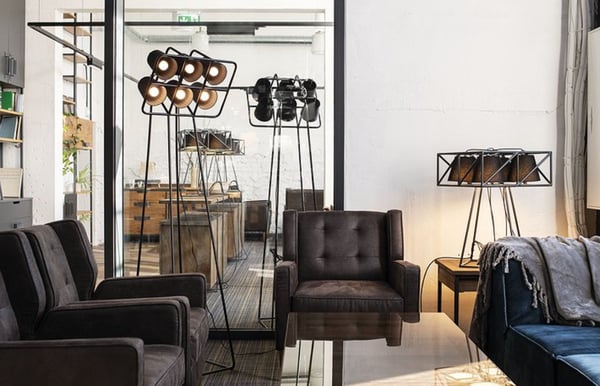 Whatever style you choose, always keep your guests and the intended experience in mind. With the tips above, you'll be well on your way to driving return visits without diverting from the origin of boutique stays.

But there's a lot more yet to explore. To create independent excellence in your boutique hotel, be sure to download a copy of our brand new style guide.
The Boutique Stay Style Guide — Everything You Need to Create Unforgettable Experience in Your Boutique Hotel
Independent stays need to create a niche guest experience, with plenty of elements relying on each other so the boutique stay can bloom in abundance. If you're struggling to channel the true meaning of boutique in your hotel, download your copy of our new style guide.
From styles and experience to beds and furniture, it covers everything you could possibly need to adopt a boutique approach. Get access now using the banner below.