How to Design an Exquisite Parisian Style Bedroom [30 Examples]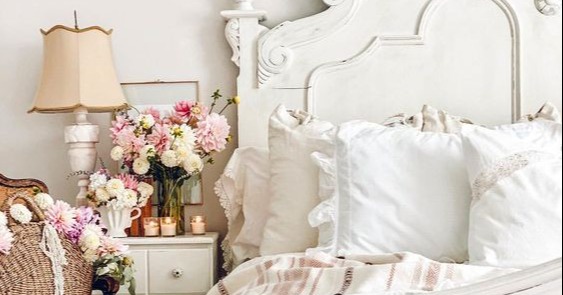 Parisian apartments are personified by their parquet floors, intricate coving and idyllic windows. They follow the same regal stylings, concentrating on flamboyant furniture such as elegant four-posters, chateau worthy chests and gilded mirrors. A style that never really disappears, a Parisian-inspired bedroom is an exciting and worthwhile investment.
For those hoping to channel Parisian chic in their interiors, we've scoured the web to find the most stunning examples of Parisian style bedrooms, showing you three distinct ways to approach your own Parisian-inspired design. We've put together a Pinterest board for each, giving you 30 examples of dreamy Parisian pads you'll instantly want to recreate in your own home.
What's more, once you've finished admiring them, we have a way to help you achieve this look in your very own home...
Feminine and Flirty Parisian Style Bedrooms
French bedrooms are best known for being overtly feminine. They expertly balance sensuality with sophistication to create an equilibrium of elegance in the most important room of the home.
This is an obvious approach to take when designing a Parisian style bedroom — especially if you want others to notice it. Blush pinks, rich golds and antique brass paired with ornate furniture is a tried-and-trusted interior recipe, creating what we know to be Parisian chic.
These bedrooms can be quirky, pulling off characterful paint jobs and distressed furniture. But what they might lack in a polished veneer, they make up for in their fluidity, their nod to palatial living and their irresistible charm.
Get The Look
Feminine and flirty, this Parisian style bedroom almost always dedicates space to beautification, seeing a romantic dressing table as a must. A classic style, the space calls for a Parisienne bed frame with curves in all the right places. Bespoke furniture and matching bedroom sets belong here so that everything feels just so. As do fresh flowers, sentimental trinkets and fluffy throws.
Also read: 5 Luxurious French-Inspired Bedroom Furniture Ideas
Subtle and Sophisticated Parisian Style Bedrooms
A more refined and pared-back outlook is a subtle and sophisticated sleep chamber. These bedrooms showcase the French version of minimalism, focusing on Egyptian cotton sheets — often left unmade — and the enhancement of a property's best assets, including its magnificent, awe-inspiring windows.
For the individuals living in these bedrooms, it's all about the French experience. Waking up to a breathtaking view in the morning as you prepare to indulge in a continental breakfast and coffee.
Get The Look
Although the shell of this bedroom is undeniably Parisian, its furniture doesn't have to be. This style can afford a more modern bed, boasting a Metropolitan style frame. Its subtlety means less tolerance for clutter, requiring some form of storage such as a solid wooden bedroom chest. And its pièce de résistance is a splash of colour whether it comes from throw cushions or antique art.
Also read: 5 Key Items for French Themed Bedroom Decor
Dark and Dramatic Parisian Style Bedrooms
A more obscure outlook on Parisian style bedrooms is a dark and dramatic effect. This option is chicer and more masculine, pleasing you and your sleep partner. It's couture being slumber's answer to fashion week and becoming the perfect backdrop for your Chanel Classic Flap to take refuge in.
However you choose to add drama to a room — it could be a dramatic four-poster drape, a bold paint colour or an out-of-the-box accessory — it must be carefully considered, limiting the amount of glitz and glamour in one, small space.
Get The Look
Drama often comes from a four-poster bed, making the bed the rightful centre of attention. However, in this style of Parisian bedroom, not every four poster will fit. The designer will need to be cautious of dating the design and opting for a too traditional look. Instead, a modern four poster concept sits snug paired with equally innovative bedside cabinets. The way you dress this room can't be too cute and every accessory must also add an element of functionality.
For this reason, mirrors, either tabletop or freestanding are a safe bet for this bedroom.
Also read: 8 Modern Bedroom Ideas That Are Trendy and Tasteful
The First Step in Styling Any Parisian Style Bedroom — Furniture
Whether you embrace your feminine side or submit to a more sophisticated appearance, you'll need to start by selecting the right bedroom furniture. Parisian style bedroom furniture always indicates solid wood — handcrafted by artisans, no less. That's why we're best placed to advise you on these interiors, being wooden furniture experts for over 30 years.
In our Collections Brochure, you'll find a library of British-made, superior quality furniture all available for bespoke alterations and free full-service delivery. We can make your French bedroom dreams come true, whisking you away to the city of love in no time.
Download your copy of our Collections Brochure below and start planning your slice of Paris-dise.