How to Dress a Four Poster Bed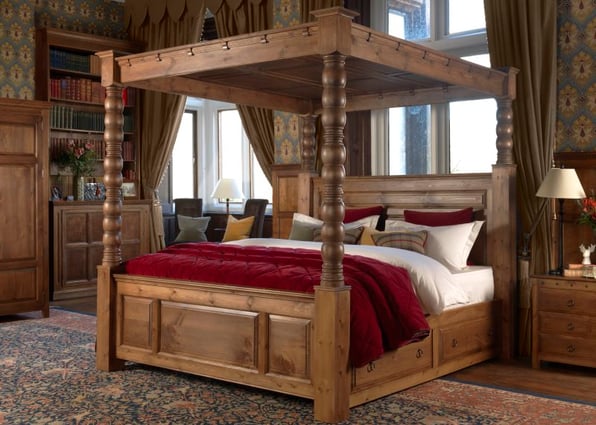 Four poster beds are no longer just the preserve of the monarchy, they're becoming an increasingly popular choice for people wanting to introduce a unique wow-factor into their bedroom. If you want to add an exquisite focal point in your bedroom, then a four poster bed is an elegant choice to consider.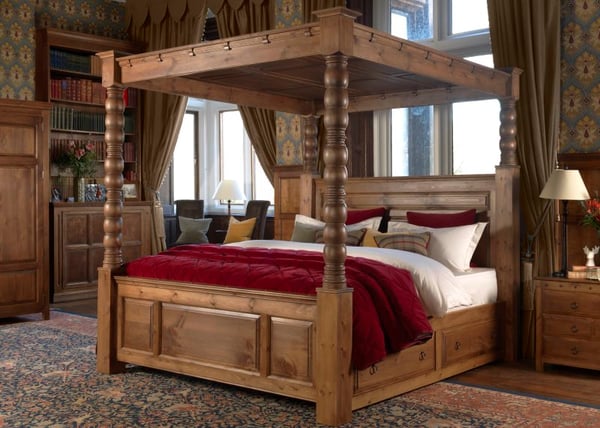 Though the traditional bed of nobility was primarily surrounded by heavy drapery, today's four poster is far more versatile. From a thick heavy canopy to romantic sheer gauze at the sides - or even just the bare frame - you can dress a four poster bedroom to suit any room and mood.
Here's some inspiration to give you an indication of how you can style your very own four poster bed.
Traditional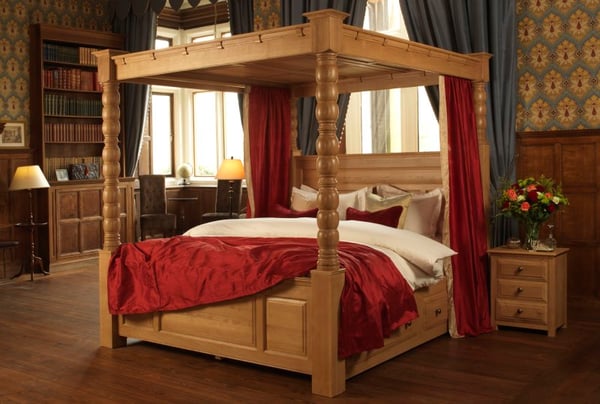 They say an Englishman's home is his castle. So, why not sleep like a king and indulge yourself with a traditionally-dressed four poster bed?
Use thick, opulent fabric as an overhead canopy and curtains at each corner for the ultimate in warmth and privacy.
To really feel like royalty and let the sheer size and presence of your four poster bed do the talking, consider using rich and sophisticated colours like red and cream. They all scream an elite status, power and wealth - all of which really complement the wood finish and solid structure of the bed.
Romantic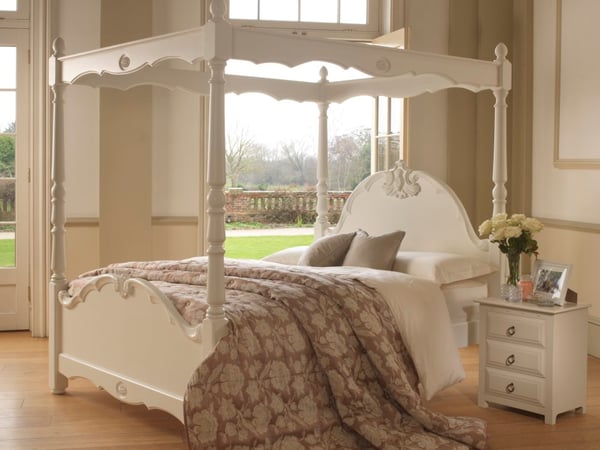 Turn your bedroom in a room of romance using light and airy drape curtains.
For an even softer look, create elegant voiles on the side of each post, allowing it to billow gracefully down the frame - beautiful, inherently romantic and modern.
A hand-painted finish, open canopy and floaty voile drapes are perfect additions for a French-inspired finish without adding anything too heavy and taking away from the detailed artful shaping, curves and carvings.
From a colour perspective, keep it simple to maintain the romantic feel. Add a touch of paler and less intense tones which you usually find in the romantic palette, suggesting romance, purity, innocence and charm.
Antique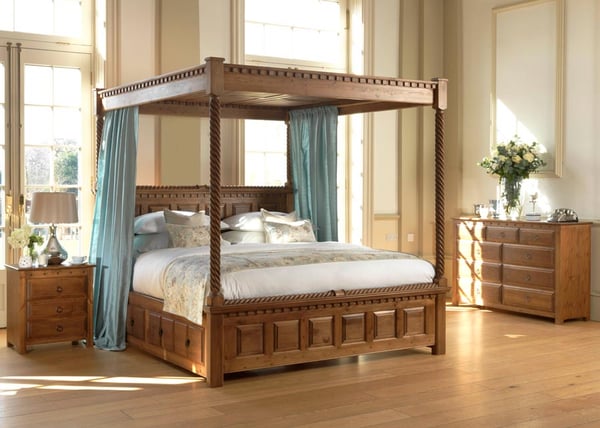 Is there any better way to sever the four poster's ties with tradition and bring it bang up to date than to leave it completely undressed? This allows the bed frame to take centre stage.
The bed frame still creates a quasi-enclosed space yet screams modernity. Stunning and simple.

Sometimes, less is more. To maintain your four poster bed's position as the focal point of your bedroom, avoid adding anything too elaborate or weighty that takes the focus away from the solid wooden structure.
Keep it simple by adding subtle vintage touches to maintain the antique and sumptuous finish.
Contemporary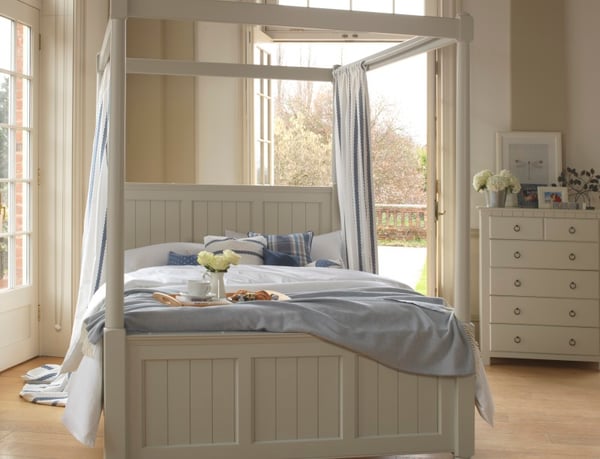 If you want something modern but aren't ready to go completely bare, consider using a single piece of fabric to create a canopy.
To achieve the modest gracefulness of design, consider keeping your four poster bed both simple and honest which makes for a perfect backdrop for lightweight drapes or voile. Subtle - perfect for transforming your four poster bed into a peaceful refuge.
Your bed acts as the perfect escape at the end of your day, so avoid steering away from a contemporary style by choosing immaculately balanced and simple colours and tones. It helps to maintain the clever balance of traditional and stylish, giving the important homely feel and brings out the effortless beauty of the bed.
dramatic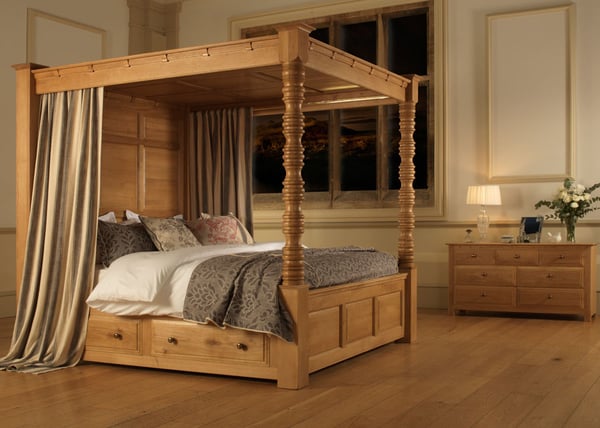 Install a drapery panel only at the head of your four poster bed to provide an impression of splendour.
Perfect for thicker drapes to make this style of your four poster bed the epitome of tradition, luxury, elegance while offering optimum privacy. It instantly demands attention while not distracting from the brilliance of the bold frame.
A dramatic style tends to suit a four poster bed that's both magnificent which dominates through its sheer size and presence.
Avoid taking anything away from its structure by implementing traditional influences alongside bespoke bedding and drapes to complete a style that looks like it belongs to an emperor from a Hollywood movie.
mysterious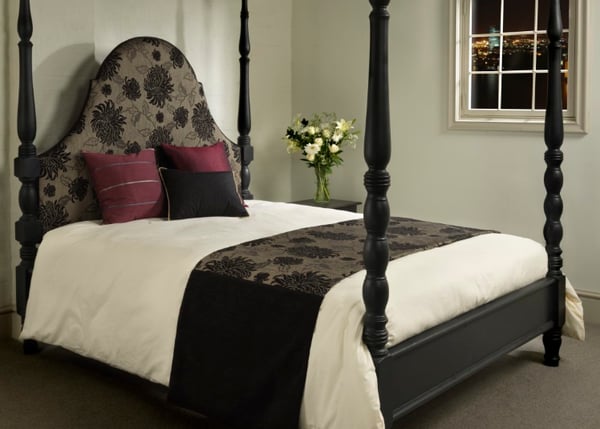 Nothing says mystery quite like dark details to match the colour scheme of the four poster bed frame.
The sharp details in the bed frame simply demand attention, so a dark yet minimalistic approach is best as it adds the perfect amount of intrigue yet perfectly highlights the comforting aspect.
With a handful of dark red and black pillows complimenting a white duvet, you have the perfect balance of style and sophistication.
Most importantly, the focus remains on the beautiful bed frame.
Cosy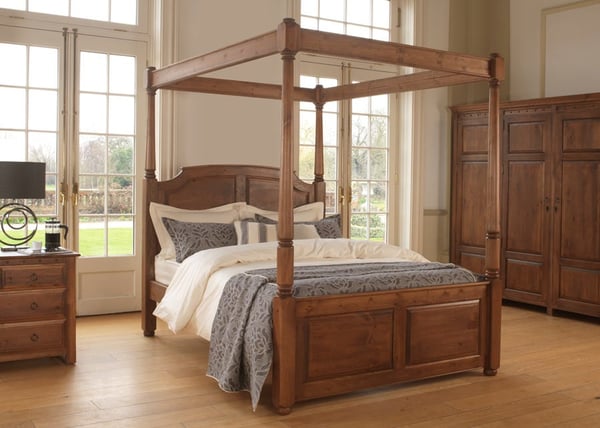 Arguably the most popular dressing option for a four poster bed, drapery panels on each of the four corners exudes luxury without the heaviness of a complete surround.
The minimalist, stripped-back style allows the commanding bed frame to steal the spotlight yet offers the perfect balance of charm and sophistication.
An open canopy offers a luxurious yet light and airy feel for added cosiness. And when it comes to drapes, a cosy style cries out for light voile to create a coordinated overall look of comfort and luxury.
Elegance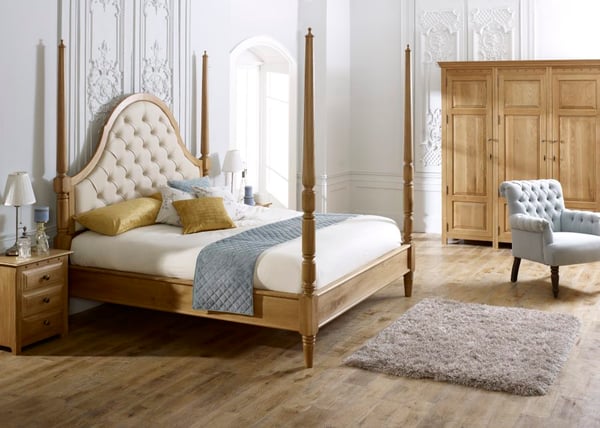 Serene simplicity in a neutral bedroom is the perfect setting for an elegant environment. Minimise the importance on statement pieces that can deter focus away from the pencil bed and opt for subtle touches, such as a rug and wooden bedroom furniture.
Remove any clutter so that the focus immediately and regularly falls on the sheer beauty of the bed and its details.
Think of sharp golds that work perfectly with the wood finish and light blues to add the all-important element of luxury.
Find Your Perfect Bed by Downloading our Digital Brochure
Whether you're chasing a romantic style or looking to add a dramatic focal point to your bedroom, Revival Beds are here to help you find your perfect bed. We've been handcrafting luxury wooden beds since 1983 with our experienced craftsmen dedicated to providing their undivided attention to each and every bed that comes out of our workshop.
From traditional to sleigh, New England to leather - we have many luxurious handmade models that can suit the style you need.
For a closer look at the beds we have on offer, make sure you download our free brochure by clicking the link below.