The Anatomy of a Statement Bed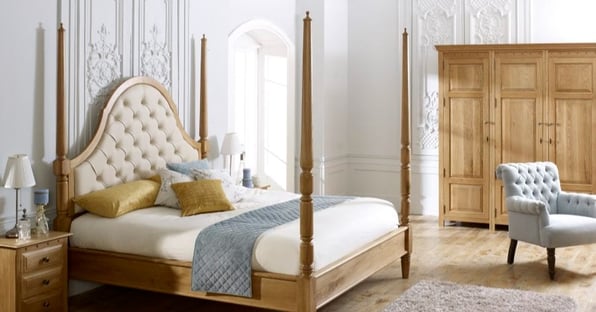 With a statement bed, everything else about your bedroom blurs into the background. Perhaps that's why they're so popular as there's nothing else worth truly indulging in than the sight of your very own sleep space. From four poster delights to extravagant upholstery, there are many ways to invest in a statement bed. But what should you look for when buying the bed of your dreams?
This is the anatomy of a statement bed, according to our expert craftsmen.
Headboards with Height, Elegance and Allure
When we think of breathtaking beds, we think of that 'wow' moment when we first glance at a boudoir and realise its hypnagogic energy and mesmerising appearance. Nothing transfixes us more than a standout headboard; a high-backed stern on which the rest of the ship follows.
Headboards with height make rooms feel stately, more expansive and yet more inviting. When met with such grandiosity, one can't help but imagine the feeling of sinking into a superior slumber, secured and protected by the armour of a larger than life sleep space.
Headboards come in a plethora of styles, from conventional wrought iron to unorthodox rattan and wicker varieties. While upholstered and leather headboards are popular for their comfort and plush exterior, wooden headboards are our personal favourite for their time-honoured designs and striking impact.
It's true — nothing makes a bigger statement than solid pine and aged European oak, handcrafted by expert artisans and designed by interior enthusiasts.
Product Spotlight: County Clare




Although exquisite in its entirety, the Country Clare projects the charm of picturesque Irish villages through its 154 cm headboard, featuring square panelling, split barley twist turning and carved dog-tooth detailing. Every aspect of the Country Clare, including its headboard, is finished by hand and imagined according to an individual's bespoke requirements.
Beautifully Made Bed Frames
A sophisticated silhouette is a statement in itself, alluding to the brilliance of a bedroom before anyone has time to observe its more intricate details. A bed frame is a telltale sign of a luxury bed, instantly showing the level of craftsmanship and design originality.
Beautifully made bed frames may reference classic styles — but they never copy them verbatim. Instead, statement bed frames always have some element of individuality, some innovation to help them create a lasting impression. Traditional sleigh beds can become sexier and more modern, retaining their curved head and footboard but not much else. Four poster beds can appear softer and more stylish with more minimal frames that take the idea of corner posts and transform it into something else.
Bed frames should feel exciting to discover, absorb and understand in the context of a bedroom's interior. They should shape the room, create a mould for all other furniture and set the tone for an opulent sleep space.
Product Spotlight: Parisienne Sleigh Bed




Despite its functionality with under bed storage and ability to morph into any interior style, the Parisienne is characterised by its curved bed frame and moulded 'ogee' feet, nodding to traditional sleigh styles and more modern preferences. With the Parisienne, it's all about the angles and how they relate to the bed's low slung base. This sleigh bed feels more refined than most, with a lower than average footboard and rich Old Wood finish.
The Finest Furniture Making Materials
Statement beds are sensory, first pleasing the eye and then the body. They have the right amount of tactility with the finest materials to touch. From wooden bases to upholstered elements, statement beds pay attention to the way materials interact and take time to consider how each element compliments the other.
From the finest Italian grain leather to solid pine, reliable and robust materials are what sets statement beds apart. Statement beds should never lose their impact over time and should always appear pristine, no matter how many years of use they've seen.
With top-tier materials and a clear steer away from mass manufacturing, statement beds remain a statement, now, tomorrow and for the rest of their life as they're constructed and treated with the care a show-stopping bed deserves.
Product Spotlight: Quebec Pencil Bed




The Quebec Pencil bed is visually stunning, taking the four poster concept and bringing it into contemporary living. However, it's all in thanks to its luxurious craftsmanship and raw materials. Handcrafted from the finest grade of European oak that's 150-200 years old and paired with rice milk leather, this bed has a distinctive, creamy quality that's buttery to touch and unforgettable to sleep in.
The Supporting Acts That Let Your Statement Bed Shine and Create the Right Sleep Environment
As a leading starlet is supported by her co-stars, statement beds are reinforced by their accessories, accompanying furniture and ultimate environment. A statement bed with all the right elements is a statement bed in any bedroom. But in the right setting, statement beds become more than a singular declaration of comfort, they're a haiku, a verse narrative, an epic of superior sleep.
Statement beds are supported by:
Heritage: Showing designs that pay homage to interior periods of the past and using time-honoured tradition in their preparation.


Craftsmanship: Moving away from mass manufacturing methods to

artisanal ways of working

, ensuring quality, attention to detail and near-perfection.


Interior vision: Being bold with furniture design to reinvent traditional styles and incorporate personal preferences.


Luxury linens and soft furnishings: Dressing a four-poster in

elegant drapes

, adorning a bed base with

a custom mattress

, blessing a bed with

Egyptian cotton sheets

.


Matching bedroom furniture: Creating custom furniture ranges that sit in proportion to your statement bed, allowing it to work with all other furniture but remain as the focal point of your project.
Do Your Statement Bed Justice with the Perfect Custom Furniture
At Revival Beds, we're no strangers to statement beds, having created them for castles, hotels and individuals for years. Yet, we also understand the importance of putting a statement bed in situ so its environment does it justice.
That's why we create every bed with custom furniture to complement its stature and show off its best assets. From bedside cabinets to end of bed ottomans and dressing tables to chests, we make it easy to bring your statement bed home and make it look as glamorous as it does in a showroom.
Browse our brochure to discover our complete furniture ranges and luxury line of statement beds. Find statement beds and everything else you need to create a lasting interior impact by downloading the brochure below.