The Key Bedroom Trends to Look Out for in 2020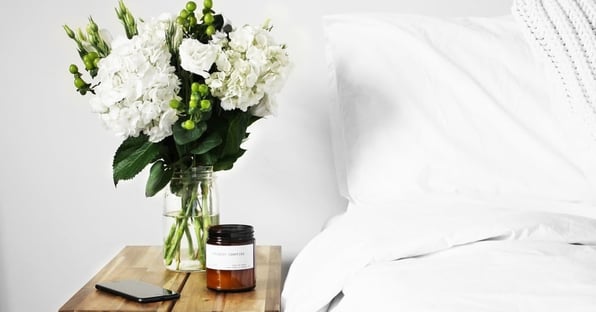 It's the beginning of a new decade which means there are new bedroom interior trends ready to transform your home. Inviting the natural world, sleeping in style and biophilic design are just some to look out for.
Here are the key bedroom trends in 2020 that you definitely need to bookmark and try throughout the year.
Naturally Neutral Bedroom Escape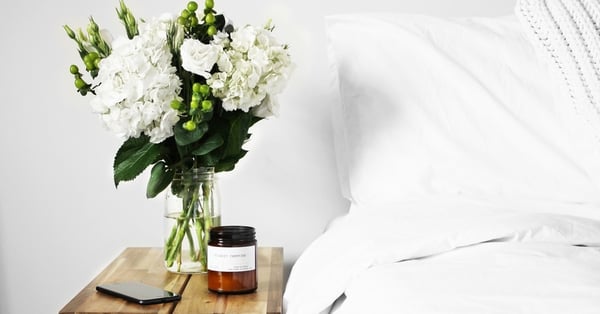 The bedroom is the place where we rest, relax and recharge from stress. The materials we use in our interior have a key role in creating the mood we feel upon entry. Taupes and natural decor together with matching fabrics add an extra feeling of softness and harmony.
Don't underestimate the power of neutral decor either. It creates the ideal canvas for creativity and gives statement pieces the stage.
You can easily embrace the artistic beauty of the natural world with decorations like jute twine baskets and driftwood centrepieces. Linen look fabrics will also become increasingly prominent with homeowners looking to create a more subdued look.
The Tantalising Texture of Velvet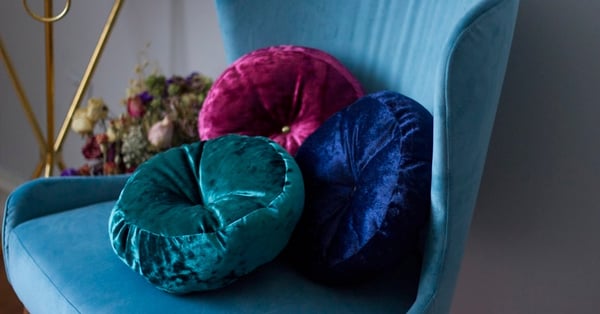 Velvet may not be everyone's cup of tea, but this interesting fabric is going to be trendy in 2020. It's the perfect blend of luxury and comfort. When most people think of velvet, their minds often go to the old royal red upholstery of yesteryear. Garish and outdated.
Interior designers are taking a deep dive into velvet design options, particularly for soft furnishings and upholstered. You can take inspiration from the home colour trends of 2020, with Pantone's Classic Blue a sophisticated choice for this fabric.
Undeniable Beauty of Biophilic Design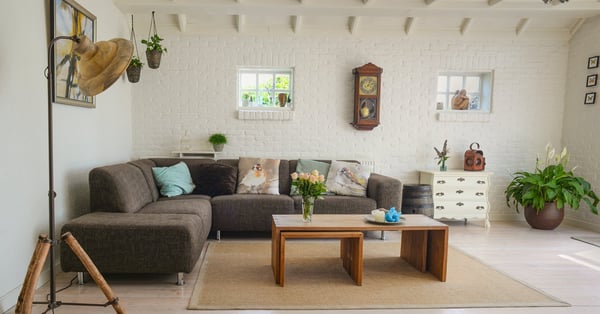 Biophilia is a fairly new term, incorporating human design and natural elements organically. In the past few years, our society has grappled with climate change and sustainability. A lot of consumers want to have a stylish home yet still feature elements from the environment.
Sustainably-sourced hardwood can be used for beds, wardrobes and Ottomans which are more accessible and affordable than you think. Plants can contribute to your home's natural aesthetic, promoting a clean, environmentally friendly home. They even help you sleep better by filtering impurities out of the air.
Overly modern and high tech homes were once fads, but 2020 is all about stripping it back to nature. Bedrooms can be transformed into ethereal spaces when using rich earthy elements including foliage, metals and wood.
Incredibly Stylish Sleeping Quarters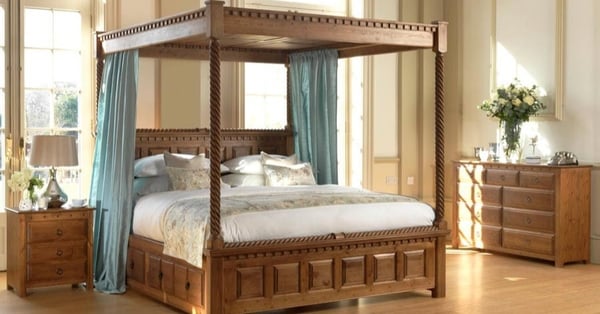 There's something regal, luxurious and comforting about a four poster bed with a canopy. One of the marvellous things about these types of beds is that it can create a serene environment within your room - with your bed becoming an oasis of style and comfort.
Four poster beds are great in any bedroom. Investing in durable hardwood one for your bedroom is not only charming but also instantly more organic compared to a metal alternative.
Opt for a light and breathable fabric that transmutes your ordinary bed into a plush sleeping experience. However, if you can't find your dream canopy available to buy, get in touch with a professional tailor who can handcraft it for you.
Sleigh beds will continue to be popular due to their timeless design and curvature. With the increase in urban planning and smaller storage spaces, beds with underneath drawers will continue to be a popular choice. Functionality will never go out of style.
Sustainable Decor That Keeps the Earth in Mind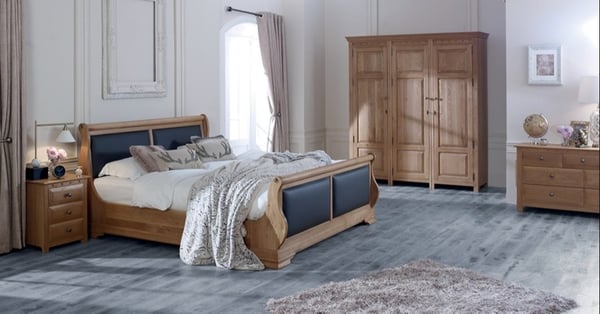 With climate change an ongoing conversation, everybody is looking for new ways to decorate homes and minimise their environmental impact in the process.
Flat-packed is out of fashion. Purchasing durable bedroom furniture from craftsmen who design products that will be loved for generations is the next big thing - rather than discarding low-quality particle board furniture to landfill in a few years.
If you want to invite more sustainable pieces into your decor, it's easier than you think. With the demand for furniture that's kinder to the environment, experienced craftsmen are stepping up to the plate.
Sustainable Furniture Isn't Just a Key Bedroom Trend for 2020
Why not make a more environmentally conscious decision today? Even just purchasing furniture from craftsmen who put sustainability first can make a big impact.
Go green with your bedroom trends and explore our sustainable showcase. It features videos of the production process, from the sourcing of wood all the way to the final piece. Take a look below.