7 Ways to Style a Handmade Sleigh Bed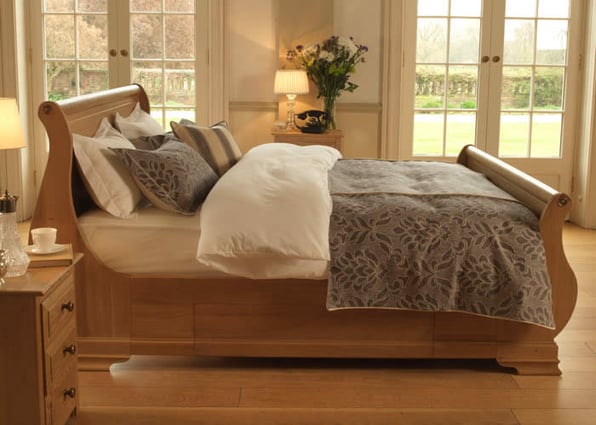 Your bed is the focal point of your bedroom, so the pressure is on when it comes to choosing the perfect style that will really make a lasting statement.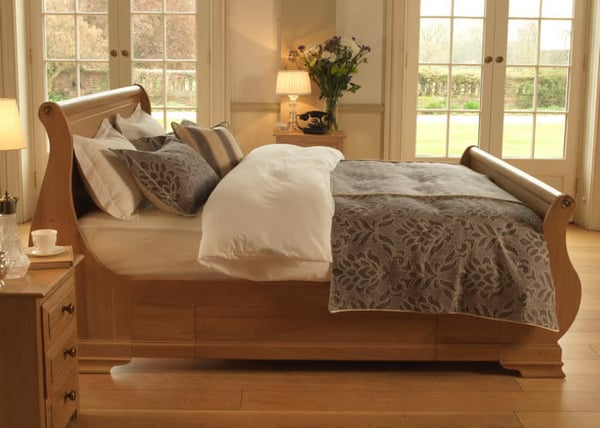 A wooden handmade sleigh bed offers that unique blend of traditional French-inspired design and contemporary living to effortlessly fit into any bedroom. With the hallmark being their unique curving head and footboards, sleigh beds offer a luxurious feel to any bedroom and fit many different styles.
Here are seven ideas to inspire you.
1. Simplistic Luxury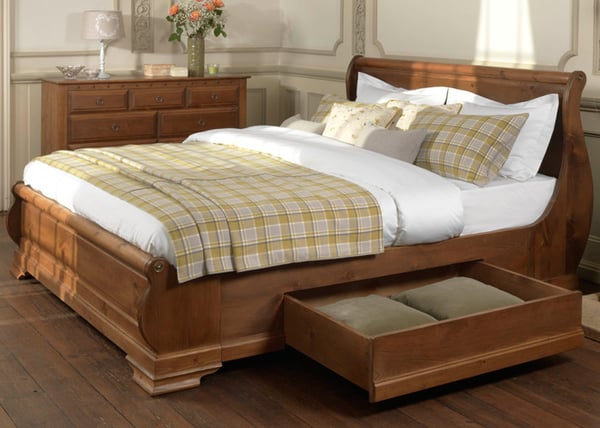 The attention to detail that goes into a handmade sleigh bed is to be admired. So, it would be a shame to damage the luxurious aspect by going overboard and taking the focus away from its unique shape, structure and wood finish.
Instead, consider keeping it simple and focus on accentuating the original French proportions and detailing.
A minimalist approach would be to steer away from thicker fabrics and vivid colours. Instead, implement paler tones and not add too many items to the bed. Add a silk throw which billows gracefully over each side of the bed. Or pillows in a colour, material and design that are identical so it exudes luxury at its finest.
2. Grace and Elegance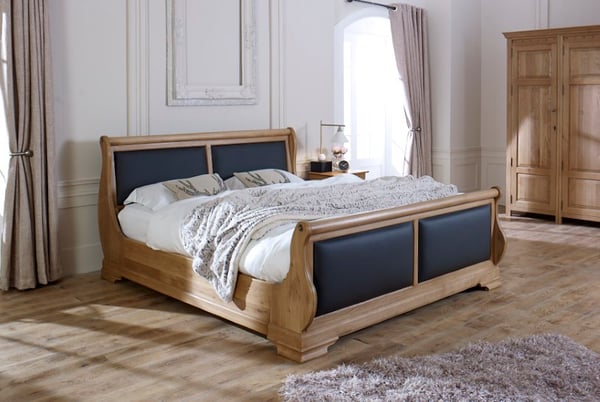 Even with the addition of leather in a handmade sleigh bed, it's important to keep the primary focus on the bed while adding minimal additions to your handmade sleigh bed. A simple design should be your main focus, creating an elegant yet rustic finish that perfectly adds the feeling of home comfort.
For a graceful finish while keeping your handmade sleigh bed in the limelight, look to add a neutral colour palette or earthy natural tones which complement the aesthetic of the sleigh bed style.
Along with this, simple yet exquisite furnishings like soft Egyptian cotton offer a great balance between elegance and luxury.
3. Modern Contemporary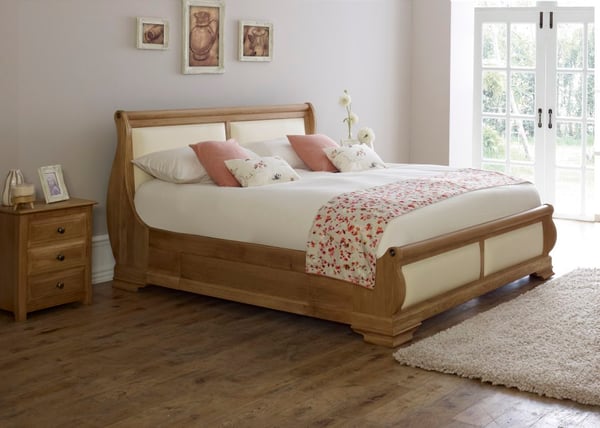 Similar to the previous style, you can add a more modern touch which fits in perfectly with the modern contemporary theme. If your handmade sleigh bed also features real leather, the design element suggests comfort which contrasts well with the luxuriousness of the bed.
Keeping with the modern contemporary theme, a colour palette of soft hues and striking colours can complement the elegance of the overall bed design so that it still manages to instantly demand attention.
By adding soft furnishings, such as an array of cushions and materials like silk or linen, you can add to the aesthetic even more. Beautiful and modern.
4. Quirky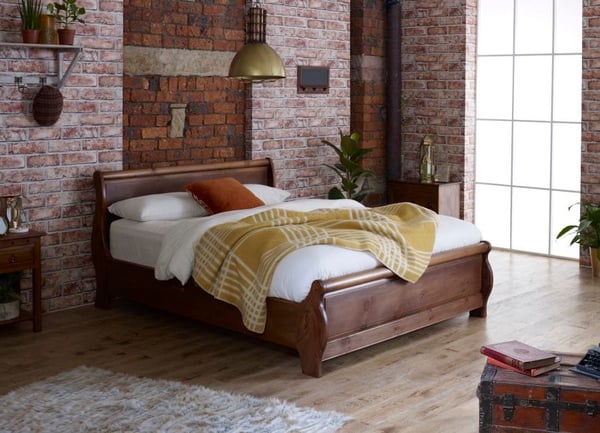 For a more unique setting for your handmade sleigh bed, think along the lines of quirky collectables, industrial light fittings and architectural salvage to create an outside-the-box and rustic environment which is currently an increasingly popular trend.
It's the look of the decade. Putting together an eclectic mix of the industrial, the salvaged, the restored and the new to create a quirky setting where a handmade sleigh bed can fit right in as the destination for ultimate comfort at the end of a busy day.
To really make the most of the handmade details of the bed, the wood finish and the unique environment, you need to consider unique colours.
For example, dark oranges perfectly complement a brickwork-like finish that you find in industrial settings while simple additions like a mustard blanket over the duvet capture the true essence of the quirky industrial decor.
5. French Chic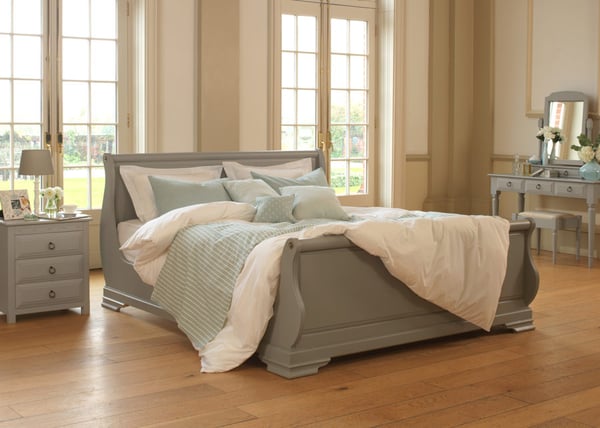 Take some inspiration from the majestic Camargue region of France and adopt a French chic style on your handmade sleigh bed to really lift the rest of your bedroom. Adopting the same colour for your bedroom furniture and your handmade sleigh bed, you can achieve that stunning shabby chic boudoir look while keeping the bed as the primary centrepiece.
To lift the rest of your bedroom, look for dressing tables, stools and drawers dating back to the 18th and 19th century to give you that elegant French boudoir look.
For ultimate comfort, add a thick duvet, striped throw and a combination of white and light green cushions that call out for lazy family Sundays.
6. Autumn Comfort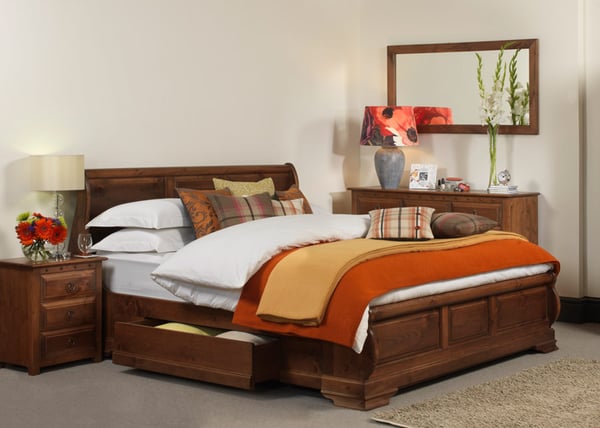 A handmade sleigh bed is perfect for those cold months where all you can think about is heading home and diving into your warm, peaceful sanctuary without being disturbed.
Style your bed by incorporating a warm autumn comfort finish while having drawers and cabinets close by - all matching the colour of your handmade sleigh bed so you don't take away from the warm environment.
To add a touch of luxury to your autumn comfort style, use thick and opulent fabrics as blankets for the ultimate in warmth.
For a suitable colour palette, stick to the autumn and warm theme and incorporate orange, mustard and brown. You'll have a modest and graceful decor which is still perfectly subtle, cosy and easy on the eye.
7. New England Elegance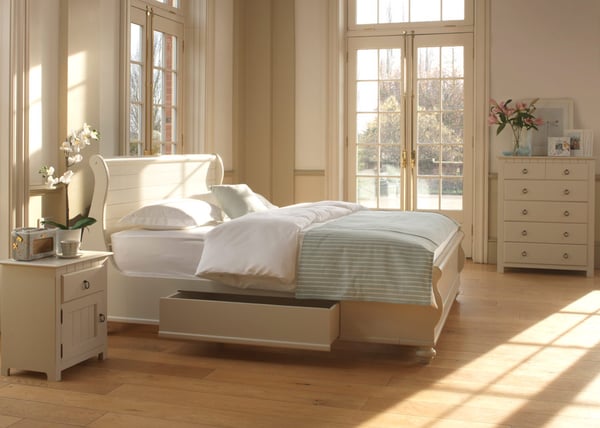 Channel the tradition of the history of the sleigh bed to match a New England style from the 18th and 19th centuries. Perfect for any bedroom that wants the natural light to literally shine on the focal point that is the handmade sleigh bed.
With plenty of natural light, you should look for a more subdued and neutral style in a more spacious bedroom environment so you can really make the most of your bed and the bedroom furniture.
Again, stripping back and not going overboard is crucial. Even the basics of white pillows and a duvet in combination with a striped mint green throw add that nice and soft gentle yet relaxing atmosphere.
Find Your Perfect Bed by Downloading Our Brochure
We understand how important it is to find the perfect bed to suit the ambience of your bedroom and what you're trying to achieve.
At Revival Beds, we've been handcrafting luxury wooden beds since 1983 and have plenty of luxurious beds to suit any bedroom environment. Crafted from quality timbers, every antique-style bed is handcrafted for you.
For a closer look at the sleigh beds or even other styles such as four poster beds and leather beds, download our brochure using the link below to begin your search for the dream bed you've always wanted.