4 of Our Favourite Solid Oak Bedside Tables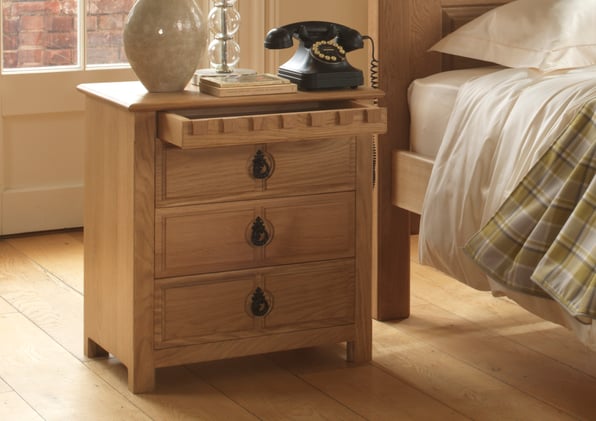 At Revival Beds, we offer a range of ornate solid oak bedside tables, designed with both care and passion. Including a bedside table or cabinet in your room can bring the whole design together, while neglecting to include a bedside table can sometimes leave a space feeling unfinished.
Bedside tables are versatile choices in that they act as both storage space and a useful bedroom surface. Read on to see our favourite solid oak bedside tables and how they can be made bespoke for your purposes.
1. 3-Drawer Bedside Cabinet
Our classic 3-drawer bedside cabinets are built to the perfect height, width and depth. They can hold whatever unique accessories you decide upon. This could be a lamp for evening reading, an alarm clock for early rising or a vase of flowers for that splash of natural colour.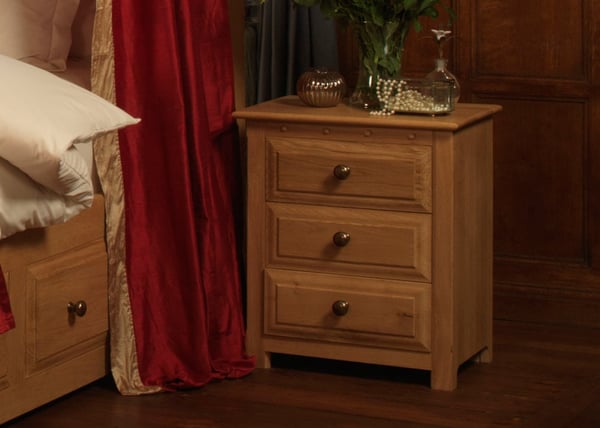 The frame and drawers are crafted from 100% solid oak and include traditional dovetailed joints. The drawers are specially-designed to glide out with ease and are the perfect storage spaces for whatever items you decide upon.
This bedside cabinet works wonderfully with our 2 over 2 chest, one of our most popular and time-honoured designs here at Revival Beds.
2. Bedside with Door
Another of our solid oak bedside tables includes a single top drawer and an incredibly spacious cupboard and door sitting below it.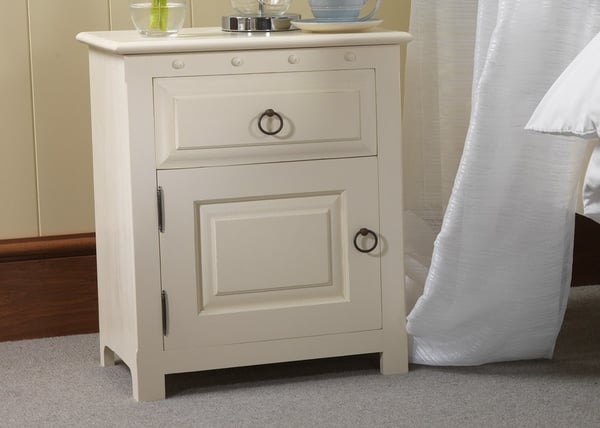 The useful mixture of drawer and cupboard allows for the storage of a range of items, from personal valuables to technology and more. We can also configure it to any side of your bed upon request, and even offer a painted option.
If you're looking for beautiful design and a large amount of storage space, why not consider pairing this piece with our 7-drawer long chest?
3. Bedside Table
The most classic bedside table style, available in our beautifully-finished solid oak. This piece is a desired companion for any bedroom and provides storage while retaining an open feel.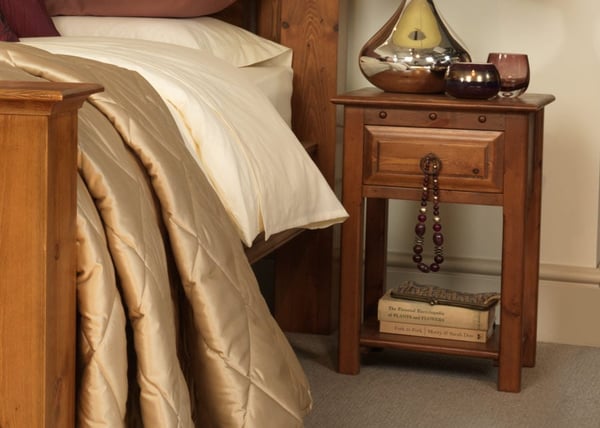 This solid oak bedside table consists of a single drawer and a versatile shelf beneath, perfect for showcasing books or other decorations. Its design also makes it an ideal addition to a hallway or living room, allowing you multiple possibilities for design.
We recommend pairing our bedside tables with one of our traditional bed designs, such as our treasured Windsor or Mackintosh bed designs.
4. Secret Door Bedside
One of our most enchanting and useful bedside table designs, our largest bedside cabinet has three large drawers for storage as well as a secret drawer for any personal valuables.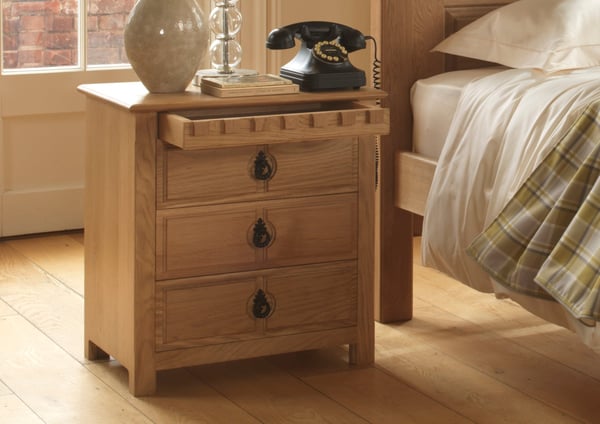 This, like the rest of our range, features our choice of premium quality handles, exquisitely made by a specialist in Birmingham, whose pedigree stretches back to 1875.

For a more bespoke look to your storage pieces, pair this clever cabinet with our subtle linen chest for a minimal feel with maximum storage space.
Bedside tables are a small but crucial addition to any bedroom. Including one in your room design is just another step in creating a sanctuary. At the end of a long day, a sanctuary is a place you won't want to leave.
You work hard during the day and deserve a space crafted especially for you.
Your complete resource for beautiful bedroom furniture
This is only a small taste of the luxury items that Revival Beds offers. We also offer beds, mirrors, mattresses and other bedroom furniture, all crafted to the highest quality.
To see our range of solid oak bedside tables and other exclusive furniture, explore our detailed brochure.
Ready to explore more of the Revival Beds range? Click below for your free brochure.