Metal vs Wooden Beds: Which Is Best?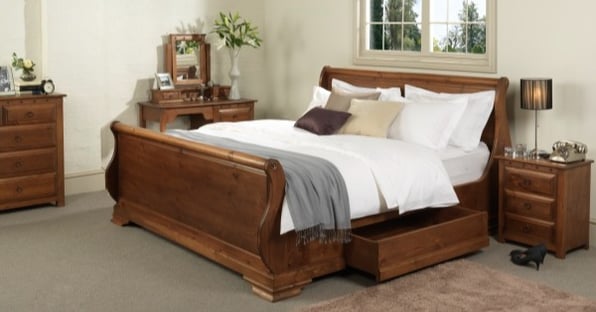 Choosing the perfect luxury bed is a big decision. There are many things to consider, from size and style to maintenance and materials. All are important factors to finding the perfect path to sound sleep. But the quality of your bed and the raw materials it's made of dictate your bed's longevity and, ultimately, whether or not it gives that lavish feeling.
When considering frame types, metal and wooden beds are always the main contenders. Both popular choices for beds, we investigate which material gives you the most for your money.
Comfort: Metal vs Wooden Beds
Comfort is the most crucial consideration for buying a bed. While we all want our bed to look stylish — maybe even sleek — we have a greater need for our bed to be supportive, sending us, without fail, into a superior slumber.
When comparing metal and wooden beds in this regard, wooden beds win the fight. As wooden beds usually sport a slatted base, they offer more support and better weight distribution.
Also read: The Ultimate Guide to Types of Bed Bases
Metal beds have less design and quality consistency, with some being flimsy, stiff and impossible to adjust. This means metal beds also lose points for their lack of personalisation — a novelty that wooden beds can offer, giving you a bespoke sleep (more on that later in the blog).
Noise: Metal vs Wooden Beds
Let's be honest. One of the greatest disadvantages of metal beds is their tendency to creak. This, paired with a stiff sleep, can start to impact sleep quality and even cause quarrels with your sleep partner.
That said, poorly made wooden beds can also cause the same problems. So, while wooden beds aren't known for making noise, it's worth stepping back to research the craftsmanship of the wooden beauty you're swooning over — just to be safe.
Also read: Our Bed Manufacturing Process: Follow the Journey
Wooden beds are your best bet for a quiet, undisturbed night's sleep. This doesn't mean all wooden beds are prone to picking up on every toss and turn, but their reputation is less than ideal when it comes to creaks.
Style: Metal vs Wooden Beds
There are certainly times when both wood and metal take the reigns as superior style choices. Chrome and antique brass beds can give off a minimalist and mature look, while oak and mahogany can sport both simple and showy styles. The opportunities are endless.
It's a close call, but again, wood might just beat metal in the style battle. Since wood can be carved, shaped and manipulated in a way that metal can't, it has more opportunities to offer elaborate, ornate styles and sleek silhouettes, no matter the style of the season.
Also read: Modern vs Traditional Furniture: Which is Right for You?
Another win for wood is if it has been treated with impressive artisanal skill. Metal just doesn't have the same heritage, the same careful hand or the same story. So, for beds with soul, pick from the wooden variety.
Personalisation: Metal vs Wooden Beds
Customisation is important to offer in all products, especially in interiors. When choosing a luxury bed for your home, there's no denying this product purchase is personal. It's something you'll have to interact and look at every single day, informing your mood, master style and even your mindset.
So, being able to tweak the dimensions, finishes and style of a product you're already in love with feels special, ensuring no one else has the same sleep space.
Also read: What to Look for When Researching Custom-Made Beds
It's difficult to create bespoke metal products. Metal beds are what they are — if you love an iron-wrought frame or a simple arched bed frame, then you might not feel the need to have a hand in its design. But for all other tastes, wood makes for a better material to make a bed your own.
Longevity: Metal vs Wooden Beds
Last but not least, it's essential to consider the longevity of your bed frame. Will you need to replace your bed frame before its time? Or can you count on your chosen bed to stand the test of time?
It'll be no surprise to you if you've followed along this far that the superior quality of wood versus metal means wooden beds are likely to last longer. Why? Replacements are vital when a bed starts to creak or your mattress no longer sits flush with the bed base. In wooden beds, this is less common than in metal varieties. After all, metal is a cheaper material.
Also read: How Often Should You Replace a Bed Frame?
You'll still need to pay close attention to the quality of a wooden bed. Poor wood sources and untreated materials can cause wood to split, forcing you to shell out for a new sleep surface. Either way, you'll want to pick a product that has been carefully constructed and offers some sort of money-back guarantee to protect your initial investment.
Create the Bedroom You've Always Dreamed Of – With a Wooden Bed
When choosing a new bed, premium wooden beds are the superior choice. They win not just in the practical terms of comfort, noise and longevity but also in style and the ability to customise your bed to become a bespoke masterpiece.
Even so, wooden beds are a lifetime investment. Choosing one isn't a decision to take lightly. As experts in beautiful, handcrafted wooden beds, we've created a guide to help you choose the ideal bed that meets your unique style and sleep needs.
Download your free copy of our bed buying guide and take the first step to superior sleep.