We spend over a third of our lives in our beds, which is a considerable amount of time. So, it's only right that when choosing a bed, you take time over the decision and don't rush. There are a lot of things to consider when it comes to choosing the right bed, from the size and cost to the material it's made from.
Two of the most common materials that beds are made out of are wood and metal. But which one is better? In short, we believe that handmade wooden beds are far superior to metal ones. Here's why.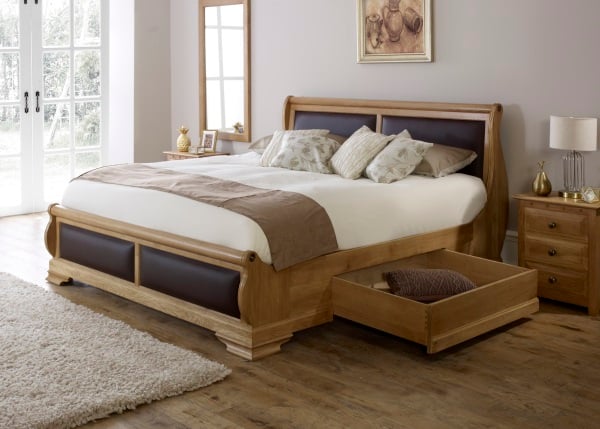 1. Metal Beds are More Uncomfortable
The minimum requirement that you can expect from your bed is a good night's sleep. There's nothing worse than finally getting in bed after a long, hard day at work and not being able to get comfortable. Metal beds tend to be a lot more uncomfortable than a premium handmade wooden one.
Their design can be flimsy, which can lead to the bed frame not supporting the mattress correctly. Also, with metal beds, your mattress will be sat on metal slats to provide the support. These can often be too stiff and difficult to adjust, preventing you from altering the tension to give more or less support.
Wooden slats offer more give and flexibility than metal alternatives, meaning your mattress isn't restricted by the metal. The wooden slats are crafted from the finest materials, ensuring that you can maintain a comfortable position throughout the night and get those all-important eight hours of sleep.
2. They Have a Tendency to Creak
The noise that your bed makes can contribute to a poor night's sleep. You don't want your bed to be creaking and disturbing your sleep. Or even worse, preventing your partner from sleeping so you have to face their wrath the next day.
Metal beds have a tendency to creak and make quite a racket during the night. Premium wooden beds are crafted with this in mind, especially Revival Beds. Our handmade beds are solid throughout. We make sure each and every joint fits perfectly so that you aren't kept up with squeaks and creaks.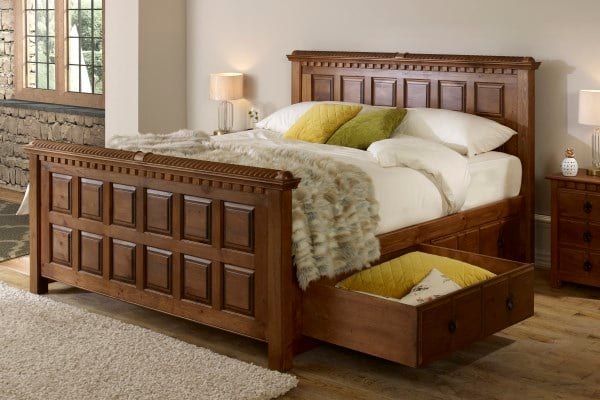 3. Wooden Beds are More Stylish
A bed is the centrepiece of a room and can either complete the look you're going for, or completely ruin it. Premium handmade wooden beds make a bold statement and their beautiful finish adds class and sophistication to the room. Wooden beds come in all different styles and shapes too, from a regal four-poster that's fit for a palace or a beautiful sleigh bed that's perfect for achieving a modern feel.
Metal frame beds quite simply don't have the same finish as wooden ones. They don't offer the same class or quality and they can often look cheap too. In contrast, a wooden bed is a unique and luxurious focal point of a room, immediately catching the eye of anyone that sees it.
4. You Can't Customise Metal Beds
Metal frames aren't customisable in the way that wooden bed frames are. Sure, you can choose different colours but they're certainly not as subtle and easy on the eye as the different wood finishes that can be offered.
Plus, wooden bed frames can be moulded into all different styles and shapes. Whereas there's little flexibility with metal because they're usually flat-packed and need to be built yourself - more of a one-size-fits-all approach.
Metal frames tend to be the cheaper option for people buying beds. Therefore, there are fewer customisable options as they're mass produced. The majority are purchased online, so it's impossible to visualise one in your room until you've actually built the bed.
One of the biggest drawbacks of metal beds is that they don't come with built-in storage. Wooden beds allow you to make the most of your existing space thanks to the elegant storage drawers they can be crafted with. If you're looking to design a room that's clutter-free, then a wooden bed is the right choice.
5. They Have a Short Life Span
Due to the cheaper materials, metal beds tend to have a shorter life span. At the time, the lower cost might have been what convinced you to make the purchase. But the fact that you'll have to replace your bed more often means that it'll probably work out to be just as expensive in the long run as it would to buy a quality wooden bed.
A premium handmade wooden bed is an investment for life. At Revival Beds, we offer a 10-year guarantee on our beds, so should they break or not meet your requirements we'll be on hand to help you with a solution. However, we're confident that it won't come to this as our beds are lovingly crafted from the finest materials by our expert team.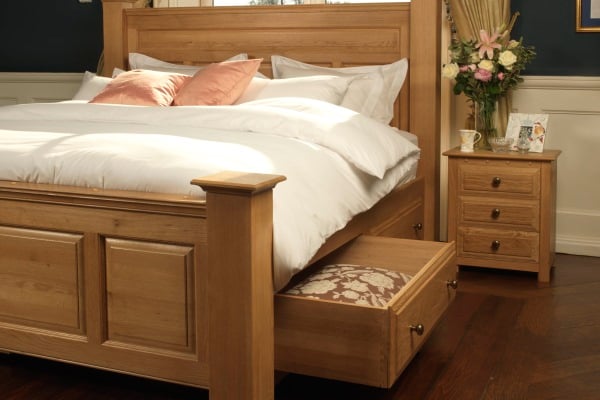 Create The Bedroom You've always dreamed of
When it comes to choosing a new bed, premium wooden beds are the superior choice. Not only are they more durable, but they can be made bespoke to your requirements.
Wooden beds are a lifetime investment, so we understand it's not a decision you take lightly. We believe beautiful, handcrafted wooden beds are the perfect finishing touch to all bedrooms and we want to make sure you make the right choice for you. As experts in the field, we've created a a guide to helping you choose the ideal bed for your unique style and taste.
Download our free bed buying guide below and take the first step to choosing the perfect bed for your room.