6 Benefits of a Wooden Bed With Storage Drawers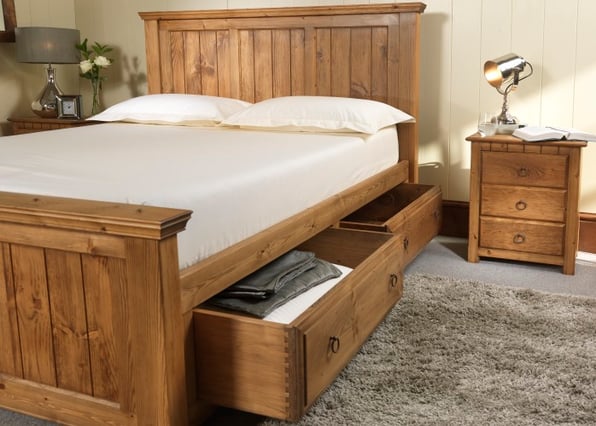 Considering we spend one-third of our lifetime sleeping, it's vital that you select an elegant option you can envisage as part of your home for years to come. To add some much-needed style, character and functionality to your bedroom, look no further than the distinctive appearance of a wooden bed with storage drawers.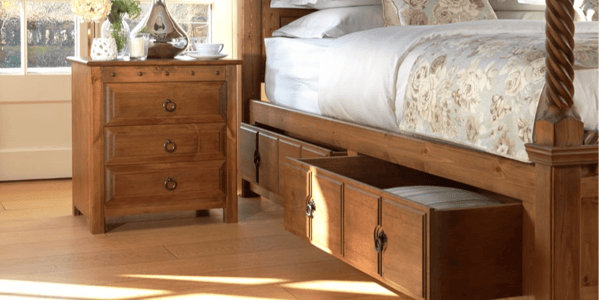 Here are some of its benefits.
Money Saving Capabilities
There's no denying that a bespoke, handmade wooden bed carefully created by expert craftsmen is more expensive than your usual mass-produced alternatives. However, it's not fair for you to have to compromise between quality and durability alongside the price.
In total, cheaper alternatives beds might seem like the option where you pay less, but the costs can increase over the years.
The poor materials used aren't built to last quite like handmade wooden beds are. Beds made from the finest European oak or Scandinavian Redwood help to achieve the optimum combination of strength, stability and intricate design.
What this means is that, although a handmade wooden bed is a more expensive option to begin with, it's more cost-effective in the long run to the extent that it should last you a lifetime.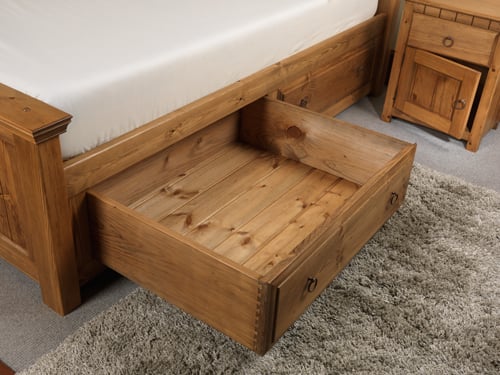 For extra peace of mind, Revival Beds offers a unique 10-year guarantee on our beds. Think of it as a promise that you won't need to search for new bed frames like you would with high-street alternatives.
Stylish and Timeless Designs
It could be a four poster bed with thick, opulent fabric so you feel like royalty or a sleigh bed dating back to the Roman era which Napoleon himself would have loved. A wooden bed with storage drawers never goes out of style thanks to the many timeless designs that instantly demand attention in any bedroom style.
There's never the worry of potentially not liking a design, as wooden beds with storage drawers that match always add a touch of class and sophistication with the look never going out of fashion.
If you need sizing changes, a bed to match the style of your current bedroom furniture or even intricate designs you can't find anywhere else - a wooden bed can offer that and much more. With plenty of attention to detail, the best materials can create designs that make you look twice.
What also makes the beds a timeless addition is the fact that bespoke options are available. You can explore more on bespoke designs in our free guide, check it out below.
Premium Quality
As we mentioned, only look for a bed that features the finest grades of wood which have been selected for their distinctive notes, character and durability. An important benefit of choosing a wooden bed made from these superior materials is that you'll also get extra strength storage drawers made from the exact same materials.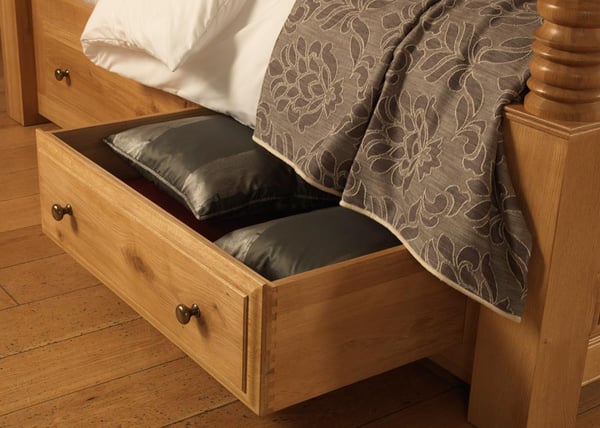 It means your under-bed storage drawers won't look out of place as the solid wood is designed to match your bed perfectly.
A Decluttered Bedroom
A wooden bed of any style is there for your comfort and to accentuate the prominent addition to your bedroom. However, even the most majestic of beds perhaps can't save the bedroom ambience if a lack of overall storage space has left your entire peaceful refuge in a cluttered mess.
A stunning and simple wooden bed still has many intricate designs that deserve to be shown off in the limelight, so a cluttered bedroom can, unfortunately, take away the focus from the solid yet impressive wooden structure.
That's where a wooden bed with storage drawers can help.
As wooden beds tend to be on the larger side, it means the storage drawers will also be spacious enough for you to declutter your bedroom. Depending on the bed you choose, you can have enough underbed storage drawer space that can hide away bedding, duvets, jumpers and pretty much anything else.
If you want to get into the specifics, there are around 16 cubic feet of robust, well-built, ample storage space for you to take advantage of. It means your room won't take the focus away from the sheer presence of your bed.
Frees Up Storage Areas
Storage drawers under your wooden bed allows you to free up storage areas in your bedroom. This is highly beneficial if you're looking to change your bedroom decor or if the furnishing like wardrobes and cabinets don't seem to match with your new bed and are slightly outdated.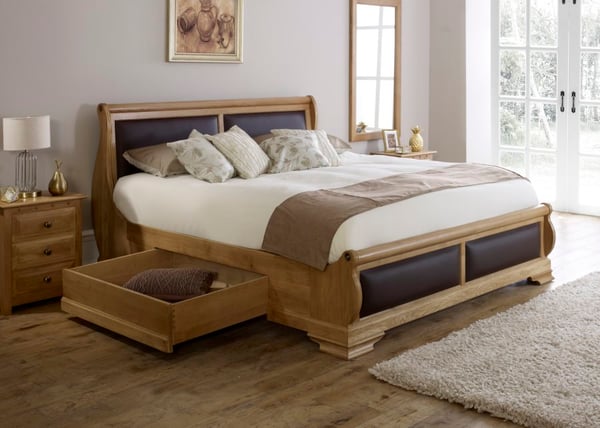 A simplistic theme always seems to be a dominant trend. Freeing up storage areas and limiting it to the drawers under your wooden bed is a big practical benefit as it keeps your items tucked away while letting your wooden bed create the overall look of comfort and luxury.
Achieve a Better Night's Sleep
All in all, the point of any bed is to sleep comfortably and have a healthy sleeping pattern. With poor materials and cheap alternatives providing issues like wear and tear, creaks and squeaks and frame damage, it's difficult to clear your mind and eliminate stresses on an unreliable bed. This is because your environment affects the quality of your sleep.
A tidy, clutter-free room is one way to help yourself sleep better at night - that's why storage drawers under your bed are an ideal solution. If you're struggling to stay asleep, those eight hours spent in bed can feel like an exhaustive task. By choosing a handmade wooden bed that's reliable and built to last, you'll be putting yourself in the best position to get a blissful night's sleep.
Choose Your Perfect Bespoke Wooden Bed From Our Brochure
Since 1983, our craftsmen have been handcrafting beautiful, bespoke wooden beds in our workshops. Over the years, we've helped our customers bring their visions to life - and we don't just stop at beds. From wardrobes and bedside tables to blanket boxes and linen chests, each and every one of our handmade furniture pieces is handmade to order and comes with free delivery and installation.
To explore the possibilities for your own home, take a closer look at our free brochure, There, you'll find an abundance of stunning images of the luxurious beds and furniture our craftsmen create, where you can gain inspiration for your own home. To download your copy, click the banner below.