Handmade Beds Crafted in the UK - Why Revival Beds is the Answer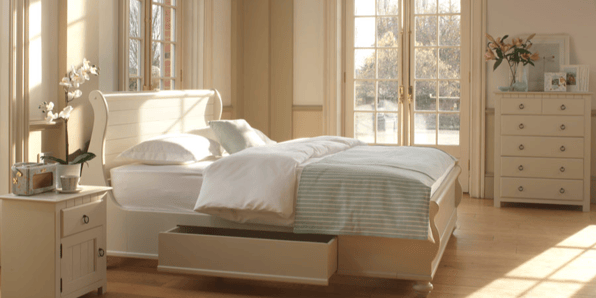 Revival Beds is a reliable and experienced handmade bed manufacturer in the UK. With over 200 years of collective craftsmanship experience, we've been devoted to creating luxury wooden beds and delighting clients with our unrivalled durability in our Nottinghamshire workshops since 1983.
Here's why Revival Beds is the answer when it comes to handmade beds in the UK:
We Use Only the Finest Grade Materials
As a bespoke premium wooden bed manufacturer, we use only the finest grade of ethically sourced European oak, Quebec Yellow and Scandinavian Redwood. They are specially selected for their distinct characteristics and unrivalled durability.
At Revival Beds, everything is lovingly crafted from the finest materials, which have been nurtured in a sustainable forest and flourished to their full potential.
We only ever use the very best raw materials. Each of our oak beds is finished off with a hand polish using Patina wax which accentuates the natural beauty of the wood. We'll provide you with all you need to care for your bed upon delivery and it's also guaranteed to never creak or squeak.
All Beds are Handmade to Order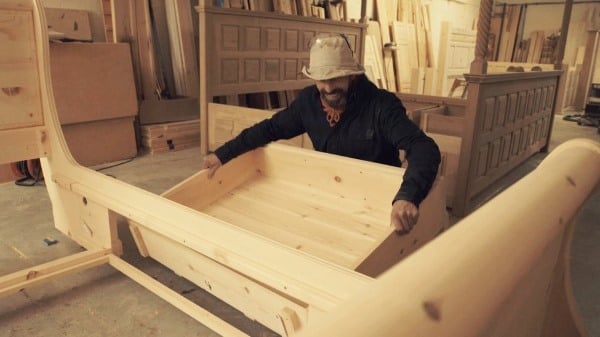 With such demand for our luxury beds, we limit our orders to ensure quality. This is so we can guarantee that each bed has had our undivided care and attention. Our craftsmen devote many hours to each project, from the design process to delivery.
Our commitment to excellence goes beyond that. We provide you with a vast array of customisation options so you can make your new bed truly unique to you. Whether you want a bespoke height on the headboard of a Monaco sleigh bed or storage options from a Vermont New England bed that suit your lifestyle, nothing is considered off-the-shelf.
Installation Is Just Part of Our High-Quality Service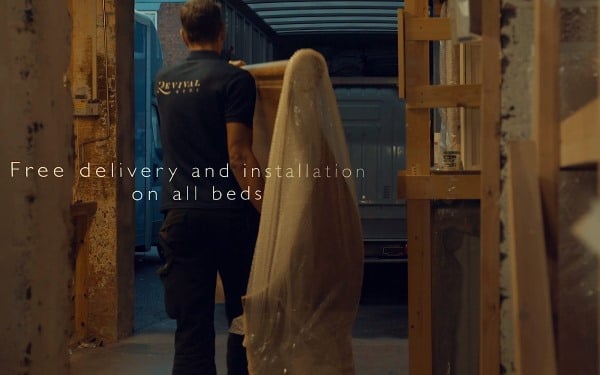 Unhelpful instructions, missing pieces and several different tools required. We know that assembling flat-packed furniture can be a frustrating experience - especially when you just want to curl up in your new cosy sanctuary.
With all the fine and delicate details of a handmade bed, we wouldn't want you to worry about putting it together. We'll install the new addition to your bedroom for you - it's just part of the service. Our specialist delivery and installation team takes care of it for you, ensuring not a single slat or screw is out of place.
And should you decide to move, let us know. We'll be happy to send you assembly instructions and talk you through the entire process, so your bed can continue its lifelong journey with you.
Flexible Finance Plans and Our Unmatched Guarantees
We're devoted to delivering beds that exceed your expectations in every way. That's why each bed comes with a 10-year guarantee. Not only does it give you that extra peace of mind but it's also a testament to our high-quality furniture.
If you're eager to have your very own Revival bed, we have flexible finance plans to suit all and we only require a 10% deposit. So owning a luxury bed doesn't have to be something you only dream about.
Should you have your Revival Bed in-situ and you're not completely taken with it, we offer a no quibble 21-day money-back promise and we'll even arrange collection at our expense. This is how confident we are that you'll be absolutely besotted with your new bed.
Versatile and Timeless Designs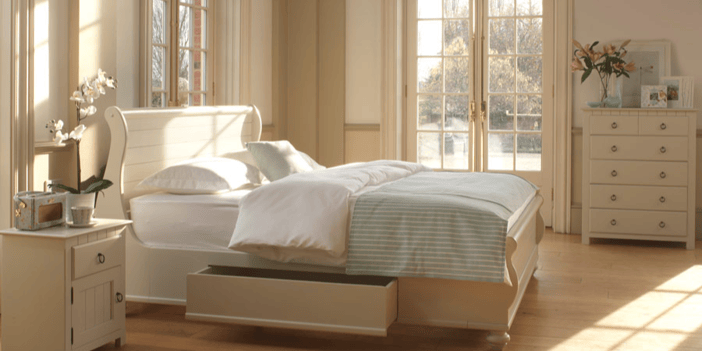 When you think of a luxury style of bed, what do you imagine? You're most likely imagining a grand four-poster bed, like Revival's Ambassador, with a canopy and plush bedding. We often associate wooden furniture with high quality and that's because of their adaptability and their consistent value over time.
Beds are the centrepiece. Here at Revival Beds, we pride ourselves on creating pieces that instantly demand attention, regardless of the room around it. Premium wooden beds are a platform that elevates any design, meaning that themes can be weaved throughout the decor using accents like bedding and accessories.
Now you know why Revival Beds are the answer to all your handmade bed needs, it's the perfect time to browse our digital brochure and find the right one for your abode.
Find Your Perfect Revival Bed by Downloading Our Brochure
Quality timbers, guaranteed durability and unrivalled attention to detail. Revival Beds offers all the points mentioned in the blog and more. It's no wonder that we are the answer.
For a closer look at our bed styles such as wooden sleigh beds, four poster and leather beds, download our brochure using the link below to begin your search for the handmade bed you've been dreaming about.