Our Bed Manufacturing Process: Follow the Journey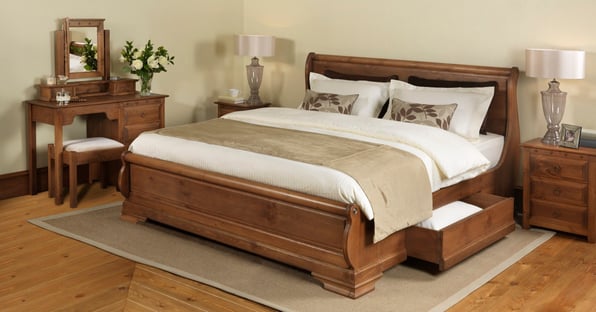 Imagine towering trees that stretch as far as the eye can see with European oak that's stood tall for over 150 years old. At Revival Beds, our manufacturing process starts there, where we source our wood from ethically managed forests.
We have been handcrafting beds in our workshops since 1983 and reflect the very best methods when it comes to craftsmanship. 'Mass-produced' doesn't describe any one of our products, as we limit our orders so we can dedicate our time to each and every one.
Today, our exquisite wooden beds are featured in castles, stately homes and lavish hotels. Not to mention they're found in bedrooms up and down the British Isles and beyond. We pride ourselves on being one of the leading UK bed manufacturers. To discover why, join us on our bed manufacturing process journey.
Sustainably Sourced Wood
At Revival Beds, our wood is specially selected to create sturdy legs for our beautiful, handcrafted beds. Using a combination of traditional tools and machinery, as well as advanced equipment such as our CNC machine, we guarantee consistent quality and precision every time.
However, we're also aware that an overwhelming 80% of our forests have already been destroyed, which is why we source our wood from ethically managed forests and FSC-certified suppliers. With the devastation of the timber industry corrupting precious habitats and leaving once-flourishing forests barren, we believe it's our responsibility to ensure our furniture is crafted in a way that's kind to the environment.
We're also approved members of the British Furniture Manufacturers (BFM), which certifies that we produce at least 50% of our products in the UK and comply with a range of legal requirements. But we don't just meet these requirements - we go above and beyond the standard because we craft all of our beds and furniture in-house.
Commitment To Minimising Waste
At Revival Beds, we try to keep our waste to a minimum. Although our wood is sustainably sourced, a major hurdle for us was making sure all of our practices are sustainable. That's why we make our own slats to ensure quality and maintain our eco-friendly goal. This drastically cuts down our carbon footprint and overall wastage, as purchasing these products from a supplier would require plastic wrapping and other forms of packaging.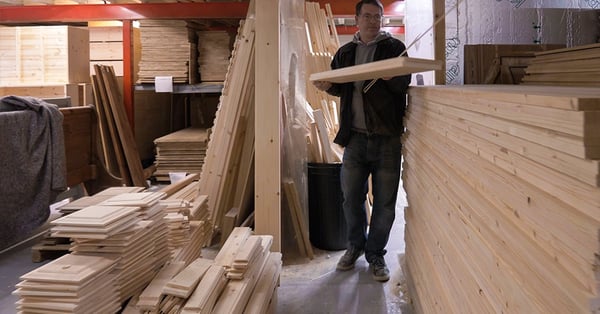 A key element of our sustainable practices is our mattress recycling service. Other companies may take them away but more often than not, they end up discarded in a landfill. At Revival Beds, we will recycle your old mattress without harming the planet.
As for the sawdust we produce, this goes to a local horse sanctuary and the wood that we can't recycle makes it way to a local farmer in exchange for biscuits and a natter.
Crafting Our beds
We craft our beautifully made beds with hardwood. Our craftsmen sand, stain and hand-polish them with a natural wax to emphasise their already alluring traits. Although we know hardwood isn't always the cheapest option, it's a timeless material for bedroom furniture that effortlessly shows its superiority in comparison to its cheaper, flat-packed rivals.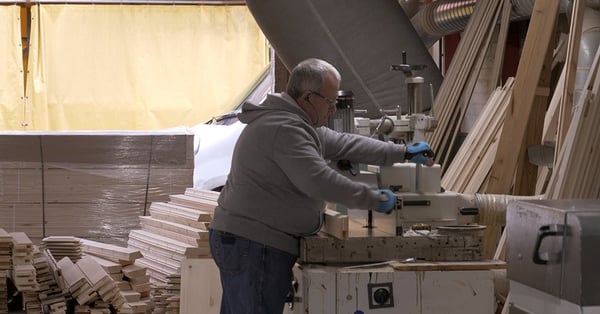 We believe sustainability can be achieved without compromising on quality. To learn more about our bed manufacturing processes and how we've accomplished this, take a look at our sustainable showcase.
Learn More About Our Bed Manufacturing Process Today
Here at Revival Beds, we're working more and more on sustainability. As a manufacturer, we have the controls to improve our methods. Our sustainable showcase reveals what we do with any scrap wood we have, how we've cut out the use of plastic wrapping on our furniture and how we manage waste sawdust.

To learn more and watch videos of our production process, click the button below.