The coveted Revival Bed. Handcrafted in our workshops since 1983 and reflecting the very best when it comes to craftsmanship. 'Mass-produced' isn't in our vocabulary - we limit our orders so our dedicated time goes into each one.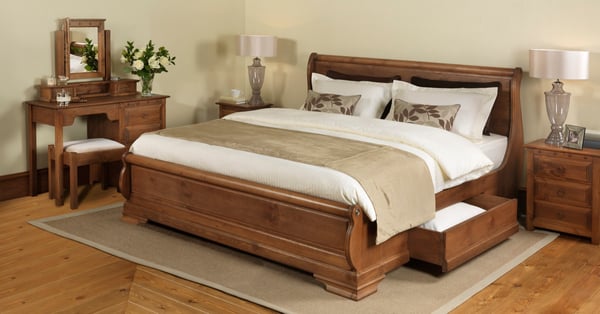 Today, our exquisite wooden beds are featured in castles, stately homes and lavish hotels. Not to mention they're found in bedrooms up and down the British Isles and beyond. We pride ourselves on being one of the leading UK bed manufacturers. Follow us on our bed manufacturing process journey and discover why.
Our Story Starts in a Thriving Forest...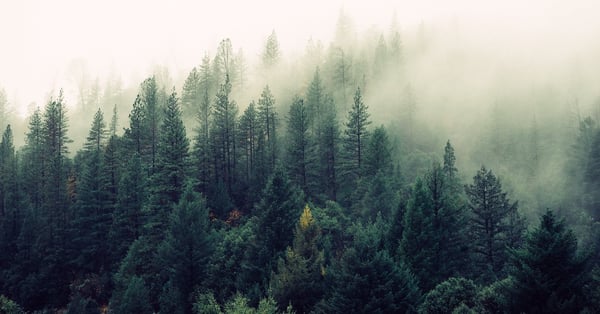 To set the scene, imagine towering trees that stretch as far as the eye can see with European oak that's stood tall for over 150 years old. Our bed manufacturing process starts here where we source our wood from these ethically managed forests.
An overwhelming 80% of our forests have already been destroyed. With the devastation of the timber industry corrupting precious habitats and leaving once-flourishing forests barren, it's our responsibility to ensure our furniture is crafted in a way that's kind to the environment.
The wood is specially selected to create sturdy legs for the beds. We use a combination of traditional tools and machinery, as well as advanced equipment such as our CNC machine that guarantees consistent quality and precision every time.
All of our wood is sustainably sourced from FSC-certified suppliers, a process pivotal to the Revival saga. We wouldn't have it any other way.

Our head and footboard panels are laminated together and cut to required size, we can accomodate bespoke sizing too.
We're approved members of the British Furniture Manufacturers (BFM). We earned this status by signing the Association Code of Practice (ACOP) which certifies that we produce at least 50% of our products in the UK and comply with a range of legal requirements.
We don't just meet these requirements, we go above the standard because all of our beds and furniture are manufactured in-house.
The boring machine used creates fixings with a squeak-free guarantee, so you can sleep as soundly as Sleeping Beauty in her fairy tale.
There's No Conflict With Our Commitment to Minimising Waste...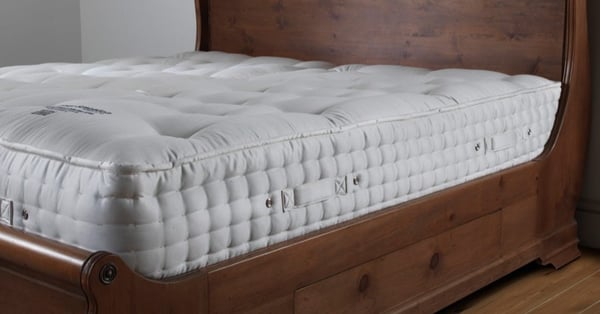 In most journeys, there are obstacles that need to be overcome for us to succeed. A major hurdle for us at Revival Beds was making sure all of our practices are sustainable.
We make our own slats to ensure quality and maintain our eco-friendly goal. Instead of them being supplied wrapped in plastic, we just make them ourselves. This drastically cuts down our carbon footprint and overall wastage.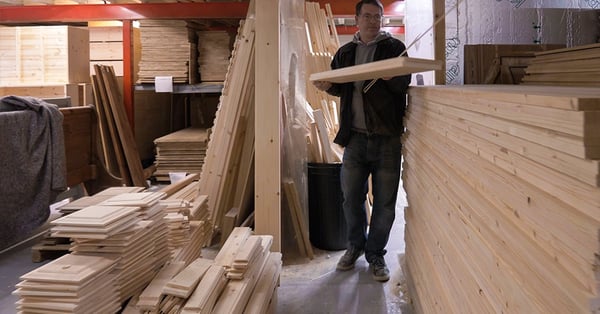 Not necessarily a part of our bed manufacturing process, but undoubtedly a key element of our sustainable practices is our ability to offer mattress recycling. Other companies may take them away but more often than not, they end up discarded in a landfill. It may seem cheaper to throw away than the labour needed to break down the components, but at what cost to the environment?
Here at Revival Beds, we can recycle your old mattresses without harming the planet. As for the sawdust we produce, this goes to a local horse sanctuary and the wood that we can't recycle makes it way to a local farmer in exchange for biscuits and a natter.
The Finishing Touch Completes Our Tale…
There's nothing mythical about the beauty of our beds. They're sanded, stained and hand-polished with a natural wax by our craftsmen to emphasise their already alluring traits. It's a timeless material for bedroom furniture, showing it's still superior regardless of the cheaper, flat-packed rivals.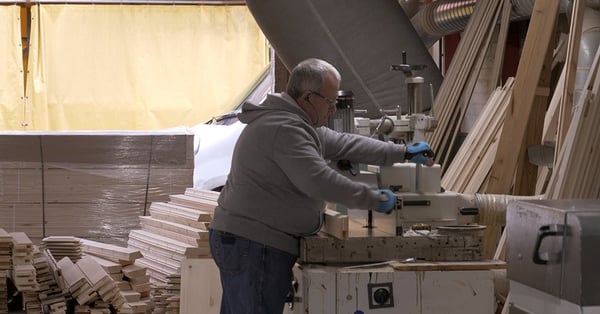 We know hardwood isn't always the cheapest option. However, it's definitely worth the investment. The final quality checks before the preparation for delivery ensures your bed is no less than perfect.
Sustainability can be achieved without compromising on quality. For a closer look into our bed manufacturing processes and how we've accomplished this, we've got just the thing.
Learn More About Our Bed Manufacturing Process Today
Here at Revival Beds, we couldn't imagine creating our pieces without our eco-friendly mindset. Take a look at our sustainable showcase. It features videos of our production process - click below for the insight.