How to Order Bespoke, Tailor-Made Furniture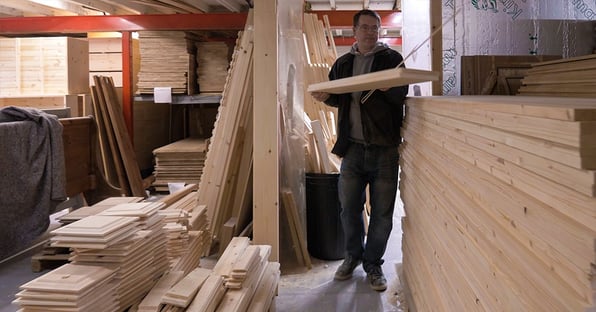 There's something inherently special about furniture that's crafted uniquely to your specifications - something that's beautifully bespoke and made especially for you. At Revival Beds, we understand every one of our customers has a different idea of perfection, that's why we make sure our customers and craftsmen are in harmony when it comes to making bespoke, tailor-made furniture.
Ordering bespoke, tailor-made furniture can feel like a complicated process and although we can't speak for every workshop, we make our process as simple as possible. The time and attention that goes into Revival Beds' tailor-made furniture is truly something to behold. That's why we've made it simple to design and purchase completely exclusive pieces for your home.
Here's a step-by-step guide to ordering your new handcrafted furniture with Revival Beds, from concept to completion.
1. Find Your Inspiration
Sometimes you'll find that although you want a custom piece of furniture for your bedroom, you're not entirely sure exactly what you want. So the first step is to get inspired. Our blog is filled with inspiring bedrooms, living rooms and hallways that exude the finest luxury. From examples of traditional English country manors to French themed bedroom decor and everything in between, you won't be stuck for inspiration for your home after reading our blogs.
Here's just a sample of the beautiful, intricate pieces that our craftsmen have made for our customers, each bespoke to their unique tastes and requirements.


2. Contact A Member of Our Team
Once you've decided what you desire for your custom piece, it's time to bring your vision into a reality, so contact us and discuss your concept with our expert craftsmen. We've been handcrafting beautiful wooden beds in our Nottinghamshire workshops since 1983, so you can rest assured your vision is in the right hands.
3. Visit Our Showroom
Before you commit to a design, we'd like to invite you to visit our showroom, so you can see our craftsmanship firsthand. From traditional dovetail joints to the history of the materials we use, we'd love to discuss our crafts with you further. The best part of visiting our showroom is that you can speak directly to the people who work with these materials every day and who will be making your beautiful, custom piece.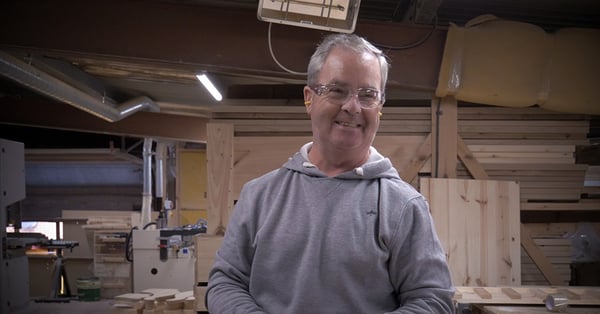 4. Choose Your Finish
From sustainable sourced natural wood to painted or completely bespoke finishes, we work to bring your vision to life. But we understand that it's hard to make a decision on the finish if you haven't seen it in person. That's why we always send a finished sample out in the post so you can see it and feel it for yourself before your order goes to production.
If you want the piece to match the rest of the furniture in your bedroom or living room, we also offer a colour matching service, so your new furniture can feel right at home with your current decor.
5. Pay Your Deposit
After you've reviewed the CAD drawings and are completely content with the design, we'll begin crafting. We'll also send over a quotation and request a 10% deposit to be paid. We only ask for the remaining balance when your piece has been delivered, which is completely free alongside installation to mainland UK.

6. Our Craftsmen Get To Work
Our craftsmen use time-honoured techniques to create luxury pieces that are built to last. That way, we can ensure your bespoke piece is both durable and exactly how you imagined it. Next, we'll call you to confirm a delivery date and contact you again nearer the time to let you know your tailor-made furniture won't be long.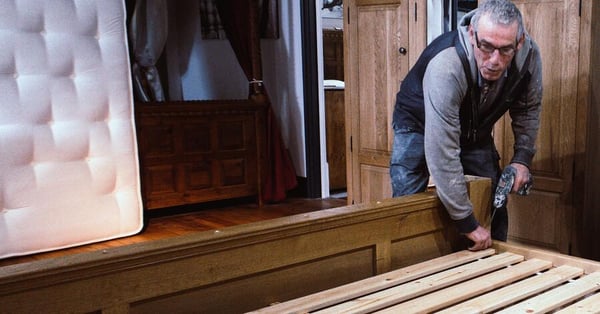 7. Delivery and Installation
At Revival Beds, we're dedicated to making your vision a reality, which is why we always go the extra mile to install your new bespoke furniture. As part of our service, we have our own delivery and installation specialists who have tackled a variety of difficult stairways and low ceilings, so you can rest assured knowing that your new bespoke furniture is in the best hands.
Now all that's left is to enjoy your bespoke, tailor-made furniture. Whether it's a stately hardwood bed in your abode or a bookcase crafted for that alcove in your living room - knowing it was crafted from a mere thought and made exactly to your specifications is priceless.
To see what we could do for you, take a look at our guide on bespoke handcrafted furniture made by our expert craftsmen in our guide below.
Make Your Bespoke, Tailor-Made Furniture Simple
In our 'Bespoke Handcrafted Furniture by Revival Beds: Tailored Just For You' guide, we showcase our previous bespoke projects and show you what we can do for you. From beds to wardrobes, our work is finely crafted to your unique requirements and by looking through our guide, you'll see exactly what we're capable of.
To download our guide, simply click the banner below.