Do Luxury Upholstered Beds Have to be Made From Wood?

In short, no. Luxury upholstered beds don't have to be made from wood, but handcrafted wood can be utilised perfectly to turn an ordinary upholstered bed into one that exudes sophistication and class.

If you have any doubts about moving away from the warmth and sheer plush feeling an upholstered bed can provide, then wait until you find out what you can enjoy when high-quality wood is used as a material instead.

Firstly, What Does Upholstered Actually Mean? (And How You Can Incorporate Wood)
An upholstered bed is any frame - including the foot and headboard - that incorporates materials such as velvet, leather, suede and other materials. The upholstery is usually overlaid on top of additional padding which makes headboards much softer to touch.
Perfect if you enjoy sitting up and reading in bed.
You might even see some with decorative flourishes such as button studding to make it more 'luxurious,' but using wood instead can take this up to another level entirely.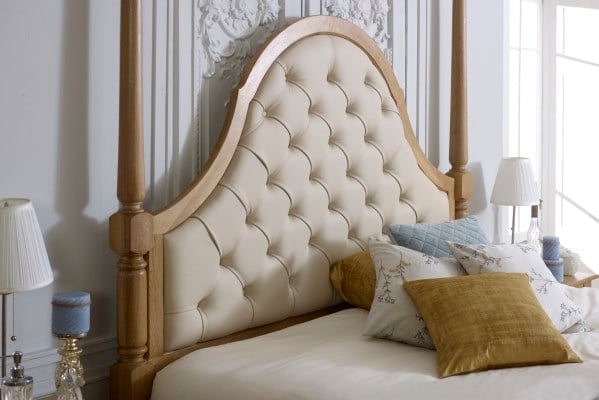 A handcrafted wooden bed made from the finest oak possible not only provides something truly elegant, but you can also add materials like leather which are subtly padded for extra comfort.
So, you don't have to settle for an ordinary upholstered bed which lacks a bit of 'oomph.' You can enjoy a bed made from wood and add leather upholstered panels to help enhance the sophisticated yet minimal look to coordinate with your decor.


They'll Always be Stylish and Timeless
There's always a risk with any bed that they could quickly go out of style, considering how quickly trends change. That's eliminated when using wood in an upholstered bed, as they're versatile enough to look timeless and stylish in any type of bedroom.
Whether it's dark brown wood or something a little lighter, these classic looks never go out of fashion and they never look tacky. Instead, you can enjoy comfort, sophistication and elegance for every sense of style.


Your Bedroom Will Boast an Attention-Demanding Centrepiece
A bed is the first thing anybody notices when walking into a bedroom. It's easy for a regular style to get lost in the decor, but an upholstered bed made from wood instantly demands attention and is a style which will make you look forward to going to sleep.
It can easily create a feeling of envy while the hand-carved detailing you can't achieve with any other material also provides a more opulent feel - making it a challenge to take your eyes off.
Plus, having wooden storage that perfectly complements your bed adds a much more luxurious touch than any other alternative.
If you style it perfectly, then a wooden upholstered bed can work nicely in anything from a traditional home to a more contemporary interior.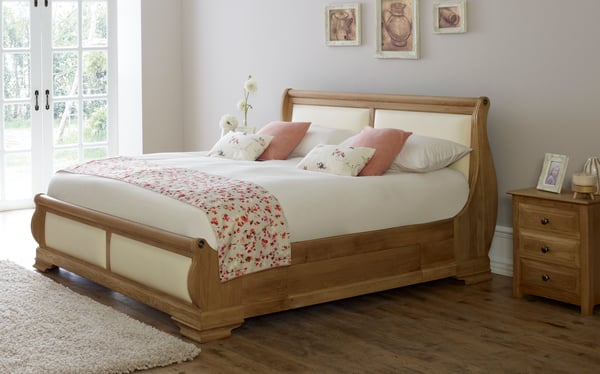 You Have Fewer Limitations
It's never nice having to settle for something smaller than what you want. That's another reason why wood is the perfect solution, as the right bed manufacturer can work with you to create something to meet your exact requirements.
Plus, at Revival Beds, you can choose from 20 different shades of leather to use as upholstery. If you still can't find the perfect finish, then you'll love having a choice of over 100 bespoke colours to help you find the specific shade you're after. Just book a visit to the UK showroom and see for yourself to witness the sheer brilliance having a wood upholstered bed can make.
This all goes a long way to creating your luxury bed and decor exactly how you envisaged as it's unfair having to amend your plans because of restrictions with regular upholstery beds.
It's a Much Classier Style
It doesn't matter if your bed's an upholstered or a divan style, bring in wood to elevate it to a luxurious platform will make your bed ooze class and quality more than any other material possibly can.
Not only do you benefit from owning a classy style in your perfect bedroom, but the luxury finish on a wooden upholstered bed also reflects the superior craftsmanship that goes into designing the bed from scratch.
When you see solid wooden beds, you instantly think luxury and sophistication. You think of kings and queens, castles - anything that screams power and wealth yet maintains its welcoming and comforting nature.
This is supposed to be your perfect escape at the end of the day and incorporating wood helps you achieve the style you want.
They Have a Longer Lifespan
Buying a bed is similar to purchasing a car. It needs to be the right one, something you can picture yourself in, one that you're comfortable in and a style you know you won't need to continue replacing too often to waste more money.
That's not to mention the stability and reliability factors.
It would be a shame to buy an amazing upholstered bed, only to replace it every so often. That's not the case with wood, as they're designed to last a really long time - without ever hearing a squeak in the middle of the night to disrupt your sleep.
With a Revival bed, you get both a 10-year guarantee for peace of mind and the comfort of knowing that each bed is lovingly handmade in the UK.
Now that you know how important wooden beds are, the next step is to find the perfect one to suit your bedroom decor. That's where we can help…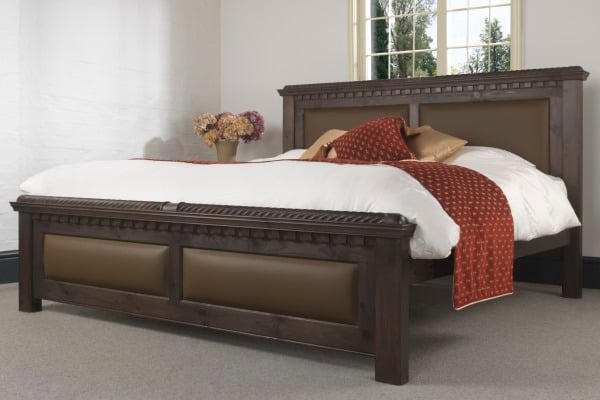 Reward Your Bedroom With the Most Luxurious Wooden Upholstered Bed
There's a lot to consider when selecting the perfect hand-crafted wooden bed. You need to think of the size of your bedroom, the theme you're going for, storage requirements, budget and much more.
To make your search painless, we've created a helpful bed buying guide. It's full of useful content ranging from what to consider when decorating your bedroom, the benefits of different types of beds, how to turn a good bedroom into a great one and so much more.
To get your free copy, click on the link below.