The Best Ways to Invest in Your Bedroom — 5 Interior Items Worth Their Price Tag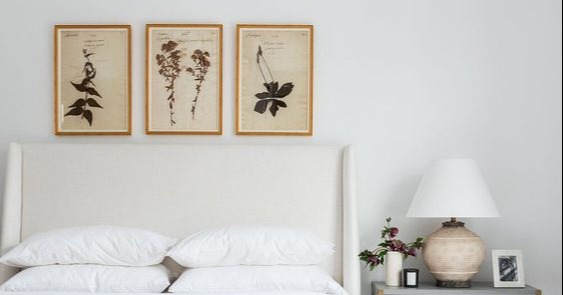 Most of us are wondering how much to spend on bedroom furniture. But the truth is, there's no right or wrong answer. Rather, we should be concerned about where to allocate the bulk of our budget and which interior items merit the extra spend.
While you might be able to save in some areas of your abode, we've picked the five fundamental bedroom purchases that are worth paying full price for.
1. Egyptian Cotton Sheets
Although not a large purchase in terms of size, Egyptian cotton sheets are a considerable interior investment, usually starting from around £150 for a standard double bedding set.
So, why are so many of us willing to pay this price tag?
As some of the most, if not the most, premium bedsheets available to buy, Egyptian cotton sheets are expensive due to their unparalleled softness and breathability.
Unlike other types of cotton, Egyptian cotton, grown in fertile soil close to the Nile, has long fibres meaning it's more durable, less likely to wear, pill or feel itchy when it's washed. The cost of Egyptian cotton sheets may feel like a lot to pay upfront but they prove to be worth every penny thanks to their long-lasting nature and ability to stay bright white.
More importantly, Egyptian cotton sheets are known for their comfortability making it feel as though you're sleeping on a soft, fluffy cloud each and every night—and if that's not worth paying a little extra for, then what is?
It's not a bed. It's not a mattress. But it's still worth setting aside some of your bedroom's budget for.
2. Bespoke Beds
Many of us are wondering how much to spend on bedroom furniture and more specifically, how much we should spend on arguably the most essential part of our bed.
As the focal point of the room and its most functional asset, it's no surprise your bed should eat up most of your budget.
The right bed will provide the perfect place for faultless sleep as well as make a bold interior statement, no matter whether it's a grand four-poster or a more minimalist frame doing the work.
There's no exact figure for how much you should spend on a bedroom's pièce de résistance. However, opting for a bespoke bed is a sure way to receive the type of bed quality we all dream about.
Mass-manufactured beds will never hit that sweet spot and are a prime example of when you buy cheap, you buy twice.
Bespoke beds, on the other hand, last as long as you want to keep them. Often, it won't be wear and tear that will make you want to switch out your bespoke bed for another one, but a more innocent case of your interior taste changing over time.
That said, handcrafted frames, colour-matched materials and to-the-centimetre dimensions make all the difference and they often prove to be incredibly versatile, with the ability to morph into both modern and traditional bedrooms.
3. Luxury Mattresses
Second to your bed frame but first on your list for comfort, luxury mattresses are a sensible place to splash your hard-earned cash.
Being more about the way they feel than how they look, higher-priced mattresses make a world of difference to your sleeping habits. They provide the right type of lumbar support, mould to the shape of your body and in some cases, even regulate your temperature from the moment you go to sleep to the minute you wake up.
In short, investing in a mattress benefits you both now and in the long run.
Its immediate effect can be felt on the first night as it sends you off to sleep in minutes, if not seconds. Its longer-term effects promise to protect your health and give you a regular, dependable sleep cycle that health experts recommend, allowing you to average the ideal 7 to 9 hours of sleep per night. Nothing else denotes such bedroom bliss.
4. Original Artwork
A few authentic accessories are better than a sea of low-quality, imitation objects, especially when it comes to mastering a modern, minimalist style.
For bedrooms, in particular, artwork can help to put your place of rest in proportion as well as offer a point of interest as soon as you enter the room. The right art can help to elevate your interiors, making every item feel even more expensive or at the very least, tie each individual piece together.
Whether your bedroom's big or cosy, artwork is a valuable asset (and not just in terms of how much it will go for at auction).
For larger bedrooms, art can fill empty white wall space, showcase personality and make your abode feel more alive. For smaller, more streamlined bedrooms, placing pictures above a bed is a popular trick to give the illusion of extra height. Plus, it shows off your bedroom's best asset—its sleep space.
Most of us are wondering how much to spend on bedroom furniture, never mind how much to spend on its accessories—but buying artwork doesn't have to break the bank, despite how impressive owning an original sounds.
Simply choose art that suits your budget.
Although most of us can't afford to put a winning bid on a Picasso painting or secure Dali's Surrealist work, we can all turn our attention to emerging artists to acquire something truly original.
Rather than buy a reproduction of a famous painting, buy a genuine piece of contemporary creative genius. Why? Its quality will be better, its colours richer. It will feel unique in your home. It might even spark some conversation between you and your guests. And like any worthwhile investment, its value is likely to increase over time.
5. Matching Furniture Sets
Last but not least on our list are matching bedroom furniture sets.
Although the notion of a matching set doesn't automatically mean its individual pieces are priced higher than if sold alone, the cost of buying your bedroom furniture all in one hit can often feel overwhelming.
However, with our Collections Brochure, you don't have to commit to a total overhaul of your boudoir before you're ready.
You can select matching pieces at your own pace, knowing that we make expertly designed furniture to order in the same, signature styles. We've designed a permanent range of bespoke, solid wooden beds and bedroom furniture to match, all handcrafted by expert craftsmen in the UK and delivered beyond your doorstep.
So, whether you're looking to invest in an entire sophisticated bedroom suite or a bespoke bed to get you started, download our Collections Brochure now by clicking on the link below.