Modern vs Traditional Furniture: Which Style is Right for You?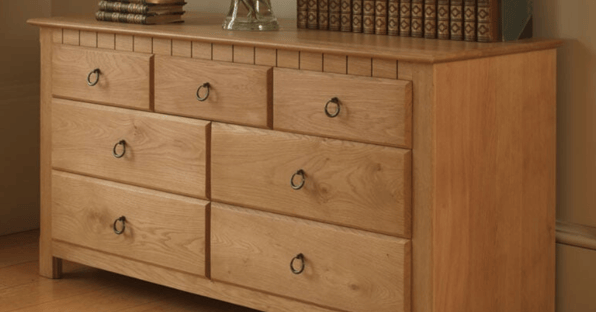 When decorating your home, should you follow the latest interior trends or pay homage to the well-respected design movements of the past? As interior enthusiasts and well-established solid wood furniture makers, we feel passionate about every type of interior endeavour from minimalist glass-fronted mansions to elaborately styled stately homes.
So it only feels fitting to discuss the arguments for both the clean and contemporary lines of modern design and the ornate intricacies of traditional furniture in this blog. For those in the midst of renovating their home, we've also included examples of both traditional and modern furniture guaranteed to last a lifetime - even if your interior tastes change over time.
Furniture for Modern Homes
Modern furniture is all about creating clean lines using simple, fuss-free silhouettes. When looking at the contemporary homes splayed on the pages of House & Garden or Architectural Digest, individual items rarely catch our attention. Instead, the sleek and almost seamless lines of each piece give the illusion that every item flows from one and into the other.
7 Drawer Long Chest
This natural oak chest is a substantial piece of furniture fit for any modern home.
It's versatile enough to feel at home in a bedroom, large hallway or even an entertainment space such as a home gym or children's playroom.
While its appearance isn't overly contemporary, its light oak finish and simple design catapults this piece of furniture into the present. Round drawer pulls add fluidity to its otherwise sharp and angular appearance while different drawer sizes work to add depth and playful character.
Bedside Cabinet with Door
This solid oak bedside table is perfect when paired with any type of minimalist decor from whitewashed floors to abstract wallpaper.
Although its 18th-century classical French handles, available in English Bronze and Heritage Iron, add a certain maturity to the piece, its design is otherwise simplistic, leaving the well-exposed wood grain to do all the talking. As such, this bedside cabinet can be used in any bedroom throughout the home from a master suite to a smaller guest room.
For a truly contemporary look, you can match the bedside table with the bedframe to remove any barriers or potential contrast from the focal point of the room.
Shaker Bed
Reflecting New England's easy-breezy nautical style, this Shaker Bed is perfectly symmetrical and stunningly simple.
Although the Shaker style dates back to the 19th century, it's become a popular choice for the modern homes of today. It wouldn't look out of place in a newly-renovated beach house or an on-trend hotel.
This style is right for those who want to steer away from ornate styling and instead opt for a laid-back, muted look. That said, the Shaker Bed can never be called boring with its strong solid wood texture and rich old wood finish.
Furniture for Traditional Homes
Furniture for traditional homes often mirrors the quirks and character of historic properties. With intricate carving, ornate patterns and exaggerated shapes in abundance, traditional furniture adds the right amount of drama without overshadowing a room's original features.
Standard 3 Door Wardrobe

A simpler shape than most traditional furniture, this grand three door wardrobe is a play on antique European pieces found in France, Italy and Hungary.
These wardrobes are known for making an impact and are available in different finishes, rich mahogany and walnut to name a few. The configuration of the wardrobes can also be changed, with the option to add a sliding shoe tray and four drawers, as shown above.
The grandeur and sheer size of this piece of furniture mean a room has to only be dressed with a few smaller, ornate items like a hand-painted lamp or patterned vase for a room to feel instantly majestic and authentically traditional.
Brittany Dressing Table
The concept of a dressing table is in itself traditional, first appearing in the 19th century in a variety of Renaissance, Colonial and Elizabethan styles.
Naturally, more streamlined, pared-back dressing tables now exist on the market, taking a core element of the traditional bedroom suite and making it unmistakably modern.
This dressing table, however, honours the first, more traditional iterations using reeded legs and raised drawers to create an elaborate and elegant profile.
County Kerry Bed
Modelled on traditional Irish estates, the County Kerry bed has a certain type of charm fit for even the most luxurious sleeping quarters.
Traditional square panelling, split barley twist turning and carved dog-tooth detailing make this solid wood bed unique.
In larger spaces, this robust frame will never feel lost or offset the room's feng shui. Instead, its mighty, solid wood stature will attract attention and help a room feel finished even in the early stages of renovation.
Finding Versatile Furniture for Any Style of Home
The truth is, there's a good argument for buying both modern and traditional furniture. While some tastes may lean more towards one time period than another, most homes find comfort in mixing the old with the new to create a classic yet contemporary living environment.
Buying versatile furniture that suits any home or accessory ensures your interiors are a good investment, fills your home with family heirlooms and avoids your now-modern furniture from quickly becoming outdated when new design trends emerge.
Good quality home accessories such as a Tall Wood Mirror or Ottoman are great examples of furniture pieces that can suit any style of home at any time.
Modern vs Traditional Furniture: The Final Decision
Perhaps then, the argument of modern vs traditional furniture should be reshaped to become more about the quality and origin of a piece than it is about its style or the era it imitates.
In this sense, craftsmanship, quality materials and the furniture's ecological footprint should be moved to sit at the forefront of our checklist. After all, handcrafted furniture made using European oak, full-grain leather and the finest fabrics will always look fashionable and stand the test of time throughout decades of use in your home. To ensure your furniture selections are cohesive and pair well together, look at our latest collections brochure below.
Modern or traditional, find your perfect furniture collection in our brochure
Our Collections Brochure houses hundreds of solid wood furniture options that are completely customisable to your home—all handcrafted in the UK by expert furniture makers in our Nottinghamshire workshop.
From grand four-poster beds to hand-stitched linens, you can find a library full of timeless furnishings to dress either a modern or traditional home.
To get your free copy of our Collections Brochure, click on the link below and start crafting a space you love coming home to.