8 Stylish Bedroom Furniture Ideas for Every Interior Taste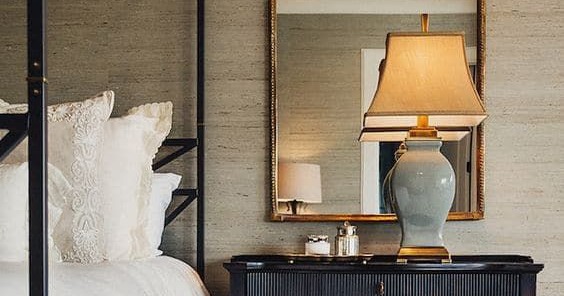 It's much easier to find bedroom furniture inspiration when you've set your heart on an interior theme. Or is it?
In this blog, we show eight different bedroom styles ranging from contemporary to classical and discuss how best to achieve each look with staple pieces of furniture. Finally, we talk about the importance of investing in high-quality bedroom furniture that can morph into modern and traditional homes, allowing you to still see a return on your investment, even when your interior taste changes.
1. Stone Chic
For a minimal yet masculine hideaway, try mixing stone with warm grey bed linens to create a sleepy, subdued space. This bedroom finds strength in its black side tables and hanging lights, making its interiors feel undoubtedly industrial.
2. Balmy Boho
Keeping a cool, tonal colour palette, this balmy bedroom screams sea breeze and slow, sun-soaked mornings. Yet, its clean lines and contemporary lighting stop it from feeling too classically coastal, bringing it back to luxury design standards.
3. Tropic Bliss
The tropical trend gets a grown-up edge with this clean, green bedroom. White and green are everywhere to be seen with nothing other than solid oak accents. To achieve this look, start with a solid wooden bed before introducing jungle green and ivory accessories.
4. Scandi Sanctuary
Take note from the Nordic region to create a spa-like sleep sanctuary. With next to no colour, the golden gleam of wood against cool, crisp white sheets is enough to make this room feel warm. A high-quality wood finish is all you need to bring this bedroom to life.
5. New England Escape
This elegant escape is typically New England with a soft nautical colour scheme and groove-panelled walls. In a room like this, you'll be as excited to wake up in the morning as you are to snuggle to sleep. One thing's for sure, a New England escape isn't complete without a bed inspired from the area, be it Maine, Connecticut or Vermont.
6. Luxury Lair
This luxury lair is palatial, pretty and powerful all at the same time. Every piece of furniture is awe-inspiring, forcing you to notice its bedside even before its grand four-poster bed. Impressively, its mirrors, lamps and bedside cabinets aren't overshadowed by the main event, managing to show off its scale, stature and stately style.
7. Playful Pad
Outgoing, bold and vivacious, this daring bedroom is characterised by its pops of colour and ability to play with texture. From tufted duvets to bright pink bedsides, this design doesn't play it safe. Yet, its strong, stable bed frame grounds the room giving it substance as well as style.
8. Majestic Master
This Parisian and Versailles inspired master is straight out of a storybook. Its striking chandelier, ornate furniture and plush carpet all make it fit for the king (or queen) of the household. A buttoned headboard bed and a spacious chest of drawers are must-haves for lovers of this look.
Turn Your Favourite Bedroom Idea Into a Reality with a Matching Bedroom Furniture Set
No matter which look you love, from a trending tropical retreat to an uber-modern masculine hideaway, your dream sleep space is easy to achieve with high-quality matching furniture.
In many of the examples pictured throughout this blog post, the accessories and colour scheme are what differentiate a look while a solid wooden bed and other furniture accessories often remain the same, keeping your sleep sanctuary to a superior standard.
By browsing our Collections Brochure, you can see how our signature solid wood furniture can be used in many different ways, offering a sound investment over the years.
Download a copy of our Collections Brochure by clicking the link below.