The 9 Benefits of High-Quality Solid Wood Bedroom Furniture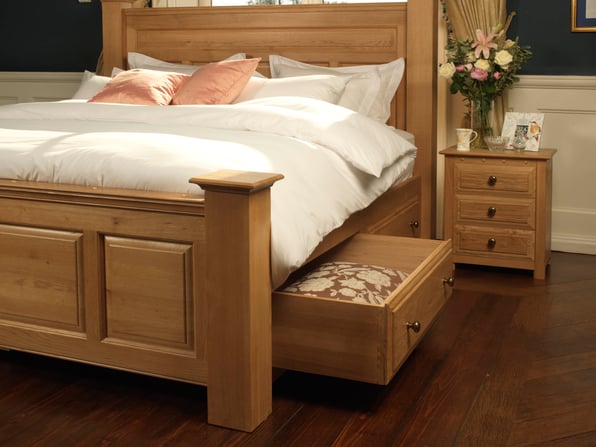 There's a place in every home for high-quality solid wood furniture. These pieces are timeless, versatile and universally popular. From bedrooms to living rooms, dinings rooms and beyond, solid wood furniture is the epitome of high-end interior design. Unfortunately, many choose furniture pieces made from cheaper materials. While these are quick to build and have smaller price tags, they lack the stature, grandeur, durability and heritage of solid wood pieces.
So what are the undeniable benefits of solid wood bedroom furniture? What are the qualities that set these pieces apart? With our years of experience designing and crafting solid wood furniture for a range of discerning clients, we've discovered the truth behind the benefits.
1. Durable, Robust Builds
When you choose wood, you select one of the most robust, durable and long-lasting materials. Cheaper materials, such as MDF, are easily damaged and begin to chip over time. They're weak and can buckle under weight. Over time, they can begin to squeak through use. Similarly, metal can lose its sheen or even start to rust. Solid wood suffers from none of these problems.
When you buy solid wood bedroom furniture, you purchase longevity. Each high-quality piece is built with innate stability that you can feel every time you lie on a bed or use a wardrobe. It's stability you can trust.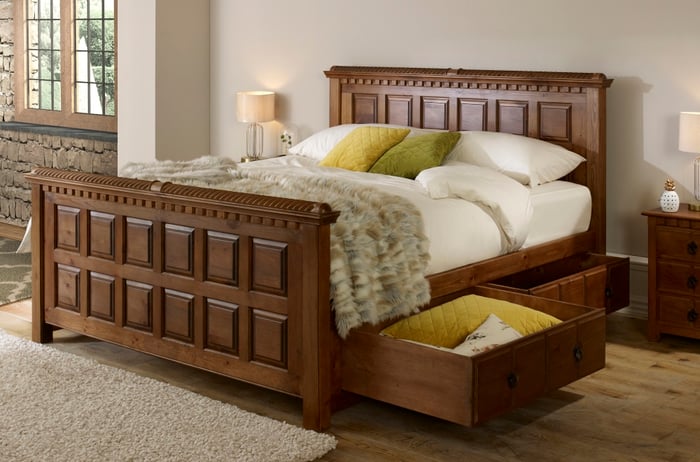 Durability and longevity also guarantee all-important value for money, easy maintenance and consistent enjoyment and service over many years.
2. Undeniable Beauty
Solid wood such as oak or pine has a distinct look, feel and a certain dignity and charm. From lighter hues to rich dark tones, no two pieces of solid wood are the same. When used in furniture compositions by artisans and craftsmen, flawless, gorgeous pieces are created that any discerning buyer can appreciate.
Similarly, solid wood is a malleable material, offering limitless potential for design innovation, especially in the production of custom-built furniture.
Solid wood can capture the grandiose nature of traditional design movements like Baroque or Gothic. It can be imbued with the minimalist aesthetics of modern Scandinavian interior design trends. It can even be given the feel of styles found much further afield or painted to suit a specific design theme.
With a changing colour spectrum, delightfully different grain types and unique internal patterning, solid wood is a unique material that finds a home in any scenario.
3. Sustainable Options
Sourcing solid wood from FSC managed forests represents one of the most environmentally friendly ways of decorating your home. It's a renewable material with a small carbon footprint and is easily recycled.
The growth of solid wood sequesters carbon from the atmosphere, meaning choosing solid wood is one of the few consumer decisions that can positively impact the environment.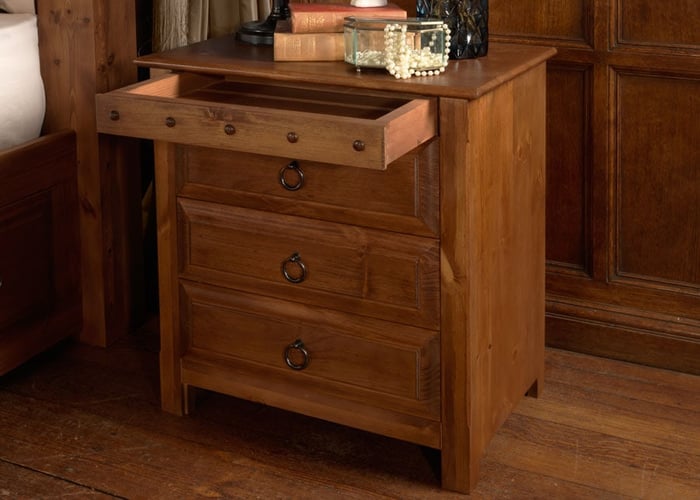 Here at Revival Beds, we only ever use sustainable solid wood in all of our bedroom furniture.
4. Design Versatility
Some materials only suit specific products, rooms or themes. Wood has none of these limitations. It's a material that matches practically any setting, span modern design choices to more traditional, rustic ones with ease.
Similarly, different finishes and wood species can be paired together intimately, creating a visual harmony that will never be captured by a material such as plastic. Depending on the finish, a lighter wood such as an oak can be paired with the richer tones of stained solid pine, such as an Old Wood finish, developing a varied and versatile approach to interior design.
5. Easy Maintenance
Solid wood lasts. It's easy to clean, with maintenance being a near-effortless task. Plus, the curious thing about solid wood is it takes on knocks or scraps with grace, developing a charming and homely feel as it ages.
We would recommend keeping wood furniture free of dust and dirt using a dry, lint-free cloth. Refrain from using any silicone-based cleaning or polishing products.
Additionally, owners should apply a coat of clear beeswax every six months. This helps to clean and nourish the wood, while also building up resistance to weathering.
Apply the wax using a lint-free cloth and work it into the surface, going with the grain where possible. You can find more information on care for your solid wood furniture here.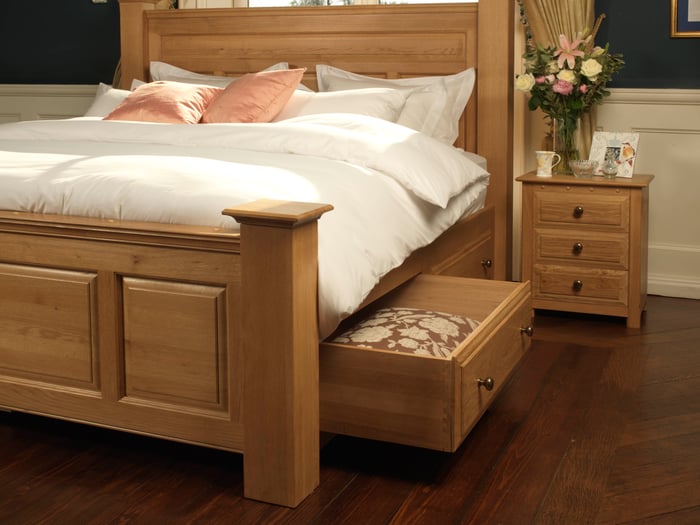 6. Customisation Options
We believe custom solid wood furniture and interior design is a match made in heaven. It's one of the key advantages of solid wood furniture choices, with new, bespoke pieces easily crafted and existing pieces easily customised and improved.
Beds, wardrobes, chests, bedside cabinets; all of these can be altered over time to better fit the needs of those using them. Similarly, bespoke furniture pieces can truly fit a unique and even difficult design need. Does a bedroom contain an awkwardly-sized alcove? The right craftsmen can develop a furniture solution built to those proportions, meaning you can make the most of your space.
7. Finish Variety
Alongside customisation, there's also the consideration of colour. Solid wood like oak has its distinct caramel and treacle notes, which pair well with other colours. But there are countless other finishes available on the market today, meaning you can match new solid wood furniture with pieces you already own.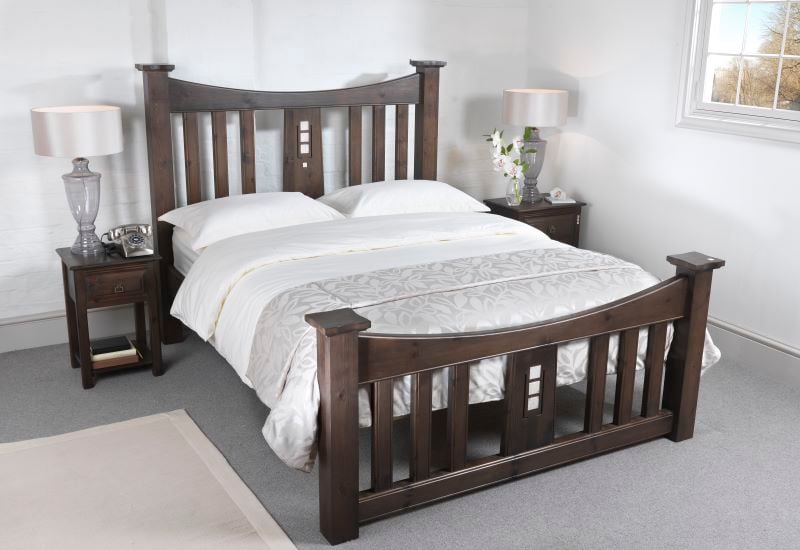 For example, here at Revival Beds, we offer four rich finish options with our Oregon wood (a mixture of Quebec Yellow and Scandinavian Redwood). From the lighter tones of Kenilworth to the deep shades of Walnut, with its gorgeous touches of dark chocolate and red wine, there's a wide variety of colour options to choose from.
8. Cost Efficiency
Cost efficiency is guaranteed by longevity. When you purchase high-quality, long-lasting solid wood furniture, you don't need to worry about replacing it within the next few years - a genuine possibility for those choosing cheaply-made pieces.
Yes, solid wood furniture does represent a greater investment, but it's an investment that carries on providing value for money for years to come. With the right care and attention, solid wood furniture lasts for decades. It's one way of ensuring you won't be left buying replacement pieces not long after purchasing the original. With solid wood, you're buying a lifetime's worth of quality.
9. Timelessness
Alongside the longevity, there's also a timelessness to wood. Ornate lamps, nautical themes, damask and paisley patterns, lace tablecloths; all these and countless other trends had their time in the limelight then faded into obscurity. This has never happened to solid wood before and never will.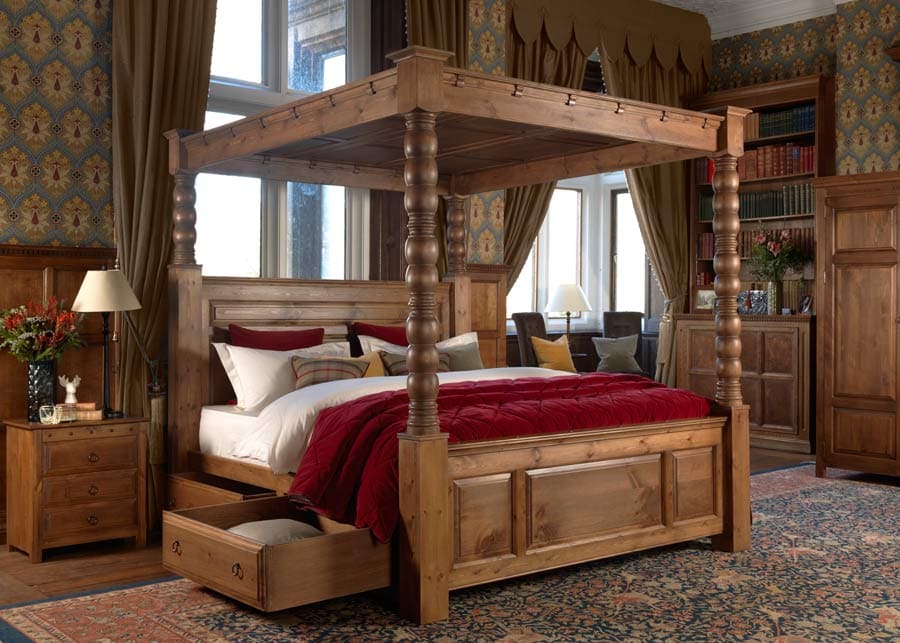 It's a material that defines the word 'timeless', defies the passage of time and a material used for centuries. We never tire of it - only find new ways to use it. We truly believe in the power and perfection of solid wood furniture. So much so, we've dedicated our entire range to solid wood. Our collections make the most of these materials, constructed by craftsmen who keep the art of handmade furniture alive.
To explore these collections, download our latest brochure.
Discover the Revival Beds Collections
In our brochure, we display our furniture collections that can be paired with our beautiful wooden beds. Whether you're searching for a bedside cabinet, an Ottoman or a dressing table, our collections can offer you the piece you've been dreaming about.
To download your copy of this brochure, click the link below.