Sustainable Furniture by Revival Beds: It's What We Do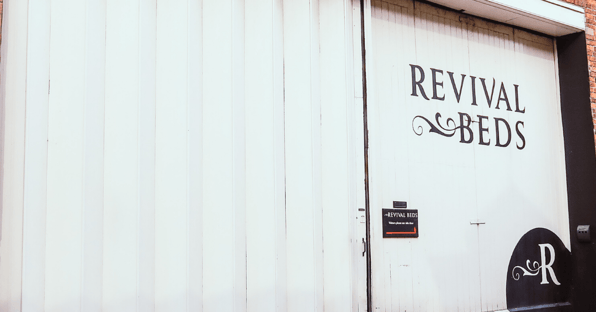 At Revival Beds, we offer an extensive family of handcrafted bedroom furniture, all designed and made with sustainability in mind. You can completely tailor your perfect bedroom suite, but one thing that stays the same is our commitment to eco-friendly practices. It's just what we do. Here's how you can create your perfect bedroom without compromising on sustainability.
Keep Sustainability in Mind With Chest-of-Drawers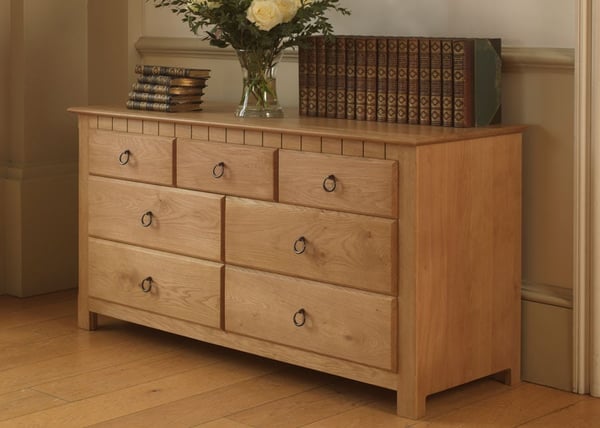 At Revival Beds, our chests-of-drawers come in a wide array of heights and widths. They can create an impact in any room, effortlessly. All of our furniture is handmade to order by our craftsmen in Nottinghamshire, so everything is made to your requirements.
Style Tip: A chest-of-drawers isn't just for storing personal items away - it can be composed to maximise space and style. Their spacious surface area can be used to showcase the things most important to us like photographs of loved ones and special trinkets.
Although competitor chests-of-drawers may claim to be made from solid wood, we never compromise on the quality of the timber. Most importantly, we always make sure to source our wood from sustainably managed forests.
Be Kinder to the Earth With Bedside Cabinets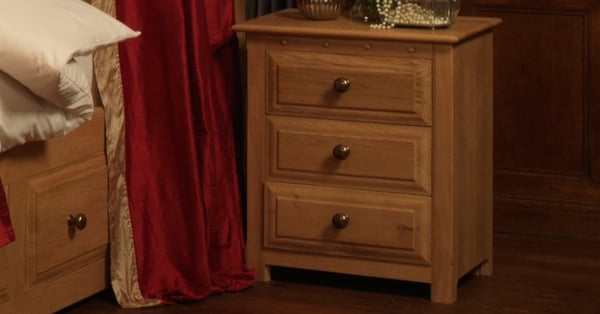 It may seem like a little piece of furniture, but it makes a big difference in your bedroom - especially when it's been handcrafted with sustainability in mind. Our bedside cabinets and tables are just the right height, width and depth to accompany a Revival Bed.
Style Tip: Moving away from the traditional styling of bedsides can elevate your interior. Don't be afraid to experiment with your accessories to create visual interest. Handmade wooden bedside tables are recognised for their versatility, so it's simple to make one an elegant focal point.
One of our bedside tables can tie the whole design together. A bedroom without one can sometimes feel underdressed, so make sure to pick the perfect one for you. They can be configured to inhabit either side of your bed too.
Reduce Deforestation With Dressing Tables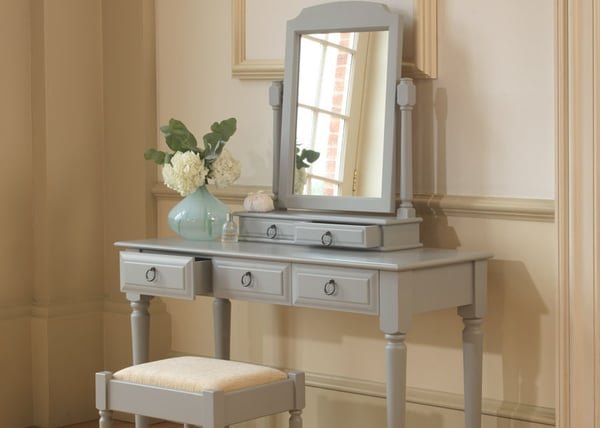 Our solid oak dressing tables are a practical piece of bedroom furniture that deserves a place in your abode. It provides functionality and style.
Style Tip: A dressing table isn't just personal pruning. You can also use it as a desk if the occasion calls for it.
Whatever your bedroom style, one of our dressing tables can complement your space.
Our double pedestal dressing table is perfect for sharing as you can have dedicated drawers and ample room to get ready. And thanks to a carefully designed kneehole space, you can sit at your dressing table in ultimate comfort.
We offer a plethora of luxury dressing tables with matching tilting mirrors, so you'll be sure it looks right at home with your existing Revival furniture.
Become more Eco-Friendly With a Revival Bed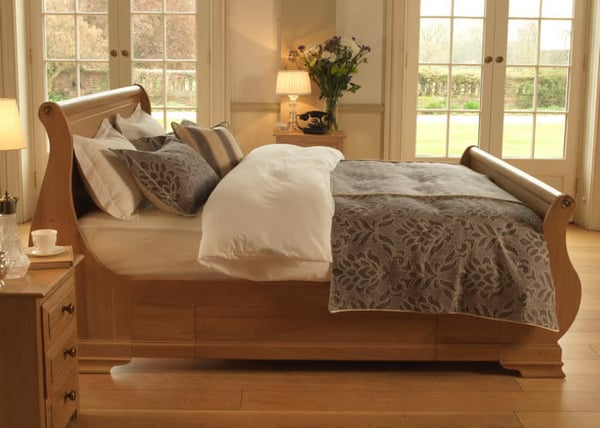 We pride ourselves on creating beds that instantly demand attention, regardless of the interior around it. Premium wooden beds enhance any design, meaning that themes can be intertwined throughout the decor using natural accents like bedding and canopies.
Style Tip: If you have a four poster bed, use opulent fabric in rich reds and creams as an overhead canopy. It's sophisticated and takes inspiration from royal chambers. The colour scheme also really complements the wood finish.
A major bonus of a premium wooden bed is their versatility. You can be confident that your bed frame will always give your bedroom the perfect canvas for styling. Going more contemporary with your interior? There's no need for a new bed. You can transform your space with just the simple addition of new bedding and accessories.
Fight Devastation With Hardwood Wardrobes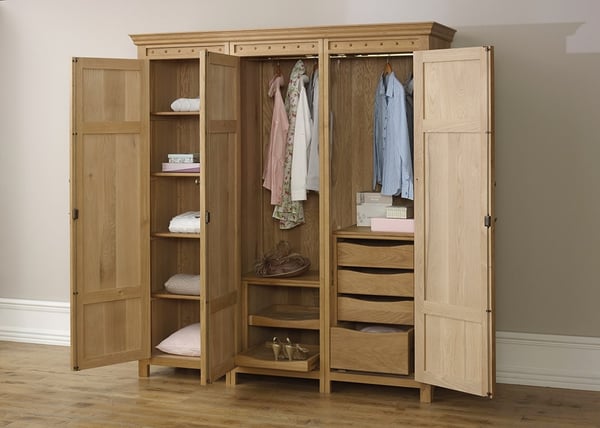 Unlike flat-packed wardrobes, there are fewer restrictions as your options aren't limited. At Revival Beds, every single wardrobe is built by hand to order in any specification that you desire. With a choice of six different internal configuration options, they've been designed to fit perfectly into each wardrobe.
Style Tip: The easiest way to style a wardrobe is to purchase your other furniture from the same collection. This way, it creates instant tranquillity in your bedroom.
Handmade oak wardrobes are the epitome of luxury storage and we hand polish them in our workshop, highlighting every unique detail and characteristic that makes the material so exuberant.
What Does All of Our Furniture Have in Common?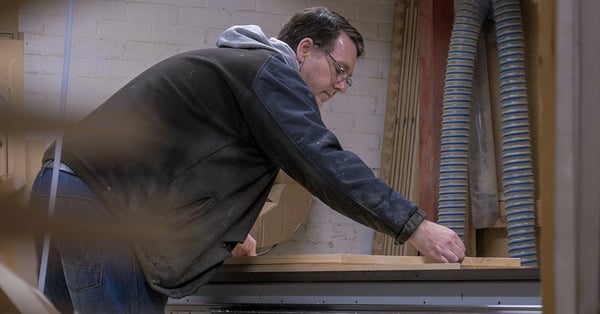 Choosing to purchase from manufacturers that use wood derived from European sources is a more eco-friendly choice because the forests are now protected by legislation. At Revival Beds, sustainable furniture isn't just a choice for us - it's a commitment.
Each component is lovingly handcrafted from the highest grade timber, which is grown in ethically managed forests. Each piece carries its own distinct mark and we can trace it back to the name of the local mill if required.
Oak and Pine timbers are such popular materials for bedroom furniture because of their strength and style. We know they're not always the cheapest options, but they're definitely worth the price tag for a luxury piece that's both elegant and ecological.
When cared for properly, wood ages beautifully and will withstand the test of time. It's not a quick flat-packed fix that you have to throw out to the landfill every couple of years. It's a piece built to prosper. We use our collective years of craftsmanship to create only the best for your home.
What's more affluent than having a stylish interior that's kind to the environment?
Invite Sustainable Furniture Into Your Home Today
Here at Revival Beds, we couldn't imagine creating our pieces without the eco-friendly practices we've put in place. Flat-packed is convenient and cheap, but you can't put a price on furniture that lasts a lifetime and ensures the protection of our forests.
To take a look at our full range of sustainable products, click on the button below: