6 Ways to Style Large Oak Chest of Drawers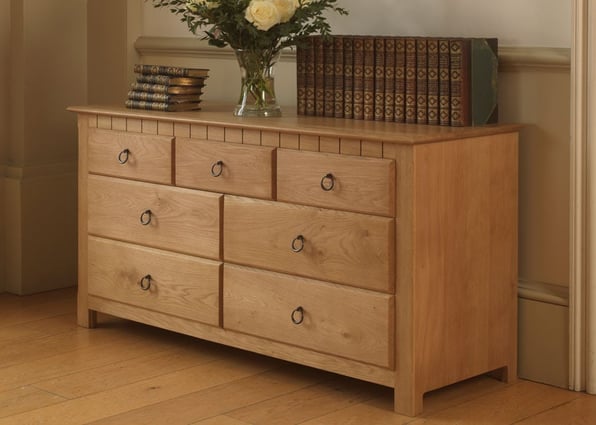 At Revival Beds, our large oak chests-of-drawers come in an array of styles. However, they're all handcrafted with the same level of attention to detail that's rare in today's mass-produced world.
There are so many ways you can compose these pieces. Here are just six ways you can style large oak chest of drawers:
Make the Most of the Space Around It
Sentimental In Style
Take Inspiration From Nature
The Minimalist: Sometimes Less is More
Experiment With Textures and Height
Invite It To Your Existing Ensemble
1. Make the Most of the Space Around It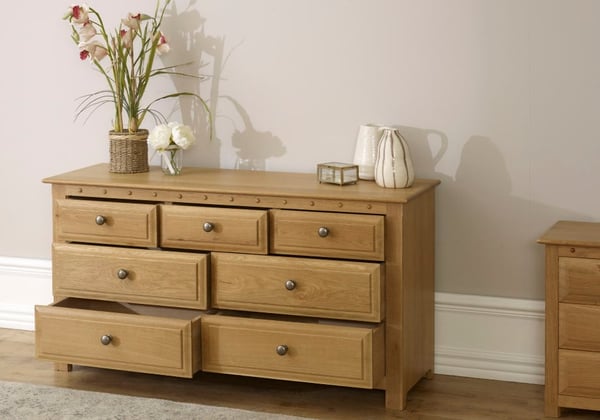 A chest of drawers can create an impact in any room. By accessorising with wall hangings around the drawers, you'll create a display that's full of charm but not overwhelming.
The best way to do this is by hanging a mirror just above the drawers. They are well known for opening up a room. Not only does this add something interesting to your storage space but it also makes for a great vanity station.
2. Sentimental In Style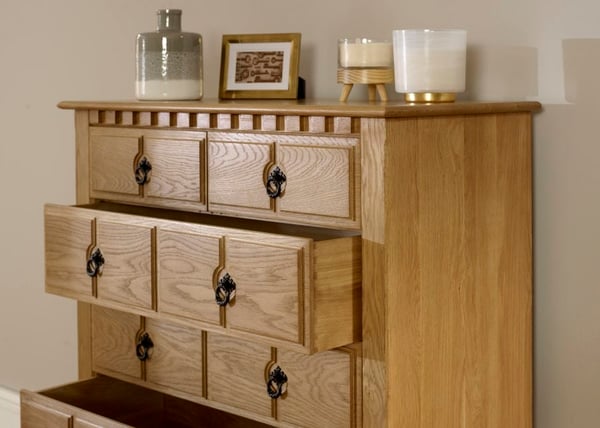 A chest of drawers isn't just for storing personal items away and out-of-sight. Their spacious surface area can be used to celebrate the things most important to us.
You can showcase photographs of loved ones, treasures, jewellery and favourite scents on top of a chest of drawers. This creates an intimate sanctuary that reclaims the underutilised space and makes it special to you.
If display space is at a premium, use a mirrored tray to keep your trinkets in place. Oak furniture is very strong and durable, so don't worry about storing things upon it. It even resists most surface scratches and general wear and tear because it's such a high-quality piece of wood.
3. Take Inspiration From Nature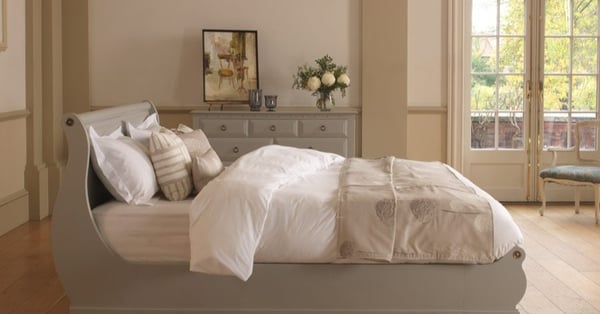 However your bedroom is decorated, introducing some natural elements into your interior adds an effortless freshness. After all, wood is as naturalistic as it gets. A botanical theme can extend throughout the bedroom, bringing out the warmth in the oak and accentuating the wood's unique characteristics.
Invite the springtime into your space all year round by placing a beautiful bloom on your chest of drawers. Our Wellington chest would look divine with a bright and harmonious peace lily - it's the perfect soft addition to complement its stature.
4. The Minimalist: Sometimes Less is More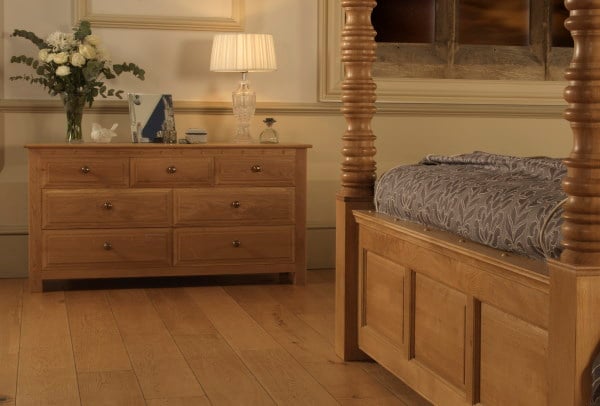 You may find that going above and beyond with decorative additions makes your large oak chest of drawers seem overcrowded. A grand piece of furniture like this can sometimes benefit from a more minimalist approach.
Achieving this Scandinavian inspired look can be as simple as dedicating the space to one solitary lamp. Not unnatural enough to draw the eye, yet holds its own on a bigger 11 drawer chest, for example.
5. Experiment With Textures and Height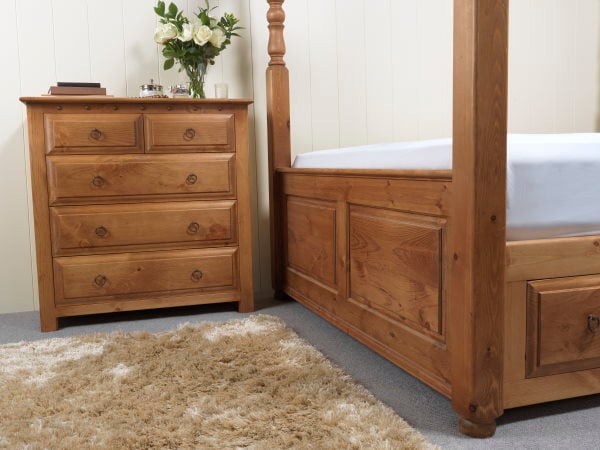 The appearance of oak is classic and traditional, but its versatility works well with a variety of other materials. Experimenting with different textures and varying heights creates visual interest to an otherwise underutilised space.
You can elongate a nine drawer chest that has substantial storage but a stouter body by drawing the eye upwards with modern candelabras and slender vases. Try subtly contrasting shades of accessories and moving things in front or behind each other. You might find what works best is just a different composition of the same core ornaments.
6. Invite It To Your Existing Ensemble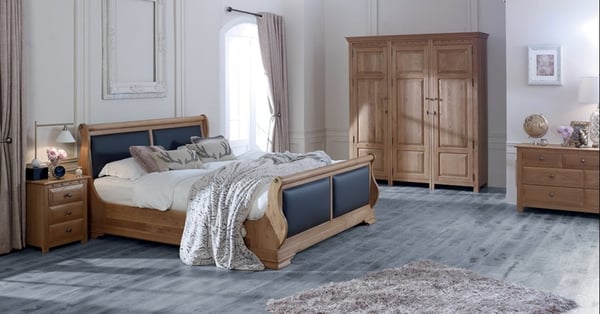 The easiest way to style a large oak chest drawers is to buy your other furniture from the same collection. This way, it creates instant harmony in your bedroom and its wink to the other pieces is enough of a statement.
However, we know this isn't always feasible, so we offer colour-matching services. You can pair it with your existing furniture so it looks as if it's always been a part of your home. Storage is just one thing you need to consider for your bedroom. There's dressing tables, beds and other luxurious additions to think about too.
Style Our Other Luxury Bedroom Furniture
Wood is a beautiful material for bedroom furniture. It's strong, durable and timeless. All of the handmade oak furniture from Revival Beds is crafted with excellence in mind. You can even book a visit to see for yourself.
For a closer look at our premium pieces without coming to our workshop, download our brochure using the link below to begin your search for the perfect bedroom furniture.