Is it Worth Investing in a Handmade Bedside Table?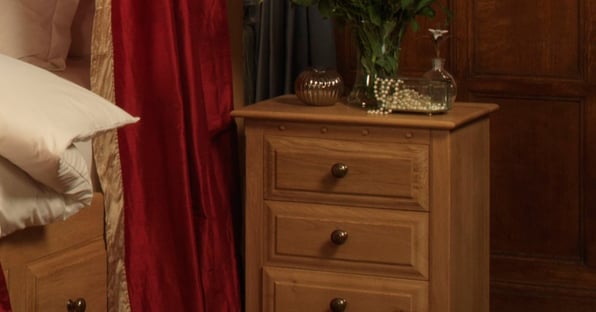 Your bedroom is a space that should feel like a breath of fresh air at the end of the day, somewhere serene to retire for the night. Consider complementing your sleeping quarters with a handmade bedside table. It may seem like a little piece of furniture but it makes a big difference in your bedroom - especially when it's been handcrafted to your specific requirements.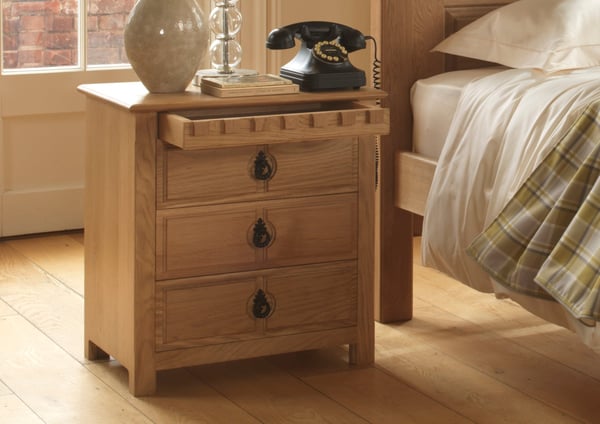 Here's why it's worth investing in a handmade bedside table:
It Keeps Your Bedroom Neat & Organised
Blank Canvas: Style Your Bedside To Suit You
Quality Furniture Built to Last a Lifetime
Design a Completely Bespoke Premium Bedside Table
It Keeps Your Bedroom Neat & Organised
Bedside tables bring calm and order to your sleeping space. They have the perfect surface for a lamp, reading material and a coffee cup on those cosy Sunday mornings. Whatever luxury addition you would like to add, it makes a big difference on this underutilised piece of furniture.
A quintessential three drawer bedside cabinet is just the right height, width and depth. With each of the three drawers made from 100% solid wood and traditional dovetailed joints, they're designed to glide out easily. It's the perfect storage space for all manner of items including socks, books and jewellery.
Blank Canvas: Style Your Bedside to Suit You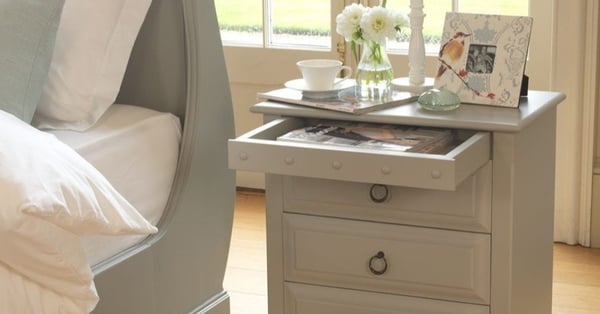 There are so many ways you can style a handmade bedside table. They're more than just a place to put a lamp and charge your phone. They're essentially a blank canvas for whatever vision you have in mind.
You can fashion them however you like, whether it's to harmonise with your existing decor or contrast and draw attention. Here are some of our favourite contemporary ways to compose your handmade bedside table:
Move away from the traditional styling of bedsides and be bold. Experiment with a variety of textures, colours and patterns to draw the eye and create visual interest. Try experimenting with heights and have an overall theme in mind so it doesn't look cluttered.
Candles offer soft lighting and calming aromas which is why they're a staple in many bedrooms. When finding your signature scent, find one in an interesting vessel as it can be used as a decoration in its own right.
Invite nature into your bedroom with a vibrant houseplant. Succulents are popular additions at the moment because they need very little maintenance and can be conducive for relaxation.
Handmade wooden bedside tables are recognised for their versatility, so don't be afraid to get creative and make one an elegant focal point that reflects your design aesthetic. The beauty of accessorising is that all the additions aren't permanent. If trends shift or you redecorate, you can always clear off the top of your bedside and start again.
Quality Furniture Built to Last a Lifetime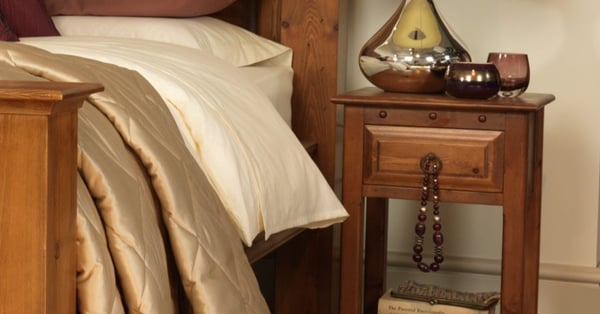 Oak and Pine timber is well-known for its strength, durability and timeless design. That's why it's such a popular material for bedroom furniture. We know it's not always the cheapest option, but it's definitely worth the investment for a luxury piece.
When cared for properly, wood ages beautifully and will grow old with you. It's not a quick flat-packed fix that you have to replace every couple of years, it's a piece built to last. A premium wooden furniture manufacturer will use their collective years of craftsmanship to create only the best for your master bedroom.
Design a Completely Bespoke Premium Bedside Table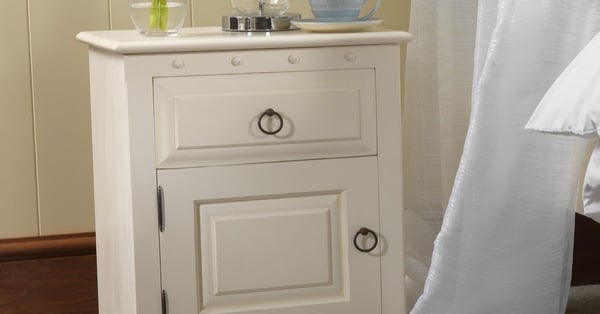 Our bedside cabinets and tables are just the right height, width and depth to accompany a Revival Bed. Each bedside cabinet and table has been designed to complement all of our beds and furniture and are available in 11 natural wood and painted finish options.
Our handmade bedside tables at Revival Beds can be built with 3-drawers, a single drawer over a spacious cupboard or you can opt for a simple, yet classic, bedside table with single top drawer. They can be configured to inhabit either side of your bed and you can also request a bedside with a secret compartment – perfect for storing valuables.
The ornate, premium quality handles featured on the bedside are made by a specialist in Birmingham, with a pedigree that stretches back to 1875. This can be the little detail that ties existing furniture together. Bedside tables are just one thing you need to consider for your bedroom; there are wardrobes, beds and other luxurious additions to think about too.
See Our Other Luxury Bedroom Furniture That's Worth Investing in
Your bedroom is the place you come home to after a long day. You want this space to be a reflection of serenity and your personal style. All of the handmade oak furniture from Revival Beds is crafted with your specifications in mind. If you're not quite sure what you're looking for, you can even book a visit to see for yourself.
For a closer look at our handmade bedroom furniture and traditional beds without coming to our workshop in Nottingham, download our brochure using the link below to begin your search for the perfect bedroom furniture.