5 Luxurious French-Inspired Bedroom Furniture Ideas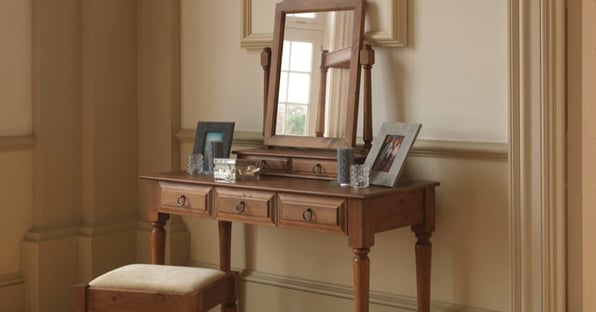 You may be looking to recreate your own little slice of France and are considering what makes up a French-inspired bedroom. Is it the lighting? The windows or drapes? Other key items and decor? The answer is yes for everything. French-inspired bedrooms are popular for a reason - they're beautiful, charming and effortlessly timeless, fitting with any period or feel in a truly organic way. From chateaus to cottages to Parisienne apartments tucked away in charming arrondissements, the French bedroom is emulated in many locales and designs.
It's more obvious how to paint and decorate a room in terms of wall colours, fabrics and other foundational items, with nods to Baroque, Rococo, Neoclassical, La Belle Epoque or Art Nouveau periods. However, many find themselves wondering about what bedroom furniture should be included in a French-inspired bedroom.
Let's take a look at elegant French-inspired bedroom furniture ideas.
1. A French-Inspired Bed
The bed is the focal point of the bedroom. It's the reason why bedrooms are so important, being a space to relax, rest and recuperate. It's the nexus point of that and having the right bed is essential.
For those with a passion for French style, either modern or traditional, the bed must be designed with French culture and geography in mind.
Take the Camargue Sleigh Bed, for example. A bed inspired by the gorgeous Camargue region in southern France, one of the best natural jewels in the whole of Europe, nestled between two arms of the Rhone Delta and the Mediterranean Sea. This European-styled bed has taken distinct inspiration from Camargue, its flowing rivers, organic lines and aquatic ecology.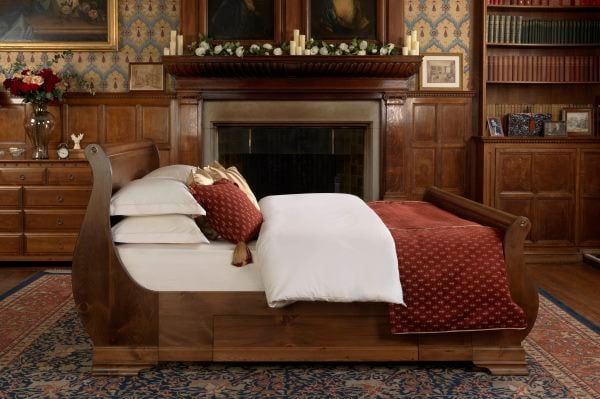 The Camargue displays quintessential fluidity, with carved scrolling, brass detailing and bold head and footboard. It captures the true essence of French design - grandeur avec subtlety.
Choose a bed like this and you'll quickly find yourself in your own little slice of France.
2. Armchairs For Relaxation
No French bedroom is complete without a French armchair. With their elegant, curved legs and distinct upholstered bodies, these armchairs are designed for both function and comfort.
Available in many wood finishes and fabrics, these look fantastic positioned in room corners, paired with large standing lamps or wall sconces - the perfect spot for reading.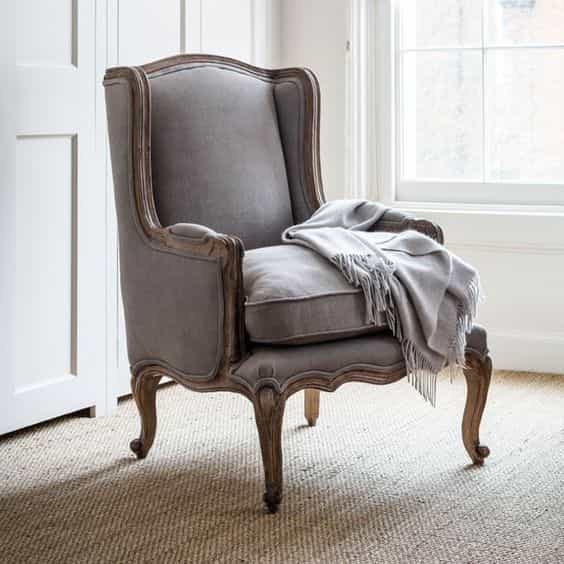 Image credit: Pinterest
Why not try soft pink or warm ochre upholstery for a touch of whimsy while capturing the pastel colours of a sunset as it bathes the south of France in golden light?
3. French Dressing Tables
Dressing tables have been a staple of French design for countless years. The famous and infamous French kings and queens of old used them and have remained a popular choice for any discerning interior designer or Francophile since then.
Take, for example, this Gallic-Inspired Brittany dressing table. It's an incredibly romantic dressing table, imbued with the aesthetic of old French chateau furniture - beautifully carved legs, a strong yet elegant, presence and a delightful mirror. It's the place to get ready in the morning, store trinkets and the perfect accompaniment within any French-inspired bedroom.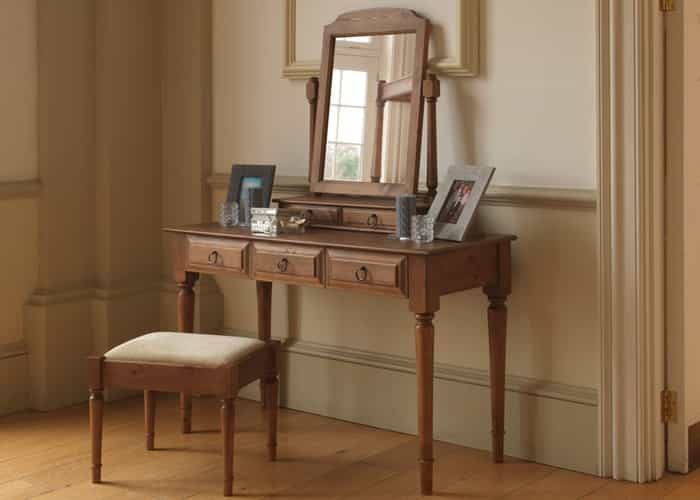 Choose a dressing table to provide a practical and regal addition to your bedroom.
4. Regal Coronets
Beds with headboards are the perfect choice for the addition of a coronet. These can be done in fabrics that match the bedding or in tones that work to mirror the room's colour scheme.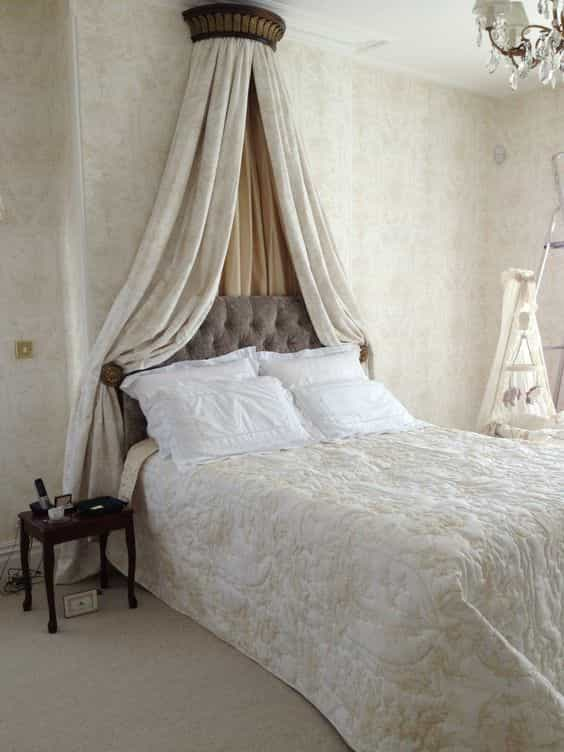 Image credit: Pinterest
While some may find these too opulent or archaic, they can be done in much lighter, more modern materials to capture a minimalist feel for the bedroom. Now just imagine how charming this coronet would look above a classy, sophisticated solid wood bed.
5. Chandeliers
The most regal and impressive place in France is the palace of Versailles, noted worldwide as one of the most beautiful examples of French Baroque architecture and design. The halls of this palace were ones adorned by light. Visitors to the Hall of Mirrors are greeted by many incredible chandeliers that hang at intervals, lighting the entire passage in golden hues.
Any French-inspired bedroom can take influence from the Hall of Mirrors and utilise a chandelier to keep the dark at bay. When paired with matching furniture pieces, such as ornate mirrors, French-themed beds and light colour schemes, they're never overbearing.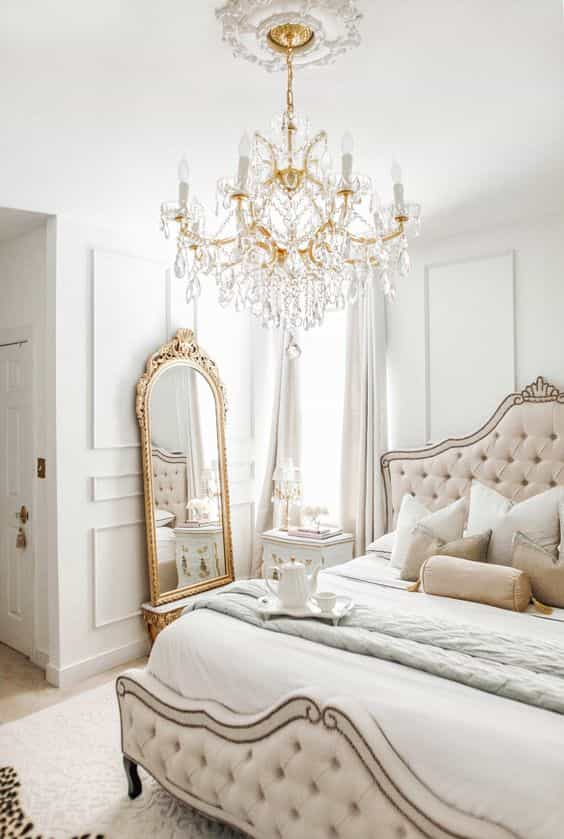 Image credit: Pinterest
A bedroom inspired by a certain place or period is captured by a collection of high-quality bedroom furniture. If you're interested in seeing more French-inspired furniture or other styles that could accompany French pieces, download our collections brochure.
Complete Your Bedroom With the Collections Brochure
Inside this brochure, we detail each collection of bedroom furniture we have available here at Revival Beds. By getting your copy, you can explore our collections of:
Wardrobes
Bedside tables
Dressing tables
Mirrors
Chests
Blanket boxes
After all, beds make our bedrooms, but they aren't the only pieces of furniture to provide quality, style and functionality to our treasured sleeping spaces. This brochure shows you everything else that makes a bedroom. Get your copy now using the link below.